Received Monday, May 11, 2009
This totally slipped my mind because of my personal situation but I just found this photo on my phone when I synced it and remember how sad I thought the situation was.
On or around
Friday, April 17 2009
this nanny was shopping with her friend at Loehman's between W73 and W74 on Broadway with her nanny friend. The little boy, blond, white, maybe 18 - 14 months, was in a red Bugaboo stroller and left to his own devices. I caught him SIPPING/DRINKING FROM A PURELL BOTTLE (Purell in it, not water or anything else) and took it from him. The nanny did not see this as she was holding several hangers with clothing standing around the corner.Her nanny friend did not see her charge either, parked right behind the boy behind a clothing rack. I called her and told the nanny what had happened - in case she was wondering why this strange woman (me)was talking to the toddler. She did not come across as very worried and turned around quickly again, checking out more dresses for herself. I tried to snap a photo as they were paying for the clothes.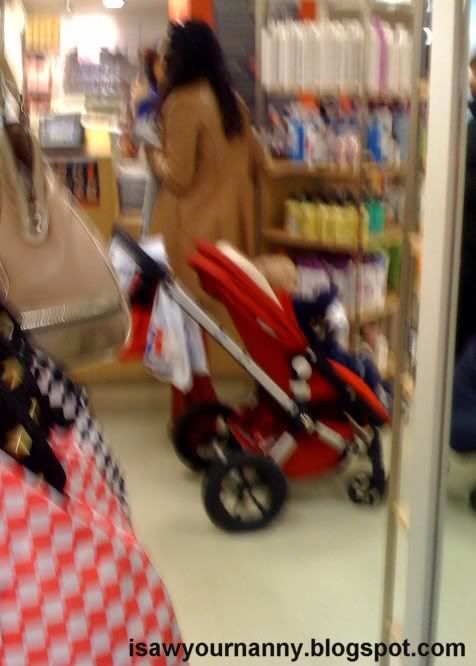 I saw this same Nanny and her friend a year ago just before Memorial Day before when a much younger child (it could easily have been the same child) was in a buggy not appropriate for his age, screaming it's head off for 20 minutes and they were trying out flip flops at Tip Top shoes on W72nd street. Even my husband was annoyed.
Nanny had long black curly hair, light brown leather-like coat,sunglasses in her hair. Age hard to guess, could be end 20's early30's but I'm guessing. Quite tall, lean. Other nanny was shorter and older, short black hair.