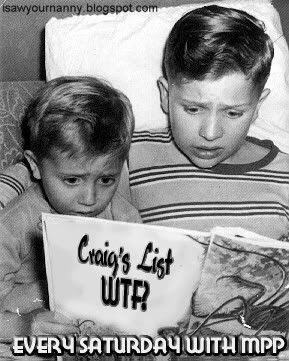 Saturday, May 9, 2009

.... What?!

* The following Ad was answered by an ISYN reader:1) Nanny Wanted (Iowa City)
I am looking for a Nanny for my two sons starting June 1st (summer only). My sons are eleven and eight and are very independent. The time required would be Monday-Friday, 8:45-5:15. Room and board provided if necessary. Ideally you must have a vehicle to transport them to the pool, park, etc.
Original URL: http://iowacity.craigslist.org/edu/1133578697.html
*
Here is the response they received:2)
Wanted to thank you for your response to the "Nanny Wanted" posting on Craig's list. I also wanted to let you know that I have been really busy with work, so I apologize for the slow response. This leads me into an important subject, I am a social worker, so I don't make a ton of money. For those of you that are looking to make considerable money nannying (and I support you), this may not be the opportunity. For starters, despite the long hours (more on that later), it is really not very labor intensive work. My sons are eleven and eight and pretty much are self motivated, so short of you driving to the pool (or walking), you are basically present to make lunch, the odd snack, keep them safe and that is it...you can nap, text your pals, sit by the pool, lay in the park, etc. Also, the boys may be in Arts Shares camp for a couple of weeks, so this would mean half days during that period. So given this fact, this might be a nannying position better geared towards high school folks, as opposed to college students looking for money for tuition next fall. About the hours, I am thinking that I might cut back my hours at work to thirty-two a week for the summer. I am also thinking that if I stay at forty, that I might hire two people for twenty hours a week. I received some responses from males, and while I am an equal opportunity guy, there is so much male energy in the house with the three of us, I really would like the boys to get to hang with a female. Again, I am open-minded about this, but we have dealt with this issue the last few summers, so it isn't new to us. Anyway, all that being said, please e-mail me back if you are still interested and mention what type of salary you are interested in. I will see if my budget allows for it and get back to you. For those folks that are no longer interested, thank you for taking the time to e-mail. Best Regards, Tony
___________________________________________________
Special thanks to: alc0035 - for our FeatureAd, northjerseynanny, i.am.not.your.bitch.2009, cityshopper1023, MissDee, Faery71278, umrebelfan and kimmysauce626... all of you did a great job! Remember: CL-WTF will be Posted every Saturday... please send next weeks Ads HERE.
TO READ THE REST OF THIS WEEKS SUBMISSIONS: PLEASE CLICK HERE!