Received Friday, May 8, 2009
Washington Square Park in NYC
Older Kids Playground
May 8th approximately 4-5PM
Multiple Situations
See Picture- A boy, maybe 8 years old, was ON TOP of the swing set. I believe that I heard this kid referred to as "Luca". I could be wrong. He was also talking to a woman who could have been an aunt, grandma or nanny (late 50s?) but I am not sure if they were together.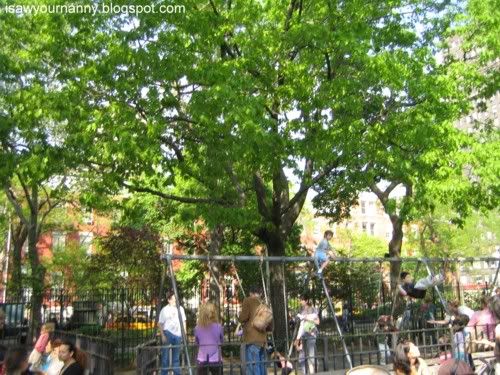 I just can't see any reason that this or any child should have been allowed to be on top of the swings. There were other children at the sandpit jungle gym, many of whom were on top of the tunnels, standing on top of ladders, etc (in the wrong way, not as they were designed and certainly high enough that they could have died if they had fallen) but I couldn't spend my time taking pictures of all the kids, since I had to watch my own and it was a madhouse!
In general, there were a LOT of adults sitting on the bench, and I'll be honest about 90% were clearly nannies. There were parents there as well but most were in the sand or next to their kids. There were exceptions of course. I had multiple kids come up to me to ask me for help, want me to play with them... It is really sad that some of these kids are so attention starved... If your nanny takes your kids to this park, consider dropping by to make sure she is really watching actively. It was VERY crowded, and it would have been very easy for a child to get abducted.