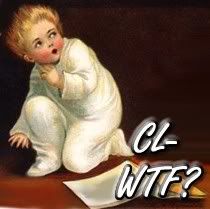 Saturday, March 21, 2009
.... What?!

1) Looking for a full time Nanny/Babysitter (Braintree/Quincy)
I cannot deal with another crazy nanny!! I want a nanny that is reliable, that will come to my house everyday and care for my 3 year old. I am so tired of the constant sick calls, family emergency calls and basic nutty behavior. I had to fire my last nanny because she was never here! I am paying $400 wkly, flat. I have been paying off the books, but I am beginning to rethink that whole thing. Actually my ex-husband pays and he needs to rethink the whole thing. I need someone M-F 7am-315pm. Right now I work 2 weekends a month, but those weekends my ex takes our son. On the weeks I have to work the weekend I will be home on 2 weekdays, they change every week, but I will still need you here. It's just easier to schedule that way. I am a CNA at a local rest home and if you know anything about that line of work, I can't keep calling in because my childcare failed to show up!! I come home exhausted and I need everything done! A quiet, clean, happy toddler, recently been to the potty and has had a nap and a snack. I want the dirty dishes in the dishwasher, and any left over food wrapped and put in the fridge. I send the laundry out, so don't worry about it but please make sure it is all in the hamper. NO DRAMA PLEASE!! I have enough of my own. My boy is a good kid, he has his 3 year old issues, but otherwise he's great. I don't care if you watch some TV, I let Barney babysit at times too, I just don't want it on all day. I would prefer a nanny that drives. I want a nanny that is not afraid, has the self confidence, and speaks English well enough to sign my son up for playgroups, playdates, story times, etc.. The is a playground nearby and an indoor playground for rainy days. Please be a nanny that can cook. I am not asking for Pheasant Under Glass, but I do need someone who can do more than warm up some chicken strips. My boy has a wide variety of likes. I cannot afford to pay health insurance or anything like that, I'm sorry. When I take my 2 weeks vacation, you can take yours. I can only get the ex to pay for 1 week however, idiot! Anyhow, drop me a line.
Original URL: http://boston.craigslist.org/sob/kid/1072932284.html
_______________________________________________________________

Special Thanks this week to Nanny Taxi - for our Feature Ad, austinmama, MissDee, northjerseynanny, Renee, nannychrissyNJ, Meebo687325, Meebo825164, NC and WraithofWonder... all of you did a fantastic job! There were several Anonymous Submissions, so if you want credit for your Ad, please include your name or Moniker. Remember: CL-WTF will be Posted every Saturday... please send next weeks Ads HERE.
TO READ THE REST OF THIS WEEKS SUBMISSIONS: PLEASE CLICK HERE!