Received Friday, March 20, 2009
I saw a nanny today at Discovery Green in Houston, Texas that was pretty rough with the kids she was in charge of.
We got there about 10am today and she was already there with her charges.
The nanny had 3 little boys with her, the youngest looked about 6 months and the older two looked close in age, maybe around 4yrs. The middle child had a superman shirt on and the baby was dressed warmly for the weather with a hat on his head.
The nanny was sitting down with her back to the kids for a good 45 min and whenever the children came up to her she was pretty harsh to them. She jerked the middle child by his arm and when she decided to stand up she took the baby out of the carseat by one arm! She followed the kids around and looked like a good nanny for the few minutes before the father showed up, she talked to him for a few moments and handed the baby to him while she followed the other two around the park.
Now I know some of you guys will probably ask why I didn't just go up to the father. Well I was there with my charge and SHE is my top priority, we played at the park for a few minutes longer and then she wanted to play in the water so we left the park and headed to the water. I tried to look for a chance to talk to the father while we were still at the park but he was talking with his kids and the nanny and I wasn't going to say something in front of the nanny or older kids. By the time we were done playing in the water and walked back to the park they were already gone.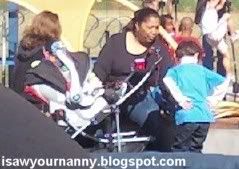 In the picture is the nanny with the youngest still in the carseat/stroller. The child with his hands on his hips was the middle child, the oldest was playing on the playground behind her.