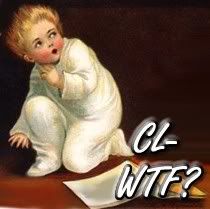 Saturday, March 21, 2009
.... What?!

1) Looking for a full time Nanny/Babysitter (Braintree/Quincy)
I cannot deal with another crazy nanny!! I want a nanny that is reliable, that will come to my house everyday and care for my 3 year old. I am so tired of the constant sick calls, family emergency calls and basic nutty behavior. I had to fire my last nanny because she was never here! I am paying $400 wkly, flat. I have been paying off the books, but I am beginning to rethink that whole thing. Actually my ex-husband pays and he needs to rethink the whole thing. I need someone M-F 7am-315pm. Right now I work 2 weekends a month, but those weekends my ex takes our son. On the weeks I have to work the weekend I will be home on 2 weekdays, they change every week, but I will still need you here. It's just easier to schedule that way. I am a CNA at a local rest home and if you know anything about that line of work, I can't keep calling in because my childcare failed to show up!! I come home exhausted and I need everything done! A quiet, clean, happy toddler, recently been to the potty and has had a nap and a snack. I want the dirty dishes in the dishwasher, and any left over food wrapped and put in the fridge. I send the laundry out, so don't worry about it but please make sure it is all in the hamper. NO DRAMA PLEASE!! I have enough of my own. My boy is a good kid, he has his 3 year old issues, but otherwise he's great. I don't care if you watch some TV, I let Barney babysit at times too, I just don't want it on all day. I would prefer a nanny that drives. I want a nanny that is not afraid, has the self confidence, and speaks English well enough to sign my son up for playgroups, playdates, story times, etc.. The is a playground nearby and an indoor playground for rainy days. Please be a nanny that can cook. I am not asking for Pheasant Under Glass, but I do need someone who can do more than warm up some chicken strips. My boy has a wide variety of likes. I cannot afford to pay health insurance or anything like that, I'm sorry. When I take my 2 weeks vacation, you can take yours. I can only get the ex to pay for 1 week however, idiot! Anyhow, drop me a line.
Original URL: http://boston.craigslist.org/sob/kid/1072932284.html
_______________________________________________________________
2) I will Babysit (Lakewood)
Hello I'm a single mom who is down on her luck, I was laid off couple months ago and have not been able to get work. So what I'm tryin to do is babysit for people from 7am to 5pm Monday thru Friday the pay is negotiable it'll depend on what we can agree on. I am currently going to school for medical specialties and gettin my CPR renewed. I am great with children and love them, your child will have plenty to do since I have a 2 year old boy. There are lots of toys and the house is child proofed, there is a park within walking distance to my home and a big courtyard for the children to play in. Your child must be well with pets I do have a cat who loves to play also. I am 25 years old, I do smoke but never in the home; smoking is strictly outside only! I do have food stamps so your child will be well fed and I have toys and movies appropriate for all ages. Anyone intrested please call me ASAP, my name is Nikki. 720 422 ****. Thank you and I hope I can help anyone who is in need because daycare is so expensive these days.
Original URL: http://denver.craigslist.org/kid/1082624072.html
* Response from CL reader about the above Ad:3) Re: I will Babysit (Lakewood)
You are down on your luck and offering that as a reason to care for someone's children? Not very appealing. But more importantly I think it is outrageous, as a Taxpayer, to read that you are on Food Stamps and are willing to keep the child you will be caring for "well fed". Those Food Stamps are supposed to be for your child and family ONLY! I don't think it is fair of you to offer to feed other people on what the Government is subsidizing for YOU! You are cheating them and it is illegal!
Original URL: http://denver.craigslist.org/kid/1083022019.html
_______________________________________________________________
4) Sitter Needed Tonight and Saturday (Verona/Madison West)
I know for tonight it's very last minute, but I'm looking for a responsible sitter to care for my 17 month daughter from 4-11 tonight and either the same or a different sitter for this Saturday 3/21 from 7:30am-3ish pm... If you are available, please call me (279-****) and let me know asap and we can discuss compensation and location... I can pick you up if you need a ride! :) Thanks!
Original URL: http://madison.craigslist.org/kid/1080667847.html
_______________________________________________________________
5) Needed: Weekend Sitter with Occasional Overnights (Queenston/West rd area)
We currently have two reliable sitters that we alternate to watch our children occsionally on the weekends for us. The only problem is we want to have romantic getaways sometimes and our sitters cannot stay until the mornings. Sometimes we go out to party and want to go to the "after party" which could last until 6am or so. Sometimes we might want to get a hotel and not come back until Sunday afternoon. So we are currently interviewing for a new sitter/nanny that would be able to stay with our children until the next morning/afternoon on some occasions. We would use you as our sitter anytime we needed one, (so we would no longer need the other two) and also let you know in advance if you would be needed for a "long" night. Our children are EXTREMELY well behaved, and there are 4 of them. Ages 9,7,2,1. (Yes this is why we need a break on some weekends...lol) Our home is very clean, and we have no pets. The children know how to get their own breakfast in the mornings(even for the little ones) and can even make their own lunch, but feel free to cook for them if you would like. Our current sitters charge $6 an hour. Please email with your rates,experience and availability. We will discuss references in the interview. Please be over 21, clean, and have reliable transportation, the bus line does not run this way.
Original URL: http://houston.craigslist.org/kid/1081210587.html
_______________________________________________________________
6) Re: Warning to Parents - watchout for appleseedchildcare (Las Vegas)
I posted something about this I think two days ago. I was about 4-5 months pregnant when I called about her overnight help posistion. She had excellent phone etiquette. I went to meet her in peson around dinnerish time. She was making catfish. She had lit candles all around the house to drown out the smell of the cooking fish. Granted she had one child at the time with her, it's still uneceptable. She went on to interviewing me. On the phone she promised $7.00 an hour. In person it was a different situation & dropped to $4.00 an hour. She opened the fridge, pulled out a beer & offered me one. She told me not to worry, that the parents bring her gifts such as food & alcohol & they don't mind her drinking around the children. I was supose to come back for my first night the next night, she called & I never answered. Parents Beware!!
Original URL: http://lasvegas.craigslist.org/kid/1083292695.html

* Appleseedchildcare Ad:7) Appleseedchildcare.com 24hr.7days
For more information or to schedule a tour please visit
http://www.appleseedchildcare.com/
To speak with Nae-Nae via text or celluar 406-**** Licensed and Insured Serving communities since 1986 Accepting ages 0-12years Welcome 24hr.7 Days Thanks and Remember within every apple lies a core Have Blessed Day.
(photos of Nae-Nae in CL Ad)Original URL: http://lasvegas.craigslist.org/kid/1080428034.html

_______________________________________________________________
8) Mother's Helper Wanted (Southern Highlands)
Hi! We are a very nice, easy going family of 4 looking for a babysitter/nanny/housekeeper to assist in the day to day running of a household. We have 2 children, ages 7 & 3. We are looking for someone who is FUN, ENERGETIC, enjoys playing with the kids, doing activities, arts and crafts, going to the park, etc. Light housework, laundry and grocery shopping required. We need someone that is flexible, without a lot of personal commitments. We would guarantee you 30 hours a week with the opportunity for more if needed. Our required hours will increase during Aug-Oct due to our business. We look forward to hearing from you. We are not posting a wage just yet, because we want you to reply because of our ad, and not just for the money. Thank you!!!
Original URL: http://lasvegas.craigslist.org/kid/1079574568.html
_______________________________________________________________
9) Babysitting (Collin County area)
HI my name is Jennifer and I am need of some money fast and I was hoping to babysit and this will only be temporary until I find a job, so no full time maybe just part time nanny jobs. I mean I'll be able to still babysit on the weekends or something like that. I jsut need to keep up with my bills. I'm asking for $10 a hour. I can cook maybe not the best, but I eat it. Please be smoke free home, but I love animals so that's ok! Thanks!
(Please see attached CL photo)Original URL: http://dallas.craigslist.org/ndf/kid/1079687998.html

_______________________________________________________________
10) I NEED A BABYSITTER!!!! for tommorow wednesday afernoon (Frisco/Mckinney)
I am looking for someone who is happy, energetic, responsible, young, and good with children to babysit my 3 children. Ages 9, 7, 2. Sorry short notice, but I need someone for tommorow afternoon/evening for a several hours from like 4pm - 9:00pm more or less. I prefer someone who will interact well and play with the children and not just sit down and watch TV the whole time or text message the whole time. I would also like to have someone with references and clean background. If you are interested, please e-mail me at bmr0017@****. Im on care.com if you want to look. Thank you and have a wonderful day!!
Original URL: http://dallas.craigslist.org/dal/dmg/1079294909.html
_______________________________________________________________
11) Seeking a non-white family for childcare (NYC)
My name is Kathryn Denney and I'm 26 years old with over 10 years experience in childcare. I am American, of Irish background, fluent in German and French. I have my BA in Childhood Psychology, and I graduated Spring of 2008. I have just recently left behind a lovely family of four and am now seeking further employment with a new family. Please note I am NOT looking to work with a CAUCASIAN family. I am seeking a FT, live out position, NO MORE than forty hours a week. I charge based on headcount. I will NOT take care of pets and I will NOT do housekeeping. I will NOT do overtime and I will NOT come in on weekends. I am responsible, reliable, attentive and wonderful with children. I have fantastic references and can supply them upon interview. Please contact me with any inquiries. Thank you!
Original URL: http://newyork.craigslist.org/mnh/kid/1081695287.html
_______________________________________________________________
12) im a great babysitter (Las Vegas)
my name is erendira im 23 yrs old latina.. I have been babysitting for yrs... for my cops kids, my friend kids and my sister kids.. i love kids.. i live in a nice area.. i live with my three kids.. great kids.. and my fiance... he play pro poker.. i live close by I-15 and craig and losee.. if you ever need a babysitter please give me a call even last min.. im really good with kids.. my cell is 559 960 **** or email erendira_medina@****
Original URL: http://lasvegas.craigslist.org/kid/1081687414.html
_______________________________________________________________
13) willing babysitter (Las Vegas)
i am 17 female i have watched children since i was 8 1/2, also helped my own mother wiht my two siblings. need to make some extra cash cause i am expecting my own. i can watch eitehr at your house or mine at any time and any day also. pay is negotiable. please contact if you are intrested. 702869**** :]
Original URL: http://lasvegas.craigslist.org/kid/1081208042.html
_______________________________________________________________
14) Last minute overnight sitter needed (Quebec and Evans)
So my babysitter fell through at the last minute and I had plans made for tonight (Thursday) and tomorrow (Friday). I have two children, ages 4 and 2 and would just need care overnight. I would need someone from 10pm until at least 3am. My kids will already be asleep and sleep through the night. I don't mind if you want to just stay the whole night so you don't have to wake up and go home in the middle of the night, or you can leave when I get home. The sitter I was going to use had agreed to $30 for each night - it's easy money because all you have to do is sleep! Please let me know if you are interested, I would so greatly appreciate it!
Original URL: http://denver.craigslist.org/kid/1082921870.html
_______________________________________________________________
15) nanny, anyone??? (Omaha or Near)

Hi, Kristy here... Looking for a great family. I am moving back to Nebraska, to the Lincoln, Omaha area in the next few months, if not sooner. I am looking for a live in situation, can be part time or full time. I am originally from the Dwight area, just so you know. I am moving back because all my family is here. I have 2 animals, a ferret, and a shep mix puppy. You would have to welcome all three of us, that is the situation that I prefer, unless I can find a temporary place for Buddy (my pup). I go to school online. I have a daughter that does not live with me for the time being, even though I have full custody, so my plans are to move her in with me after I get settled, but that could be a yr or so. I feel honesty is the best policy, and it is.... that is why I am giving you all the details up front, so it does not come to a surprise to you later. Thankyou for your time and request a resume if you like. Kristy 09
Original URL: http://omaha.craigslist.org/kid/1081983268.html
_______________________________________________________________
16) NANNY NEEDED, must love babies, be WILLING to work, 60+ hrs available (Bartlett)
We are a loving family insearch of a nanny. We have a 2yr old and a 7 month old. You must be available at least from 8am to 8pm, and 2 weekends a month. Hr. rate neg. Responsiblities are all children related. We pay cash and do not report. Must speak english well, have worked with infants, must have a valid drivers license, and must be able to provide me with previous employers. We truly are a great family to work for. We are looking for a long term arrangment. Call and ask for Monica (630)-514-****, Needed asap. Thank you. (No other children are allowed to come with., thanks again) We do have a large friendly family dog.
Original URL: http://chicago.craigslist.org/nwc/kid/1080209959.html
_______________________________________________________________
17) Childcare (River Grove)
Hello My name is Magi.I am 29 years old and I am mother of baby girl. I live in River Grove area and I provide childcare for up to children in my home. I have experience and I have great references. I am patient, friendly, responsible and very honest person. Free pets. My hours are open .Please feel free to e-mail me for more information, or call me at 708 843 **** and we can meet you in person. Thank you
Original URL: http://chicago.craigslist.org/chc/kid/1079903526.html
_______________________________________________________________
18) Nanny Needed ASAP!!!!!! (Crown Pt, IN)
Desperately seeking Nanny to provide full time care for 2 children in Crown Point, IN. Position starts immediately as do interviews, if you are not able to start immediately, please don't waste either of our times! Hours are 9-5 Mon-Fri, no late days, no weekends. Nanny to provide TLC to 6 month old during day, ideal candidate will be familiar with asthma breathing treatments, but will train. MUST BE A NONSMOKER! Nanny will also provide care to both children when my son returns home from school (school bus brings him to the door.) No housekeeping required and we are a pet free home. Pay is fair and will be discussed at interview. As I said, position starts immediately, must be able to interview by Friday, background check will be run Saturday, you will meet our children Sunday and begin Monday. To get the ball rolling here, please provide the following information: Name: Age: Location: Experience: and any other pertinent information that you feel will put you in the best position to be selected for the job. For instance, CPR certification, babysitting classes, references (WILL be contacted) Thank you for your time and I apologize for how fast this whole process will be. I have to go back to work Monday and I'm using the rest of my vacation this week!
Original URL: http://chicago.craigslist.org/nwi/dmg/1069929516.html
_______________________________________________________________
19) Seeking a PT mother's helper (Rancho and Oakey)
Professional couple looking for someone, part time, to help engage our two year old while we do things in or out of the house. Hours would be flexible, but would prefer someone with transportation and insurance, for days we need to work late. Looking to start at 2 days per week. Sometimes, we'll be home, sometimes we'll be gone. Just depends on the days. This is what happens, otherwise
! (Please see attached CL photo)Original URL: http://lasvegas.craigslist.org/kid/1080962831.html

_______________________________________________________________
20) nannie for this summer (Beaver Bam WI)
I have two boys looking for some one with a big heart! I want you to show my 8 and 5 year old boys a great time this summer! Pay is neg! I could house you all summer and feed with part of pay! I have a large house so space is no problem!
Original URL: http://madison.craigslist.org/kid/1074646933.html
_______________________________________________________________
21) need babysitter ASAP (South Las Vegas)
Looking for babysitter for 2 children tomorrow morning and every morning thereafter. I work 5 days a week during the mornings at 8 am until 5 pm and need someone to be able to watch them in my home and do some light cooking and cleaning while there. I will run backgrond check and check references if your experienced. My children are 19 months and 3 so please have own transportation an you must be able to do educational activities while babysitting. please call for appointment as early as 6.30 am to 4 pm 702-884-**** Thank you $6.75 to $8.00 per hour depending on experience and on weekends $9.00 and up all cash same day of service
Original URL:http://lasvegas.craigslist.org/dmg/1072764220.html
_______________________________________________________________
22) Looking for weekend babysitter (I25 and Yale)
Hi. I have a 4 and a half month old son. I am looking for someone to come to my apartment and babysit during the weekends. I am looking for the following times. Friday abut 5:30 pm to about 3 am and Sat about 5 pm to about 3 am. I am not looking for all weekends, but most. He is spoiled, cries a lot at times, and sometimes like to be rocked to sleep. YES, he is a mamma's boy. So if you can not stand crying, PLEASE do not reply to this ad. If interested, please let me know and reply to this ad with the following: age, experience, rate, refrences. You are more than welcome to bring your little one's with you, just reply to the ad with ages. Thank you. MUST have cell phone, car, and license in case of emergencies.
Original URL: http://denver.craigslist.org/kid/1082798872.html
_______________________________________________________________
23) I need someone ASAP (South Everett)
I have 2 kids. A 2 1/2 year boy old and a 7 week old baby girl. I need someone who can come to my apartment and take care of the kids from when my husband leaves for work at 3pm until he gets off work at around 8:30. I can only pay about $10 an hour... And I need someone asap... If you work out and we think that you fit our family well then after 2 weeks we will raise the pay to $12 an hour. Please no one under 18... I need someone who has a car/license and can be here reliably at 3pm. Please contact me ASAP by telephone 425-347-**** or call 425-971-**** (try the first number first as this is just a message phone). I need someone who can start immediately as my sister has suddenly decided that she cant drive all the way from arlinton every single day. Thanks! Stormy
Original URL: http://seattle.craigslist.org/sno/kid/1081372220.html
* A little dirt on the person you would be working for:
http://www.myspace.com/stormycurtis
*
And this:
http://dw.courts.wa.gov/index.cfm?fa=home.namesearch&terms=accept&flashform=0
(Enter "Stormy Curtis" in the Search box)__________________________________________________
24) Tired of Grumpy "Nannies"? (New York)
I'm a 40 year old male with two sons and a daughter. They all live with their mother in California. Im a recent grad of SUNY, here in NYC. Im originally from Northern california and Alaska where I worked fishing boats,logging and extreme hard labor. I have a winning personality, very upbeat. Im great with my own children, and with all kids. My wife and I are looking for extra money and yours truly cannot do labor any more. I speak a little Russian, some Spanish, Serbian. I love to read. I guess I have seen too many "nannies" in NYC that look like theyre in their own personal gulag. One should never be like this with a child! I have many refs, local and proffessional. No, I have never been to prison. No, I don't mess around. Im happily married. Thanks,
Original URL: http://newyork.craigslist.org/jsy/kid/1070680312.html
______________________________________________________________
25) Babysitter Needed - Thursday & Friday (South Arlington/Mansfield)
WANT TO MAKE A QUICK $100??? Babysitter needed for tomorrow and Friday from 8am-2pm. I have an almost 10 yr. old girl and an almost 2 yr. old boy. Will drop them off and pick them up. Person with children preferred. Please email ASAP if interested! Compensation: $50/day CASH
Original URL: http://dallas.craigslist.org/mdf/dmg/1081407391.html
______________________________________________________________
26) Wanna go OUT TONIGHT? YOU pick your babysitting price! :) (Cypress)
Hello! I'm Stephanie, a 15 year old who has two years of experience with babysitting. I'm a very responsile straight-A student. If you want to go out or just in general need a babysitter, I'm here for you! You can drop your child off and negotiate a fair price with me, and pay when you pick them up. Worried about a teen sitter? Well, my parents work from home so they'll be here 24/7 if anything happens. I'm more comfortable with children over 2, but i'm experienced with younger. Right now it's spring break so i'm available anytime, but on normal weekdays I'm available from 3-9. Weekends I'm available 24/7. Just e-mail or call 281-304-**. Thank you! =)
Original URL: http://houston.craigslist.org/kid/1082514751.html
* Another Ad taken out the same day by the same girl, she magically aged 1 year:27) Babysitting - Your House or Mine - Pay What You Want (Cypress)
Hi! I'm a sixteen year old who has two years of experience with babysitting. I prefer my home, because my parents work from home and can help if needed, but I can also babysit at your house. I'm a straight A student who's very responsible. I'm more comfortable with children over 2 but I have knowledge of younger kids. As long as your price is fair and reasonable then you can pay whatever you feel right. Since I'm on spring break right now I'm available literally anytime. I have referances available unpon request. You can e-mail me or call 281-304-**** and ask for Stephanie. Thank you! :)
Original URL: http://houston.craigslist.org/kid/1082605330.html
______________________________________________________________
.... How Much?!

28) Position Available Serious Inquiries Only (Midlothian, Ashbrook)
I don't believe in wasting people's time so my posting provides as much detail as possible. I have a two year old daughter and I am looking for someone (age 18 or older) to provide child care and light housekeeping chores in my home. I live in the Ashbrook subdivision off Hull Street next to Woodlake. Anyone interested should a valid driver's license and reliable transportation. If you have small children of your own it absolutely fine to bring them with you or if you would like to watch another child at my home this is fine also but you will have to assume responsibility for any other children. I can guarantee a minimum of three days per week althou gh during the summer it will more than likely be five days. My husband owns a small landscape company so if the weather is bad he will be able to stay home with her. Therefore, days may vary but as I said a minimum of three days to five days a week. This could be a great summer job for someone in college or just looking to pick up some extra money. So, let's talk money because as I said I don't believe in wasting people's time. I am willing to pay $110 a week cash (5 days) or $22 per day if less than 5 days. So basically, $66-$110 per week cash. The hours I would need someone would be from 7:30am until 5:30pm. Food and diapers of course will be provided and some assistance with potty training may be needed. Light housekeeping duties will include: *picking up toys *putting dirty dishes in dish washer and putting clean dishes away *sweeping floors, swiffering, and vacuuming *making beds *windexing and dusting *etc. nothing strenuous Some of these things won't need to be done everyday. Therefore, the housekeeping part will be pretty easy. We are honest, very easy going, and easy to get along with and we expect the same in return. Also, I have a small dog (Chihuahua) named Taco. He is friendly, extremely kid friendly. SERIOUS INQUIRES ONLY PLEASE. Please email me with a phone number and general informat ion about yourself if interested and I will get back with you to schedule an interview as soon as possible.
Original URL: http://richmond.craigslist.org/kid/1084060670.html
______________________________________________________________
29) Elderly Nanny needed in my home (Owings Mills)
I need an elderly nanny to look after my baby. I am willing to offer you your own room. A spanish or african elderly lady is welcome. I am willing to offer you a room, food free, internet and $100 per week. You will work five days a week only. If you want live out, I can still offer you $100 a week. If interested please email.
Original URL: http://baltimore.craigslist.org/kid/1075207847.html
______________________________________________________________
30) Childcare needed two days per week (Cary)
Professional single Mom needs in-home childcare on Thursdays and Fridays from 10:00a.m. until 6:00p.m. for a 1 year old and a 5 year old while I sleep. I work third shift and will need this person to do daily activities of taking children to nearby park, swimming at community pool, prepare lunch, p.m. snacks and light housekeeping. Person will also need to communicate with night time Nanny arriivng at 6p.m. about any issues with children. The night time Nanny is responsbile for cooking dinner, night time play and bathing. She prepares breakfast in the morning and has the children dressed when I arrive home at 8:00a.m. so the position should be a fun, easy day. I am offering $40.00 per day. If interested, please email me. Interested candidates should be willing to submit for background check, provide references, and have previous childcare experience. This will be a long term arrangement!
Original URL: http://raleigh.craigslist.org/kid/1080115346.html
______________________________________________________________
31) I need a babysitter/nanny!!! (Jefferson Park)
I have two sons, ages 4 and 1 1/2. I would need someone from 8 a.m. to 4:00 p.m. I can only pay $200 per week but I have a nice little house with a big yard and you're welcome to make it your home during the day. I would also be willing to give you free English lessons. I guess I'm just looking for someone with a kind heart who needs to make some extra money. My boys are adorable and fun. I wouldn't need any housework done. Just someone to hang out with my boys while my husband and I are at work. I would also be interested in sharing your services with another family. Let me know if you're interested.
Original URL: http://chicago.craigslist.org/chc/dmg/1078982171.html
______________________________________________________________
32) full time childcare needed for 2 mothers (Research & 360)
Two sisters/mothers are seeking childcare for our 4 children ages 3,2,and 10 months in our home. This person must be fun loving, caring, dependable, and honest. Our children enjoy playing outside, coloring, and playing games. The ability to maintain structure between the cousins and provide activities is a must ! If you believe that this would be a position for you please email us at kristen@**** Compensation: $250 per week
Original Url: http://austin.craigslist.org/dmg/1082756234.html
______________________________________________________________
33) Looking for a Night out are you? Cheap babysitting! (NWI)
I am offering my babysitting services, If you need a night out, if an emergency comes up, if you are just going to work. I can babysit for you. I 'm great at the last minute even, I also don't charge extra for last minute calls. Most the time I will charge $20.00 for 8 hours a time no matter what time, but if you have more than 2 children if will go up. But other than that I have a clean past, and I don't do anything illegal, and I'm great with kids. Most of the time I would prefer to babysit at your house but soon when i move I will offer some at home babysitting. But if your interested email xxslim45xx@**** don't worry I email quickly. Babysitting area's i will travel, Hobart, Portage, Lake Station, South Haven and Valparaiso Will consider other locations! Thanks
Original URL: http://chicago.craigslist.org/nwi/kid/1080013954.html
______________________________________________________________
34) Full/Part time Nanny Available (Palatine and surrounding areas)
Hey, my name is Michelle and i'm looking for a full or part time nanny position. I currently nanny and the family is moving to Rolling Meadows. I will be staying with them but I would also like to pick up another nanny position at the same time.Anywhere in the general vacinity of Rolling Meadows/Palatine would b great. Basically I would be watching your children and the other child I already watch. I am very creative, outgoing and fun. I have taken child development classes and know a lot about children and how they develop and interact. I am looking for some extra money because my income now is barely gettting me by. I love children and have some awesome references upon request. I work for very little and would charge no more than 150 for a full week. Pay can also be negotiated. I hope to hear from you soon!
Original URL: http://chicago.craigslist.org/chc/kid/1079893851.html
______________________________________________________________
35) Babysitter needed for my 20 month old daughter (North Keller)
We are looking for someone to babysit our 20 month old daughter on a regular basis. My husband works full time and I work part time and go to school full time so we need someone available Monday - Friday , however each day may not be needed. Each week will change depending on what days I have to work. I own my own small business so I change my schedule frequenty. We need someone reliable and MUST have references, child / infant cpr prefered but not required. We would like someone close by in the North Keller, Haslet area. We will pay $25.00 a day, the earliest we would need someone would be 8am and the latest would be 6:30pm. Some days might be a total of 9 or 10 hours, other days might be only 3 or 4 hours. Please email me or call 682-597-****. thank you april
Original URL: http://dallas.craigslist.org/ndf/dmg/1078092621.html
______________________________________________________________
36) Babysitter needed (Forest/Audelia)
I need someone to assist me with 6 kids. We will share the profit. Compensation: $150/week
Original URL: http://dallas.craigslist.org/dal/dmg/1077598149.html
______________________________________________________________
37) LIVE-IN NANNY WANTED (M-F) ONLY (Denver)
I NEED A LIVE-IN NANNY FOR 5 YEAR OLD BOY MONDAY THROUGH FRIDAY THEN PLEASE REPLY.IF YOU CAN HELP PLEASE REPLY IT IS 3.30 P.M. ON TILL HE GOES TO SLEEP AND HE IS GOOD BOY. I NEED A CARING,RESPONSIBLE PERSON TO BE A FRIEND TO HIM IF YOU CAN PROVIDE THAT THEN I WILL TAKE CARE OF YOU. I WILL PROVIDE ROOM AND BOARD,CAR,,CAR-INSURANCE,ALL YOU WANT TO EAT,NO HOUSE WORK (MAID DOES THAT).IT IS ABOUT 25TO30 hOURS PER WEEK. IF YOU CAN HELP PLEASE REPLY.OR PLEASE CALL 720-479-****. PLEASE DON'T REPLY WITH A E-MAIL QUESTION. THANKS
Original URL: http://denver.craigslist.org/dmg/1080506772.html
______________________________________________________________
38) $75 per week M-F 6am through 5pm (DIA/Greenvalley/Montbello)
My name is Jessica and i'm a Hs Graduated student also, Currently an expecting mother due in late july to beginning of Aug.. I am dependable, respectful, polite so you can definitely trust me with your children . I've just moved into my first home so my house is newly painted, Smoke -free, Pet-free and children friendly. I'm providing childcare for M-F 6a.m through 5.pm for 75 Per Week which includes Breakfast ,Lunch , Snack, Playtime, Naptime and learning time. I'm also willing to do Temporary Daycare, Overnight Stay, Date Nights etc. call for interviews 303356**** or email me at jhuongnguyen@****
Original URL: http://denver.craigslist.org/kid/1082434413.html
______________________________________________________________
39) Nanny Needed (Centennial/DTC/Englewood)
Loving family with 3 girls full of energy seeks a part time nanny in exchange for clean comfortable room. Girls are 9, 6 and 5 years of age and will need to be picked up from school Monday-Wednesday, and every other Friday cared for from 2:30-6:30. I need help with getting dinner started. Light cleaning and overseeing chores and assisting with homework would be expected. Transportation required to take girls to extracurricular activities before 6:30 p.m. School within walking distance. In exchange for nanny responsibilites you will receiver free meals, cable, utilities, and internet access. provided. Huge back yard. Laundry and garage space available with remote. No smoking or late night entries. Must have experience being a nanny and must provide 3 solid references. Any other work outside of the duties listed above will be paid at $15.00 per hour.
Original URL: http://denver.craigslist.org/kid/1082338280.html
______________________________________________________________
40) BABY SITTER WANTED ASAP (Beltway/Memorial Drive/Town & Country Ctr)Wanted:
Consistant & Commited Baby Sitter. Needed for:~ Several Times a week [1 to 4] [time is not consistant day to day so it would include & not limited to: mornings, afternoons, evenings & weekends]~ With a 2 hour minimum but a 4 hour maximum~ You will be given 48-4 day notice of when services would be needed.~ You would need to have transportation to "Creek Stone Apartment Homes" 10440 Deerwood Road, .5 mi from Memorial Drive/Boheme & Beltway Feter~ Our toddler is 19 months old, very mobile & independent. ~ We have a budget of $6 an hour, due to the nature of this babysitting job (no cleaning, cooking, driving, -- basically just watching & playing with him) it will not be hourly as for a job that includes all those duties please keep this in mind. Please do not inquire if: ~ You have a criminal history (we'd like to run a bg check)~ Aren't comfortable with nanny cam on occassion~ Have a full time weekday job/career Please use the Link above for the quickest response.WE NEED YOU ASAP!!! [who ever you are!] :)
Original URL: http://houston.craigslist.org/dmg/1083239398.html
______________________________________________________________
41) Need a Nanny (Southeast Houston)
Single Mom Offering free rent & bills paid in a 2/1 in exchange for nanny services for two year old boy. Will have own room, but will have to share kitchen, bathroom, etc. I work alot, so you will need to be available a majority of the time to care for him. Will be responsible for own food, etc. Single Moms Great/ At least 18 y/o/ No drug Use
Original URL: http://houston.craigslist.org/dmg/1079100649.html

__________________________________________________
42) need a nanny one day a week (Summerlin)
i had a baby siiter until recently due to her starting school. i only need someone to watch my kids every friday from 7 am until 5 pm. if you can watch them at myhouse you are more then welcome to use our tv computer movies and food. if you want me to bring them to you i will pack them a lunch. i live off charleston and fort apache but work in henderson. i paid my old baby sitter 50 bi-weekly but im willing to negotiate if need me. i am a single mom so i dont have much. i greatly appreciate it.
Original URL: http://lasvegas.craigslist.org/kid/1080706091.html
_______________________________________________________________
43) Looking for a sitter (215/St.Rose)
I am looking for a sitter for every other Saturday or so. On occasion, I would like to also go to happy hour on occasion. I live off of Pebble/Pecos, right of the 215. I want someone that is a mile or so away. I do not want to travel far or want you to travel to far. I have a 7 year old son that is fairly easy to watch. He likes games and tv. I would like a teenager and/or a mother whom has a child around the same age to play with. I do not want to pay alot. I am willing to pay $5.00 a hour to watch him. Let me know if you are interested. ddow7@****
Original URL: http://lasvegas.craigslist.org/kid/1081590517.html
_______________________________________________________________
44) Babysitter needed in my home Mon-Wed nights (Green Valley)
Hello, I am looking for a babysitter to come into my home starting Monday the 23rd.. I have a beautiful little 2 year old granddaughter, that needs someone to watch her from 5:00pm-11pm 3 days a week. I am sorry for the short notice, but my granddaughters current provider, left me in a bind at the last minute. I live in a clean, smoke free home, no pets. I am looking to pay around $20-$25 a night. You must have references, and your own transportation. I am a hair dresser and teacher at nights, and this is the reason that I need the care. If this is a match, then this could be an on-going position. I live off of Warm Springs and Arroyo Grande. serious inquiries only please. as I am in a time crunch! I look forward to hearing from you!!!
Original URL: http://lasvegas.craigslist.org/kid/1081609682.html
_______________________________________________________________
45) LIVE-IN NANNY WANTED FOR 5 YEAR OLD IN EXCHANGE FOR ROOM AND BOARD (Littleton)
LIVE-IN NANNY WANTED FOR 5 YEAR OLD MONDAY THROUGH FRIDAY 3.30 P.M TILL HE GOES TO SLEEP.WEEKENDS ARE OFF.YOU HAVE TO PICK HIM UP FROM SCHOOL IN MY CAR AND BRING HIM HOME GIVE HIM A BATH,COOK HIM SOMETHING TO EAT AND DO A LITTLE HOMEWORK FOR THE SCHOOL AND WATCH SOME T.V AND PUT HIM TO SLEEP BY READING HIM A STORY. DRIVER'S LICENSE,REFERENCE,LIGHT COOKING IS NEEDED FOR YOU AND HIM,SOME EXPERIENCE NEEDED. I WILL PROVIDE FURNUISHED PRIVATE ROOM WITH CABLE AND INTERNET,PRIVATE BATH,NEAR 4 PARKS,MERCEDES-BENZ,CAR-INSURANCE,FOOD WHATEVER YOU WANT TO EAT WITHIN A REASONABLE BUDGET. JUST BE A GOOD RESPONSIBLE FRIEND TO HIM AND IT WILL WORK. TAKE HIM TO PARKS,FRIEND'S HOUSE,ZOO,FUNTASTIC FUN AND WHATNOT. JUST HAVE FUN WITH HIM IN RESPONSIBLE WAY AS A RESPONSIBLE PERSON FOR HIM. IF YOU ARE INTERESTED PLEASE REPLY WITH A CONTACT INFORMATION OR YOU CAN CALL720-479-****,OR 303-742-****,OR 303-975-**** THANKS
Original URL: http://denver.craigslist.org/kid/1080497475.html
_______________________________________________________________
Special Thanks this week to Nanny Taxi - for our Feature Ad, austinmama, MissDee, northjerseynanny, Renee, nannychrissyNJ, Meebo687325, Meebo825164, NC and WraithofWonder... all of you did a fantastic job! There were several Anonymous Submissions, so if you want credit for your Ad, please include your name or Moniker. Remember: CL-WTF will be Posted every Saturday... please send next weeks Ads HERE.
TO LEAVE A COMMENT: PLEASE CLICK RIGHT HERE!!