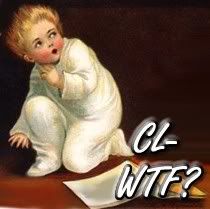 Saturday, February 7, 2009
.... What?!

1) Seeking full time nanny/housekeeper (Everett)
Seeking nanny/housekeeper/assistant for my husband and I, and two small boys. My husband and I are professionals with high intensity jobs in the adult entertainment business. If this isn't ok with you, and you would not feel comfortable working with people in this industry, then we aren't the match for you. My husband and I in a nutshell: We are free thinkers and probably belong in San Francisco or Manhattan. We have one of the most openly affectionate relationships you will probably ever have seen. We swear a lot, we live life to the fullest, and we are each others' best friends. We are well off, and we don't feel the need to explain ourselves to others. We aren't snobby though, and we don't pretend that our shit doesn't stink. Disclaimer: We are both extremely sarcastic people. If you don't get the slight tongue in cheek feel to what you're about to read, then you can already be assured you probably won't like working for us. We need someone 4 days per week, 6 to 7 hours per day, at our house, and one weekend day for 6 to 7 hours at your house preferably (this is negotiable). We need someone who will be working only for us, and someone with no children of their own. The housecleaning/assisting duties will include but not be limited to: -CLEANING. I'm not extremely anal, but I expect my house to smell good and look good – please be attentive to detail. -Dishes. I really need the dishes kept up on. We have a dishwasher; I'm not picky as to how you do them, just as long as they're in the cupboards waiting to be used, and not in the sink. -Laundry. I travel a lot, and we have two kids. You probably will spend a majority of your time washing and folding clothes. My hubby hates laundry even more than I do, so if there are more than 2 loads piling up, expect that he will probably do them himself and be very unhappy about it. -Vacuuming. My Oreck vacuum cleaner has this delicious fragrance release thing, and I think it's divine. I want to smell it at least 3 times a week. -Organizing kitchen and household. I like organization – again, NOT anal, but I need my house to fit my personality, and I am a very organized person. Also, please don't be one of those people that organize things their way. My mother in law does that and it drives me to drink. Please take note of how things are already done, and adapt yourself. I will be your biggest fan for it . -Dusting. I don't like dust bunnies. I prefer having my dog as a pet. -Cooking for children. Please be at least a decent cook – and no I don't mean a corn dog and a juice box. We don't let our children eat junk food or fast food or candy, so please be ready and willing to cook healthy things for them. -Filing, errands, and mail. The qualities we are looking for in someone: -Mature and stable. Please do not be "figuring out your life" or still obsessed with getting to Saturday night so you can go out to the club. -PUNCTUAL AND NOT FLAKY. This is the most important thing. We need at least 2 days notice if you are going to not be available, preferably a week. If you have a serious issue or an emergency, of course, please let us know and we'll try to work around you. We run a very tight schedule though, and need someone who values their job. We will give 3 warnings for tardiness or calling in at the last minute, and after those 3 warnings, we will fire you. -Educated. You don't have to have a college degree, but please be able to present yourself as an intelligent, classy person and know how to speak for yourself. -Motivated self starter. My husband is the kind of person who will pick up the slack if he sees something that needs done, and this defeats the whole purpose of paying someone. So please for the love of God, know how to put yourself on task and be on the ball! -Experience with children. Like I said – we need someone without kids – but we do need someone who has extensive experience taking care of other peoples' children. I don't however need someone who feels the need to impart parenting advice. My husband and I like the way we do things, and it works for us, so please just be able to fit into our lifestyle. -A positive and loving motivator yet strict disciplinarian. If you don't feel like you're ready to deal with a 2 and a half year old who will try every trick in the book to bamboozle you into getting his way, then you're probably not. We need someone who has dealt with small children before and knows how to lay down the law. -Willing to submit to drug test monthly and background check before starting. If you test positive for drugs at any time during your employment, or come to work visibly hung-over, or we smell alcohol on you, you will be dismissed immediately. Period. -Driving record. If your insurance is $300 a month or you have a DUI, don't bother applying. You can have some tickets and maybe even an accident, but I need to know that my kids are at least as safe driving with you as they are with me. -5 to 10 business and personal references. No, these can't be your mom or dad, or your "bestie for life". Please have references from people you have worked for in the past and people that can attest to your character in an unbiased fashion. If you are still reading this, congratulations! I don't expect to get a whole lot of responses, but hopefully there is someone out there who could really work with us and our little family here. Thank you for your time, and best of luck with your job search!
Original URL: http://seattle.craigslist.org/see/kid/1014135027.html
____________________________________________________________
Special Thanks this week to: seadreamer, stickthelanding, MissDee, northjerseynanny, Chrissya and several Anonymous Contributor's.... you did a great job! Remember: CL-WTF will be Posted every Saturday... please send next weeks Ads HERE.
TO READ THE REST OF THIS WEEKS SUBMISSIONS:
PLEASE CLICK HERE!