Bad Nanny(ies) New York City. Battery Park City Playground. Few weeks ago (on Thursday, August 23rd), I took my charges to the Battery Park City's West Thames Park to meet their friend. . The weather was great and the playground was packed. My charges (9y and 10y) were enjoying web-like climbing apparatus and (later on) water guns. This newly renovated playground is great spot for older kids as well as toddlers and babies (there is a big section for young kids).
Anyway, to get to the point: We arrived around 4pm and spent there a little more than 2 hours. Very close to where I was standing I saw a little girl (around 2 years old?) sitting on the ground next to the bench where 3 women were sitting, chatting and enjoying their snacks (one of them had her legs on the stroller). The little girl was sitting right next to green-dress nanny's feet and I assumed that is the girl's nanny. There were no other way to figure which one is the girl's nanny since no one was interacting with a girl at all! I looked in their direction every couple of minutes and every time it was the same picture: 3 nannies were talking with each other, laughing, eating... while little girl was either sitting on the ground next to the bench or standing there watching other kids play and enjoy the spinning disc (I took a pic every 10 min or so) After maybe 40 minutes, 2 nannies (nanny in green and nanny in red) went outside of the playground (The playground is right in front of the residential building and they went towards the building and came back 15 min after), and the little girl was left with the nanny in grey.
I starting doubting that the nanny in green is girl's nanny but its hard to tell since no one was interacting or even looking at that poor child. The grey-shirt nanny checked if the girl's diaper is full without even looking at child. Then she took the girl on her lap and changed her diaper. Weird thing was that nanny was looking at the crowd in the park while changing her diapers and she barely looked at the little girl only once or twice while wiping her. I mean, I thought there is no way that she could have more ignored that poor child. Soon after the other 2 nannies came back, the party on the bench continued. It was the same situation for the rest of the time we were at the park. Around 6pm we were about to leave I saw little girl was sitting on the ground again, between green dress nanny's legs playing with that woman's feet!!! I felt so bad for that little girl. It was wonderful day at park, so many things to do and that girl for more than 2 hours didn't get to do anything except sit on the ground next to bench and watch other kids play. I didn't hear her crying or being upset for not getting any attention, and unfortunately it seemed to me that she is used to being ignored. I am not 100% sure that the nanny in green dress is her nanny or the one in gray shirt but I can send pictures and hope that girl's parents will see this. Please, take a look at those women and I hope someone will recognize them. I covered the children faces. English is my third language, so don't hate :) Thank you, Kat.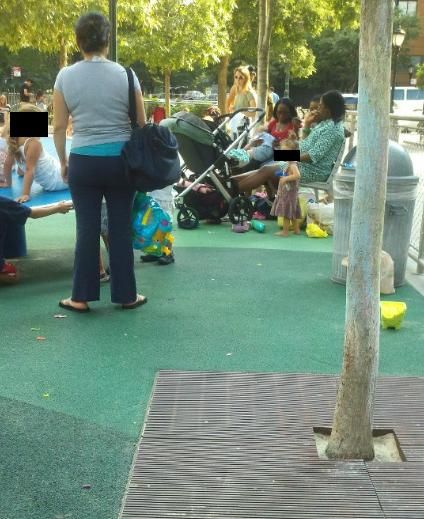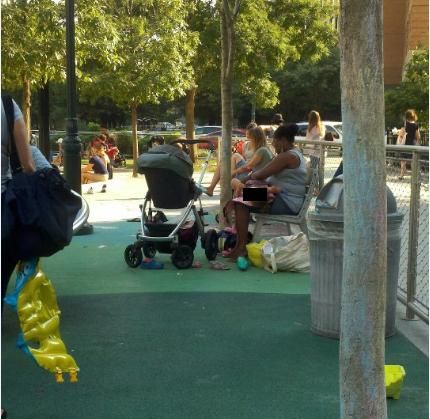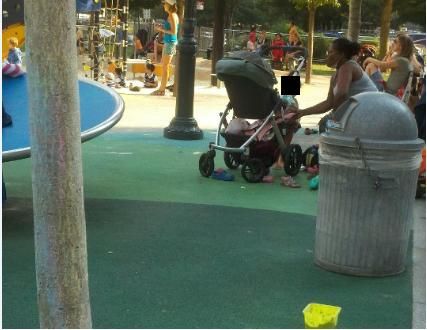 #nannysighting #isyn #isynblog #isawyournanny