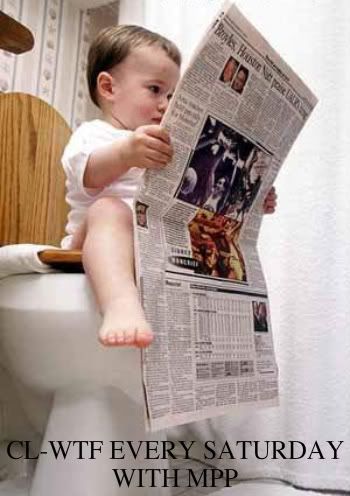 .... WHAT?!Feature Ad:1) Wet Nurse/Childcare (Nevada)
Loving mother of a 4 month old son hoping to care for another baby in my home. Have sufficient milk supply to nurse additional child along with my own if needed. Pet-free, smoke-free home; healthy eating habits; love of outdoors and playtime. Willing to start immediately. References available. While you work I will ensure a low-stress, baby-centric home environment for your little one. I live in Northwest Reno directly off of I-80 and McCarran. Give me (Kate) a call at 775-225-****.
URL: http://reno.craigslist.org/kid/2183558989.html_______________________________________Special thanks to nvnanny for our Feature Ad... also, we really appreciate the following Readers for their Contribution: NannyCaroline, VAnanny, NJnannyC, meebo313127, NC, Melanie, VintageBeauty03, Jeneener and NannyDebSays... all of you did a fantastic job this week! Please send next weeks CL-WTF Ads HERE or use MEEBO. Don't forget to include the Links and the Body of the ad, if possible! Thank you!
TO READ THE REST OF CL-WTF: CLICK HERE!