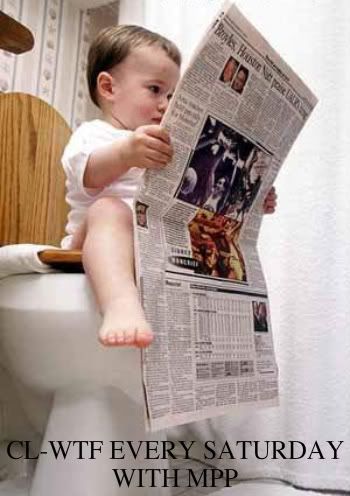 .... WHAT?!Feature Ad:1) Wet Nurse/Childcare (Nevada)
Loving mother of a 4 month old son hoping to care for another baby in my home. Have sufficient milk supply to nurse additional child along with my own if needed. Pet-free, smoke-free home; healthy eating habits; love of outdoors and playtime. Willing to start immediately. References available. While you work I will ensure a low-stress, baby-centric home environment for your little one. I live in Northwest Reno directly off of I-80 and McCarran. Give me (Kate) a call at 775-225-****.
URL: http://reno.craigslist.org/kid/2183558989.html_______________________________________
2) Need a babysitter for Friday evening (Feb 4th) (Norfolk)
Date: 2011-02-04, 10:09 AM EST
I have a very well behaved three year old girl who is a joy to be around. I am trying to go out tonight with some people from my church, but cannot find a babysitter, as I am new to the area. She will be easy to take care of and will be going to sleep shortly after you start watching her. This offer is for tonight only, but I will be needing something a little more permanent coming soon. Let me know if you are interested and I will definately be in touch.
URL: http://norfolk.craigslist.org/kid/2196676914.html
_______________________________________
3) Nanny position in exchange for housing (Seattle)
Seeking a part-time nanny (approximately 12 hours a week). The position could require up to 24 hours in a week, but we would be able to provide you advance notice of 2-4 weeks. The help would be needed on Wednesdays, Thursdays and Fridays. We have an infant that will be 3 months old. Prior experience working with newborns or toddlers is preferred and highly desireable. If you have infant CPR certification, that is a plus as well. Need someone who is trustworthy and loving.
In exchange, we offer a furnished one bedroom with full bath and closet space. Parking is available as well or is accessible via bus line. Lots of shopping within a couple blocks. Please send information about your experience and why this would be a good fit for you. This may be a good fit for a student, retiree or someone looking to supplement a part-time position.
URL: http://seattle.craigslist.org/est/dmg/2190548968.html_______________________________________
4) i need childcare for 2 toddlers asap (N.C.)
i have a 2 year old boy and a 3 year old girl.
you will have to watch them at your home.
i need someone to be flexable meaning it may be 1 day a week it may be 5, it may be all day it may be a couple of hours.
i am not trying to be difficult its just my kids are kind of picky
i would like refrences
you can text me at 504723**** or email me at jesslovesyou08@****
please include in your text or email your hourly rate
if you need more info from me just ask.
URL: http://raleigh.craigslist.org/kid/2193559456.html_______________________________________
5) Do you need a babysitter in cumming here I am (Atlanta)
Hi, my name is Hannah i am 21 i gradation high school in 09 and i am looking for a job watching kids. i love kids. I work full time at an auto shop i am just looking for a lil extra cash and i love kids so why not. i have my own car and i am a non-smoker. i am free to work any night needed. I can baby sit up to 4 kids at a time. I am welling to gave baths. put them to bed, take them to the park and pick them up from school. I will also stay over night if need be. I have a background check as well as references. If u have any other questions please email me back or call 770-617-****. Thank u for ur time and have a great day!
URL: http://atlanta.craigslist.org/atl/kid/2194877375.html_______________________________________
6) I need a babysitter for tonight (Las Vegas)
Date: 2011-02-02, 5:58 PM PST
I need a babysitter for tonight 9pm to ?
I will pay10$/hour
Please email me asap
URL: http://lasvegas.craigslist.org/kid/2194426411.html_______________________________________
7) Babysitter needed (Norfolk)
For three familys must be willing to work any hours. One family is a single mom who works 8 am to 8 pm or 3 pm to 3 am and works 6 days a week and it changes weekly. One is 8 am to around 5 pm, Monday to Thursday only. And the last family is 4 pm to 10 pm, Monday to Friday and that will change to days when her schooling is over. So you won't have all 4 of the kids at the same time very often. There is a 7 year old that is in school and a 3 year old that is very loveable and two 2 year olds, one that talks and love to ask why and the other won't talk unless you ask him too.
I would love to talk to a few people about the job more in person it sounds like a lot of work but it is really not they all are just let me play kids. The job will start with in a month with me and then full time as of may 15 or so. Please email me your history with kids and a few people that I can call and talk to about who you are. Thanks again for reading.
URL: http://norfolk.craigslist.org/kid/2197022664.html
_______________________________________
8) sitter needed - experienced references needed (Norfolk)
mother seeking an experienced sitter with excellent references
in search for a job right now but when i get one, you will be needed.
i will be getting a waitressing job but i need a sitter that is willing to be paid an amount based on my income.
so, in layman terms, if i have an excellent night, you'll get excellent pay
if i have a slow night, the pay wont be as great
i can assure you i will not rip you off.
my son will be 3 in may and is very intelligent. he is in the process of potty training and i need a sitter willing to help with that as well. hes an excellent child that loves being read to, putting puzzles together and loves attention.
as i said you will be needed once i do get a job also perhaps once a week for a few hours of personal time. references will be checked!!
if you are willing to accept the alternating pay rate, respond please. thank you!
URL: http://norfolk.craigslist.org/kid/2183527473.html
_______________________________________
9) HELP!!! Need babysitting today! (Atlanta)
Date: 2011-02-03, 12:51 PM EST
If anyone is available today/anywhere from 1pm to 8pm please email your name, number, rate, and any experience. Thanks
URL: http://atlanta.craigslist.org/nat/dmg/2195268857.html_______________________________________
10) Pay what u can babysitinn (Las Vegas)
Hello my name is paige iam 13 im am in seventh grade. Im very responseable A B student i can baby sit mondat thru friDay 3:15 -9:00 on the weekend any time u can pay me any thing u can afford just email me back at paigelittle13@**** with ur name #and ill call u as soon as posiable thank u
URL: http://lasvegas.craigslist.org/kid/2194183140.html_______________________________________
11) Experienced Nanny (New Jersey)
Educational Nanny wanted for my 3 year old daughter. You must be experienced as a nanny and willing to follow program educating my daughter. Reading, Flash Cards, Math, Bi-Lingual is a plus. Willing to play house, tea parties, arts & crafts and oversee play dates.
Trips to the library, Morris Museum, play ground (weather permitting), swimming (weather permitting). Must be willing to make her snacks, lunches and clean up after her.
Some one loving and affectionate who can have fun and does not have a fear of bikes or trampolines :-D (jumping on the trampoline is not a requirement)
References needed. You must drive as she attends nursery school 2 days a week and will need to be picked up at 1 pm. The hours needed are below.
You must be creative, organized, disciplined, clean and experienced with toddlers. Patience is required!
Minimum of 30 hours a week.
Monday 7:45 am - 3:30pm
Tuesday 1 pm - 4:00pm
Wednesday 7:45 am - 3:30pm
Thursday 1 pm - 4:00pm
Friday 7:45 am - 3:30 pm
Please please please reliable and honest persons ONLY.
Anyone over attached to their cell phone, internet and texting do not apply!
Students are okay but must be able to stick to the above schedule.
Appropriate dress, language and behavior please. (no it's not okay to watch MTV while she is playing or otherwise occupied) Appropriate and able to use common sense.
Safe Drivers only with a valid Drivers License.
Willing to approve a background check
3 personal references and work references.
Also, we travel pretty often and would love to have someone willing to travel with us (not required but would be nice). And of course, we would cover your airplane ticket and hotel room.
Please reply with telephone number, references to start checking and attach resume if you have one.
The above requirements may seem very specific but we have been burned in the past with an inappropriate Nanny "in Mary Poppins" clothing and would like to avoid a repeat. We're not looking for perfection just like minded person with good values and know how to treat a 3 year old.
URL: http://newjersey.craigslist.org/etc/2144515512.html_______________________________________
12) I need live in daycare (Las Vegas)
I have a four year old and a two year old, both girls. I am in need of childcare for Wednesday Thursday and Friday from 8am to 5pm and was hoping to find someone live in. I would pay for rent, utilities,Internet, cable. I live in a condo in the southwest, and you would have your own bedroom and bathroom and there's a nice clubhouse with full gym, and pool and jacuzzi access. If interested or have questions or want to negotiate. Let me know.
URL: http://lasvegas.craigslist.org/kid/2198075569.html
_______________________________________
13) Childcare Needed (Norfolk)
Date: 2011-02-03, 7:42 AM EST
My sitter called off again and I need to find another provider for a 2 yr old and 4 mo girls. I need you to start tomorrow. Please email rates and your availability.
URL: http://norfolk.craigslist.org/kid/2194791207.html
_______________________________________
14) Need Full Time Nanny ASAP (Upper East Side) (New York)
We need a replacement for our 2nd nanny. We have always had 2 full time nannies for our 2 girls age 2 and 3 as we believe in giving them lots of attention. Need to be able to work 6 days a week. Sat or Sunday off. If interested please send resume, available hours (more the better), salary expectations, and a photo. We are very clean and are looking for someone who can be part of our family. We can interview this weekend 1/29 and 1/30. Position available immediately. Thanks, Jon
URL: http://newyork.craigslist.org/mnh/kid/2185954505.html_______________________________________
15) I need a sitter tonight (Las Vegas)
Date: 2011-02-05, 4:07 PM PST
I need a sitter from 9pm till about 8am he will be asleep the entire time he is 7 years old. Call or text me at 702-523-****. My name is Ashli
URL: http://lasvegas.craigslist.org/kid/2199389455.html_______________________________________
.... HOW MUCH?!16) In home care needed for medically fragile infant (Colorado)
We are looking for an in home care provider for our 7 month old micro-preemie. We need someone who is certified in infant CPR. A nursing student would be ideal as we also need someone who is familiar with oxygen and can determine signs of respiratory distress. The times that we need are from 6:30 am to 4:30 pm Monday thru Friday. You will have all Federal holidays off. We are willing to pay 5$ per hour. We can't afford any more, so please don't ask. We will be interviewing for this position this Saturday the 5th of February and next Saturday the 12th if we don't find anyone on the 5th. Please reply to this ad with your previous work experience including references and a number where we can contact you. Also what times you would be available for interview. If this ad is up, we have not found anyone.
URL: http://cosprings.craigslist.org/kid/2195256208.html_______________________________________
17) Part-time sitter/nanny needed, 1-3 days per wk, 9am-4pm or so (N.C.)
Hi! I have an almost 3 year old and need a sitter as my current is return to work full-time.
I work nights and need assistance 1-3 days per week (varying days), from about 9am-4pm (flexible) so I can sleep. =)
I'd prefer to bring my son to your home, if possible.
Occasionally my oldest son (almost 8) will need childcare as well; he is usually at school but tracks out for 3-4 weeks every 3 months. He's actually a great helper and I've been told it's easier watching the other kids when he's there!
I can work with your schedule as I can request my work schedule based on your needs.
I realize I lucked out with my current sitter who charges just $25 a day, but that's what I was able to afford. We worked that out as I pack lunch and most snacks as well as diapers, etc., and she watched kids in her home (no traveling costs) so she had little "overhead" cost. I'd be willing/able to go up a little bit, but I'll be honest - I just can't afford what most sitters are now charging. Seriously - I might as well just stay home myself!! I could negotiate, but there's no way I can afford $50-75 a day like some here are charging. That's just crazy. Please contact me if you think you'd be able to help out. Thanks! Jen
URL: http://raleigh.craigslist.org/kid/2185605453.html_______________________________________
18) Live in Nanny (California)
*Only* lady ages 35-45 non-smoker, to stay in furnished room and earn $10 a day to cook, clean, and take care of 3 kids ages 3 to 8 ..... we need a lady for 3-4 months and if we like u , you can stay for the year .... serious lady only call, vanessa 300-**** have no time to answer questions will have to meet u.
URL: http://visalia.craigslist.org/lab/2194998623.html_______________________________________
19) Nanny/Housekeeper, Girl or Guy Friday - Entry Level (New York)
PLEASE READ COMPLETELY BEFORE APPLYING:
JOB DESCRIPTION:
In this day and age of doing more with less, we have a unique opportunity for a unique individual.
The position we are offering is three (3) jobs in one. The correct candidate will be able to multi-task in an extremely dynamic family and business environment.
• The primary duty is the care and maintenance of three (3) children after school and as otherwise needed.
• The secondary duty is the upkeep and maintenance of the family home and in home office
• The other duty is the back office maintenance of a small business established in 1990.
HOURS:
Regular hours will be something as follows:
Monday – Flex (additional hours available)
Tuesday - 3 PM to 7 PM
Wednesday - 3 PM to 6 PM
Thursday - 3 PM to 6 PM
Friday – Flex (additional hours available)
Saturday – Flex (additional hours available)
Sunday – Flex (additional hours available)
ABOUT THE KIDS:
We have three lovely children whom are our primary concern.
Boy (10), Boy (6 1/2), and Girl (2 1/2) - Each child has different schedules and as they get older they tend to be busier and busier. Your direct involvement with either watching children at home, perhaps while others are out at an activity, or taking/picking up the children is the primary responsibility.
ABOUT THE HOUSE:
We've been in our home over 10 years and our home is well utilized. With five people living in 1800 sq feet, there is more than enough to do including, beds, floors, dishes, carpets, bathrooms, and yes windows. In general, if you do not like to clean or children, we would suggest you read no further.
ABOUT THE BUSINESS:
We own a rental business for which the office is in our home. We have an established clientele list and there a vast untapped market which could translate into real additional revenue for the correct customer service oriented administrator.
COMPENSATION:
This position is being listed as an ENTRY LEVEL position primarily because we starting over after very difficult financial times.
Starting Pay - $10.00 per hour
1st Raise - up to 10% after 30 days based on performance
2nd Raise - up to 10% after 60 days based on performance
3rd Raise - up to a max of 20% additional of starting pay after 90 days
Annual raise on hire date.
Additional compensation can be earned through the operation and maintenance of the small business as well as on evenings when we plan to go out and children are not able to attend. Earning potential from $150 and up per week depending on hours and commissions.
Paid in full on a weekly basis as an independent contractor. No taxes withheld.
QUALIFICATIONS:
Must be willing and able to pass a criminal and sex registry background check
Must have a valid driver's licence
Must like children and cleaning
Must have references
Organizational skills
Administrative Skills
Sales & Marketing Skills
Multi-tasking
Reliable
This is an excellent opportunity for a high energy, highly motivated, positive person. We too have references from past employees who will indicate that you will be treated fairly and compensated fairly.
HOW TO APPLY:
CLick the email link provided and/or call (845) 401-**** [24/7/365].
In your email attach a resume if you have one.
In your email/cover letter provide a brief explanation of why you are interested in this opportunity. Please be sure to include your contact information.
URL: http://hudsonvalley.craigslist.org/lab/2188199430.html_______________________________________
20) Live in Nanny wanted (Seattle)
Hello my name is Serenity. My husband is in the military and I have three boys between the ages of 1 and 6. My youngest child is here all the time but my oldest two are only home on the weekends. I am dealing with some medical issue's and could really use the company and help caring for my son. The bedroom is the master bedroom in the apartment but already has bunk beds and my kids stuff in it but again the kids would only be there during the weekend. I am offering free rent of the room all utility's and food paid and use of the rest of the house as well as monthly compensation in the amount of $200 bucks. In exchange I need someone responsible to assist with small tasks such as dishes and garbage along with occasional baby sitting and more or less just being around while my husbands at work in case I get sick.
URL: http://seattle.craigslist.org/tac/dmg/2197434309.html_______________________________________
21) Nanny needed (Atlanta)
We live in the Marietta area,Need full time nanny/housekeeper. live out. Light housekeeping duties (dishes, laundry, organizing ect . . .) and childcare. Must be flexible on hours which may include evenings and weekends. Must be 30+, mature and reliable. Prefer english/spanish language. Please email with your information. Compensation $200/ week. Need to be able to start this Thursday.
URL: http://atlanta.craigslist.org/nat/dmg/2190351340.html
_______________________________________
22) Nanny needed 9-5 M-F (New Jersey)
We are looking for a lovable reliable person, who could take care of our 3 month old baby. The job is simple, changing diapers, feeding, and playtime games with the baby to enhance his motor skills. The person needs to have experience with infant babies, and references will be required upon hiring. We are looking for someone that the baby could learn to know and love, as we need a long term nanny. If interested, please send us a short resume of your babysitting/nanny job history. Pay is $250 a week, and all mayor Holidays will be paid.
URL: http://newjersey.craigslist.org/edu/2144013970.html_______________________________________
23) Seeking to hire a babysitter (Atlanta)
Im seeking to hire a babysitter to come to my house here in Mcdonough to watch my son while I go to work..You half to be kind in sweet and good with kids
This position consist you to have an open schedule,Clean background,Clean drug test ,Lots of reference..Police background check along with a resume doing your interview please call 678-837-**** ASAP. Ms. N****
3 days pay $65
4 days pay $75
5 days pay $100.00 a week
URL: http://atlanta.craigslist.org/sat/kid/2195972644.html
_______________________________________
24) Nanny Live in (New Jersey)
Nanny Live In to take care of our nine year old son. Must have a drivers license. Typical duties include preparing breakfast and driving him to school. Light errands and light housekeeping- we a have cleaining women who comes 3 days a week. Helping with his homework, preparing dinner for the 3 of us. We are looking for someone who is energetic and has a positive attitude. Work is from Monday thru Friday and Saturday mornings. Please contact me via email or send resume. Compensation: $250 a week, apartment, car, paid vacation.
URL: http://newjersey.craigslist.org/lab/2176510722.html_______________________________________
25) Child Care Needed ASAP (N.C.)
I have a 1 yr old son & I need a baby sitter who is willing to commite to the next 2 months . I need a female sitter who can watch him from 830am-8pm Mon-Wed and every other Sun from 930am-630pm. This person must also drive and be able to pick him up in the morning I will pick him up in the afternoon. I will supply all food and diapers. Im willing to pay around $200 a month but am also willing to negotiate on price. I need to find a sitter ASAP and prefer this person lives in Cary or as close to Cary as possible. Please contact me via email if interested and I will be glad to set up a time to talk and meet with you. Thank you.
URL: http://raleigh.craigslist.org/kid/2188099388.html_______________________________________
26) Duel Military Family Looking for FT Childcare (Colorado)
Hi,
My name is Crystal and I am looking for a new Full Time care provider for my 3 year old daughter. Her current full time provider will no longer be available as of the 11th. I am looking for someone that isnt completely out of my way to work. I would prefer someone who watches other children her age or has children of their own her age. She needs to learn how to play with children her own age as we are quickly getting to school age. I also would really love someone who will be able to work on Numbers, Letters, shapes, colors, etc, and would provide all meals and snacks.
A lil bit about my daughter: She is a typical 3 year old. She has her good days and her bad days just like any other kid. She is potty trained. She is the kind of child who needs a good structured day and needs to be actively engaged. She does still nap usually around 1 or so. She is not a picky eater and will pretty much eat anything. I do not allow her to have Kool-Aid or candy. (i only give her candy has rewards) When she is seperated from me for an extended period of time i.e. field exercises, she will get destructive. however that shouldnt be a problem anymore as I am in the process of getting out.
A lil bit about us: Like I said we are a dual military family, for now. But please dont think that that means we have a lot of money and can afford to pay you more. My husband currently gives about 40% of his check to his ex-wife (yes i know he got screwed in that deal) and I am still trying to recover from the $50,000 that my ex husband ran up in debt in my name. So as you can tell the budget is a lil tight. We are currently paying her babysitter $75/week. If we are off, we keep her home and will still pay $75/week.
I will need someone from the hours of 0530-1800. I hardly ever work this late but being in the military you never know. There also maybe times that we would need to drop her off a lil earlier but that RARELY happens. In the last year there has only been 2 days where we both have needed to be in early.
If you are interested: Please email me at crystal.dimare@**** with your rate and a lil bit about you! thanks and i look forward to hearing from you!
URL: http://cosprings.craigslist.org/kid/2197898003.html
_______________________________________
27) We need a Nanny to start in February (California)
I am a work at home mother of 3. We have a 6 year old that goes to school from 7:45-1:50, the school is very close to home and a 1 year old and 4 month old baby. Since I work full time I would need you to help with the kids, housework, organization, run the oldest to and from school so transportation is a must and anything that a working mother may need done. The hours would be from 7:00am to 4:15pm Monday through Friday. Please inquire if you are interested, please have references available upon request. Pay rate is $200 a week. Thank you!
URL: http://sandiego.craigslist.org/esd/kid/2167782611.html
_______________________________________
28) Immediate Childcare needed in VB (Norfolk)
I am looking for imediate childcare for an 11 year old boy and a 2 year old boy. My house or yours. Somedays it will only be my 2 year old and some days it will be both.. Care needed for Mon, Fri, Sat and most Sundays. 3-4 days a week. Pay is $20 a day for one and $30 a day for both. Must be available until 9 pm on Mon and Fri. I am a hairdresser so my schedule varies. My mon and fri shifts are either 9 to 3:30 2to 8:30 , 11-8:30 or 9am to 8pm (rarely).Sat are 8-6:30 (sometimes 9to 4) and Sundays are 10:20 to 5:45. Would also like someone who can do occasional date nights so that my hubby and I can go out. We are a military family and both have crazy schedules. Please let me know if you can help, your ususall rates, and your qualifications. Call or text 419-215-**** or email kd200304@**** Katie
URL: http://norfolk.craigslist.org/kid/2195729894.html_______________________________________
29) Live in Nanny needed ASAP (Atlanta)
Hello, I am looking for a live in nanny to start Monday. The duties would be to watch 4 children. Two of them would be only 3 days a week, and the other two would be 5 days a week. They are 2, 3, 4 and 6. Additional duties include light housekeeping, and feeding the children meals. You would usually be off on weekends. I do work every 3rd weekend. The position starts Monday, and interviews begin today. The position includes room, board, and a weekly payment of between $150-$200 depending on experience. I am looking for someone loving, patient, and kind. This would be perfect for a grandmother. P.S. If you have a well-behaved child/children, they are welcome to come with you. No Pets.
URL: http://atlanta.craigslist.org/wat/kid/2092856324.html
_______________________________________
30) Valentines Weekend Childcare Needed (Norfolk)
My wife and I are headed out of town for Valentines Day weekend. We are looking for a responsible adult to babysit our three children (at our residence) ages 13, 9 and 6. Our youngest will have to be picked-up from school (B.M. Williams) on FRI and MON. We will be out of town from Friday 11 FEB to MON 14 FEB. Kids are really low maintenance and the oldest can pretty-much run the show. We just want to be legal with leaving them behind while we are gone. The job will pay 150.00 for the four days we're gone. Again, you will have to be willing to reside at our residence (for the comfort of the children) If you're interested, an interview must be conducted prior to your getting selected for the position. We can be reached via the following contact information:
Home: 757-512-****
Cell: 615-569-****
URL: http://norfolk.craigslist.org/kid/2193872302.html
_______________________________________
Special thanks to nvnanny for our Feature Ad... also, we really appreciate the following Readers for their Contribution: NannyCaroline, VAnanny, NJnannyC, meebo313127, NC, Melanie, VintageBeauty03, Jeneener and NannyDebSays... all of you did a fantastic job this week! Please send next weeks CL-WTF Ads HERE or use MEEBO. Don't forget to include the Links and the Body of the ad, if possible! Thank you!
TO LEAVE A COMMENT: PLEASE CLICK RIGHT HERE!

DO NOT LEAVE COMMENTS BELOW, THEY WILL BE DELETED! PLEASE CLICK THE LINK ABOVE TO LEAVE YOUR COMMENT, THANK YOU!