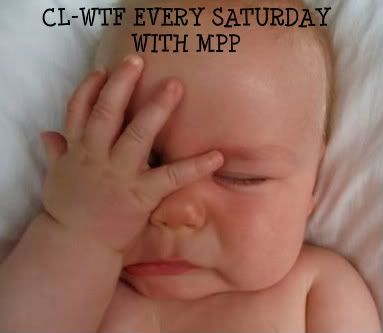 .... WHAT?!1) Experienced Nanny/Childcare giver required today!!!!!!!! (Philadelphia)
We are looking for a Part Time Nanny 5 days per week, 5 to 6 hours at a time. Duties will include preparing & feeding breakfast, changing child's clothes and diaper, laundry, cleaning up of child's toys and room.
Experience with children is beneficial. If you speak a 2nd language, that is beneficial also, so please do mention that.
We will require the following:
1. Verifiable references
2. Criminal Record Check will be performed also
The above requirements will not be waived under any circumstance. Do not bother applying if you wont meet or submit our requirements.
Pay to be discussed with selected person. Thank you.
URL: http://philadelphia.craigslist.org/dmg/2187865908.html____________________________________Special thanks to the following readers that contributed this week: noenanny, ladybugblessingscrafts, foreverhugged, megrose123, carrie, nannydebsays, afnt81 and missdee... all of you did a really awesome job. My apologies for publishing this so late. Please send next weeks CL-WTF Ads HERE or use MEEBO. Don't forget to include the Links and the Body of the ad, if possible! Thank you!
TO READ THE REST OF CL-WTF: CLICK HERE!