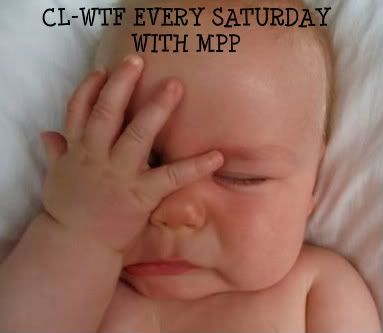 .... WHAT?!1) Experienced Nanny/Childcare giver required today!!!!!!!! (Philadelphia)
We are looking for a Part Time Nanny 5 days per week, 5 to 6 hours at a time.Duties will include preparing & feeding breakfast, changing child's clothes and diaper, laundry, cleaning up of child's toys and room.
Experience with children is beneficial. If you speak a 2nd language, that is beneficial also, so please do mention that.
We will require the following:
1. Verifiable references
2. Criminal Record Check will be performed also
The above requirements will not be waived under any circumstance. Do not bother applying if you wont meet or submit our requirements.
Pay to be discussed with selected person. Thank you.
URL: http://philadelphia.craigslist.org/dmg/2187865908.html____________________________________
2) Babysitter/Catsitter (D.C.)
HI I'm 28 female looking for babysitting job I DON'T DRIVE i would like to babysit them at my house i have 3 very friendly cats and 2 play grounds near by so if you are interested i charge 8 per hour but if your going out town and need a catsitter and live in Springfield my husband can drive me to your house i charge 10 per visit if you are intrested please call 703 401 ****
URL: http://washingtondc.craigslist.org/nva/kid/2187140398.html_____________________________________
3) Me and my husband just got lay of our job (Norfolk)
me and my hushband just lay of our job and we are looking something to do when we are home so we fingure we do childcare while we are home we are hoping we get a job soon .we have a 9 years old son so we want to do babysisting while he is at school or after he get home from school we just asking you bring food for them and there stuff what they need when they are with us i have experance working with children and babys we will go over the price when you call hire our number its 757961**** or 757779****
URL: http://norfolk.craigslist.org/kid/2186024560.html____________________________________
4) Overnight babysitter (D.C.)
Dear Parents::
I Offer to take care kids overnigh , I have many activities
The place is really confortable .
we don't smoke free pets.
I have experience for 5 years
I have really good reference
My house is clean
For more detail please call this phone # 703-635-****
I charge for ahour overnight $10.00
URL: http://washingtondc.craigslist.org/nva/kid/2186899454.html
____________________________________
5) Seeking live-in babysitter to start ASAP (D.C.)
Hello! My family is looking for an on-call live-in babysitter to possibly start working the week of Feb 7. The position requires availabilty from Monday-Thursday and would involve taking care of 2 kids; one 11, the other 16yrs old. The job itself requires minimal driving, cleaning and cooking. We would just like an honest, reliable and hardworking nanny to cover for when our regular nanny is unavailable. Please only contact if you fit this description and have two legitimate references. A driver with a safe record is prefered but not required. Hope to hear from you soon!
URL: http://washingtondc.craigslist.org/mld/kid/2187710543.html____________________________________
6) Needed: sitter tonight at 6:30! (Norfolk)
Hi! Our normal date night sitter cancelled on us last minute. We are looking for a sitter to come to our house tonight around 6:30 for a few hours. ( We are doing dinner and a movie) Must have references. I have twin 20 month old little girls that will be in bed before you arrive. You actually will not see them ( great sleepers!) So easy night, just need someone in the house! You may bring your child if they are well behaved and won't make a lot of noise, we have plenty of toys though. If things goes well we may use you again! Please call or text 610.850.**** at your earliest convenience so we can take the ad down!
URL: http://norfolk.craigslist.org/kid/2186873741.html____________________________________
7) Room & Board trade for Nanny (Seattle)
Looking for responsible nanny/babysitter to help me. This will be for an infant (10 months old). We are offering a furnished one bedroom (with attached full bath) in our beautiful new home and board for an experienced nanny or sitter. Parking available and very close to bus stops and shops.
We only need assistance part-time. The rest of the time is your own free time and you are free to come and go as you please. We are looking for assistance Mon-Fri between 6 PM to 8 AM and SAT full day. Baby typically sleeps during the night between 9PM to 7 AM. She wakes up twice for feeding. It will be your responsibility to take care of the baby during night. Also, it would be great if this individual could assist with light housekeeping.
We can also open for a full time position for additional payment in which you take care of the house and baby for 6 days a week.
We are a busy, happy and healthy family of three and require someone who is loving, caring and healthy. We would be looking for a minimum commitment of 6 months or longer if everything works out on both sides. I WILL background check and require references. No sex, drugs, or drama please. Females only.
If you are interested, please email me with your level of interest (part time or full time) including a short paragraph outlining your situation. I will contact you with more information at that time. Thank you for your interest.
URL: http://seattle.craigslist.org/est/dmg/2178053836.html____________________________________
8) Looking for a reliable sitter (N.C.)
We are looking for an occasional sitter for our 2 year old daughter for a few hours once in a while so we can have a date night. I also may need a few hours here and there during the week to help me keep an eye on her while I am home, so I can finish some school work. I am looking for an individual who has experience with children, can provide references, and has their own transportation. My daughter is very easy to watch, shes always smiling and laughing. Her bedtime is about 9pm, so most of the time we probably wouldnt leave until it was almost time for her to go to bed, After she is in bed you are more than welcome to watch tv or use the computer. I do ask that their are no other guests here while we are out. I am looking to pay about $7/hourly since most of the time she will be sleeping, or I will be here, just in another room. If you are interested in this position, please let me know and we can schedule an interview. Looking for a potential sitter for as soon as this weekend.
URL: http://raleigh.craigslist.org/kid/2185958867.html____________________________________
9) Part time Nanny needed (Wisconsin)
Part time nanny needed 10-15 hours a week to watch a 2.5 year old girl and 4 year old boy. We need 2:30-4:30 every day of the week, but would accept someone who could do at least three days (the actual days do not matter), and also want someone so that we can go out one night a week. It doesn't need to be a weekend night, but we will occassionally need someone on Saturday nights.
A driver's license is a must, as is a clean driving record. Experience with children is also necessary. A fun an engaging personality is a major bonus!!
You can start as early as tomorrow (Jan. 5th).
URL: http://madison.craigslist.org/dmg/2144926692.html____________________________________
10) Looking for a babysitter (Wisconsin)
Hello, Looking for a reliable sitter for our 2 young boys (ages 2 and 9 months). We live in Lodi, near the new high school and middle school. Looking for someone who loves children (obviously), is very outgoing, active and has some patience! On the evenings when we'd need them watched, the boys both typically go to bed around 8 pm, so there'd be no work to do after that! If you think you may be a good fit, please email me your name, contact info and a little bit about yourself. Thank you!
URL: http://madison.craigslist.org/dmg/2124841160.html____________________________________
11) Mature babysitter needed who can make firm commitments (California)
We are looking for either a Year Round School Teacher or a GrandMa type person (ideally at least 30 yrs old or over - prefer some one who will not bring any child with them as we do not have a child proof home):
Timings will be 7:30am-3:30pm. We'd like at least a 6 months commitment from you. We'd pay you for any days cancelled by us that were scheduled with you in advance.
Our girls are 7 and 9 yrs old and are very well mannered and pretty mature for their age. We need someone for most of their upcoming school breaks but specially some one who can make firm commitments for their summer break. We will provide you the dates we'd need you for the year in advance. For a rough estimate, here's the link to the year round school calendar (we need care 1st week of April then summer break and maybe 2 days in Feb):
http://husd.k12.ca.us/images/PDF/Calendar/year%20round%20calendar%202010-2011.pdf
Pre-requisites: You should be
~ within 15 miles from our home
~ finger printed/background checked and on file
~ available during their year round school break
~ able to come to our house yourself (we live off of Kelly Street in Hayward)
~ dressed appropriately
~ not a fan of being on the cell phone all day or into too much TV watching
The girls will stay at home only - no driving needed. Fee will be $60/day which will be a declared expense on our part - we will need your TaxID/SS# to declare our childcare expenses so we don't want any last minute surprises that you are not willing to do that. Our girls are very easy to manage. They keep themselves busy for the most part with dolls, legos, games, books etc. You'd mostly need to keep an eye on them to keep them safe. The girls will happily lay down from 12:00 - 2:00pm and maybe read books in bed if you want them to (i.e. if you'd need full down time for yourself during the day). You are welcome to use our PC in the computer room if you want to do any of your work. Please note that we do not want bad language around our girls or use of any kind of drugs/alcohol. We are a non-drinking family.
We are a very simple/easy family to get along - just looking for someone responsible enough to make firm commitments with us (not someone who'd back off at the last minute). Please reply with a valid email address and detailed information about yourself. Thank you.
URL: http://sfbay.craigslist.org/eby/kid/2187051638.html
* Response from CL reader:12) RE: Mature babysitter needed... NO ONE WANTS THIS JOB!!!! (California)
You have got to be kidding!!!! This sounds like the worst family in the world to work for!!!!!!!! No wonder you have posted this ad constantly over and over again-you want someone to spend their entire day with your kids for not even minimum wage. On top of that you are going to take a deduction for your taxes yet not pay the person's taxes- the person you are paying illegal wages to. What the hell is wrong with you? Are you seriously that egocentric, cheap and with such little moral turpitude to think that this is acceptable? You CONSTANTLY post this ad- NO ONE WANTS THIS JOB!!! You cannot expect reliability, loyalty, responsibility and a high level of personal commitment for what you are willing to pay for. THESE ARE YOUR CHILDREN!!!!!! You should value the person taking 8 hours out of their day to take care of and educate your children more than this, and the fact that you do not perfectly depicts how you will truly treat the caregiver.
URL: http://sfbay.craigslist.org/eby/kid/2187246197.html____________________________________
13) Childcare for 6yo (California)
HI. I HAVE A NEARLY 6 YEAR OLD SON. I AM A SINGLE MOM AND LIVE IN BERNAL HEIGHTS. PARKING, EASY AS I HAVE A GARAGE YOU COULD PARK IN FRONT OF. EVERY OTHER WEEKEND I NEED A BABY SITTER ON FRIDAY EVENING FROM AROUND 5.00 - MIDNIGHT (SOMETIMES EARLIER) AND SATURDAY FROM AROUND 4.00 - UNTIL MIDNIGHT (SOMETIMES EARLIER) SOMETIMES ON LATE SUNDAY AFTERNOON. PLEASE CONTACT ME IF YOU ARE INTERESTED. THANKS
URL: deleted
* Response from CL readers:14) RE: Childcare for 6yo - WOULD YOU WANT THIS WOMAN TO BE YOUR EMPLOYER? (California)
Below is a response I got after responding to a woman's email who had read my ad posting about being available as an ON-CALL babysitter for the weekends. Like call me and see if I'm available and we'll see if it'll work that particular day. Here is her first response so you can be cautious to not even respond because she'd be a miserable person to work for. Extremely demanding, rude and disrespectful in an email so just IMAGINE what she'd be like in person:
"Thanks for your interest, but your timing does not work with my own, and frankly, when I am looking for a babysitter, it is on my terms and the times that I need help, not built around your schedule. Like any job of employment. And, yes, I have plenty of on call babysitters, there are many unemployed people looking for work. Flexibility is a plus in the job market, keep that in mind for your future. Thanks."
***** She could've simply not responded or simply said "Thanks for responding, but I need someone with more flexibility, thank you" and that'd be that.*****
URL: http://sfbay.craigslist.org/sfc/kid/2185105202.html
15) RE: RUDE SINGLE MOTHER LOOKING FOR CHILDCARE FOR 6YO (California)
DO NOT WASTE YOUR TIME-THIS WOMAN IS A NIGHTMARE!!!! I saw the other posting from another caregiver who had this woman respond to my post, as happened with me, and I had the same response. She literally expects you to sit around waiting for her to call you-I am not kidding! She has zero concern or interest in the fact that SHE ONLY WANTS AN ON-CALL BABYSITTER and when you respond, she makes it very clear that her needs come before you. She is an angry, rude, egocentric and rigid person who really needs to get over herself-If you get a response from a single mother in Bernal Heights with a 6 year old son, move on!!!!
URL: http://sfbay.craigslist.org/sfc/kid/2185490762.html____________________________________
.... HOW MUCH?!16) Babysitter needed (Nashville)
I am needing an in home babysitter three days a week and some weekends. My son is 3 years old. He is currently in the process of being potty trained. Job requirements are easy. I ask that you play with him, feed him, pick up after him... simple. He is a very good child. I will never ask for you to take him anywhere. You will have internet access, TV and we supply all food. This job is probably best for someone who has a child that they would need to bring over with them or for a student. Pay is $4 an hour. If interested please respond via email with why you feel you would be a good fit and your availability.
URL: http://nashville.craigslist.org/kid/2164242057.html
* Response from CL readers:17) RE: Pay for what you get, Moms (Nashville)
For all of you moms out there posting for a "super nanny," someone to play God and prevent the world from happening to your precious, perfect children, who I'm sure are just sweet angels all the time, think about this: Celebrity body guards make around 100k a year. You want some "girl" to come into your home, pretend like she has no other family, no life, no worth, and play with your children all day as if they were "her own," and then pay $4 an hour?! You are paying someone to protect your child, the reason why you live! And ps- just because they take a nap or sleep while the sitter is there, does NOT make someone's job "free money." The house could catch on fire, someone could break in, the child could wake up sick and throw up, etc. The stress may be reduced, but only by 1. If you want to pay cheap, go to public day care. But one-on-one childcare is priceless. You are hiring someone to be you. What would you be worth? What should a SAHM get paid everyday? I've been a nanny for 6 years and have learned a lot, including that anything under $10/hr for one child is a waste of time. If you find someone that takes it for less- great! But keep in mind what you're paying for- a body guard, a friend, a substitute mom. You want someone to pretend like their own children or spouse or family means less to them than your child. That's not fair and that's why it is so hard to find a good nanny- you expect WAY to much and pay WAY under the worth. Sincerely, A good nanny who has been paid well AND poor for priceless services
URL: http://nashville.craigslist.org/kid/2165553236.html
18) RE: pay for what you get, Moms (Nashville)
Well said!!! It has gotten so ridiculous people want state of the art childcare practically for free!!!! Yes those people providing childcare do realize that time are hard but you should ask yourself if you would work for $2.33 an hour or less? I don't think so!!! It is truely sad that you can't get someone to pay $70 a week for 60 hours of childcare each week(and you provide everything) and a date night babysitter will not come out to your house for less than $7 an hour... I have been making $70 a week and when my husband and I go out we pay our babysitter min of $30 for 3 or less hours $7 ea hr after a our child is already asleep and sleeps though the night so she just watches tv and/or play on computer or whatever... just think about what your asking for and what your wanting to pay and ask yourself if you'd honestly do it for that amount!!
URL: http://nashville.craigslist.org/kid/2166000270.html____________________________________
19) Part time evening babysitter wanted (Nashville)
Evening Babysitter wanted.
Mature Teens 15yrs and older wanting extra pocket change are welcome.
(Bcos of the pay, only a teen wld be happy not an adult!!!)
Hours wld slightly vary depending on the days between 4-10pm.
Fridays wld be between 4-11:30pm & Sat wld 3pm-12am.
I may hire 2 sitters so that if anyone calls out I will not be left stranded.
I am looking for a mature responsible playmate for my 1.5yr girl.
Compensation: Abt $10p/day so I prefer teens wanting pocket change.
URL: http://nashville.craigslist.org/etc/2162433340.html____________________________________
20) Nanny Position 7am-7pm (Maryland)
Nanny needed from 7am-7pm Monday - Saturday 7-5m
Busy, successful ,couple are in search of a nanny for 4 month old boy/girl twins. We need a reliable, patient, experienced nanny. Must pass a background check and have at least 3 current references. Travel to second home in SouthBeach Florida may be required occasionally. Pay ranges from $450.00 to $500.00 a week depending on experience. Please J. Bowman at 443-392-**** if interested. Thanks.
URL: unknown____________________________________
21) I need childcare for my 2 boys (California)
Ages 5.5 and nearly 4, both boys. The older one is going to Sierra Vista Elementary Mon Tues Thurs and Fri from 11:50 to 3:20, and Weds from 10:10 to 12:50 - he will need rides to and from school.
I lost my job 10 days ago and it was a home office job, so didnt need childcare which was a relief because it is so expensive. About half of what I'll even make. People are wanting to charge 2x my rent just for childcare. I am trying to go on to a list to help with childcare but they say there are no funds available and that it could be up to a 2 year wait. Ridiculous huh?! So in the mean time, I need inexpensive, but RELIABLE childcare or babysitter their house or mine.
I am a Single Mom of 2 boys. So its a struggle. Even if I can find a job, im sure it will not pay nearly as well as the job I had before. It's like starting from scratch again. After looking at what people are paying from my qualifications, if I can land one of those jobs, and after doing the math between what I will be able to make after I get a job, after taxes and bills, I can only afford around. $3/hr. I know it isnt much, but perhaps there is someone out there only looking to make a few hundred extra dollars a month.
I dont have a job yet, but im looking for one and am hopeful. So I dont know exact hours yet. But I'm obviously looking for a full time 40 hrs/wk type job. And I kinda need a sitter lined up before I can take a job once Im offered. I'm not looking for anything special. Dont need a learning program or certain daycare routine. Just someone who is safe and RELIABLE to watch the boys and take the one to school either here or at your house, then if it works out between us and I get help to pay for childcare, then you will end up getting paid more from the states help. If there is anyone out there who thinks this will work from them, please email me. My name is Christina.
URL: http://fresno.craigslist.org/kid/2167331085.html____________________________________
22) PT nanny needed (Minneapolis)
Hello. I am a 23 year old mother of a 3.5 year old daughter. I am looking for a part time nanny who would be willing to come to our home. We also have a small dog that you would need to be willing to be around. He is a good boy and I wouldn't need you to do anything for him. I only need someone 1 day a week, on Tuesdays. I have class from 8:00 AM to 1:00 PM. I would need you to be able to be here at 7:45 AM at the latest and I would be back around 1:00 or a little after. I do not mind if you have children or bring them with you. I figure that is just an additional person to play with. I am willing to pay around $25 for the day for compensation. Please email me with any questions that you may have, tell me a little about yourself, if you have any children and the earliest that you would be able to start. Thank you!
URL: http://minneapolis.craigslist.org/hnp/kid/2153496048.html
____________________________________
23) Need Nanny ASAP (Minneapolis)
In need of a nanny on a long term basis, that is reliable, and trust worthy ASAP I'm running out of daycare as soon as the 9th of February, we are able to pay $130.00-$140.00 D.O.E, we need someone that we can either trust in our home, or someone close we can bring our son.
All I ask for is
someone that doesn't smoke
Someone that I can trust with the love of my life
Someone that I can rely on & trust
Someone with reliable transportation
Someone that can work
10A-4:30P Mon-Tues 8A-4:30P Wed-Thur 8A-3:30P Fri
I'm looking for someone that will be with my son on a long term basis I want someone that is stable in his life, someone he can feel safe with & trust. You can e-mail me @ the e-mail above if your interested, thank you
URL: http://minneapolis.craigslist.org/ram/dmg/2169739675.html____________________________________
24) PT sitter/nanny 9am-4pm or so (N.C.)
Hi! I have an almost 3 year old and need a sitter as my current is return to work full-time.
I work nights and need assistance 1-3 days per week (varying days), from about 9am-4pm (flexible) so I can sleep. =)
I'd prefer to bring my son to your home, if possible.
Occasionally my oldest son (almost 8) will need childcare as well; he is usually at school but tracks out for 3-4 weeks every 3 months. He's actually a great helper and I've been told it's easier watching the other kids when he's there!
I can work with your schedule as I can request my work schedule based on your needs.
I realize I lucked out with my current sitter who charges just $25 a day, but that's what I was able to afford. We worked that out as I pack lunch and most snacks as well as diapers, etc., and she watched kids in her home (no traveling costs) so she had little "overhead" cost. I'd be willing/able to go up a little bit, but I'll be honest - I just can't afford what most sitters are now charging. Seriously - I might as well just stay home myself!! I could negotiate, but there's no way I can afford $50-75 a day like some here are charging. That's just crazy.
Please contact me if you think you'd be able to help out. Thanks! Jen
URL: http://raleigh.craigslist.org/kid/2185605453.html____________________________________
25) Childcare needed ASAP (N.C.)
I have a 1 yr old son & I need a baby sitter who is willing to commite to the next 2 months . I need a female sitter who can watch him from 830am-8pm Mon-Wed and every other Sun from 930am-630pm. This person must also drive and be able to pick him up in the morning I will pick him up in the afternoon. I will supply all food and diapers. Im willing to pay around $200 a month but am also willing to negotiate on price. I need to find a sitter ASAP and prefer this person lives in Cary or as close to Cary as possible. Please contact me via email if interested and I will be glad to set up a time to talk and meet with you. Thank you
URL: http://raleigh.craigslist.org/kid/2188099388.html____________________________________
26) Nanny for babby boy NEEDED (Chicago)
We are expecting a baby boy in late April and are looking for a nanny to begin in July so both parents can return to work. We live in a Schaumburg townhouse and would like a loving individual to nanny our son at our home. We are looking for someone full time Monday-Friday who can drive to our home.
* Must have experience with babies, infants and toddlers and multiple professional references.
* Must be a US citizen, or have valid working papers.
* Must have a valid drivers license.
* Must currently live near Schaumburg.
* Elementary Education, early childhood development education, or nursing training a plus.
* College degree a plus.
* English speaking is a must and fluent Spanish (or other language) is a bonus.
* Must be willing to do light housework, children's laundry, and possible cooking for children.
* We are looking for approximately 40-50 hours per week.
* Must be kind, calm, responsible, and dependable.
Pay is $60 per day. We will do a background check. If interested email your resume, references and a cover letter. We will contact you if we are interested in doing an interview. Thanks!
URL: http://chicago.craigslist.org/nwc/kid/2164154070.html____________________________________
27) Family seeking in-home care/nanny (Atlanta)
Hello,
We are a family with two children, boy: 3 years and girl: 15 months, seeking in home child care/nanny. We currently have a lovely nanny who told me she may be going back to New York, thus I posted this ad. She cares for our children full time 7am-7pm and other various times during the week should the opportunity become available. We do not have the ability to pay some of the rates I have seen: $340. $260... crazy amounts for care within a home, if you ask me. If I wanted to pay that much, I would go to a child care facility... like Goddard or Primrose! But because we are a working family and still have a child care need, we do seek a qualified person. We ask that this person have a clean background and truly enjoy spending time with our children throughout the day. We seek a person who can teach our children developmentally appropriate curriculum as well as manners and social skills. We also hope to find someone who can commute as our situation is unique. We live in Nocross now however we are moving to Johns Creek in May 2011. We do not ask that you care for our children within our home, but have the ability to pick them up and drop them off at home for an additional fee should your location be far from our new location in May. We are seeking a long term care provider and hope for only serious inquiries please Thank you, Kristen 678-977-**** (If I do not answer, please leave a message and I will return your call at a later time)
URL: http://atlanta.craigslist.org/atl/kid/2166462992.html
* Response from CL readers:28) RE: Family seeking in-home care/nanny (Atlanta)
Dear Kristen, I hope to goodness that you only need part time care for your children. If you think your current nanny is moving back to NY because she is homesick, I am sure you are sadly mistaken! She is leaving because your CHEAP ASS leaves her to care for 2 toddlers for 12 hours a day for less than $260 bucks a week! Hey Kristen, can you pay your bills with that amount of money? 12 hours x 5 days = 60/260 (even though you think that's a crazy amount) is about $4.34 an hour! Minimum wage is a helluva lot more than that! I CANNOT STAND PEOPLE LIKE YOU! I am sure that after you pay your nanny this crazy amount of money a week, you take your stuck up dumb ass to the nail salon to get your mani/pedi, go shopping, and then out for dinner because you can't afford to pay the person that deals with your bratty ass kids and dumb ass annoying mom more money! And I bet you ask her to do all kinds of housework including washing your dirty underwear! GO FIGURE!
Your nanny is probably pissed off that she even agreed to care for your kids, but I am sure she has had her fun of getting revenge in ways you would have never imagined! (Can your 15 month old tell you she cried all day in her crib because the nanny was not in the mood to work for that money you bless her with? THINK ABOUT ALL THE OTHER THINGS YOUR NANNY DOES IN HER SPARE TIME WITH YOUR KIDS!)
Please do us nannies a favor and at least apply at Primrose and Goddard, that way we will no longer have to deal with you and your fucking family for $4.34!
And guess what Kristen, YOU GET WHAT YOU PAY FOR! So now you take the money that you don't want to pay your nanny and invest in nanny cams to see the INVESTMENT that you are making! And thank you for posting your number online, I guess I will talk to you later! GENIUS
HAVE A GREAT DAY! Tiffany
URL: http://atlanta.craigslist.org/atl/kid/2167627646.html
29) RE: Family seeking in-home care/nanny (Atlanta)
You are EXTREMELY unreasonable and will under no circumstances find ANYONE that will cater to you and your schedule for pay under $250. You may find that Goddard or Primrose will charge you that PER CHILD during normal operating hours. However, to take the liability in carting your children around in a vehicle because you can't drop them off and pick them up within reasonable hours, to ask for someone to care for them for 60 hrs and get paid just over $3/hr is just plain ludacris. You can't expect someone to adhere to this, and it's disrespectful to every single nanny and daycare provider out there. We have families to feed and care for just as you do. If you ask for unreasonable, you'll get unreasonable, negative responses. Are you willing to work for that amount, or do what you're asking others to do? If you double your rate you might find someone desperate enough. But to take someone's ENTIRE day and then ask for MORE on top of that, with pay they can use to support a habit, but surely not pay bills on, is just plain rude. And if you work those hours or your husband does, I would expect you both have overtime pay-and the sitter deserves 20 hrs of overtime pay as well. $260-I'd take it and hope they don't sell your children or abuse them. As a mother, to a mother, shame on you.
URL: http://atlanta.craigslist.org/nat/kid/2167729815.html
30) RE: Family seeking in-home care/nanny (Atlanta)
There seems to be some confusion on Kristen's part... (all over Metro Atlanta)
About the different types of childcare available to parents here in the Atlanta area. So I'm going to help out people like Kristen (http://atlanta.craigslist.org/atl/kid/2166462992.html) and any others who need to know what they can afford so they make their ads more effective.
A NANNY is the most expensive form of childcare. A NANNY is going to be either experienced in caring for children, or equiped with a college degree in a childcare related field, or both! Generally, NANNY will not do any housekeeping beyond what is child related. NANNY is your employee, and must be paid at least minimum wage (currently $7.25/hour) and must be paid overtime for every hour of work over 40 hours a week if NANNY lives outside of your home. In general, it's nearly impossible to find a nanny with even the most minimal skills and experience willing to work for $7.25/hour. Even with the recession, a nanny makes $10 - $18 per hour here in Atlanta. If you seek a nanny to work 60+ hours per week, as Kristen seems to be doing, you would have to pay them a MINIMUM of $580 for a 60 hour work week, and the more likely rate would be $960, based on an hourly rate of $12 for a live-out NANNY. Since Kristin is complaining about paying $260 for a 60 hour work week (or $3.25 per hour plus OT), she obviously cannot afford a NANNY
If a nanny is too expensive for you, but you want care in your home, you could consider hiring an AU PAIR. There is a signing fee of about $5000, and then the AU PAIR earns minimum wage minus room and board costs. I believe the weekly cost for an AU PAIR is around $350 for a maximum of 45 hours per week. Of course, an AU PAIR is a young woman here to experience American culture in exchange for some childcare. She doesn't do heavy housework. An AU PAIR can be a terrific childcare choice, especially with older kids, as long as you are aware that your AU PAIR may be more interested in discovering Atlanta than discovering how to wash your kids clothes. Due to the hour limits, an AUPAIR isn't the right choice for Kristen!
If an Au Pair is too expensive for you, CORPORATE DAYCARE, such as Primrose and The Goddard School might be in your budget if you have only 1 child. Infant rates at CORPORATE DAYCARE tend to be in the $250 - $300 per week range, and can vary dramatically between different locations of the same corporation. Toddler and preschool rates trend slightly lower than infants, with toddler tuition costing about $200/week, and preschooler tuition costing about $175/week. Of course, with CORPORATE DAYCARE, they set their hours and rules without much flexibility, so between the cost (about $375 per week) and the fact that most daycares do not stay open more than 12 hours a day, Kristen is out of luck here as well.
If you have multiple children, and cannot afford corporate daycare, you need to consider a FAMILY DAYCARE setting. A properly licensed FAMILY DAYCARE will have a limited number of childen enrolled, and may charge about $100 per child per week. Yes, that does seem to be within Kristen's budget, but... Savvy FAMILY DAYCARE owners do not allow their clients to make their own rules, and since these owners are running their business from home, they often do not accept people who want care 12+ hours a day. So maybe this isn't the answer for Kristen either.
There are people who run UNLICENSED FAMILY DAYCARE (aka UFD), meaning they are not subject to state oversight and do not necessarily follow state rules about the number of kids they keep at any one time or the activities they allow or the meals they prepare. They generally cost less than state licensed Family Daycare, but they also may be less than reliable. And even if they are UFD, they aren't going to follow your rules, they are going to make their own rules about hours they are open, etc. So, Kristen, an UFD setting is what you can afford, IF you can find one that will accept your needs.
Good luck with that search Kristen, and may all the Higher Powers watch over your children when you dump them with the cheapest childcare you can find for 60+ hours a week.
To all of the other parents searching for childcare here, I hope this post is helpful to you in some way, and best of luck with your search for quality, affordable childcare!
URL: http://atlanta.craigslist.org/atl/kid/2167854336.html____________________________________Special thanks to the following readers that contributed this week: noenanny, ladybugblessingscrafts, foreverhugged, megrose123, carrie, nannydebsays, afnt81 and missdee... all of you did a really awesome job. My apologies for publishing this so late. Please send next weeks CL-WTF Ads HERE or use MEEBO. Don't forget to include the Links and the Body of the ad, if possible! Thank you!
TO LEAVE A COMMENT: PLEASE CLICK RIGHT HERE!

DO NOT POST BELOW, YOUR COMMENT WILL BE DELETED! PLEASE CLICK THE LINK ABOVE TO LEAVE COMMENTS, THANK YOU!