Saturday, August 28, 2010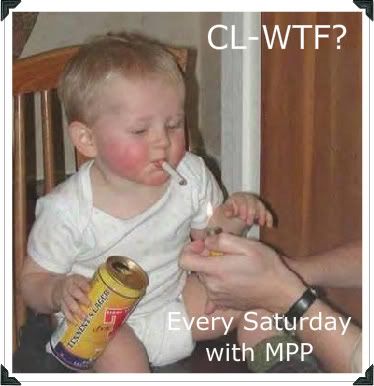 .... WHAT?!
Feature:1) Seeking Live-in Nanny/Housekeeper (Las Vegas)
Seeking loving,caring responsible person to take care of our 2 daughters, twins approximately 40 hours per week . We are seeking someone with a positive and upbeat attitude, who loves children.
Requirements:
« no criminal history
« Non-smoker
« Must have references; must approve of a background check
« Very responsible; dependable, on-time
« Must have childcare experience/history
« Fluent in English
1) MUST HAVE PRIOR WORK EXPERIENCE WITH CHILDREN
2) MUST LOVE CHILDREN
3) MUST HAVE THE ABILITY TO MULTI-TASK
4) MUST BE ABLE TO KEEP SURROUNDINGS CLEAN AND ORGANIZED
5) MUST PROVIDE STRONG REFERENCE UPON REQUEST.
6} MUST HAVE A GOOD COMMUNICATION SKILL AND MUST BE OBIDIENT
URL: http://lasvegas.craigslist.org/kid/1921597650.html_________________________________________________________________
2) Grampa up for Adoption (Las Vegas)
MY GRAND DAUGHTER HAD TO MOVE AWAY WITH HER MOM & POP ------> I"M LOST
I WANT TO BE ADOPTED BY A NEW GIRL (S) OR BOY (S)
NORMAL GRAMPA DUTIES WILL BE OFFERED FOR NORMAL COMPENSATION OF
-------> HUGS & KISSES --------- ( FROM GRANDKIDS)
I LIVE IN SOUTHEAST
YOUR QUALIFICATIONS AND MY QUALIFICATIONS SHOULD BE DISCUSSED IN PRIVATE
RESPOND THRU CRAIGSLIST AND I WILL BE ABLE TO GIVE ADDITIONAL CONTACT INFO
URL: http://lasvegas.craigslist.org/kid/1920296381.html_________________________________________________________________
3) Sitter needed tomorrow (Dallas)
I am needing a Sitter tomorrow from 7am-5pm, 9 year old daughter, and we live in north Garland 75040 area, Please reply asap with a price and your experience. Thanks!
URL: http://dallas.craigslist.org/dal/dmg/1904650743.html_________________________________________________________________
4) In need of babysitter! (Las Vegas)
Hi, my name is Lisa... I am currently looking for a sitter for my 14 month old son. I currenlty found a babysitter but am still looking for one closer to my area. Currently I need a sitter tues 1145 to 230 and thurs 645 to 230...I also got offered a job and will need other days once I get started. Looking for someone with experience in kids and willing to play with them and be interested. Currently I prefer to drop him off at a sitter where u also provide him with a meal and naptime. I am looking for reasonable rates to be offered, don't reply if your looking for 10 dollars an hour or 125 a week where I would rather put him in a childcare facility for that price. You can email me if interested. Thank you
URL: http://lasvegas.craigslist.org/kid/1922790502.html_________________________________________________________________
5) do you need a live in nanny? (Las Vegas)
hi i paln on moving to vegas but i have no where to live just yet i am a 17 year old babysitter/nanny i've been doing this for years with new borns and up i can be a live in nanny with pay. i am the second oldest out of six i was taken care of my lilttle brother and sister they lived with me and once i get money and a place to live in vegas they will live with me again because there number one in my life anywho email me if you have any questions lilshanteb@**** im open to any questions thank you for reading this all smiles =)
URL: http://lasvegas.craigslist.org/kid/1922995590.html_________________________________________________________________
6) I am looking to be a live in housekeeper/babysitter (D.C.)
32 year old female looking to be a live in housekeeper or babysitter.I do not drive,but I can get my dl back.I do not drink or do drugs or smoke.I have buisness and personal references but no resume.I know how to cook,clean,do laundry and dishes.I am not afraid to get my hands dirty.I am looking for at least free room and monthly pay.400-500 a month?
URL: http://washingtondc.craigslist.org/nva/dmg/1921116671.html_________________________________________________________________
7) Looking for a Babysitter/Nanny (Minneapolis)
Hi my name is Tammy. I'm a single mom looking for a Babysitter/Nanny for my daughter. I just got hired for a job and I'm looking for childcare. I am not sure of what my hours are gonna be yet. But they will be somewhere between the hours of 8am-10pm Monday, Wednesday-Saturday and then every other Sunday. Monday nights if I'm working past 7pm Her father would be coming to pick her up cause that is one of his nights to have her. Same with every other Saturday night but that would be if I'm working past 6pm. I'm looking for someone who has nothing going on during the day. Someone who has no current job that would interfere with watching my daughter. I want one person to watch her. And it would be nice if you didn't have any other kids. Like I said I'm just gonna be starting this job and the last thing I would need is for your kid to get my kid sick and then not wanna take care of my daughter and then I would have to call into work. Also if you don't wanna take care of a sick kid, please don't reply to this post. I would like her to have some child interaction, so I'm looking to sign her up for some ECFE classes that if I'm working during for you to bring her to them. And of course I would pay. Or if you could take her to the Eagles nest or another kids play place. I have never left my daughter with someone I don't know so this is gonna be very hard for me. I've been a stay at home mom since the day she was born so she is really only used to me taking care of her. So I'm looking for someone who is gonna treat my daughter (my LIFE) like she was their own. So if I see you on an episode of Maury shaking my kid, you will see me on an episode of Americas Most Wanted. Haha just messing with you. But I do want you to treat my daughter great! If you live a little farther away it would be nice for you to have your own form of transpertasion. If I scared you a little bit up there I just wanna let you know that I'm very easy to get along with. I don't expect you to clean my house or do my dishes or laundry for me. So as long as your taking good care of my daughter, then I will be happy! Now also, I'm looking for someone who isn't gonna charge alot per hour cause right now I can't afford much. But I was thinking at the end of every month if I feel like you're doing a good job then I would give you some sort of bonus or something. I'm not gonna be making very much an hour so it would be pointless for me to be working if I'm gonna be paying you as much as I'm making an hour. So if you're willing to help me out for cheap, I will make sure you are also happy in the end with your pay. If you're interested you can either email me back on here or you can even call/text my cell at 763-291-**** Oh yeah and it would be nice if you could watch her at my place. It would just be easier that way cause all her stuff would be there and I wouldn't have to worry about her breaking anything of yours or getting into something. Where ever we live is always very baby proofed so there isn't much for her to get hurt with. But if you don't mind if she gets into your things cause trust me she will, then you can watch her where ever you would like.
URL: http://minneapolis.craigslist.org/ram/kid/1911743121.html_________________________________________________________________
8) Childcare Needed (Las Vegas)
Hi. I'm a young mother and a student. I'll be finishing school mid-October and starting externship. I'm not sure when I'll need someone to exactly start, or the days and hours just. It would most likely be no weekends unless a date night. I'm hoping to get hired right out of externship, but I don't know if that will happen. I need someone who has a car, care would be in my home, but my oldest needs to be dropped off to school at 12:15pm and picked up at 3:45pm. I have three children, all boys. I have a 4 year old, 2 year old, and almost 1 year old. You'd all be required to clean up after the children, feed them, put them down for naps, drop off and pick up my oldest, give them baths if needed, and just keep them entertained. Most of the time they entertain themselves, I'm not looking for someone who is gonna be a teacher, if you wanna do it, then that's fine. But I just really want my children loved and safe and happy.
This would be a long term position. I'm not looking for background checks and all that. I do want references, CPR & first aid if possible, anything else you can bring to the table. Email me a little bit about yourself, and why you think you'd be a good fit, and what you could offer as a childcare provider.
URL: http://lasvegas.craigslist.org/kid/1919433960.html
_________________________________________________________________
9) Free Childcare (Las Vegas)
I am offering free childcare to those in need. If you can pay, I have a sliding fee scale. I am an experienced, full time stay at home mom with many years of childcare/teaching experience. I am running a homeschool here for my daughter, and can school your child as well. I teach age appropriate curriculum, and have a broad range of talents and interests, which include, culinary arts, dance, music and art. Please call me right away and I can help you. I can also accept government subsidized help to pay for the care. 702 630 **** Kelli H****
URL: http://lasvegas.craigslist.org/kid/1922696415.html_________________________________________________________________
10) PT babysitter/mother's helper needed ASAP (North Carolina)
I have a very happy, active & fun 8 month old baby boy. I need someone to come play with him & follow him around the house when he decides to wander. I will change his diapers & be there to soothe him if he gets hurt. I work from home so I'd be here the whole time. It's just that I've been having the hardest time getting anything done lately. This would be 3 days a week for 2 1/2 to 3 hours per day. (Hours will probably be 11:30am to 2:30pm but may vary slightly.) Due to the minimal amount of work you will actually have to do I will be paying $8 for the day even if it only ends up being for 2 hours. If things are going great I plan to increase to 4 or 5 days a week & increase the pay to $10 a day. Perfect gig for a teenager but age does not matter. If you have a kid of your own that you'd need to bring that is absolutely fine- so long as you can take care of both of them at the same time. I really need someone to come today @ 11:30am since I have wasted over a month looking already. Also put "mother's helper" in the subject line so I will know you're not spam. Thanks*
URL: http://fayetteville.craigslist.org/kid/1913793189.html_________________________________________________________________
11) Need babysitter ASAP (North Carolina)
HI, My family and I just moved to North Carolina and are in search for a reliable person to babysit when we have events to attend or after school.I am looking for an experienced babysitter to babysit a four year old child tomorrow night and possibly become our main babysitter. Please email me with a quick bio and availability. Pay is $10/hr.
URL: http://raleigh.craigslist.org/kid/1910847257.html_________________________________________________________________
12) looking for after school care (Pittsburgh)
I am a mother of 5. I am looking for someone to pick up children after school and do small jobs around the house. I need light housekeeping including laundry and dishes while kids are at school. I also need someone to be avaiable for care when children are off for holidays and sick days with no additional pay. After school hours would be from 1:45 to 5:30 bieng the latest. I am looking for someone who can either drive or in the area so they are always avaiable when needed. You must be able to pass clearences because payment will be through ccis and you must be willing to go through the process they send you. Pay with ccis is 30 days after the start date. It is a busy job and they pay is not that great but if you think you can handle it please respond to Sherri @412 584-****. Do not call until Friday after 12pm. I will be doing interviews starting saturday through the following weekend. Thank you.
URL: http://pittsburgh.craigslist.org/kid/1919965312.html_________________________________________________________________
13) any babysitters out there? (Phoenix)
Hi I am looking for a babysitter for mondays and Tuesday, there may be more time in the near future as well, but for now its just those 2 days, I am a single father of a 2 and a half year old that I need watched and taken care of while I am working. I want someone experianced as he is a handful!! Please tell me your qualifications, like experiance, if any certifications, references, rates and so on. I do need some close to me near main st and dobson. This will start on this coming Monday as well, I will pay per day as well. Oh start time will be as early as 530 to 6 cause I start at 630, please take that in mind as well, Thank you.
URL: http://phoenix.craigslist.org/evl/dmg/1917739198.html_________________________________________________________________
14) Babysitter needed for night of 9/4/2010 (Philadelphia)
We need a caring/loving babysitter to watch our 2 kids (4 yr old girl and 17-month old boy) on Saturday 9/4/2010, from 5pm to 11pm. They are pretty much independent. Respond with rates and contact details.
URL: http://philadelphia.craigslist.org/kid/1922309214.html_________________________________________________________________
15) Chill kids need sitter after school one day per week (Philadelphia)
My 11 year old son-quiet, video game player, into baseball cards and 9 year old daughter-game playing, makeup and hair doing, cartwheeler (as well as two medium to large fluffy, stupid, tail wagging dogs) need a sitter every Tuesday from 4-7pm until mid October. Then the day will change to every Monday. Easy gig. I'll have dinner organized, but you may have to-you know, boil pasta or put something in the oven.
URL: http://philadelphia.craigslist.org/kid/1921124741.html
_________________________________________________________________
.... HOW MUCH?!16) Babysitter 2-4 days a week (North Carolina)
Hi, I have a 4.5 year old son who needs a babysitter a couple days every week. I would normally need a sitter from the hours of 8am to 5pm. I am a single mother that works at Best buy so unfortunatley I can only afford to pay $10 - $15 dollars a day. If interested you may contact myself at ali_bendett@**** or you may email my husband at graycharlie@**** or contact us at 919-906-**** anytime. Thanks and Godbless.
URL: http://raleigh.craigslist.org/dmg/1913518427.html
* Response from CL reader:17) RE: Babysitter for 4.5 year old 2-4 days a week (North Carolina)
I'm sorry, maybe I can't read well, but you said you're a single mother that can only afford $10-$15 a day, but you have a husband? Read that again for me, please. Does that make sense to you?
URL: http://raleigh.craigslist.org/dmg/1913986455.html_________________________________________________________________
18) Need a babysitter starting next week (Philadelphia)
I am looking for a babysitter to watch my 3yr old daughter in my home.No house cleaning just make sure she eats,clean up ONLY HER MESS,and most of all,make sure shes SAFE!! Any race or age is cool,I am a nurse so I am very down to earth and understanding,but,I do ask that if you apply you MUST BE RELIABLE!!!! I would prefer someone from the area,but,if not,its ok.I would need someone from m-f from 1-5pm.I will pay you 80.00 and it would be cash every fri.
URL: http://philadelphia.craigslist.org/dmg/1918318512.html_________________________________________________________________
19) Childcare babysitter needed (Nashville)
My wife and I are looking for a babysitter to watch our 6-month old son Jaden. We live in a good subdivision in Blackman which is on the Smyrna side of Murfreesboro. I am 36yrs old and my wife Brandi is 31. Jaden is a perfectly healthy baby boy who is very low maintenance. We are needing someone to watch him from 8:15am-5:00pm, Mon-Fri. Wednesdays are usually a half-day. The pay is $400 cash per month and can be paid monthly or bi-weekly. No house cleaning required! Sitter is required to remain in the home at all times besides emergencies. No joy rides or errands. Must be willing to keep notes of child's daily activities and help him develop physically and intellectually. Looking for a responsible and energetic female between the ages of 20 and 35. Must love kids more than you love TV, internet and texting. We prefer someone who knows how to seperate their personal life from work. No girl friends or guy friends are allowed to visit and outside communications with others need to be while baby is asleep. We are a Christian family that doesn't drink or smoke and we are looking for a non-smoking sitter with good values. If you have a criminal record, a jealous boyfriend or a crazy ex-husband, this may not be a good fit. If you feel like you fit the requirements for this position, feel free to send us your name and number. Attach a resume if you have one. If not, just send a little something about yourself in with the email. Thanks, Ryan
URL: http://nashville.craigslist.org/kid/1912193237.html
_________________________________________________________________
20) Looking for SAHM/Nanny to watch 1 yo daughter! ASAP (Seattle)
Hi!
Looking for a sahm or nanny that is flexible...I have a bit of a starnge situtation :)
*Monday, Tuesday, Wednesday- Watch my 1 year old daughter from 9-6:30 at your place or my apt. in Alki.
*Every other Monday - Pick up my son, 3 years old, from his preschool at 5:50 at Pike Place Market Preschool and I will meet you there at 6:15 to get both kids.
*Thursday and Friday (if possible) - Pick my son up from preschool at 5:55 and I will meet you at 6:15. Only 20 minutes!
I can pay $40 a day for Mon, Tue, Wed
And $10 a day for Thursday and Friday= $140 for 3 days plus 2 20min. days
THANK YOU!!!
URL: http://seattle.craigslist.org/see/kid/1922549542.html_________________________________________________________________
21) Babysitter wanted M-Th $160.00 per week, Fridays off (Denver)
Looking for childcare for a 3 year old boy, M-Th 7:00 AM - 5:00 PM, Fridays Off.
Job will include drop off daughter at Cory Elementary, short term, at 8:30 AM. Can provide car for this if necessary.
Pay $160.00 week.
Easy bus access near I-25 and University.
Must be loving fun and gentle. We need somone extremely reliable, punctual with a strong work ethic. Please reply via e-mail with interest.
URL: http://denver.craigslist.org/dmg/1909189812.html_________________________________________________________________
22) Seeking a conscious babysitter (Portland)
Searching for a calm, stable, loyal, conscious, grounded babysitter to help nurture my child and possibly other children in our circle of family and friends. We are hoping to find someone who truly loves children and is available often for both regular and on-call babysitting at their own home especially for weeknights, weekends, and overnights. The ability to pick up and/or drop off at home or school is important. We hope that the babysitter lives in a house with enough space for children to exercise when it's raining, and a fenced backyard safe for children to play in (part shaded). We hope our caregiver has creative projects and educational activities to offer other than television. Movies, video games, and television to be kept at a minimum please. Loving, logical, and creative discipline styles are a must. Absolutely no spanking or corporal punishment. Nonviolent communication is a plus. Also, healthy food and snacks provided by you and included in the cost of care.
I am a full time student at the naturopathic school and single mother of an incredible 5 year old daughter. My budget for child care is limited, so I am looking for someone with reasonable rates. My current sitter charges $25 for overnights and $50 for a full 24 hours, but she lives far from us. We live close-in in SE Portland and hope to find a babysitter who lives near us with similar rates. If you're interested, please just respond to this ad. Thank you for your time.
URL: http://portland.craigslist.org/mlt/dmg/1919078142.html_________________________________________________________________
23) Night Nanny (Denver)
We can't pay much bit desparately need some sleep. We have adorable 5 week old that typically sleeps 4 hours at a time. We need someone from about 10 to 6 to feed him during night. This is usually twice. You will have nice cool room. Pay is $50 per night cash and we will use you twice a week. Nights are flexible. Please send qualifications and state reason why you would be a good fit. Thx
URL: http://denver.craigslist.org/dmg/1897992757.html_________________________________________________________________
24) Childcare needed in my home (New York)
Looking for someone to watch 2 of 4 children
Starting Sept 8th- School Starts
Times would be 730 am -300pm
I have a 2yr old in diapers you would have all day
then a 4 yr old that goes to Bing High Pre-K and would need to get picked up at 1045am everyday.
(Then from 1045am till 3 you would have both children.)
So PLEASE have a VALID license. (Thank You)
I have 4 children 7yr, 5yr, 4yr and 2yr old Girls.
And on occasion you might have them on no school days
I have a large fenced in back yard, a 9yr old lab, trampoline, swing set, pool,
Park down at end of block, bikes and tons of craft stuff.
I don't have much - Looking to pay $100 week /20 day
Your children are welcome...food and snacks are provided
Any Questions PLEASE ask - sharlaskidz@****
URL: http://binghamton.craigslist.org/kid/1921647795.html
_________________________________________________________________
25) PM sitter needed in Elk Grove (Sacramento)
I am looking for a responsible sitter to care for my child 4 nights a week from 10:30 pm to 8:00 am. You know the days a month ahead of time when I get my schedule and yes I work weekends twice a month. When you arrive my child is already in bed you will have time to watch tv, do homework or sleep for most of the time. I would like for a few household tasks to be done and that my child is awake by 6 am motivated to get ready for school, assisted in hair/oral care and of course fed breakfast. Then I would arrive and off to school we would go, on occassion you would take my child to school if I'm running late. The school is just down the street so you could walk or drive. The perfect job you have you whole day for a second job, school, sleep, fun whatever!!!
References are a must, CPR is a must ( if you don"t have I will pay for the class), You must be on time, responsible and reliable. Pay is $25 a night Cell Phone 636-697-****
URL: http://sacramento.craigslist.org/kid/1912207009.html_________________________________________________________________
26) After school childcare needed (Denver)
Afterschool Childcare needed in the Westminster/Brighton area. I am looking for a responsible individual to pick my two children up from school and watch them at my home or theirs from 2:30pm to 6pm Tuesday, Thursday and Friday everyother week. The children's school is roughly located at 128th and Zuni in Westminster. Please contact me for further details. Please only respond if you can commit to fulfilling childcare for the school year running from Aug 2010 to June 2011.
URL: http://denver.craigslist.org/dmg/1880689666.html_________________________________________________________________
27) Childcare Needed (Milwaukee)
I am in need of child care for my two boys ages 19 months and 6 years in the Waukesha area. I am currently working at a downtown clinic in Milwaukee from 10am to 6:30pm. My husband works in roofing and his hours vary and my be gone for days at a time or be home for days at a time. I am in need of care for the hours I work. I am looking for someone to watch the boys from 9:20am until I get home around 7pm, Mon-Thur and Friday from 7:45-6:15. My six year old will be starting school next week so he will need to be picked up from Heyer elementary after school (3:25pm). We are within walking distance from the school so you would be able to walk to get him as long as it is warm out and when the weather is not cooperative you will need reliable transportation. I plan to pay $200 per week / $40 per day.
There may be a few Saturdays I would also need a sitter, only about once per month or less. I am open to taking my children to your home as well as long as the hours and rate works for you. In addition, if you have children of your own, I am ok with you bringing them along as well :) although I do have a cat ...
If this sounds like something you would be interested in, please email me asap to set up an interview. I am looking to find someone quickly but please do have references ready. Feel free to email with any questions you may have or for additional information.
*Spanish speaking a plus
Nosotros hablamos espanol en nuestra casa...
Thank you for your time, Melissa
URL: http://milwaukee.craigslist.org/kid/1921437115.html_________________________________________________________________
28) Nighttime babysitter (Chicago)
I need someone to come to my home in Portage 3-4 nights a week to watch my 4 year old son from 10:00p.m. until about 7:30-8:00a.m. $10/ night to $100 every two weeks
URL: http://chicago.craigslist.org/nwi/dmg/1919081013.html_________________________________________________________________
29) Need of a sitter (Milwaukee)
I'm in need of a sitter to come to my house by 5:30am, get my son up for school and then at 7:15 I would need someone to drive him to Grafton at his school by 8:45am. I work all different hours so this arrangement will be on a as needed basis. I however will notify you every Friday to let you know what is needed for the following week. I would need someone to start on Wednesday, September 1. $15.00 a day. I need someone that is reliable, has a safe vehicle and a good driving record. If your interested please call Kelly at 262-424-****
URL: http://milwaukee.craigslist.org/kid/1922770267.html_________________________________________________________________
30) Lincoln Mom needing Helper (Sacramento)
I am not holding out much hope, but am going to give it a shot anyway. I am a Lincoln mom with 3 small children. I have a housecleaning business and need a person to come watch my kids while I go clean houses and apartments in and around Lincoln. My kids are not hard to watch, and I don't ask that you do anything other than keep them occupied. I don't require you to clean, (that is literally my job lol), or to do anything stressful, just watch them and make sure they are not sitting in front of the tube all day. There is a park within spitting distance, and they have toys and stuff in our very large backyard if nothing else. If it's too hot or rainy there is a HUGE toy room upstairs they can play in. So, to reiterate, I need you to come and play with my kids. Sounds easy, right? I thought so too.
Now it gets a bit complicated. I need this angel of mercy to have a car, and to be over the age of 18. My son goes to a pre-school 5 day/week and on some days I need you to go pick him up. I will always drop him off, but at 11 am he needs to be picked up and a person over the age of 18 has to sign him out. You may also need to have my other 2 kids with you so your car should be big enough for that. I can provide the car seats of course. So, now you need to play with my kids, have a car, and be over 18...still interested?
What else? Well, ideally you will live in Lincoln. If I had my wish you'd live in the same area as me...the "D" streets in Lincoln Crossing. I know I am being specific but I've had other sitters have transportation issues and they lived too far away so when they called in I had to cancel my work for the day, which lost me money and sometimes clients. This is a very frustrating thing. So if you can walk if needed or I can come pick you up really quickly I think this would work out well.
The most important things I need from you are patience, understanding, and flexibility. My business is still fairly new, and we are doing well but every day is literally a new adventure. I've started out my day with no appointments and then BAM out of the blue I'm cleaning two houses in one day! (I don't recommend doing this on a regular basis). Your position is going to be an on-call type of thing. I have regularly scheduled residential clients I know I will need you for but I am also on-call for a string of apartment complexes in and around Sacramento (all the way up to Marysville). When one of the apartment managers calls to say they need an apartment cleaned, I need to be available, which means my sitter needs to be available! (I do get some notice of course so you will, too). I have very long days sometimes, and so will you, but yours will at least end at 6 pm when my husband gets home! See how it's starting to get crazy? So, play with my kids, have a car, be at least 18, live in Lincoln, and be patient, understanding, and flexible. Ok, now for the really complicated part. Show me the money!!
I have tried to figure out a fair pay for my sitters. I think I might have what is the best solution...a flat rate/week. I can give you $100/week, plus $10 extra for gas/week for picking up my son from school. Yes, I realize it is not much but here's the deal...you get that REGARDLESS of how often you work for me! I may need you five days, yes, but more often than not I'm only needing a sitter like 3 days. If you only work 3 days you'll still get paid for the full week. Five days is the max I will ask of you. You will never work Sundays, and you will either get Saturday or Mondays off as well, depending on my husband's work schedule. They will probably be full days, possibly from 8 am to 6 pm, but my kids are on a pretty easy schedule/routine, my son will be gone for part of the time, my younger two both take naps, and I will buy just about any snackage you want to make your stay more comfortable. (excluding alcoholic beverages if you are over 21). I also try to make my meals a month in advance so there is plenty of food in the freezer for meals if you want to eat with us. So, while I can't do much monetarily there are still some perks that go with the job. I like to think my home is pretty nice, and that my kids are pretty awesome. I don't find it hard to do the above-requested things, so I'm hoping to find someone out there who just needs a bit of extra money and likes children. If you think you are that person, please reply! Thanks so much, Nicole
URL: http://sacramento.craigslist.org/kid/1921604718.html_________________________________________________________________Special thanks to the following Readers for their Contribution: andreaantidormi, NC, Krupitzerb, afnt81, hijabiniqaabi, ladybugblessingscrafts, cheesenipsaregood and Cinder38. All of you did a great job... thanks for coming through! Please send next weeks Ads HERE or use MEEBO. Don't forget to include the Links and the Body of the text, if possible!
TO LEAVE A COMMENT: PLEASE CLICK RIGHT HERE!

PLEASE DO NOT LEAVE YOUR COMMENTS BELOW... THEY WILL BE DELETED! CLICK THE LINK ABOVE TO LEAVE A COMMENT... THANK YOU!