Saturday, April 3, 2010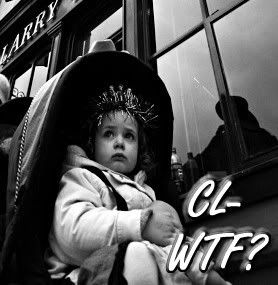 .... WHAT?!Feature:1) Looking for live-in Nanny (New York)
Looking for a live in Nanny.
You would have your own twin bed and closet in the same room of the childrens.
I am looking for someone that enjoys kids, being active and creative.
My 4yr old is in preschool and the 2 1/2yr girl stays at home.
The pay would start around $440 a month and with in a few months would be increased to an extran $50 weekly! We are 20 minutes by train to the city and the train is at the end of the block. I am a young mom trying to get back on my feet and going through a divorce. My children are very sweet and outgoing!
You would get one or two days off a week.
I am going through a career change and am open! I am looking for someone that is serious and dedicated! We are a young and fun family!
I need someone that can cook, clean, play, and be firm......
Original URL: http://newyork.craigslist.org/que/kid/1670313817.html
_______________________________________________________________
Special thanks to JLow2474 for this weeks Feature Ad... great job! Also, thank you to the following Readers for their Contributions: mbargielski, cinder38, MissMannah, MissDee, amyfacie, bookbagtheatre and kiddiepsyc... all of you found some awesome Ads! Remember, CL-WTF will be Posted every Saturday. Please send next weeks Ads HERE or use MEEBO. For those that sent Ads through MEEBO this week: my apologies... but by the time I got to them they had been deleted. Including the body of the Ad with the Link would be so helpful!
;-)
TO READ THE REST OF THIS WEEKS SUBMISSIONS: PLEASE CLICK HERE!