Saturday, October 3, 2009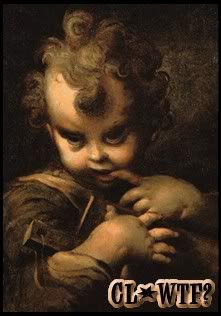 .... WHAT?!Feature:1) Need after school sitter for cranky/sneaky 12 year old girl (St. Louis)
I figured I'd be honest up front. My daughter isn't exactly the nicest person in the world to be around right now. At least not to me, although I have seen her be nice to other people. Lately, she has become very upset when I am home after school and she feels like I shouldn't be or she will call over and over to see what time I am coming home. While she swears she doesn't have anything or anyone planned to do that she knows I wouldn't like, I tend to doubt this otherwise why would she be so upset if I am home? I have caught her trying to smoke and drink and at this time, just don't feel that her staying at home alone is such a great idea. I already have a babysitter for my younger two children, however she is in another school district so my daughter can't ride the bus to her house. I am looking for someone who can work about 3 hours a day. After school only. She may need a couple of rides home, as I am trying to sign her up for after school activities so she isn't alone all afternoon, but again, that still leaves her alone until her dad gets home around 6. I would perfer someone who won't let her eat a bunch of crap and sit on the couch watching tv. She is very overweight and is affecting her health. Maybe someone who loves to run. or anything more physical than lifting pepsi to her mouth. Yes, it needs to be someone who can handle the "i hate you so please die look" and the "OMG I hate you and my life and maybe I should kill myself!" statements that she likes to make. Someone who is smart enough to realize that her being nice is probably only going to last as long as it takes you to ask her to do anything relating homework, excersice, or housework. Anyway, if I haven't completely scared you off please email me. This really is a need that I have and hopefully there is some brave soul out there. FYI She goes to Ridgewood MIddle School in the Fox District.
Original URL: http://stlouis.craigslist.org/kid/1395702559.html___________________________________________________________Special thanks this week to Elizabeth for our Feature Ad and to Jennifer for the Honorable Mention... both are fantastic finds! Also, thank you to MissDee, hijabiniqaabi, Cinder38 and mbargielski for their help each and every week and to Mary Carol, Cafegirl_78 and vshirey317... all of you did an awesome job! Remember, CL-WTF will be Posted every Saturday. Please send next weeks Ads HERE or use MEEBO
.
TO READ THE REST OF THIS WEEKS SUBMISSIONS: PLEASE CLICK HERE!