Saturday, September 19, 2009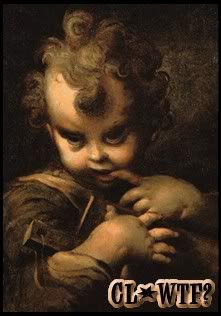 .... WHAT?!
*This Ad did exist but was removed almost immediately from CL:
1) In Home Nanny Needed (Hampton)... OMG... U HAVE TO READ! (Norfolk)
Is this for real? This is the ad posted:
I'm a Single-Father in search of a lady who is willing to be an in-home Nanny. I have a 5 year old little girl, and a 8 year old little girl. I'm in the military, and also run a business so I'm not home a good majority of the time. If you are a student, or you are involved in some type of activity or venture which requires you to be flexible with your time, then this is the job for you. You'll be living in a beautiful home with all expenses paid. All you have to worry about is helping with child-care. Also, I'm single, 28 years old, and a grown man. So, I ask that you be between the ages of 24-34, beautiful, not crazy or deranged, and single. Like I said, I'm a grown man and we will be living under the same roof, so who knows what will happen. So, if you are interested or have questions, please email me at the above address. We will then set up a time to meet, and see how things go. Thank you...
I don't know if this man is serious or just perverted but this sounds like something bad waiting to happen. As a parent and provider...I would NOT advise anyone to respond to this? What does being between the ages of 24 and 34 and beautiful have to do with taking good care of your children? Yeah, right...sounds like a crazy pervert to me. And what does he mean, since he and the woman would be living under the same roof, "who knows what will happen"???? I'm flagging!
Original URL: http://norfolk.craigslist.org/kid/1380444265.html___________________________________________________________Special thanks to those that Contributed: Utah Nanny, Nevada Nanny, Cinder38, hijabiniqaabi and octebbc... you did a great job! PLEASE, from now on, try to send in a Copy of the Ad with your Link... oftentimes when I go to pick it up, it has been Flagged or Removed and we miss out on a potentially awesome Ad. Remember, CL-WTF will be Posted every Saturday. Please send next weeks Ads HERE or use MEEBO
.
TO READ THE REST OF THIS WEEKS SUBMISSIONS: PLEASE CLICK HERE!