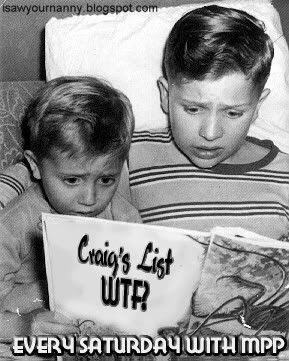 Saturday, June 27, 2009.... WHAT?!Feature Ad:1) Looking for a Baysitter (Bella Vista)
Hello there. I am looking for a babysitter that has an open schedule. The babysitter also needs to be willing to go to classes through CCIS (it is an agency that provides me with state subsidy for daycare). I believe it is 3-5 classes I am no sure how long they are. It is located in South Philly off of Water street, it is not far from the Riverview movie theatre. I am not able to pay myself, I am a single mom that is very cash poor right now. It would be one to three shifts that would be til 11:30 - 12:00pm at night and you also have to be available for weekends. You would be watching my 2.5 year old son Ethan in my apartment. I live near 10th and Bainbridge. He is learning to use the potty and usually remembers to go but it is good to ask him also. He is a very good child, he is just a little boy that has a lot of energy and loves to play and laugh. He loves to go to the 2 parks by where I live, or go for a stroll either him walking or in the stroller. I have cable and interenet so there are plenty of things to keep him and yourself busy and also a fully stocked fridge and pantry. To sweeten the deal I have free laundry in my building.
Original URL: http://philadelphia.craigslist.org/dmg/1237180962.html
__________________________________________________________
Special Thanks this week to MissDee, BeckM and all of the Anonymous Submissions we received... you did a great job! Remember, CL-WTF will be Posted every Saturday. Please send next weeks Ads HERE.

TO READ THE REST OF THIS WEEKS SUBMISSIONS: PLEASE CLICK HERE!