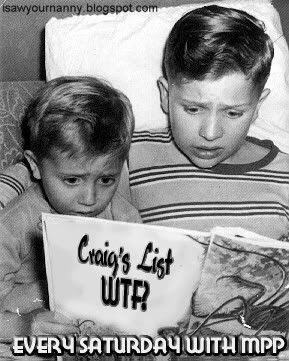 Saturday, June 27, 2009.... WHAT?!Feature Ad:1) Looking for a Baysitter (Bella Vista)
Hello there. I am looking for a babysitter that has an open schedule. The babysitter also needs to be willing to go to classes through CCIS (it is an agency that provides me with state subsidy for daycare). I believe it is 3-5 classes I am no sure how long they are. It is located in South Philly off of Water street, it is not far from the Riverview movie theatre. I am not able to pay myself, I am a single mom that is very cash poor right now. It would be one to three shifts that would be til 11:30 - 12:00pm at night and you also have to be available for weekends. You would be watching my 2.5 year old son Ethan in my apartment. I live near 10th and Bainbridge. He is learning to use the potty and usually remembers to go but it is good to ask him also. He is a very good child, he is just a little boy that has a lot of energy and loves to play and laugh. He loves to go to the 2 parks by where I live, or go for a stroll either him walking or in the stroller. I have cable and interenet so there are plenty of things to keep him and yourself busy and also a fully stocked fridge and pantry. To sweeten the deal I have free laundry in my building.
Original URL: http://philadelphia.craigslist.org/dmg/1237180962.html
__________________________________________________________
2) In need of a babysitter tonight (Norfolk)
Hello my name is Andrea and sister is in town and never seen VA and would like to take her out tonight. Im in need of a babysitter tonight in my home, I have 3 lil girls 9month 3 and 5 years. My 3 and 5 year old will be asleep before i leave so really its only my 9 month old that needs the care. Im offering 50. 757-319-****
Original URL: http://norfolk.craigslist.org/kid/1231375964.html__________________________________________________________
3) Summer Babysitter Needed 9 to 1 (Sun Prairie)
Hello We live in a good neighborhood near American Family Drive and Hoepker Road called Providence Neighborhood. We have 4 well behaved children ( 3 girls ages 4, 5 and 10) and a little boy going to be 3 years of age. We need Summer Babysitting hours Mon to Fri 9am to 1 pm. I have planned work books / art works and programs for the kids. You will only need to supervise - No need for housework. Our eldest daughter who is 10 years old, is already a very good supervisor but I need someone to help her for those hours. Please email me with your expected remuneration and references if any (preferred but not necessary). We would like to start week of July 6th. Thank you.
Original URL: http://madison.craigslist.org/kid/1233842857.html__________________________________________________________
4) Childcare Needed for our 2 Boys in our Home (Sauk City)
Looking for someone to watch our two boys starting August 24th, 2009. We have a 6 year old and a 2 year old that we need care for. We are looking for a high school graduate or adult to care for our children. This will be a permanent full time position so SERIOUS INQUIRES ONLY PLEASE. This person would come to our home to watch our children as we are close to parks, pool and other activities and need someone there for after school care. Must have own transportation to and from our home. The hours would be normally from 7:30am – 5:30pm at the latest. Some days could be shorter as we may be off work earlier but you will still get paid a full day. My oldest son will be going to 1st grade so it is basically care for our 2 year old through out the day and for someone to be there before and after school for our oldest. Must have a good driving record. Background check required. Please email me and tell me a little about yourself, your experience with children, references and a number where you can be reached for additional questions. Pay is based on experience and can be negotiable. Please remember you will be in our home and using our food to feed our children so the pay rate will be less than the normal rate if you were to watch a child in your own home. Please be advised this is NOT a nanny position. Thank you for your time.
Original URL: http://madison.craigslist.org/kid/1239555115.html
__________________________________________________________
5) Need a Helper on Monday, June 22...for Dr. Appts. (Va Beach)
Hi, My name is Danielle and I posted to a couple weeks ago about finding someone to help me out once a month with my daycare children. My husband and I just found out we are expecting baby #2 and I provide daycare out of my home. I got lots of people interested the first time I posted but my husband didn't want me interviewing people while he was out of town. What I will pay you will be very fair and reasonable...you get paid what I get paid! My first doctor appt is monday, june 22nd 8:00am. You would need to be here by 7:15 or 7:30am. I keep 6 children ages range from 6 months to 3 yearr, however on monday there will only be 4 children here. You would be coming to our house to sit with the children and in the mornings they are usually pretty quiet and just want to watch some cartoons and eat breakfast which i will already have made. Please let me know if you can help me out on monday and possibly throughout the pregnancy for my doctor appts. If you have any questions please let me know, On monday your should be here any longer than 1 hour to 1 1/2 hours! Thanks!
Original URL: http://norfolk.craigslist.org/kid/1231333081.html
__________________________________________________________
6) Babysitting wanted, great for college/highschool student (Chesapeake Va)
We are looking for someone to watch our two children often. They are both in preschool. However I am a nursing student who sometimes need someone to watch them while I go study, or when me and their father go out to dinner occasionally. They are very well behaved children who are very fun to hang out with. I think this would be best for a high school or college student looking to earn a little extra money. It will also include sometimes if they can not go to school for some reason, like if they have a day off where I need to still go to school. Please if interested email me at lilpippylohan@**** so we may set something up. Thank you
Really need someone for tomorrow 6/23/09 please email if interested
Original URL: http://norfolk.craigslist.org/dmg/1200334188.html
__________________________________________________________
7) HIGH SCHOOL OR COLLEGE GIRL WANTED FOR OCCASIONAL BABYSITTING IN NOKESVILLE (Nokesville/Washington DC)
HI! I AM THE MOTHER OF TWO CHILDREN, A BOY AGE 9 AND A GIRL AGE 12. WE LIVE IN THE NOKESVILLE, VA AREA AND WOULD LIKE TO FIND A HIGH SCHOOL OR COLLEGE AGE GIRL WHO WOULD BE INTERESTED IN OCCASSIONALLY REFEREEING...ER, I MEAN BABYSITTING, IN OUR HOME THIS SUMMER. IT WOULD BE A PRETTY EASY GIG...JUST WATCH TV, PLAY VIDEO GAMES AND MAKE SURE THEY DON'T KILL EACH OTHER.
ANYWAY, IF YOU THINK YOU FIT THE BILL, PLEASE RESPOND TO THIS POSTING AND LET US KNOW IF YOU'RE IN THE AREA, YOUR AGE ( IF YOU'RE UNDER 18, WE'LL WANT TO SPEAK TO ONE OF YOUR PARENTS), IF YOU HAVE PREVIOUS BABYSITTING EXPERIENCE, AND HOW MUCH YOU CHARGE. THANKS!!
Original URL: http://washingtondc.craigslist.org/nva/dmg/1233675985.html__________________________________________________________
8) Looking for a Babysitter this Sunday (Las Vegas)
Hi, i am looking for a nice babysitter for my 4 year old son for this Sunday (8pm till 10 or 11pm) and maybe ongoing on some nights or weekends if we are getting along well and my son likes you. I am very easy going, and my son is a little brat. I am just kidding, my son is the sweetest boy ever, you will immediatly fall in love with him. I am looking for students or teenagers who wants to make some money on the side. Tell me your rates/references and please include a pic. Email it to unusvita@**** .....Thanks
Original URL: http://lasvegas.craigslist.org/kid/1240724076.html
__________________________________________________________
9) Nanny Needed: Exchange a room for a few hours a week of babysitting (DC)
We are looking for a Christian babysitter/nanny to help with our 4 kids. We are willing to exchange a private room for 10 hours a week of help with the kids. This would be a great position for anyone who has a full time job that is somewhat flexible which allows some day time hours and has weekend night hours available. We home school our children and I would be looking for a day or two during the week to help with the two younger children during the day for about 3 hours/2 days a week, this can be somewhat flexible in time. And, then 4 hours on a weekend night for my husband and I to have a date night. We will need references and an in person interview is a must. You must have a personal relationship with Christ and be able to share your testimony.
Original URL: http://washingtondc.craigslist.org/nva/kid/1241272085.html
__________________________________________________________
10) low income babysitter for low income family (Denver)
i have room for 2 more children toddlers are good.i charge $20.00 per day for 1 $30.00 for 2 and so on i do have animals and am a smoker but will go to other room please feel free to call me at 720-690-**** name carline
Original URL: http://denver.craigslist.org/kid/1231364847.html
__________________________________________________________
11) Emergency Sitter (Va Beach)
I thought I had a sitter for tom...I have 2 children 8m & 5f who I need watched as Im a therapist and was subpeoned (sp?) to court tom. I have no idea how long court will b, but I know it won't be over 8 hours. HELP!!!
Original URL: http://norfolk.craigslist.org/kid/1234383730.html__________________________________________________________
12) Looking for Sitter in my Home Tonight (Va Beach)
looking for a sitter to come to my home tonight. from about 7:30-the latest 2:30 ish. fiance and i havent been out in a while and looking to go out tonight can negotiate price. 2 girls. 2 and almost 1. please call if interested. thank you ashley 757947**** 757289****
Original URL: http://norfolk.craigslist.org/kid/1229952162.html__________________________________________________________
.... HOW MUCH?!13) Child Care Jr. Assistant (Kingstowne Va)
Child Care Jr. Assistant
Looking for a young teen, 12-15yrs old, who likes small children.
Hours: 10 to 12 noon – 2 days a week (M/W or T/Th)
during summer, and/or afternoon hours during school year.
Assist with crafts/snacks and playtime (supervised).
Starting salary $5 per hr/cash/daily – raises 30day/90day/etc.
Kingstowne area – Beulah and Manchester – bus on Beulah.
Great first job. Need references, parental ok, and report card.
Former teacher now doing child care.
Original URL: http://washingtondc.craigslist.org/nva/dmg/1234563648.html
* Response from angry CL reader:14) Re: Child Care "Position" (Kingstowne Va)
Just because you're willing to hire a young teen DOES NOT condone you paying them WELL BELOW minimum wage. Let kids these days learn the value of a dollar!! Not $5/hr.
That's criminal.
Original URL: http://washingtondc.craigslist.org/nva/dmg/1234981597.html__________________________________________________________
15) Care Provider needed in my Home (Va Beach)
Single Military Mother,
Live in Oceana. but work in Norfolk...
Have a 4 year old and a 6 year old. who need to be preped for school for between 0430-0800 when they are put on the bus for school, Monday to Friday.
However in the summer will also nee care for them M-F from 0430-330 pm while I am at work. Help needed ASAP...
Please be prepared to provide references, and to have a back ground check run.
Compensation: 80/week plus gas during non summer months, 150/week during summer months, meals provided by myself.
Original URL: http://norfolk.craigslist.org/dmg/1233207401.html
__________________________________________________________
16) Child Care Needed (Yorktown)
CHILD CARE NEEDED IN MY HOME IN YORKTOWN. I have two school age children, 9 & 7, who need summer care. They are fairly "low maintenance" kids, very independant, just need a little supervision. Monday - Friday 7:30am - 5:30 pm. We also have a cat & a puppy, so I need someone who is pet friendly as well. One child will be attending summer school for a month in the mornings. Only dependable, mature persons should call 696-****. Pay rate will be $150-$175.00 a week. Must have own transportation, good driving record, and prefer someone CPR certified.
Original URL: http://norfolk.craigslist.org/kid/1234385670.html
__________________________________________________________
17) Need fulltime Sitter/Daycare (Chesapeake)
I am looking for someone to care for my two year old daughter starting next week. Our current sitter has to move, and won't be able to watch her anymore. The most I can afford to pay each week is between 80-100. I'm a single mother that works full time. I can provide her lunches if need be, and supply diapers, wipes, etc. I live off Campostella, and work off Military Hwy, so I'm looking for someone in that vicinity. I've emailed several people on craigslist, and have had very few offers. I need someone who is going to care for my child that I can trust. As I said, I can only afford 80-100 a week, so please don't offer if you charge more than that. I do greatly appreciate the offer though. Thank you for your time.
Original URL: http://norfolk.craigslist.org/kid/1233914888.html
__________________________________________________________
18) I AM LOOKING FOR A SITTER (Aurora)
HELLO EVERYONE, I AM LOOKING FOR AN EXPERIENCED, RESPONSIBLE, RELIABLE AND CARING BABYSITTER TO BABYSIT MY 10 MONTH OLD FOR A WEEK IN JULY AND A WEEK IN AUGUST, AS WELL AS A FEW VARIOUS DAYS THROUGHOUT THE SUMMER. MY CURRENT BABYSITTER IS TAKING A COUPLE OF WEEKS VACATION AND I AM IN NEED OF A REPLACEMENT FOR THE TIMES THAT SHE WILL BE UNAVAILABLE. I AM OFFERING NO MORE THAN $100 PER WEEK AND NO MORE THAN $20 PER DAY. PLEASE, PLEASE CONTACT ME AT 773-407-**** OR EMAIL ME SO THAT WE CAN ARRANGE A TIME TO MEET.
MY 10 MONTH OLD IS A SWEET BOY AND HE'LL WARM YOUR HEART TO THE CORE. EVERYONE THAT COMES IN CONTACT WITH HIM, WHETHER IT BE THE GROCERY STORE, MALL, ON THE SIDEWALK, LOVES HIS SMILE AND PERSONALITY. HE'S MY PRIDE AND JOY, SO MY HUSBAND AND I WOULD REALLY LIKE TO FIND A WONDERFUL BACK UP BABYSITTER TO USE WHENEVER NEED.
SERIOUS REPLIES ONLY PLEASE. I TAKE MY BABY'S HEALTH AND SAFETY STRONGLY.
I LOOK FORWARD TO HEARING FROM YOU! THANKS SO MUCH, MONICA
Original URL: http://chicago.craigslist.org/wcl/kid/1238393500.html
__________________________________________________________
19) Reliable Nanny Needed (Las Vegas)
I need a nanny for my 3 yr old son full time and my daughter only till school starts up again mid august. you will ahve a 4 day work week Wed-Sat. hours will be wed,thurs, fri, 8:30am to 5:30 pm and Sat 7:30 to 5:30pm DO NOT REPLY IF YOU ARE NOT AVAILABLE THESE HOURS AND DAYS AND IF YOU ARE NOT RELIABLE AND TRUSTWORTHY . I will need you to come to my home I live in the northwest. I prefer CPR certified and PLEASE LIKE ABOVE IF YOU ARE NOT AVAILABLE THESE DAYS AND TIMES DO NOT RESPOND. Looking for someone we can call family As far as compensation goes we can only afford 125 a week 500 monthly if this is something that will work for you please email me back asap Thank you
Original URL: http://lasvegas.craigslist.org/kid/1240180776.html__________________________________________________________
20) Seeking On Call Sitter (Las Vegas)
I already have a FT night sitter, but was looking for an on call sitter in case she couldn't make it. I work nights at 6:30 or 8:30 and get off anywhere between 1 am and 5 am. So will need you on call till 5:30 am. Light cleaning. ie. vacuum, fold laundry, put away dishes, wipe down counter. etc. Pay is $40/night Also seeking a PT On call sitter. Pay is $4/hr. In my home Thank you Kristie Compensation: $40/night , $4/hr days
Original URL: http://lasvegas.craigslist.org/dmg/1218358503.html
__________________________________________________________
21) In MY house babysitter needed for flexible hours please!!!!! (Hampton)
Hi my name is Ashley and I am seeking a babysitter that would be able to come to my home and watch my 7 and a half month old daughter angelina I currently live in Bethel Manor base housing so a military wife would be great! I am looking to charge between 50-75 a week and need someone who is very flexible i have school and a part time job at the commissary so some weekends may be needed. My daughter is very independent and does not need any type of speacial care what so ever. She is very friendly and does not cry around new people I must say she is truly a blessing. If anyone out there can help me out please text or call me at 757-660-**** or just respond via email if you have anymore questions thank you so much.
Original URL: http://norfolk.craigslist.org/kid/1234102209.html__________________________________________________________
22) Nanny Needed (Oklahoma City)
Two Oklahoma City parents who adore their children need a nanny. :) We also need a little help making sure the kitchen is clean and the toys are picked up. I (the Mom) need someone who will follow my fairly detailed learning schedule and who will do her best to do as I would do for my children. This position would start August 12, with several days of paid training beforehand (scheduled throughout the summer). We will consider allowing a mom to bring one child with her.
Daughter - 28 months
Son - 13 months
Pay - $220.00/week
Hours - M-F, 7:00 am until about 4:15 pm.
***GREAT BENEFIT - We would follow vacation schedule per Mustang Public School District's calendar (so - summer's off, 2 weeks off at Christmas, etc). Vacation time lasting more than three days would not be compensated, but, please contact us with questions (babysitterfor2@****) - my husband and I have discussed some great ideas about how to make this a blessing - and, days when our kids are sick and four day work weeks would still be paid in full. Three day work weeks will be pro-rated.
Original URL: No URL Given
*Response from ISYN reader to the above Ad:23)
You want someone to watch your two toddlers all day long for 4.88 and hour? Seriously?
And this is the response I received. At least she was nice about it - but the justifications and touting Kindercare as EXCELLENT cracked me up!
* Response from OP to ISYN reader:24)
Dear Ms. M (I assume),
I appreciate your inquiry. Your opinion and statement do make a point. I had a LOT of positive responses (in fact, you're the only incredulous one), and I believe I can show you why, if you're interested.
Living the lifestyle of a nanny is not like being a babysitter. Being a nanny is like being a stay at home (seragate) mom - how can you put a value on it? It seems absurd, but hardly anyone can charge more than $100 - $120 dollars a week to watch a two year old child....there are sincerely not that many people out there who can afford the expense. Then, double that (or triple or whatever) for more children. Think about what a middle class family (with no help from the government) must do in order to spend $880 a month on daycare...not to mention the other costs of raising children. My husband works 75 hours a week (35 hours goes to daycare). Also, a lot of mom's can't sustain their moderate family lifestyle by losing their entire salary (and health insurance etc.) by staying home...
BUT, if you could be a nanny, and bring your own child with you - you would save daycare expense and earn money simultaneously...you may be able to do work out what many women, including myself, dream of doing - to spend all of your time with your children! Spending time at home with children - be it yours or someone elses - is the main benefit of being a nanny.
Just FYI - The very best and excellent daycares (like Kindercare, etc.) that watch kids from 6-6 only charge $135 (and, they provide food, craft materials, etc). More reasonable daycares charge much less than that...in fact, I have found excellent care for $185 a week - for both kids! I know you're not interested in our post, but for future reference, please keep in mind that if most people could afford to pay nannies what they deserve - noone would need one...every mother would probably just stay home. I know I would... God bless you in your search... Annette
__________________________________________________________
25) Part-time Childcare Assistant (Ann Arbor)
Stay at home mother of 5 small children seeking a part-time individual to help with very basic childcare and household services during the summer. Working hours can be negotiated, however we are seeking an individual to come in and help out for approximately 12-15 hours a week during the day. Morning is preferred. Must provide own transportation. Days can also be negotiated. T-W-Th would be best for us...but we will leave it open to discussion. This position will pay $6.00 an hour. If interested, please email a brief summary of your experience.
Original URL: http://annarbor.craigslist.org/kid/1233877225.html
__________________________________________________________
26) I NEED A NANNY PLEASE HELP (Las Vegas)
I have posted almost every day needing a nanny but no one can work the hours and days I need wed-sat or they want more than my mortgage payment I am compensating fairly and need someone that is RELIABLE if you dont show I cant work which means no job for me please help me out here if you are available wed-fri 8:30 -5:30 and sat 7:30 to 5:30 to come to my home please respond ASAP pay is 550 a month and/or 135 a week thank you so much
Original URL: http://lasvegas.craigslist.org/kid/1241806012.html
* Response from CL reader to the above Ad:27) RE: I NEED A NANNY PLEASE HELP (Las Vegas)
Hello,
I just wanted to give you a hint as to why you're not finding anyone. You are NOT compensating fairly. You're looking for someone to work for you for 37 hours a week and you're only willing to pay them $135 - or, $3.65 an hour. Would you work for that? Could you pay your bills with that amount of money? A professional nanny who is working full time ONLY works for you - you are their sole means of compensation. No one can live on $3.65 an hour. Many people think that nannies just sit around all day and don't deserve a fair wage. But do you just sit around all day with your kids? No! And neither would your nanny. And nannies do not care for your children as a side job, being your nanny IS their job and they need to make enough money to live on. A person could make more than $3.65 working at a fast food restaurant; why would they work twice as hard as a nanny for less pay?
Also, in your ad you say that you will pay "550 a month and/or 135 a week." That doesn't even make sense. Are you saying that you would possibly pay someone $135 a week with a $550 bonus each month? Because "and" means that you'll do both - $550 on a monthly basis AND $135 on a weekly basis. While I highly doubt that's what you're saying, it would make it slightly more palatable, bringing the grand total to $7.36 an hour.
I'm not saying that you're wrong for only being able to afford that. You have what you have and you can hardly be expected to pull money from thin air to pay a nanny. What I am saying is that nannies are LUXURIES. If you can't afford one (the going rate is between $10 and $15 an hour) then take your child to daycare. Or hire a babysitter. Or work out a trade with other moms that you know. Or ask your friends and family to help. Yes, I know those options aren't ideal. However, once again, you have what you have. If you can't afford something you can't have it. You don't expect to walk into Neiman Marcus and have them sale you a Kate Spade diaper bag for a third of the price because that's all you can afford, do you? No, you go to Wal-Mart and buy the Great Value diaper bag. There's nothing wrong with the Great Value diaper bag, just like there's nothing wrong with daycare. Some people (few people) are blessed with being able to afford luxury items. The rest of us are not. That doesn't mean that there's something wrong with us it just means that we have to live within our means and we cannot expect other people to sacrifice their finances to boost our self esteem by allowing us to have luxury items that we can not afford.
I truly do wish you the best of luck in finding childcare. I just hope you stop holding out for a nanny and realize that unless you can afford to truly compensate them fairly you will have to look at other alternatives.
Original URL: http://lasvegas.craigslist.org/kid/1241885051.html______________________________________________________Special Thanks this week to MissDee, BeckM and all of the Anonymous Submissions we received... you did a great job! Remember, CL-WTF will be Posted every Saturday. Please send next weeks Ads HERE.
-->-->-->
TO LEAVE A COMMENT: PLEASE CLICK RIGHT HERE!!!