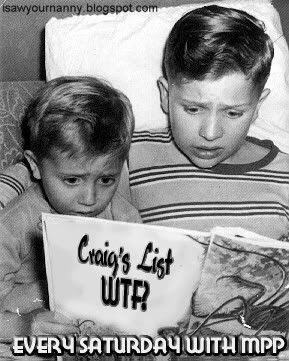 Saturday, June 13, 2009.... What?!1) Need someone to babysit a 12 yr old boy (Seattle)
I need a strict babysitter to change the bullying behavior of my son. The task would start tomorrow morning at 11am until 7pm at night. I can only pay $50 for the service, but, further service will depend on how you perform tomorrow. Tell me in your own words how you'd discipline this boy who's totally undisciplined.
Original URL: http://seattle.craigslist.org/est/dmg/1209290655.html
_________________________________________________________
2) Looking for a babysitter? (Sauk City)
im about to be a sophmore, and im fivteen years old. lots of experience with the younger kids. i work very well with them. i like to reed books to them. i can work whenever in the summer, more hours the better. looking for a summer job, pay at least six an hour. please contact me soon as possible, for an interview. my numbers 608-513-****, you can text or call, i will pretty much anwser it whenever. (: thanks.
Original URL: http://madison.craigslist.org/kid/1218628547.html
_________________________________________________________
3) 27-7 (Va. Beach)
offer Reliable Quality Childcare in my home 24 hours a day am a dependable, affordable, and loyal home daycare. My fees are competitive and worth your child(ren)'s education. Sibling group discounts offered. You will be surprised at my prices. Call and ask me! Education made fun in my care offer breakfast, 2 snacks, and lunch all children in my care Children taken from 6 wks to 12 years old. Monday through Friday from 6am to 6pm.
Original URL: http://norfolk.craigslist.org/kid/1217523785.html
_________________________________________________________
4) Need a Babysitter! (Everett)
Hi my name is Terica, im 14 and im looking forward to a summer job! I only baby-sit in the everttt area. I Baby-Sit 7 month olds to 10 year olds. I charge $7 for 3 year olds and under, and $5 for 4 and up ( an hour). I have ahd experince with babysitting befor, i have babysitted my baby brother for 5 hours at a time and he is 1 year old, and my other brother who is 3 at the same time! I will be able to go to your house if needed. But the only way i can go to your house is if you meet my mom, its so she knows who im going with. Or kids can be dropped off at my house. E-mail me. (
Photo Attached to Ad)Original URL: http://seattle.craigslist.org/sno/kid/1210681108.html
_________________________________________________________
5) Need a babysitter for June 11 (Wise County)
Need someone to watch my 4 month old son for a few hours in the morning so I can go to a job interview. The interview is at 10:00 am. We live in Decatur. Please contact me for more information if you are interested. Thanks
Original URL: http://dallas.craigslist.org/ftw/kid/1214394236.html _________________________________________________________
6) Need a live in nany (Dallas)
i need a qoute on what the caust would be for a live in nany or a sitter from 7 am to 12 am or earler 4 nights a week m-thur. and deffinetly off on weekends i go to school from 5pm to 11:30pm and on some fridays 8 am to 12 or 1 pm and im in the middle of finding work but i have the money to pay so no worries
Original URL: http://dallas.craigslist.org/dal/dmg/1197161661.html_________________________________________________________
7) Gardener with possible Nanny abilities (30 min. South of Olympia)
Hey there, We are looking for someone to spend maybe 10 to 20 hours per week in our garden turning it into a paradise!!! Please be familiar with organic gardening, know about all sorts of cool garden stuff, have a genuine love for the great outdoors, and be a happy, healthy, genuine, kind, fun person.
ABOUT THE GARDEN: We have 20 or so raised beds for veggies, all surrounded by a bamboo fence with an outdoor garden kitchen and shower with a couple of garden guest campers, a nice fire pit, a volleyball court and a small swimming pool. We spend lots of time in the summer in the garden and want to make it really cool this year!
We are very positive people and hope to find someone who has a pleasant, friendly and optimistic attitude!
We have a 6 year old boy and if you are the nurturing type and may possibly want to babysit now and then or entertain him in the garden then that might also be nice. Please respond with a note why you would be great for this and a resume if you have one. thanks and make it a great day. Compensation: $10.00 per hour contract.
Original URL: http://seattle.craigslist.org/oly/dmg/1218192576.html_________________________________________________________
8) Babysitter needed/Tomorrow (SW Seattle)
I am looking for someone to baby sit our three boys tomorrow afternoon. It would be any where from 1:00-4:00pm. Also I am looking for some one to be on call for sitting because for the next two weeks my schedule is undetermined. If any one is interested and wants more information please call 612-978-**** or reply via e-mail.
Original URL: http://seattle.craigslist.org/see/dmg/1213035376.html _________________________________________________________
9) BABYSITTING TODAY (Gaithersburg)
I NEED A BABYSITTER TODAY FOR MY 4 MONTH OLD...
PLEASE BE:
>OVER 21 WITH A VALID DRIVERS LICENSE
>EXPERIENCED! THIS MUST BE YOUR OCCUPATION OR HAS BEEN IN THE PAST!
>NEED SOMEONE TO START BY 1PM TODAY
>LEAVE AGE/ NAME/CONTACT NUMBER IN REPLY
-THANKS!
((((PREFER SPANISH LADY OR YOUNG CO-ED)))
Original URL: http://washingtondc.craigslist.org/mld/dmg/1219347508.html_________________________________________________________
10) I need a babysitter every other Saturday night (Va. Beach)
Hi, My name is Jessica and my husband and I are looking for someone to babysit our 14 month old baby girl like twice a month so we can have mommy and daddy time. We like to go out usually on Saturday nights, or used to at least until we had Zoey lol. We are looking for someone who is smoke free, can provide references, and tends to go to bed later because our Zoey likes to stay up until 12-1am to fit our schedule. I would like the sitting to be done at our house beacause it is child proof and she likes to get into EVERYTHING and there are lots of toys for her here and i just think it would be easier on her since she is with me 24/7 to be in familiar surroundings. I would not mind if you have kids of your own that you would like to bring over as well. So, if your are interested in caring for our baby e-mail me back and with your contact information and a little about yourself and I will get back to you to schedule an interview.
Original URL: http://norfolk.craigslist.org/kid/1218527648.html
_________________________________________________________
11) ARE YOU IN NEED OF A BABYSITTER (Va. Beach)
hello, my names letecia i'm 21 years old i am a stay at home mom. i have a 7 month old baby i am almost always free unless i need to go shopping but thats about it i am willing to go to norfolk but no father than that. I can come to you house or your child can come to my house but if i do go to your house obvisiously you have to be ok with me bring my son along. O i also should add that i do have a dog he's really good with kids. This can only be a part time thing though my husband is on deployment right now and when he gets back we are leaving. If you have anymore questions feel free to ask.
Original URL: http://norfolk.craigslist.org/kid/1218193337.html
_________________________________________________________
12) NEED A LAS MINUTE SITTER (Va. Beach 23464)
I will be available today and tomorrow for take care of your little ones,I am 24 year old,Navy wife and mom of a 18 month old,I am CPR certified and have experince with children of all ages since I was 17 year old,care will be at my free pet and smoke apartment,rates are 25.00 for up to 8 hours,if interest and for more information you could email me back or call at 757-581-**** thanks
Original URL: http://norfolk.craigslist.org/kid/1218219301.html_________________________________________________________
13) Babysitting 3 year old girl (Mansfield)
3 year old little girl needs a private babysitter because of heart condition. Willing to pay 120 a week for services. Must be over 16. job is Monday thru Friday 630am to 330 pm. If you are interested please call Sarah at 918574****.
Original URL: http://dallas.craigslist.org/mdf/dmg/1189460599.html_________________________________________________________
14) Babysitting (Apex, NC)
With all of these graduations I've lost all my regular babysitters! I really need someone June 12th at 2 or 3pm to stay with my two children (3 &4 yrs. old) until about 2pm on Saturday the 13th while I finish up my training. You would need to stop by this Sunday to meet the kids and spend a few minutes going over their schedule. Thanks!! Compensation: $125
Original URL: http://raleigh.craigslist.org/dmg/1204722181.html
_________________________________________________________
.... How Much?!15) Live in Nanny for 3 boys in R.R.C.B. 3500 sq. ft. Home (Summerlin)
Live-in Nanny needed for home with 3 boys in Red Rock Country Club 3,600 sq. ft. home which is on the golf-course. This is for a Live-In position only. My current nanny is older and has had some serious medical problems and is unable to keep the position. To Contact me call 702-300-**** and email your references and qualifications to vegasbkhelp@****
I am looking for someone that is Bi-Lingual preferred and is younger and full of energy. One of my practices in my law-firm is immigration and I am willing to assist the winning applicant with citizenship to the US for partial pay towards the position. I want my children to learn a 2nd language and that is why I am looking for a bi-lingual, I prefer Spanish.
My current nanny has been with me for 2 years, so this is a long-term position, not a short term. I own a law-firm in town and need a person that will be here in the home as a live-in with me. I need someone who is going to be able to work Monday-Saturday. I work these days and I work very long hours. You will have my husband in the house in the evenings during the week and on Saturday's part of the time to assist with the children. Sunday's are your day off to do what you want.
The position consist of the following:
Sole Care for the children on Monday through Friday 7:15am until 4:30pm. You will also assist with them until bedtime around 8:30pm. Which means bath's as well nightly before bed. Assisting with care for the children on Saturday's with my husband
Caring for the children some nights a month after bed-time while my husband and I have date nights
Some housekeeping and complete laundry detail for the children and myself in-between maid visits which are weekly.
You must also be familiar with potty training children
Cooking for the home: Breakfast, Snacks, Lunch and Dinner during the weekdays and on Saturdays
Managing my household in respect to meal planning, managing the maids, getting my dry-cleaning done, keeping the boy's schedule met with activities and play time and keeping up with groceries that need to bought at the store. You need to assist me in planning a schedule for my children on a weekly basis. All schedules must be approved by me.
Working with the boy's on speech development and teaching them a new language
Most importantly keeping my children safe and occupied with learning and fun activities instead in front of the TV
Walks with the children through the neighborhood and taken to the community parks in the neighborhood.
I would also prefer if you had your own personal transportation and valid driver's license, however it is not a requirement. I would like this so you can do personal trips for me to the store.
You must be willing and able to travel with the family out of the state and country as well on holidays and trips. So please have a passport. If you don't I will sponsor you for one.
You must be able to pass a background check and I will want you trained in CPR. If you are not trained in CPR you will be required to obtain your certification for the position. No Drugs, Drinking or Smoking is allowed.
My home is fully monitored with video camera's for my children's protection and I am able to log-on at any time at my office and see what is going on as well as view past hours. So if you have had problem's with disciplining children, hitting, verbally abusing children or any type of sexual misconduct this is definitely not the position for you. I will prosecute to the fullest extent of the law if anything happens in that manner to my children.
My children are not to be in your room at all.
Also most importantly my children must be comfortable with you and like you, as well as my husband and I.
Now for the compensation:
You will receive your own private room fully furnished with a private bath that is fully stocked as well on the bottom floor of the home. I also offer full cable TV and pay all of the utilities in the home.
The bedroom has a king-size bed with brand new linen's and bedding
There will be a TV placed in the room for you as well
All access to the food in the home, which you can give me personal requests for foods to which you like
A salary to cover personal expenses of $1000.00 a month
Your own personal cell phone to make local and US long-distance calls. No international calls. You will have to buy pre-paid cards for that out of your own money.
My home is fully wired for internet access so you can bring your own computer. However you are only to be on your computer during your off-hours.
I will also offer the winning candidate with citizenship to the US. However if I my office does that work your pay will be reduced by half for 4 months to pay towards that service. That is still only a fraction of the cost of what it would normally cost.
I am currently setting up health insurance at my office and after 6 months of work in my home I will offer you private health insurance as well.
This is a very good position. It is hard to find a position in my neighborhood for a live-in nanny. I want the best for my children and that is why I am offering all of the amenities to you that I do. I want someone who can give their full attention to the care and well-being to my children. Since I have 3 children and they are young, I am looking for someone who is single with no minor children to take this position. Please call me at 702-300-**** and send your resume or qualifications to vegasbkhelp@**** so I can schedule and interview. I will be conducting them this weekend June 13th and June 14th, 2009.
Original URL: http://lasvegas.craigslist.org/kid/1218091362.html
_________________________________________________________
16) need a new sitter! (Hampton)
i just had to fire my babysitter and i'm totally lost! rather than answer the endless adds on here i wanted to tell you what i need and you can let me know if you can help me out. all i'm lookin for is one or two nights a week overnight care. from like 630 pm till 10 am. this could be weeknights or weekend, i 'm pretty flexable with that. i would pay 50 bucks for the night, which is 25 a kid. 2 boys, ages 7 and 3. the youngest is recently potty trained but he would still sleep in a pull up. other then that i might need you for appointments here and there during the day. this may be in your home or mine. i just really need to find someone i can trust enough to be around my kids and trust them in my house. i do have a dog and a cat in the house so don't have allergies. this is a pretty laid back mellow home. i would love to find another mom who we can share child care duties like you keep mine friday night and i'll keep yours saturday. get at me if you think you and i could work something out. i would deffinatly like to meet before i need you to babysit!
Original URL: http://norfolk.craigslist.org/kid/1218299705.html
_________________________________________________________
17) Childcare Needed (NW Las Vegas)
My name is Mia and I am in need of childcare in 2 weeks. The sitter I have now will be going back to the work force in 2 weeks. I currently pay $4 an hour for my 2 year old son Zachary. My hours vary every week but my husband will always pick up by 3:30 - 4:00. Please e-mail me if you are interested in watching my son Zachary Thank you :) Mia
Original URL: http://lasvegas.craigslist.org/kid/1214744446.html
_________________________________________________________
*Childcare offered by a Mother and Daughter (note the different prices):18) Reliable Childcare (Burnsville)
Hello My name Is Angel and I am open from 6:ooAm to 6:30Pm Monday through Ffriday I am not licensed I am 17 years of age My mother had a in home daycare for the last four years of her own and now I have decided to do the same. I love the kids I love the job and want nothing more then to stay in it my mother is still home all day as we do have other businesses that our family owns so she will always be there to watch the little ones when I am not as I am still In school for another year. We are a large and loving family there Is my brother that has also in joyed helping through out the four years he's 15 and then there is another 13, 10 and last 5 year old that will be playing with the kids. So your little one will always be slfe and happy with lot's of people around to help when ever needed. We live In a four level home 3411 sq. f and huge backyard to play in each level has toys and games book and lot's more.We have a large park down the road and we will also be getting one soon in our back yard. I promise you If you decide to bring your little one here you wont regret it they will learn and grow and play and be loved all day I provide two meals a day and two snacks as well I'm charging one rate for all that will be 140 a week This is not a lot for all that we offer here please come look and see what your child will have during the day call any time and to all have a grate day 952-688-**** ask for angel or jodi my mother If I happen to be at school while you call
Original URL: http://minneapolis.craigslist.org/kid/1212647998.html
19) Cheap But Reliable Daycare (Burnsville)
Hello To all Out there my name Is Jodi and I have Been doing daycare for the last four years now and still going strong I am offering a very low rate for the fact that times are getting hard for everyone out there and people are getting laid off of work and having a hard time even finding work for all you people that are just barley making it by this is my rate for you so take advantage now while you have the chance and I am unlicensed and do not want to be licensed as I have gone through all that before so there wont be many positions open for to long call right away lol I also have a lot of help as our family has another bussieness together at home my daughter will be helping she's 17 my son will be helping he is 15 and my mother as well as my husband will be there. the kids will never be left alone with out an adult under the age of 18 lol so don't worry we love kids and we have the time and toys and game and so many very fun things as well as If you go with me I am understanding If you are late although to late I will have a charge. But other then that I do not take vacations and we only take the big holidays off my rates are 80 a week for all age groups for full time as well as part time and I am open from 6:ooam to 6:30pm please do understand although I am not licensed i do have a contract and will be very firm on my rules of payment on every Friday and right before you come so please keep that In mind before you call have a grate day 952-688-**** call when ever we are home waiting for your call
Original URL: http://minneapolis.craigslist.org/kid/1202438837.html
20) Cheapest Ever Daycare (Burnsville)
***UPDATE ***
Apparently there's some confusion, but I'm offering extremely outrageous rates due to the tough financial times we are all facing. This is for childcare of all age groups. Just wanted to clear this up as I've had several inquiring emails asking if I offered childcare., so hope this is now clear to all searching for inexpensive childcare.
Hello my name Is Jodi and I have Been doing daycare for the last four years now and I am now offering the lowest rate out there! only 80 a week for each age group so hurry and come reserve your spot as soon as you can. I am also not licensed but have gone through all the classes to be licensed. I want to also let you know that we are a large family I have a 5 year old and a 10 year old and a 13 year old and a 15 year old and last a 17 year old that is planing on to take over as soon as she is done with school next year he name Is angel. We are all home all the time we all own a family business three to be honest so everyone is always here and helping each other out all the time. we are loving and honest and fun family to be around choose us and I promise you it will be the best thing you have done for your little ones to learn and grow and play. call me any time our hours are from 6:ooam to 6:30pm Monday through Friday call if you want the best care for the cheapest rate thanks and have a grate day 952-688-****.
Original URL: http://minneapolis.craigslist.org/kid/1212259113.html
_________________________________________________________
21) Seeking On Call Sitter (Centennial Hills)
I already have a FT night sitter, but was looking for an on call sitter in case she couldn't make it. I work nights at 6:30 or 8:30 and get off anywhere between 1 am and 5 am. So will need you on call till 5:30 am. Light cleaning. ie. vacuum, fold laundry, put away dishes, wipe down counter. etc. Pay is $40/night Also seeking a PT On call sitter. Pay is $4/hr. Compensation: $40/night, $4/hr days. In my home. Thankyou Kristie
Original URL: http://lasvegas.craigslist.org/dmg/1218358503.html
_________________________________________________________
22) Free Housing in Exchange for Childcare (Va. Beach)
I'm looking for a Christian single female who wants to live rent-free in my Va Beach home in exchange for periodic evening and/or weekend childcare. No overnight guests. Schedule is negotiable and regular. My child is an 8-year-old girl. Must love pets. Private bedroom and bathroom in an upscale neighborhood.
Original URL: http://norfolk.craigslist.org/kid/1216190872.html
_________________________________________________________
23) cleaning help baby sit (Castle Rock)
wanted someone to clean house 2 times a week about 4 hours each time, dep clean, mop vacumme, ect and to watch the kids possibly stay over night for date night one time a week. would like to pay about 75 week for this if thats reasonalble. If you live close in castle rock can provide rides. Spanish speaking a plus, feamle only.
Original URL: http://denver.craigslist.org/dmg/1208223806.html_________________________________________________________
24) Overnight Nanny Needed (Dallas)
Interviewing for a Nanny to care for my 2 children when I have to travel to CA. towards the end of the summer. I will be away for atleast 4days, so you must be able to commit that amount of time and my parents would be able to help you out some too if needed. I am looking at paying someone up to $300. If interested, please email me your contact info. Thank you
Original URL: http://dallas.craigslist.org/dal/dmg/1205165811.html_________________________________________________________
25) Need Babysitter (Lowell)
Need babysitter for my two boys 1 and 2. In my lowell home 7a-7p seven days per two weeks. 200-230/2weeks. Needed ASAP
Original URL: http://chicago.craigslist.org/nwi/dmg/1206993529.html _________________________________________________________
26) Teens need extra cash? ... I need a sitter (Crystal Lake)
Looking for local Teens or college students that want to earn a little extra cash babysitting. Only needed for occasional FRIDAY or SATURDAY nite. So only a few hours really, just trying to spend time with spouse and enjoy a nite out every now and then. Looking to pay REASONABLE babysitting fees! not more than $20-30 per nite, which consists of 5-6 hours, kids are in bed by 9 so really spend a few hours with them and then just hang out till we get home. We have two boys ages 5 and 6 1/2. We would be willing to provide a ride if necessary but only if you live nearby, we live near Crystal Lake South High School (coventry area)
Original URL: http://chicago.craigslist.org/nwc/dmg/1211737985.html_________________________________________________________
27) Mommy's Helper (Northern Libs)
Warm family looking for young Hebrew speaking woman to help with cleaning, cooking and food shopping in exchange for room and board in great Center City neighborhood. Brand new private room in lower level includes cable and internet access, closet space, lots of light, private bathroom with full tub and lounge space. Use of family's washer and dryer, telephone, computer/internet, deck, yard and kitchen. Young family is Israeli father, American mother (speaks ok Hebrew), 10 month old son, and baby due in October. We keep a strict kosher kitchen. Responsibilities to include light cleaning (we have a housekeeper come monthly), help with laundry & cooking, food shopping and possibly some small errands. Home located near public transportation. Family car available for food shopping/errands. This position allows time for job/school outside of the home. Babysitting and extra cleaning available for pay if desired.
Original URL: http://philadelphia.craigslist.org/dmg/1213207794.html_________________________________________________________
28) Need Care for 2 Children (Attleboro)
I am looking for someone to watch my two children. My daughter is 4 1/2 and my son will be 3 in 2 months. I need care between the hours of 10:30am-8:30pm I would need some times full time and sometimes parttime. Full time I can pay $165.00 a week for both and provide the food for my children. part time 3 days a week $85.00. I cannot afford more at this time. So if you can work with me please let me know. I would bring them to you. I appreciate your time and consideration. Thank you a mother in desperate need.
Original URL: http://southcoast.craigslist.org/kid/1206556898.html_________________________________________________________
29) Needing Childcare (Kent)
My husband and I are looking for a nanny for our 17 mth old daughter at our home. We can also consider a live-in daycare with RELIABLE TRANSPORT, preferably in the Kent Valley area. I am working part-time out of Federal Way, although I do go up to Seattle for meetings. I am an educator so my schedule is as follows:
Currently till 22nd of June
Mon-Wed: 1.30 - 7.00pm
Thursdays are optional depending on mtgs in Seattle
For Summer:
Mon & Tues & alternate Wed: 8am-4pm
After end of July, schedule goes back to the former. I am open to taking her to your home or you could come to my home for care. Transportation for her would be fabulous if you live away from Kent Valley. Otherwise, it would be great if you lived in Kent Valley as we live in the Lakes Community. I am offering $4/hour with extra gas money if my child is transported to and from my place. I am hoping that somebody dependable with a sense of cleanliness and a genuine love for children to respond. I am also seeking someone who is able to be fairly flexible with me as I was with my previous caregiver. Please email and we will chat further! Oh and 1st aid training and CPR is must. Thanks!
Original URL: http://seattle.craigslist.org/skc/kid/1210533523.html
_________________________________________________________
30) I need a part-time Nanny! (104th & Tower/Reunion/Denver)
I am looking for a part-time nanny to come to my house and care for my awesome 2-year old son from 7:00 AM to 5:00 PM Mondays through Wednesdays. He is currently with a neighbor that provides in-home daycare and has been since he was 3 months old so this is a huge decision for me and my wife, but the current situation is becoming increasingly frustrating with days where her or her son is ill and coordinating her many planned and unplanned vacations. The person we are looking for must meet the following criteria:
- Be able to pass one (or more) background checks
- Have own transportation
- Clean driving record
- Non-smoker
- Reliable and dependable
I would prefer someone local to the Reunion/ Brighton/ Thornton area to reduce the issues associated with a long commute, but this isn't absolutely necessary. You *do not* have to run errands, do grocery shopping, clean, etc. although doing some dishes throughout the day as needed would be appreciated. I am looking to pay around $50 per day which is what we are currently paying, but this is negotiable based on experience and references, etc.
When responding, please include a brief description of your experience including why you are currently looking to be a nanny. Thanks in advance!
Original URL: http://denver.craigslist.org/dmg/1211109866.html__________________________________________________________Special thanks to tashaclara - for our Feature Ad...
And thank you to SFClaire, MissDee, afnt81 and Worlds Best Nanny... All of you did a great job this week! Remember, CL-WTF will be Posted every Saturday. Please send next weeks Ads HERE.
--> --> --> -->

TO LEAVE A COMMENT: PLEASE CLICK RIGHT HERE!!!!