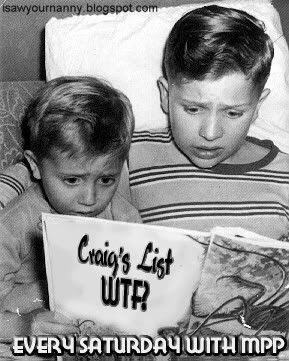 Saturday, May 30, 2009
.... What?!
1) I NEED CHILDCARE IN MY HOME (Williamsburg Va)
HI I AM LOOKING FOR CHILDCARE FOR MY 3 YR OLD DAUGHTER.. I WOULD LIKE THIS TO BE IN MY MOM..HOURS WOULD VARY IT WOULD BE A COUPLE HOURS A DAY..I NEED SOMEONE WHO HAS EXPERIENCE WITH KIDS AND HAS SOME KIND OF REFERENCE.THIS WOULD BE GREAT FOR A COLLEGE STUDENT OR A HIGHSCHOOL STUDENT..IF YOU HAVE A CHILD YOU CAN BRING THEM WITH U.PLEASE EMAIL ME I WILL NEED THIS TO START IN ABOUT A WEEK OR TWO..THANKS
______________________________________________________
Special thanks to: afnt81, MissDee, chere25, mbargielski, pansypot17, hungrycollegestudent and nervous nanny for Contributing to this weeks List... all of you did a great job! Again, my apologies for the delay. CL-WTF will be Posted every Saturday... Please send next weeks Ads HERE.

TO READ THE REST OF THIS WEEKS SUBMISSIONS: PLEASE CLICK HERE!