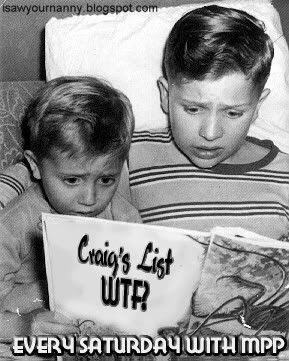 Saturday, May 23, 2009
.... What?!
1) I need a sitter (Englewood)
Im looking for somewho who can be on-call throughout the week (*mostly overnights) to babysit my 3-1/2 year old and my 8 month old...If u really dont have a life (maybe a hs/college student over 18) and want to make sum extra money, I need u...serious inquiries only...Must be good with kids and be mobile...No experience is necessary...prefer some1 outgoing, and fun yet responsible and dependable...food & drink & cable are available to you...email b_ent05@****
Im not rich, so dont come to me talking about u charge $10/hr...Lets be reasonable about the price...prefer price-per-day or week...not hr!! I live in the englewood area, so if your nearby please let me know!
Original URL: http://chicago.craigslist.org/chc/dmg/1181782424.html
_________________________________________________________________
Special thanks to an Anonymous Meebo Guest for this weeks Feature Ad, MissDee, austinmama, afnt81, EAllen, noreply-comment, NannyInNC, HungryCollegeStudent, northjerseynanny and cinder38... all of you did an amazing job this week! Remember: CL-WTF will be Posted every Saturday... please send next weeks Ads HERE.
TO READ THE REST OF THIS WEEKS SUBMISSIONS: PLEASE CLICK HERE!