Received Tuesday, April 28, 2009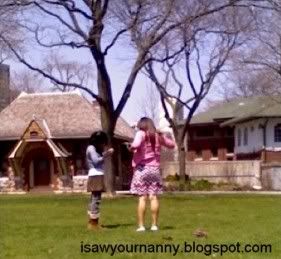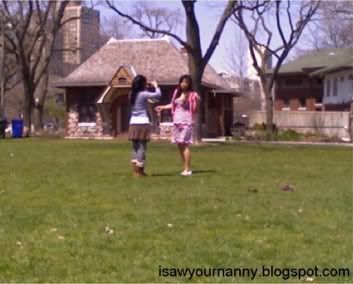 Physical description of caregiver:
2 girls, 18-21 age range. Asian I believe. First girl was wearing a pink striped dress with a pink sweater and white tennis shoes; her hair is long with bangs off to the side. Second girl was wearing jeans under a short brown pleated suede mini skirt, brown boots with white fir and a white shirt and jean jacket; her hair was also long.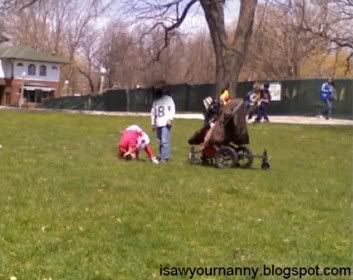 Physical description of involved child/children:
Boy and girl, boy was older, age range 4-6. Girl was wearing a pink & white floral dress and pink sweater, pink tights and white shoes; her hair was dark blonde and curly. Boy was wearing a long sleeved white t-shirt with the #18 on it and jeans, his hair was light brown/dark blonde.
Address or venue of observed incident:
Lincoln Park Zoo, Chicago,grassy knoll near pond.
Date and time of incident:
4/23/09 1:00 P.M.
Detailed description of what you witnessed:
I'm not sure which girl was the nanny, but they brought 2 children to this grassy area and let the brother and sister out of the stroller. They started playing with bubbles and at first I didn't really notice, but then my friend who had joined me and my charge for the day pointed out that the kids were running all over the place while the two girls were taking photos of each other playing with the bubbles. As I watched more your children were several feet away playing on some rocks (near a pond) and your nanny was completely oblivious to this. I could not see your children very clearly, and as the nanny never bothered to look around, it was obvious she didn't know how far away they had gotten. Her and her friend were taking photos of each other for probably 5-10 minutes!They never once glanced at the brother and sister as they were tumbling around in the grass and playing. At one point your son said to your daughter: "I won't be your big brother anymore!" As he pushed his sister down. Your nanny never observed this. They were so oblivious I was able to get about 7 photos of the nanny and friend and your children. As I got up to leave I noticed the girls had stopped their "photo shoot" and were playing and interacting more with the children. Before walking away I approached them and "recommended"very kindly from one nanny to another that they should watch more closely. I pointed out to them how far the children had gotten away
and how easily a child can be snatched in a city. They said thank you and I walked on.
Description of vehicle, bag, stroller that may aid in identifying involved caregiver:
stroller was brown, it was the kind where an older child can stand on the back of it, don't know the brand.