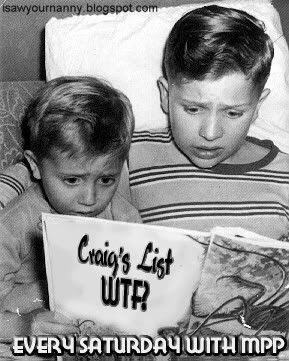 Saturday, April 25, 2009

.... What?!

* Not CL... but worthy of being our Feature Ad:1) Opinionated Child & Butt Sniffing Dog Need Nanny ASAP (Houston TX)
Busy! Very giving and the chosen Nanny will become family to us. We're very humorous and like to occasionally have a drink and BBQ. Love the beach we live by. We need someone to be the backbone of our family. You can't get grossed out by misdirected pee pee streams or dog farts. You've got to be able to wipe tears and boogies. It's fairly easy to figure our what a 6 year old needs. It's finding out what he doesn't need that's the task. Just help take care of us. A non-smoker. My son, Casey, would like me to add: he wants someone who... isn't taller than me (wtf?), who has a baby he can play with or will take him to the park, likes Xbox and bacon, is nice, likes coloring and movies, and will give him quarters for the vending machines. "And that's completely it, mom." We're opening a Bait Camp & Seafood Market in Freeport, TX (lookit up). It use to be called Beach Bait & Tackle. My Boyfriend, Donnie, is a commercial fisherman...he catches shrimp. Yes, like Bubba Gump; sort-of. My son, Casey Blaise, is highly opinionated and bored. He's really good in school, gifted & talented crap and all but he gets very bored very quick. Yeah, most kids do. Toys get blown up with firecrackers around here and the BBQ pit is always going. You'll need to take care of Charlie. He's a 2 y/o American Bulldog & Boxer mix. He's a big luggof 100#. Don't like big dogs? Don't apply.We are searching for someone ReaL. We swear. *gasp* I drink a single drink in the evenings sometimes. Our dog is slightly unmannered and may sniff your butt. My son has developed this little thing called an opinion and he will express it liberally. He's in gifted & talented for kindergarteners; which, I think means he can cut in a straight line and doesn't eat glue. If you choose to include housekeeping and cooking in your duties you would become gold to me. I need an assistant MoM. Don't let the dog pee on the carpet, don't let my son pee on the toilet seat. Oh, he will. I love my son to death. I don't think you'll meet a kiddo quite like mine but then again, everyone thinks their child is the best ever right? We prefer a live-IN. You will have a car to drive, you will have shopping money and you will have your hands full. We do prefer a younger girl who does not smoke and has no social life. (Hah!) I don't want someone who has a lot of theories on the right way to raise kids because I'm just trying to do what's best for him. I'm willing to learn from you, but not about parenting. Teach me Frisbee .. Do not tell me to put star stickers on a good boy chart. I hate stickers. adrianballew@**** Weekly cash salary negotiable. No fancy experience required. You must pass a drug test and a background check to take care of my boys.
Original URL: http://houston.kijiji.com/c-Jobs-Childcare-Opinionated-Child-Butt-Sniffing-dog-Need-Nanny-asap-W0QQAdIdZ119829182
_____________________________________________________________
Special Thanks this week to: mbargielski - for our Feature Ad, Katerbugz15, NervousNanny, teenagenitwit, nc, MissDee, StellarLikeWoah, northjerseynanny, cdhere25 and cinder38... all of you did a great job! Remember: CL-WTF will be Posted every Saturday... please send next weeks Ads HERE.
TO READ THE REST OF THIS WEEKS SUBMISSIONS: PLEASE CLICK HERE!