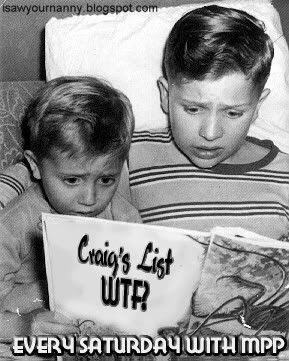 Saturday, April 25, 2009

.... What?!

* Not CL... but worthy of being our Feature Ad:1) Opinionated Child & Butt Sniffing Dog Need Nanny ASAP (Houston TX)
Busy! Very giving and the chosen Nanny will become family to us. We're very humorous and like to occasionally have a drink and BBQ. Love the beach we live by. We need someone to be the backbone of our family. You can't get grossed out by misdirected pee pee streams or dog farts. You've got to be able to wipe tears and boogies. It's fairly easy to figure our what a 6 year old needs. It's finding out what he doesn't need that's the task. Just help take care of us. A non-smoker. My son, Casey, would like me to add: he wants someone who... isn't taller than me (wtf?), who has a baby he can play with or will take him to the park, likes Xbox and bacon, is nice, likes coloring and movies, and will give him quarters for the vending machines. "And that's completely it, mom." We're opening a Bait Camp & Seafood Market in Freeport, TX (lookit up). It use to be called Beach Bait & Tackle. My Boyfriend, Donnie, is a commercial fisherman...he catches shrimp. Yes, like Bubba Gump; sort-of. My son, Casey Blaise, is highly opinionated and bored. He's really good in school, gifted & talented crap and all but he gets very bored very quick. Yeah, most kids do. Toys get blown up with firecrackers around here and the BBQ pit is always going. You'll need to take care of Charlie. He's a 2 y/o American Bulldog & Boxer mix. He's a big luggof 100#. Don't like big dogs? Don't apply.We are searching for someone ReaL. We swear. *gasp* I drink a single drink in the evenings sometimes. Our dog is slightly unmannered and may sniff your butt. My son has developed this little thing called an opinion and he will express it liberally. He's in gifted & talented for kindergarteners; which, I think means he can cut in a straight line and doesn't eat glue. If you choose to include housekeeping and cooking in your duties you would become gold to me. I need an assistant MoM. Don't let the dog pee on the carpet, don't let my son pee on the toilet seat. Oh, he will. I love my son to death. I don't think you'll meet a kiddo quite like mine but then again, everyone thinks their child is the best ever right? We prefer a live-IN. You will have a car to drive, you will have shopping money and you will have your hands full. We do prefer a younger girl who does not smoke and has no social life. (Hah!) I don't want someone who has a lot of theories on the right way to raise kids because I'm just trying to do what's best for him. I'm willing to learn from you, but not about parenting. Teach me Frisbee .. Do not tell me to put star stickers on a good boy chart. I hate stickers. adrianballew@**** Weekly cash salary negotiable. No fancy experience required. You must pass a drug test and a background check to take care of my boys.
Original URL: http://houston.kijiji.com/c-Jobs-Childcare-Opinionated-Child-Butt-Sniffing-dog-Need-Nanny-asap-W0QQAdIdZ119829182
_____________________________________________________________
2) Summer Sitter Needed For 10yo Boy Off Hwy 26 & 185th (Portland)
PreScreener --- MUST BE AVAILABLE 7:30am to approximately 1pm 1. Must be okay with dogs and cats 2. Must be okay with Pagans and Magick 3. Employment only for summer months 3. The state will be paying you so please be willing to do the paperwork; knowledge of how they do things is nice but not required. They will give you a booklet on how things work. Still with me? Good..... If you do not possess the following requirements, please don't waste your time in responding, as I will not except anything less than this. We live surrounded by juvenile delinquents with sassy attitudes and nothing but disrespect for the people and property around them. 1. Someone over the age of 20 whom either doesn't have kids or has kids but won't bring them here. *Our dogs are not good with young ones. 2. Someone more on the strict side, if your a push over, he will walk all over you. 3. Someone who can watch their mouths and be respectful at all times in front of our son. *We will not tolerate constant cursing or a disrespectful attitude. 4. Someone who can be creative with discipline. We don't hit, but we surely discipline. 5. Someone with spunk and energy. I don't need a couch potato that makes the day boring. *My son is ADHD and has A LOT of energy. 6. Someone who can cook. Not extravagant cooking but at least know how to make Mac N Cheese. *I don't buy a lot of junk or fast foods. 7. Someone RELIABLE and TRUSTWORTHY. *If I miss work cuz you don't show up, I lose my job and that means you'll lose yours. *We have a lot of valuables in our home, we don't need crooks and have no problem prosecuting thieves. If you have gotten through this and still want to respond, awesome! Your the kind of person we need!
Original URL: http://portland.craigslist.org/wsc/kid/1136192893.html
_____________________________________________________________
3) Babysitter Available in Jefferson, OH (Jefferson, OH. 44047)
I am experienced in childcare, but am not certified by the state. I am able to care for up to three children at a time, IN MY HOME ONLY. I can provide meals and snacks if needed. I will only accept children from ages 2 yrs. to 6 yrs. old. I WILL NOT ACCEPT CHILDREN THAT DON'T KNOW HOW TO BEHAVE! I WILL NOT ACCEPT CHILDREN WITH ANY KIND OF MEDICAL ISSUES THAT COULD LEAD TO EMERGENCY. I WILL NOT ACCEPT ANY CHILDREN WITH ANY MAJOR FOOD ALERGIES. I can provide help with learning, potty training, and fun activities for the children. My rates are reasonable. I charge $3 per hour for first child and $2 per hour for each additional child. I charge $10 per week for meals for a normal 5 day week per child, and $5 per 3 days or less per child. I will be available for any shift with shift differential, rates listed above are for first shift from 5 am to 3 pm. or similar hours. For third shift (overnights) the price will decline slightly to $2 for first child and $1 for each additional child per hour, and for second shift (afternoon to evening) the price will rise slightly to $4 for first child and $3 for each additional child per hour. And of course if there are no meals provided there will be no charge. If only snacks are provided I will only charge $1 per day per child. Drinks are free and consist of Juicy Juice, milk, water, and chocolate milk. NO SODA WILL BE GIVEN TO CHILDREN AT ANY TIME IN MY HOME. I do have cats and dogs in my home. And I am a smoker, but will smoke outside if neccesary. If you are interested in me I can provide references upon request. Please contact Carol at 440-576-****
Original URL: http://cleveland.craigslist.org/kid/1134572053.html
* Response from CL reader:4) I am a smoker, but will smoke outside if necessary OMG Carol, are you (Crazyville)
joking?? You will smoke outside if necessary?!!? Anyone who would leave their child in your home needs their head examined!!!!!!!! I feel very sad for the children affected by your carelessness!
Original URL: http://cleveland.craigslist.org/kid/1136384784.html
_____________________________________________________________
5) Baby sitter, help me (Glendale)
I'm looking to baby sit for someone who lives in Glendale, Burbank, LA, or Atwater. I need a job and I'm very experienced with children. I've applied for so many jobs but the economy is really bad right now and no one is hiring. I'm also looking for a cash advance if possible, if not then ill have to charge from $12 and up an hour because I really need a new car mine is not very reliable, I'm trying to save up :/ if you are interested in helping me and ill help you then reply and ill be happy to give you info thanks. I'm a seventeen year old girl.
Original URL: http://losangeles.craigslist.org/sfv/kid/1137169132.html
_____________________________________________________________
6) Looking for a sitter Apr 25 (Romeoville)
Hello. We are looking for a mature and responsible person to care for our almost 7yr old son. We need someone Sat April 25 (tomorrow) from 7pm until 2 or 3am. We do not have any pets. Our son is a very easygoing child with some speech delays. He loves to color, read stories and watch movies. Please respond via email with a little about yourself, your pay rate and your qualifiacations. I will ask for references as well.
Original URL: http://chicago.craigslist.org/sox/kid/1138657840.html
_____________________________________________________________
7) Pet Nanny needed in trade for Rent (Castle Rock)
Looking for a smart, single adult to care for our dogs and perform light chores in trade for rent. We live 10 miles south of Castle Rock on 5 acres. We have a small studio apartment above a detached garage for pet nanny quarters. We travel and entertain quite a bit and are looking for somebody to fit into our life style. We are not interested in fanatics of any kind. You must have a car and some means of income. No smoking and no children. Background and criminal check will be performed before any interview will be granted. Detailed references are a must. Students need not apply.
Original URL: http://denver.craigslist.org/dmg/1126001082.html
_____________________________________________________________
8) Need Babysitter (Highlands, Denver)
I need a babysitter asap for my one-year old son. I'm going out tomorrow night and will probably need help at least once/week. Thanks! Compensation: $9/hr
Original URL: http://denver.craigslist.org/dmg/1127703109.html
_____________________________________________________________
9) Nanny with an M-16???? (Philadelphia)
Yes, I sometimes wish nannies were equipped with M-16s to shoot holes into the economy. Really tough for anyone to find work lately, isn't it? Ok, I don't have an M-16, and I DEFINITELY do not promote violence, but I am a great nanny willing to work with you, and provide reasonable quality childcare to you. I have over 7 years of experience working in schools, nannying, and tutoring. I am quite educated, and would be happy to prove so if you'd like . I have also undergone CPR/First Aid training, have very reliable and excellent references, a resume, and criminal background checks. Diapering, changing, playing, going on excursions to the zoo, cooking, cleaning- I can do it all! Available for the city only. When replying, please state the number of children, services needed, and rate you are able to pay as well. Thank you, and I hope to hear from you soon!
Original URL: http://philadelphia.craigslist.org/kid/1138511545.html
_____________________________________________________________
10) Childcare Needed Thursday (Fargo)
My fiance and I won tickets to go see the Dueling Pianos at Borrowed Bucks on Thursday. The show starts at 9, and it has been a long time since we got out without the kids. We need a sitter from about 8 till we get home (not sure what time that will be)for our 2 kids, ages 1 and 3. Would also prefer a sitter in our home (we live in Walcott), but do understand if you would rather we come to you. Please e-mail me rates for that evening, and we can go from there. I would like a set rate (such as $25 for the evening), but hourly rates are okay, too, as long as they are reasonable. Would like to get this set up as soon as possible so that we know the tickets don't go to waste. Both are great kids, and if you watch them in our home, our son will probably just play computer games all night, and our daughter would watch TV and play with her toys. He won't go to sleep unless we are home, so the only one that would need to be put to bed is our 1 year old. We don't have cable at our house, you are welcome to watch our movies or bring your own. We DO have 2 dogs, so if you have an allergy, then we can come to you. Please respond if you are available. Thanks!
Original URL: http://fargo.craigslist.org/kid/1133774857.html
_____________________________________________________________
11) Needing Baby-sitter 4 - Summer Care (104th & Chambers/Denver)
I am looking for Summer Care starting May 25th. I have 4 wonderful, easy going children. Three girls ages 10, 8, and 7, one boy 4yrs. They are very well behaved children that need care Mon-Fri 7am-5pm. I would prefer someone to watch them in our home. We would also like you to be 14+. I think this would be a great summer job for any responsible teenager, or any affordable stay at home mom. Please email me with your price's and contact information. Thank you!
Original URL: http://denver.craigslist.org/kid/1138552585.html
_____________________________________________________________
12) I need a weekend sitter (Henderson LV)
I am searching for a sitter for weekends in my home only. I have 4 children all under the age of 6, this weekend need is to have a date night with my husband who works more than full-time. My kids are fun, well-mannered & very organized. I will discuss details via phone if your interested. Please email me!
Original URL: http://lasvegas.craigslist.org/kid/1138635555.html
_____________________________________________________________
13) another ANGRY NANNY - EVERYONE READ (RDU)
They probably do read all of your ad, but think that they can talk you down as if you were gullible. I too have posted ads on here before, only to have people email me back and forth and then talk on the phone and tell me they can 'only afford' $5-$7 an hour, when I specially told them $10-$12 in my ad, and that it was non-negotiable. They then bring up their past nanny was paid such and such as if I am supposed to say 'oh, okay.. well since your nanny was happy being paid $7 an hour, I guess I will be happy with that rate too, oh I'll take the job!!!" I am in my early twenties, have years of nannying experience as well as a medical degree, and they still think I will accept $8 an hour for two children... which is ridiculous. I have been to college, why would I accept less than what a highschool grad could make? Yeah, we could make more money at mcdonalds, that is very true.. mcdonalds starts people off at $10 an hour, for a DOOR GREETER... and I'm sure they get more perks than being a nanny! What has the world come to when fast food workers get paid better than the people who care for CHILDREN... who should get paid better? The person saying "hi, welcome to mcdonalds", or the person whos watching after the health/safety/wellbeing of your child? hmmm? Now, don't think that I'm saying people who accept cheap rates cannot properly provide, they very well may be able to. But, don't we go to college to better our future/jobs/make higher pay? Yeah, we do. So, why should us college educated people accept less than what highschool graduates or people who work at mcdonalds are able to make? To be quite honest, I believe I would of had a more stable job the past 4 years if I DID work at mcdonalds, rather than being a nanny! Parents are selfish, lie, do what they want, and if you speak up about them walking all over you.. well, you end up jobless only to have the same crap happen a few months down the road by another family. In my years of working, parents always ask me for advice, or what do I think about things to do with their children.. and when I give them my advice, they don't like it. Could it be because I'm younger and they're older? Well, since your kid is only 1 yr old, and it's your first.. and I've been keeping kids for 6+ years, don't you think I know way more about kids then you do?? Yeah.... Get pissed and fire me, because you asked for my advice and I gave it to you. Contracts don't hold up either. There is no point in them. The parents will make you agree to all kinds of things in it, but then they don't hold up their side of the contract. The contract does not protect the nanny, in any way. I've gone to court over a contract stating the parents had to give me a two week notice, or pay me for 2 weeks regardless.. and the judge pretty much laughed. If the nanny is supposed to get off at 3pm, don't go to her at 2:55pm and say oh I need to make one more phone call.. and not get done until 3:15. I have worked for at least 8 families in the last 4 years.. and unfortunatly, I am only able to use ONE of them as a reference. Sad, isn't it? Honestly, if you cannot afford to pay the going rate for childcare(Which is around $8-10 an hour for one child), or someone with my qualifications($10-12 for one child), then find a younger person with way less experience that is happy with $200 a week for 40+ hours, or STOP HAVING KIDS. I am no longer interested in being a nanny. It has stressed me out, and I am sick of parents.
Original URL: http://raleigh.craigslist.org/kid/1129519059.html
_____________________________________________________________
.... How Much?!

14) Babysitter WANTED (35th AVE/Union Hills)
I need a sitter for 3 yr old son. Requesting a reliable, responsible, caring, self motivated & personable female. cpr/fingerprint card/ first aid is a plus but not necessary We can pay 3.50--4.50 per hour to start depending on motivation/experience. 1 night during the week & 1-2 Saturdays (day/evening) a month. We could possibly provide a ride to or from if needed. Fun loving Christian family, non smoking home, dog resides in home. Please call to set up a interview 602-971-0607. We will take out this posting when the position is filled. Compensation: 3.50-4.50 per hour tax free/meal (s) included Thank You
Original URL: http://phoenix.craigslist.org/nph/dmg/1139204308.html
_____________________________________________________________
15) Babysitting/Childcare/Nanny (Swarthmore Delaware County)
Are you looking for an easy job this summer that is completely STRESS FREE. Are you fun and energetic, do you love kids and being outside? This could be the job for you. Nanny needed for a 7 year old boy. end of June, July and August, 12pm-5:30 pm, Monday-Thursday. NO WEEKENDS!!!!!! Great for Highschool students, college students, or moms with some extra time. Some cooking required but nothing fancy. Must have a car. Send resume or just e-mail me. Compensation: 6-8 per hour (depending on experience) Thanks. Chrissy
Original URL: http://philadelphia.craigslist.org/dmg/1134583873.html
_____________________________________________________________
16) Looking for a Part Time Nanny (Sugar Land)
Description: Stay at home mother of five looking for an extra set of hands to help watch the children at home 2:30-6 M-F (17.5 hours per week) at $10/hr. Experience/Qualifications: *MUST be reliable *Experience with large group of children a plus *Have reliable own transportation *Punctual *Responsible *Fun Loving *Kind *MUST be patient *Honest *Someone willing to go the extra mile for my children and my household *Lives close to great wood or willing to drive out this way *Flexible although the hours will be set but we may need you here and there at different times on top of regular schedule *Be able to pass a drug test as well as criminal background check *Need to be able to communicate well in english *Prior childcare experience *Preferably CPR/First Aid certified *Preferably experience with special needs children *Current driving license, insurance, and good driving history Responsibilities: *Meet children at bus stop *Prepare afternoon snack *Assist with homework *Play with kids in afternoon *Straighten up after kids through out the afternoon-evening *May lead to the occasional errand If you feel you are a good match for our family, please email inquiries to the above address. Include resume/experience, at least three work related references (these WILL be checked), and a little description of you and how you think you would be good for the job. Thank You!
Original URL: http://houston.craigslist.org/kid/1137946523.html
_____________________________________________________________
17) LOOKING FOR A NANNY (I10 & FRY)
MONDAY THRU FRIDAY 9-6 150 A WEEK BRING YOUR OWN BABY IF YOU LIKE CONTACT ME AT 832-233-****
Original URL: http://houston.craigslist.org/kid/1138408294.html
_____________________________________________________________
18) Babaysit my kids in my home in the evenings till 2am-ish (Arlington)
I need a sitter to care for my 10 yr old and 7 yr old and spend the night when they are babysitting. I work at night, and sometimes have a date and just want to get out of the apartment. Light house keeping ie: cleaning up after the children and doing dinner dishes is expected. I pay $30 per shift. If you do any additional house keeping I pay $10 an hour. You having a car is a HUGE! Picking the kids up from thier after school care program and bringing them home is ideal. I can arrange to just meet you here though. I live at 2914 S. Collins Aspen Wood Apartments. I'll give you the apt # when I hire you. I am a really cool upbeat mom and am easy to get along with. call sherri at 682 564 ****. Remember this must be done in my home. Must have no crimes against a person or child. Smokers ok.
Original URL: http://dallas.craigslist.org/mdf/dmg/1132285206.html
_____________________________________________________________
19) Childcare in my home (Allen)
Childcare need for one infant and one 7 year old in my home, Monday -Friday. Hours will be 7am-4pm. Interact with children, make meals, nothing fancy, and clean up after them. I need someone dependable and reliable. I don't want you to start and quit 2 weeks later. Children need a familiar face. I do a background check and drug screen,so if you aren't willing to submit to that, don't bother responding. The pay is $300+ per week. Please do not respond and tell me you can watch them in YOUR home. That is not what I want. Or that YOUR in home day care is the best. Or that you can watch them until 3 but then you need to go pick your children up and drop them off at gymnastics., or you need every day after the new moon off...Here are the days, the pay and hours. Be good to my children and I'll do the same for you in return.
Original URL: http://dallas.craigslist.org/ndf/dmg/1136862574.html
_____________________________________________________________
20) Room for Rent/babysitting op. (Lakeview/Wrigleyville)
I have a five level, beautiful townhouse with a furnished guest bedroom for rent, furnishings can be removed if necessary. I am a single mother with 2 young boys ages 6 and 8 years old (also 2 fabulous cats). Irving Park and Clark area. I am asking $650.00 a month, utilities and a garage space included. I have 2 patios, one off kitchen with a bbq, a huge one on top which overlooks the lights of Wrigley Field, the Hancock, lots of trees and stars. I am not opposed to someone who also has a pet (dog or cat). Lastly I would be willing to lower the rent if an arrangement could be made as far as helping out with babysitting, but that is not a deal breaker if you are not interested.
Original URL: http://chicago.craigslist.org/chc/kid/1138432816.html
_____________________________________________________________
21) 2nd Mommy Needed - PT Nanny (Wheaton)
2 Kids - 7 and 4 1/2 - need another mommy. Mommy travels for her job and is getting tired of packing them up and sending them to Grandma's house. You would be needed for overnight care for a maximum of 10 nights per month, you would also help when mommy can't pick up from school on time. If this sounds like something you are interested in, read on: 1) The individual I am looking for must be extremely responsible and reliable. I will perform a criminal background, drivers license check and reference check. If you have ever called in sick to a Nanny position...I can't hire you. Sorry. If you don't have a social security card, that's cool...but I will investigate you. 2) The pay will be discussed if we get to that point...but please don't contact me if you charge $12 an hour.....remember, you will be sleeping for most of the job.. 3) If you prefer to live in, that can be arranged and I will cover your room and board...but you will not have a private bathroom.... Still interested? Please email me your interest and a summary of work experience and/or a resume. Thanks!
Original URL: http://chicago.craigslist.org/wcl/kid/1138807828.html
_____________________________________________________________
22) Childcare Needed (North Side Madison)
Hello, We live off of Sherman near Cherokee Golf. We are looking for childcare for our newborn son. My husband works retail, usually not heading into work until 930-130 am or 1-2 pm, although he does have other shifts, those are his most common. We are looking for someone who will accept hourly pay ($5-6 per hour). It would be M-F, with some days our son not being there, some days there for 8 hours, and some days only 3 hours. It will vary. But, we expect an avg of 20 hours per week. You must claim this on your taxes as we use a flex account to pay for childcare. We prefer for you to be close to our home as my husband can switch stores sometime in the near future, so we cant go with someone on where we work now. Please email me where you are located, what you charge, any experience, etc. THANKS!
Original URL: http://madison.craigslist.org/kid/1138290029.html
_____________________________________________________________
23) need care for little girl (Meridian Idaho)
I have a 14th month old baby girl just started walking. I work a very hetic schedule and now am looking into child care. I called many centers that will do pre preschool with her and take excelent care of her but i can not afford the $30-40 a week. With my schedule i only need care on monday mornings from 5:30 am to 5:30 pm and on tuesdays from 6:30 to 5:30. If anyone has a great day care center that they can direct me towards. Or have any suggestions please email me. I live near downtown Meridian and i travel towards the Garden city area. Thank you so much. -Lindsey
Original URL: http://boise.craigslist.org/kid/1133850814.html
____________________________________________________________
24) Sitter needed (Wood-Ridge)
I am currently looking for someone to watch my child after school begining in September through June they would pick my child up from school at 2:45pm and either go to my home to watch or if you live in WR you can watch at your home. The hours would be from 2:45pm to 6:30pm Monday through Friday. The pay for this would be $60 per week. I would also like for this person to get to know my child and watch them for about 2 weeks in august from 7:45am till 6:30pm the pay for this would be $100 per week. Please have references ready when you contact me.
Original URL: http://newjersey.craigslist.org/kid/1134541095.html
____________________________________________________________
25) Babysitter in Woodbridge, start date (11th May) (Woodbridge NJ)
I am looking for a babysitter in woodbridge, 07095 (woodbridge center plaza, opposite wegmans), starting 11th May, 2009. My son is 2.5 years old. -should be able to speak both hindi/english -need someone for 5 to 6 hrs /day -You will have to come to my place -Timings will be 10:00 AM to 3:00 PM You just have to watch the baby and keep him engaged in play/educationl activities. I work from home so I will be at home as well. The maximum pay rate is $4 to $5/hr; Please apply only if you are okay with the rate. you can send me an email at aartisareen@****.
Original URL: None Given
____________________________________________________________
26) In-home Childcare Provider Needed (Brookfield)
Our family is looking for full-time childcare within our Brookfield home. Ideal candidate will be energetic, reliable, and passionate about caring for children. Background check and driving record will be completed and checked prior to employment along with extensive reference checks. You are encouraged to apply if your records are clean, you are willing to make $200.00 cash per week, and are willing to commit to caring for our family. Individuals with 1-2 children of their own are encouraged to apply also. Please send inquires to Melissa through ad posting.
Original URL: http://milwaukee.craigslist.org/edu/1130876329.html
____________________________________________________________
27) Part Time Sitter/Mother's Helper Needed (Off Pocket Rd, Sacramento)
Part Time Sitter Needed. Thursday, Friday, Saturday, Sunday, Monday - 1pm to 5pm (4 hours) - Other "on call" hours may be available. Responsibilities are caring and playing with a happy 2 year old! No cooking, No cleaning, No errands, No chores, - JUST PLAYTIME, SNACKTIME & FUN! If you love to interact, play, read, color, play outdoors, and have fun - This is the position for you! This is a "sitter/mother's helper" position since I am in/out and work from home. Because I am always available - this positon offers a salary, and a small gas allowance. - This is not a hourly rate position This would be a perfect position for a student, SAHM or person that is a "kid-at-heart" Please call (916) 627-**** as we are interviewing immediately!
Original URL: http://sacramento.craigslist.org/kid/1130272847.html
____________________________________________________________
28) Help Wanted $225-$300/week (Greenfield, WI)
Starting end of May-early June, I will need a nanny to care for my 3 month old daughter. I prefer someone to come to my home (near 43rd & Howard Ave) but I'm willing to bring her to the right home. This is a full-time position, 7am-5pm Monday - Friday. Non-smokers only. I will pay $300/week if you have a Tax ID-if not the price goes down to $225/week. This would be perfect for someone who is laid off and looking for work or someone going to school part time. If you're interested, email me as much information as possible (how many kids you currently care for, previous experience etc). If you have a resume to send that would be great.
Original URL: http://milwaukee.craigslist.org/kid/1131628566.html
____________________________________________________________
Special Thanks this week to: mbargielski - for our Feature Ad, Katerbugz15, NervousNanny, teenagenitwit, nc, MissDee, StellarLikeWoah, northjerseynanny, cdhere25 and cinder38... all of you did a great job! Remember: CL-WTF will be Posted every Saturday... please send next weeks Ads HERE.
TO LEAVE A COMMENT: PLEASE CLICK RIGHT HERE!!!