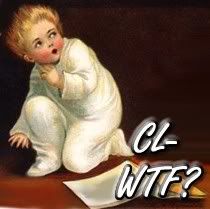 Sunday, February 15, 2009
.... What?!

1) Needed: Non Crazy Babysitter for the Night (GVP/JC)
Laugh at the title all you wish - but I'm REALLY looking for a babysitter that is reliable, responsible, and NOT crazy. I have two little boys that are pretty well behaved, but have the ability to drive you up the wall. I'm looking for someone tonight because our sitter is unreachable (as they somehow ALWAYS are when you really need them) and my mother is certifiably insane and is giving me the silent treatment again (why, I couldn't tell you). The boys are almost 3 and almost 1, and incredibly easy to care for. At the moment they have runny noses, but have had them for a week without any other symptoms. I would not put them in the care of others if they were legitimately sick. Runny noses only requires the use of a few Kleenexes, not bio-hazard suits. More than likely we'd like to leave around 7:30. Bedtime is 10, food will be given already (except for the little one's sippy cup which is full until 10, and snacks), and we'll be home around 3am. We have dogs and a cat in the house, but dogs can go outside if you wish. Our house is messy and always in the process of 'improvements', so don't expect fancy duds. Pay for 7:30p-3a is $60 (which is impressive considering you'll be watching tv for 5 hours). If you're coming from more than 15miles away, I'll also add in a bit extra for gas. If you want to know any more about me, the kids, or the situation...just shoot me a message. I'm young with a wild sense of humor, but I'm absolutely serious when it comes to who watches my kids. And if no one decides to respond - well then I hope you at least got a smile or two out of this ridiculous ad. Thanks and happy trails ;)
Original URL: http://ksu.craigslist.org/kid/1023552836.html
The Mom in the above Ad then posted this in her Blog:2)
I have decided, however, that I am most definitely NOT using the sitter that I used last night...ever again.I put out this ridiculous ad on CL for an emergency sitter. It was actually fairly entertaining. You can read that
here
. I got numerous responses from people who apparently did not read the ad well enough to realize that they had to come into our home to watch the kids. I got two responses from girls who said that they'd come here. One of them was entirely too cutesy and nice, a little TOO excited about watching the kids. I invited the other one over to meet me. She's a young mother with two children (almost 21 with a 17mo old and a 5mo old). Pretty nice, soft spoken, and with an atrocious little monster of a 17mo old boy. He screams bloody murder when he's excited. He got excited a lot.Anyways, so we sat and talked as I wanted to make sure that she wasn't a looney toon. Her kids looked well taken care of, well groomed, etc. I asked her repeatedly if she thought she was completely able to take care of ALL of them, as I wouldn't wish that upon anyone. I told her that if she had ANY reservations or doubts about watching them, to let me know. She said that she could handle it. She left and then eventually came back around 7:30.I had to get everything ready by myself because Tyler had already left the house - he apparently had already made plans to go early with the guys because he thought I wasn't getting a babysitter. I was a little more than infuriated that he didn't even THINK about me before making those plans, but...whatever. I cleaned up the place, got the kids food, got myself ready, etc. She came and I made sure she had our list of numbers, another quick rundown of how things go, etc. I left. She didn't contact me at all, so I figured things went okay.I got back home around 3, obviously - from my retarded post. Both the boys were sleeping and she said things went alright. Aiden wanted to get up around midnight and use the potty, so he did and then went back to bed. Not too surprising. I paid her - MORE than I originally intended because of having to deal with both boys and her kids, and being a young mother. I gave her $75. I originally stated $60 - which is MORE than enough considering she was watching tv for 5 hours. I went to sleep and all was cool. Woke up this morning and got my game face on even through the raging headache. Aiden got up and ate cereal and yogurt, I got Conley's sippy cup ready for him and went to get him up. He was awake, sitting in his bed with the most sad, pathetic look on his face. As soon as I got to the crib I could immediately smell pee. I picked him up and his sweatpants, shirt, and bedding were completely soaked. This leads me to believe, with about 99.9% positivity, that she didn't change his diaper before she put him in bed. There is absolutely NO reason he should've wet through his diaper in a night, as it's never happened before. So I had to give him a quick bath before he even got to eat this morning - and we were both upset. Not only that, but I gave her pretty adamant instructions that Conley got to have a cheerio snack around 9 with his last sippy cup of the night. Cheerios were in the pantry, put them on the high chair and he'll get them. Yeah. Pretty sure the box of Cheerios were still closed (new box ya'll). Dumb. Broad. Ugh. One of these days I'll find a sitter that is sane and responsible.
_______________________________________________
Special Thanks to: Ipv_84, Chrissya, Rachel, MissDee, Jenifer_Taylor and all of the Anonymous Contributors.... you picked some really great Ads this week! I also appreciate the comments sent from those that missed it yesterday! xo Remember: CL-WTF will be Posted every Saturday... please send next weeks Ads HERE.
TO READ THE REST OF THIS WEEKS SUBMISSIONS:
PLEASE CLICK HERE!