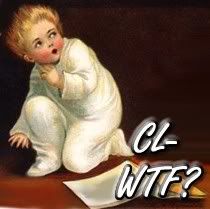 Saturday, January 10, 2009.
.... What?!

Fight on CL because a Mother wanted last minute Childcare:I need a babysitter for tonight (Wheeling)
hi,I`m a mother to a 4 year old. I really need someone, last minute, to come to my Wheeling home,to babysit my daughter. She goes to sleep around 10:30,I would need help from 11pm till about 2am. My husband works at the bar and I would like to celebrate new years with him I`ll pay $40 thank you very much, my phone is (213) 281-****
Original URL: http://chicago.craigslist.org/nwc/kid/976031963.html
Pretty disappointing .... (Everywhere)
- OP
Hi all ,parents ,nannies, babysitters!!! This letter goes to everyone ,don`t get me wrong, it is my opinion. Lately, people here have shown very different, at some level ,immature way of thinking when it comes to children and child care providers. It`s so disappointing that whenever I post I almost expect someone to correct me or to put my thoughts in a doubt. On the new years day ,I posted an add ,asking if someone could babysit my child ,while I go, celebrate with my husband and friends. My husband happened to work that day/night and I didn`t want to celebrate by myself. So I posted an add for a last minute babysitter. Gosh ,I`m sorry ,but last minute babysitters exist ,I`m one of them. Well sure enough, I got some weirdoes calling me, e-mailing me, harassing me for no apparent reason!!! supposedly I`m crazy for posting such a thing!!!! Ok ,people ,first of all ,this is a website for posting adds about childcare ,I have all the rights in the world to ask for a help, regardless of the situation/occasion. If no one could help me out just, either don`t reply with your crazy thoughts, or at least negotiate the pay, if you get upset about the $10hr rate! What is wrong with you people? have you tried putting yourself in my on any other`s position before harassing and calling names???? Immaturity is something that`s very difficult to fight when so many of you are selfish and self standard!!!! I am a mother, a childcare provider ,and I happened to ask for a help on new years. Am I guilty because of that???? This website has changed in so many ways. I used be able to communicate with so many moms and providers in here.. But now ,it`s a mess, everybody is angry and weird!!! WHAT HAPPENED? And this Shauna case ,is it going to close anytime soon? whenever I come here ,searching for a job, I see, at least 1 post about her MySpace page!!! I ,once, tried to understand this situation, I posted my opinion. Shortly after ,I got blamed and accused of being her!!!! Oh my dear God, will I ever do that again???? This is so stressful and not fair. Get over it already, concentrate on positive a little bit more!!! I`m offended, upset and confused!!! since when I can`t post an add about childcare???Since when I have a fear of others being angry? Have some respect for each other. This is not the end of the world for me ,of course. But I know for a fact ,that while someone searching for a good, reliable nanny here ,on Craig's list, or posting about their qualifications as a nanny, people like you-angry and weird, cut their chances of succeeding. Thank you very much.
Original URL: http://chicago.craigslist.org/nwc/kid/979163464.html
TO: Pretty disappointing .... (NW Suburbs)
The fact that you would post a blind ad for some stranger to watch your kid on short notice says it all. That is you KID! I don't know about you but I wouldn't leave my child with someone I didn't know, met on the internet, didn't do a background check on, and didn't have several real life references for. Yes, you deserve every bit of backlash you probably received. Shame on you for putting your childs LIFE at stake because you wanted to go out. Do you have any idea how many weirdo's are on this site ALONE??? Consider yourself lucky you stayed home, safe with your kids instead of leaving them with god only knows who and coming home to your kids and belongings GONE..or worse. Oh, and for the love of god please learn how to use a comma.
Original URL: http://chicago.craigslist.org/nwc/kid/980220830.html
RE: Pretty disappointing .... (Everywhere :))
- OP
Ok, lady, or whoever was writing with such hate!!!! 1. I found a girl who was able to babysit for me that night. Just like I`ve found many others before ,kind and reliable. 2.This is not an English class, and if I happened to be from a different country, doesn`t mean I don`t speak English very well!!!! 3.I have all the rights to express my feelings regarding this website ,because people like you, nasty and angry ,make us, normal people not to even bother, coming here ,looking for help!!!!! You are not the judge, nor the master of the sky. You have no rights ,coming here, writing the BS of yours. I suggest to just ignore. But of course, your ego wouldn`t let you do so, would it??? I don`t know you and don`t even want to know, but I sure do know that you`ve had your bad experience in the past ,with childcare. I`m sorry for that, but it doesn`t mean you have to be involved in my dilemma!!! oh, and if you don`t like the fact that I didn`t use the comma properly, here you go: ,,,,,,,,,,,,,,,, :) bite me!!!! hope you`re happy and warm!!!!
Original URL: http://chicago.craigslist.org/nwc/kid/980294138.html
_________________________________________________________
Special Thanks to the following Readers for these AWESOME Ads: northjerseynanny, CraigsListCrusader, MissDee, live.moxie, mbargielski, cdhere25, SFClaire and Fourteenhourdays. All of you did an excellent job! Keep sending in the craziest Ads you can find! Remember: CL-WTF will be Posted every Saturday... please send next weeks Ads HERE.
TO READ THE REST OF THIS WEEKS SUBMISSIONS:
PLEASE CLICK HERE!