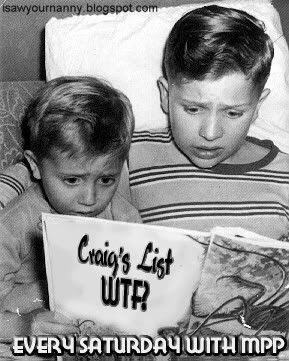 Saturday, June 20, 2009.... What?!FEATURE AD:1) Live In Nanny Needed (Clinton Hill/Brooklyn)
Live in Nanny needed FT in the Fort Green/Clinton Hill area. We currently have one two year old a newborn, and we want to have a nanny begin with us now so that everyone will be comfortable during this adjustment period. Here are the particulars:
Responsibilities
Childcare of our son who is a happy and importantly an EASY to care for child; who loves books, playing (frequently independently) and building things, and the typical kid stuff. Childcare of our newborn as well.
The older boy's daily routine goes typically something like, 8AM wake, eat and play until 10. To the park until noon/one, and then back to the house for some lunch. 2-5 nap, and then back up, a snack and back to park until 6:30. Back to the house for dinner, some play and then asleep by 8:30. He has a great sense of humour, is strangely mechanical, is relatively advanced for his age in that he has started feeding himself a bit, is learning the potty, and has an excellent memory for things he likes.
Responsibilities generally include waking up with the child and going through his day with him, cooking (really only for him+the next child when the time comes), some light shopping when needed, and cleaning/straightening of the house, doing laundry for the family. If we take a day to go visiting with our son, a good part of your day will be occupied with household items (assuming they are needed). With the next child due in less than six weeks, there is a reasonable amount of support needed in organizing various household items.
Worktime
Workdays are Monday through Saturday full time, with Sunday being our day typically to spend with our son and a day off for a nanny.
Live in
This is a live-in position, and for the time being a nanny would sleep in a bed in our son's room, however we have a sleeping area with its own bathroom and at some point a nanny would sleep in that area which has its own privacy. We live in an spacious newly renovated townhouse on two floors, with generous bathrooms, fantastic cooking kitchen, and beautiful backyard. We generally eat nearly only organic, so the house is always filled with plenty of healthy delicious food. We are young designer-professionals who work hard, and our house is a sanctuary for time spending with the family and relaxing.
You
You should be a highly energetic individual with a high sense of responsibility, even temper, excellent judgment, interactive, proactive on responsibilities (no one wants to ask every time for the routine items to be done), and light-handed. Since we occupy the same space, sensitivity to private time spending for the family in an intuitive fashion helps greatly. Our child is super independent, and many hours will be spent just keeping an eye on him as he explores his environment. English is a must.
Pay
Pay ranges between $400-$500 per week, depending on experience, time with our family, paid in cash on a weekly basis.
Languages
Russian speaking a plus, but not essential.
Original URL: http://newyork.craigslist.org/brk/kid/1230741230.html
________________________________________________________
2) Tutoring, Cleaning, Errands (Sacramento)
Tutoring, Cleaning / Errands or easy home office work.
An eloquent Gentleman, Father and Business owner is busy and seeking help. We prefer a neat, well groomed Lady who is intelligent, family oriented, non smoker, non drug user with good morals, ethics and values to help with some house cleaning and or office paper work and tutoring my cute, lovely & polite 10 soon turning 11 year old daughter. If you are good with math and have special skills such as ballet, piano, or any skill you could teach her that will be a plus!
Tutoring may be twice a week. House cleaning may be once or twice a month and you may be asked occasionally to take her to ballet or piano lessons, skating or just watch movies together either in our home theatre or go to the public theatre or an amusement park . You may be asked to substitute cleaning for some home office work occasionally.
Reason this way … you are basically a role model for my daughter and certain high moral and ethical standards are preferred and expected of you.
PLEASE NOTE:
This is a long term gig for the right individual.
We prefer
a good refined English /grammar speaker void of slang.
Be willing to do a background check.
Have a good and safe driving record and valid Ca driver's license.
Be reliable, dependable and trust worthy.
Have at least 3 verifiable family references, friends and professional references.
We need three family, three friends and three professional references. We need a total of nine references.
YOUR REWARD:
1. You will be paid a negotiated dollar amount monthly that will vary depending on what services you rendered.
2. You will be rewarded with privileges such as: You will drive a very nice car when needed.
3. You will enjoy delicious and healthy, low calorie meals approved by a registered Dietician. (Her Auntie)
4. You will enjoy being part of a loving family. You will enjoy discounts for your family on the goods and services our businesses offers.
If interested, reply attaching a recent picture and phone number to: producer.director.e@****
Impress and convince us stating why you feel "you are the BEST" for her and this position? We shall ask you some questions.
If you convince us, we shall start with a phone interview. If the phone interview goes well,
a face to face interview will follow. Please have references ready. Thank you. GOOD LUCK! :-)
Original URL: No URL Given________________________________________________________
3) Need the Kids Watched for a Day (Sacramento)
hello i am a 10 yr. old female attend arc college part time and just moved ere to sacramneto looking to help out some parents who are in search of a babysitter .. i can watch at your house or mine? and some tiem even over night or late nights so you and your hubsand or wife can have a night to your selfs.. i am avaible everyday a majority of the times i have clean driving record. i use to work at susie q's daycar in salinas,ca/ and i charge very little 016-370-****
*** please call or text thanks
Original URL: No URL GIVEN________________________________________________________
4) for all the nannies!!!! please read!!! (New York)
hey nannys
dont let yourself use from the families which r looking for a nanny. we all try hard to find a job and than they can not even respont to our mails? thats really hard i would say.
and than when you tell them your rate they all say oh i am sorry its the aconomie but you know what, they dont really care because they still make the money but they use it as an excuse to save money. so what i can tell you is! if they want experience, good service and good help than they should give you what you want for example 2 weeks paid vacation, paied hollidays and at least 16$ an hour!!!!! for 3 kids 20$ an hour if you are good of experiance!!! dont let yourself tread as garbage, just because some people here have money doesnt mean we are not humans too we are all in the same boat!!!!! thanks
Original URL: http://newyork.craigslist.org/fct/kid/1223986930.html________________________________________________________
5) Parents be rest assured for $20 a day (Hampton)
Hello Parents,I provide loving,caring childcare to children 0 to 5years from my clean,childproof and pet free home ,I am pationate about children so be rest assured when you leave your child under my care they will be well cared for.Am a graduate student studying elementry education so i have lots of experience working with children i also have a 19month old daughther,your child will learn and play i have lots of indoor and out door activities planned for each kid,I provide meal at your request and snack for older kids.I have nap area for the kids,i take drop ins,weekends,lastminute etc. i am very flexable ,am currently willing to take care of only 5kids.I am willing to work with you on financial bases.My rate are $20 a day.If am the childcare provider you have been looking for call me on 757291****.thank you.
Original URL: http://norfolk.craigslist.org/kid/1225528839.html
________________________________________________________
6) Looking for a sitter for Friday! (Va Beach/Oceana)
We want to take our two oldest children to Busch Gardens on Friday because they got awards at school. We need a sitter for our younger two. 2 1/2 years and 15 months. I know this is last minute and all, but we have exausted all of our other options with our other sitters.
The hours are from 9am-3pm (maybe 4pm). We will pay $50 for those hours. Most of which they will be sleeping.
~MUST HAVE CPR AND FIRST AID CERTIFICATION!
~Must have previous experience with children.
~We will pick you up if you don't have transportation.
This job is perfect for those of you just getting out of school! This will also be a trial day and if all goes well, and you would like to stay on permanently, we would love for you to babysit more often as we have season passes. Please email or call as soon as possible. We would like to set up a meeting with you! Thank you! 227-**** Ask for Melissa
Original URL: http://norfolk.craigslist.org/kid/1225732117.html_______________________________________________________
7) Male Babysitter (SW Houston)
JOSE ESTRADA I LOVE KIDS I BABY SIT MY NIECE N NEPHEWS ALL THE TIME IM IN NEED OF SOME FAST CASH I CAN BABYSITT AT UR HOUSE ANYTIME THIS WEEK AFTER 3PM OR CHILDCARE AT UR HOUSE JOSE: 832 231 **** LIVE IN SW H-TOWN
ON BELLAIRE BLVD
Original URL: http://houston.craigslist.org/kid/1223123930.html_______________________________________________________
8) Rent a Grandma (Yelm/Tacoma)
Experienced Nanny, fun and follows directions. I won't have an affair with your husband. No bad habits, live in, live out. References
Original URL: http://seattle.craigslist.org/tac/kid/1230080607.html
_______________________________________________________
9) Cheap Great Childcare (Kent)
Hi, my mom (Sokeang Long) currently staying home now, she's 43years old, and looking for kids to take cares!!, She loves kids, she used to take care of my cousins and had experiences taking care of my brother and me. OPEN Monday through Friday and From 7am to 5pm....Full/Part time!! $5 per hour, $25 per day, or $450 per month
PLEASE feel free to contact us by email or # (206) 302 **** or text (206) 302 ****....
Thank you very much for your times!!!
Original URL: http://seattle.craigslist.org/see/kid/1230488008.html_______________________________________________________
10) Baby sitter Needed/Tomorrow!!! (SW Seattle)
I am looking for someone to baby sit our three boys tomorrow afternoon. It would be any where from 1:00-4:00pm. Also I am looking for some one to be on call for sitting because for the next two weeks my schedule is undetermined. If any one is interested and wants more information please call 612-978-**** or reply via e-mail.
Original URL: http://seattle.craigslist.org/see/dmg/1213035376.html_______________________________________________________
11) Honey Bunny Muslim Baby Sitter (Raleigh)
salmo alykom,
i finally opened child care for Muslim children , i have a program with balance between learning and playing and also i provide learning Arabic language ,Quran and Islamic stories about saydna mohamed (sala allah aleh wsalam) and sahaba with qualified sisters, i have time for crafts, playing outside with 1 meal and 2 snakes. i will do my best to make your baby happy, enjoy and learning at the same time because i believe that learning should be fun, insha allah i will make a party last thursday every month for children,i will be available any time to talk with you about your baby and discus any problem with you ,my program will be full time from 7am-6pm.monday -Friday . i have a good experience , I took courses in child care and I知 already in one now and I知 in my way to take a license. to contact and enrollment contact us at (919-995-****)
Original URL: http://raleigh.craigslist.org/kid/1228084816.html
_______________________________________________________
12) EVENING DAYCARE NEEDED (Hampton/Newport News)
I NEED CHILDCARE FOR MY TWO YEAR OLD AND THREE YEAR OLD TOMORROW EVENING. FROM ABOUT 4PM-8AM THE NEXT MORNING. PLEASE EMAIL ME AS SOON AS POSSIBLE WITH PRICES AND IF YOU ARE AVAILABLE AT THAT TIME. SERIOUS SERIOUS INQUIRIES ONLY. PLEASE ALSO BE IN HAMPTON, OR NEWPORT NEWS. THANKS.
Original URL: http://norfolk.craigslist.org/kid/1228448181.html
_______________________________________________________
13) Childcare needed for 2 boys in your home (Newport News)
In need of childcare for two boys ages 21 months and 6 months. I would like somebody preferably around the denbigh/fort eustis area because It will be on my way to work. I would also like somebody who feels comfortable taking care of a special needs child. My 6 month old is a special needs baby, but I will train u in everything you need to do for him. I am a single mother and looking for someone who has reasonable rates and doesnt watch more than 2 other kids. Please email if interested. I need someone who can start as early as Monday.
Original URL: http://norfolk.craigslist.org/kid/1228674571.html_______________________________________________________
14) looking for sitter in my home tonight (Va Beach/Shore Dr)
looking for a sitter to come to my home tonight. from about 7:30-the latest 2:30 ish. fiance and i havent been out in a while and looking to go out tonight can negotiate price. 2 girls. 2 and almost 1. please call if interested. thank you ashley 757947**** 757289****
Original URL: http://norfolk.craigslist.org/kid/1229952162.html_______________________________________________________
15) Affordable Awesome Babysitter (Silver Spring)
I am only 14 yrs. old...
but I am more responsible than those much older than I.
I am only 14 yrs. old...
but I get the job done. Most men can't even do that.
I am only 14 yrs. old...
but I am mature, responsible & persistent. Most people much older than I can't even say that. Well, they can say it, but I actually walk the walk.
I love working and playing with kids and am interested in babysitting children in my home or yours. If it is yours it must be in walking distance or a location that is accessible by Metro.
Hours that I can work: Monday through Sunday-Anytime
Rates: $5-$7 Ages: 5+
cook and clean. Very motivated. My apartment has nice park in walking distance.Also, I can do babysitting at your place.
For more details, you can reach me at 540-209-****, ask for Ray. Thank you.
Original URL: http://washingtondc.craigslist.org/mld/kid/1228610392.html________________________________________________________
16) Part time Babysitter needed - long term position NOT summer job (New York)
I am looking for a babysitter for a 3 year old girl. Must drive. Must be local to NJ. Must be happy, outgoing, full of energy, kind and patient. The hours are 3 days per week about 8 hours per day. Must be available any day monday through friday as my my schedule changes weekly. Must be available from 9 am till 9 pm.
If interested please email me your full name, where you live, your age and list any experience you have with childcare. MUST BE FROM NJ MUST DRIVE AND HAVE A CLEAN RECORD
THIS IS A LONG TERM POSITION NOT A SUMMER JOB Thank you.
Original URL: http://newyork.craigslist.org/jsy/dmg/1217005033.html
* Response from CL reader about the above Ad:17) RE: Part time Babysitter needed - long term
As a part time child care provider, i find it preposterous that you would expect anyone to be available to you for 60 hours (9am-9pm M-F) a week but only work 21hours (8hrs x 3 days). In this economy a babysitter cannot live on 21 hours of work a week and with your flexible schedule it would be difficult if not downright impossible for a care giver to work another job to make ends meet. Lets treat the wonderful, patient, and loving people who are caring for our precious children with some respect for their financial well-being. Maybe i misunderstood and you plan to pay your care giver to be on call the other 39 hours a week that you may potentially need coverage.
Original URL: http://newyork.craigslist.org/jsy/dmg/1221753449.html________________________________________________________
.... How Much?!18) Looking for Live in Nanny (Seattle)
I am a mother seeking a live in Nanny for the hours of 8pm to 8am with 1 weekday and 1 weekend day off to share a 4 bedroom house in exchange for nightime chilcare. I have a 1 1/2 year old loving son. There will be FREE rent, cable and internet hook up. I am looking for a 6 months or longer period. I will require background checks and good references. CPR, first aid and childcare experience preferred. Please contact me at 206-351-****. There is also potential in making $$$ for babysitting outside of the hours 8pm to 8am. If you are interested please contact 206-351-****
Original URL: http://seattle.craigslist.org/see/kid/1228490652.html________________________________________________________
19) Live in Nanny/Housekeeper needed (Tucson)
Hello,
We have two children 6 an 8 years old and recently moved to a ranch outside of Tucson. We are hoping to find a nanny that has lots of energy, must be non smoking and drug free. She will also need to help with lighthousekeeping and help clean up after the kids and after meals. We will provide your own private room, bathroom and all meals. Plus 100 per week. The kids will be attending school starting August/September so if you want to go to school while they are in school that would be fine. The job will also involve traveling and would take you with us! Great perks.. Gerat living location on a ranch, quiet and peaceful. This position is available ASAP.
Please email me with your information and or questions! L
Original URL: http://phoenix.craigslist.org/cph/kid/1227656317.html________________________________________________________
20) Live in Babysitter for 3 Days - $75 (Stoughton)
i need a babysitter to come over tonight or i can pick you up and watch my four year old daughter til wednesday i work 12 hours a day and if i don't work i don't get paid so my wife is in the hospital and i need a reliable sitter to stay here and watch her til wednesday after 5pm then i can take you home please i am desperate
Original URL: No URL Given________________________________________________________
21) Babysitter needed schedules vary (Canton)
Needing a babysitter to come to our home to watch our 4 children. ages are 7 months, 2, 3, 4. Will pay $5.00 per hour. will need someone who is very reliable and who we can call and they can be here the next day if needed. our hours vary but usually you can get 20 or more hours a week. If interested please call me at 330-412-****
Original URL: http://akroncanton.craigslist.org/kid/1221837666.html________________________________________________________
22) Nanny, Housekeeper, Personal Assistant (Elk Grove)
I need a personal assistant to handle my paperwork, scheduling, and other office duties, in-home nanny for my 1 year old daughter, and someone to do light housekeeping. I want a stict schedule to be followed at all times and I will run a background check on the person I hire. You fill out an I-9 for tax purposes. Must be at least 18, Looking for someone to start immediately. please download the application here: http://www.box.net/shared/xrht19n50m
Your Schedule
8:00 am - 9: 00 am : paperwork
9:00 am - 12:00 pm : Nanny duties (breakfast, play time, etc)
12:00 pm - when she wakes up : Naptime for my daughter, Housekeeping duties for you, lunch for you which is provided if you'd like
When she wakes up - 4:30 pm : Nanny Duties ( luch, play time, etc)
4: 30 pm - 5:00 pm : Scheduling appointmets time
I should be home by 4:30 everyday so the last half hour you will be undisturbed,
The pay is $50 per day, and the days are Mon-Wed-Fri. 8:00 am - 5:00 pm
*****Note: Only completed applications will be considered, Thank You
Original URL: http://sacramento.craigslist.org/kid/1222038075.html
________________________________________________________
23) Childcare Needed (Port Washington)
I'm looking for a babysitter for my three children 7,5, and 3. This is part-time usually from 2-5 pm a day or two per week and maybe a Friday night here and there. I can pay $7/hour.
Original URL: http://milwaukee.craigslist.org/kid/1227104117.html________________________________________________________
24) Need Babysitter PT Evenings (Madison)
I am moving from Sun Prairie to Madison mid July. Unfortunately, my current babysitter lives somewhere it will then be too far for her to drive. I am a student (adult student) attending classes at ITT Tech evenings. Currently it is Mon and Wed evenings from 6-9:30ish. The days change from quarter to quarter. This quarter ends at the end of August. So, I am looking for someone from 5:45 - 9:45ish. The rate I am able to pay is $5 per hour. July 13th would be the actual start date.
My son is 16 months old and is ADORABLE (of course). He is not difficult at all, no special issues or needs. Just likes to be played with and given attention just like any other child. He goes to bed around 8-8:30. All I ask is that you are good to my son and are respectful of my home.
Also, it will be in a fully security locked and quiet apartment building.
If interested please reply to my ad with your information and we can go from there. Thank You
Original URL: http://madison.craigslist.org/kid/1226635100.html
________________________________________________________
25) Sitter Needed (Arden Area)
I need a sitter for my two month old in my home. Experience needed. First aid certified a plus. Must have transportation, and cell phone. NON-SMOKING! The hours will be 8-5 mon thru friday. I cant pay much 350 a month is all I can afford. Meals provided. If anyone is interested in this at all PLS CALL 602292****.
Original URL: No URL Given________________________________________________________
26) Seeking FUN live in Nanny (New York)
Nanny position to watch 3 school age children. Looking for a fun, energetic, patient, responsible female who is experienced with taking care of children. This is a live-in nanny positon and requires availability 7 days per week (She will only work 5 days per week. Schedule and hours will be discussed during interview). Duties include taking children to school/day camp, picking children up from school/day camp, helping them with homework when needed, making sure they clean up thier room, making sure they get dressed appropriately for school and brush their teeth upon rising, shower and brush their teeth before bed, taking them to the park and outings. She will be required to feed them dinner and snacks and clean up their dishes. Other duties include washing and folding the children's clothing and over seeing that they put thier laundry away. When the children are off from school or camp the nanny will be required to watch them for the full day and have fun activities planned. Two weeks paid vacation included. Pay: $600/month including a room, food, internet, cable, phone and cell phone (to be used for work not recreation).
Original URL: http://newyork.craigslist.org/que/dmg/1230312442.html
________________________________________________________
27) Weekend Overnight Childcare Wanted - Your Home (Seattle)
Looking for overnight weekend childcare one weekend/month in your home. Children are an 11 year old boy with Asperger's Sydrome and a 10 year old girl with special emotional needs. Constant supervision and separate sleeping spaces required.
Need to be able to set clear rules and maintain appropriate boundaries. Experience working with special needs children desired. Background in foster care, child care, teaching, therapy, social work or the equivalent a plus. An ideal situation would be a two person household with experience parenting children who are now grown.
Compensation: $200/weekend for both children, Friday evening to Sunday afternoon -
Negotiable DOE.
Original URL: http://seattle.craigslist.org/see/kid/1230133011.html________________________________________________________
28) Babysitter needed (Seattle)
i am in need of a baby sitter for sat 6/20 from 7pm to 11:30 the latest all 4 chidren will be sleeping pay is 20 bucks for the night if intrested please email me asap with a name and any questions you may have thanks for your time sorry for the short notice my other sitter option fell threw thanks again Jen
Original URL: http://seattle.craigslist.org/sno/kid/1230548013.html________________________________________________________
29) Looking for Household & Childcare Helper (Phoenix)
We are a couple with one small child and about to have 2 more (twins!). Looking for a very reliable, responsible, experienced person to help us out on a temporary (or more) basis with odds and ends around our house. Don't need an expert in any particular area, but would like to find someone who is competent doing any of the following on an as-needed basis:
Cleaning - vacuum & clean floors, dusting, (house is small), laundry.
Bathrooms - scrub bath, shower, bowls. Generally keeping things picked up and neat.
Light cooking. - possibly preparing meals for 4 year old or for Dad & Mamma or both.
Helping Mamma with the new twins - she will be sleep deprived, so whatever she needs - help holding the babies, pillows under her knees, a glass of ice water, preparing formula, close the window shade....you name it, basically being her personal assistant when she needs it.
Shopping - grocery or otherwise.
Looking for someone with excellent family and/or working experience in some or all of these areas. Some education schooling is a big plus. Reference and background check will be done.
Prefer someone who speaks and understands english, but we are not opposed to picking up some spanish or other languages to help the communication.
Prefer someone with reliable transportation. We are located near 51st Ave & Baseline.
We would like to interview people over the next 2 weeks, and whoever gets hired will start with a few hours per week on a very flexible schedule until the babies are born to get used to the house and us. Once the babies are born in August, we will need to establish a more structured schedule of 5-10 hours per week depending on our needs and the capabilities of who we hire.
Pay will depend on experience and the skillfullness with which the person can perform the duties. Range is $8.00 - $11.00/hr., unless you are the person from the show Nanny 911, then we can pay more.
No criminal background. Must have valid drivers license. Prefer someone who has had a CPR course. Must be great with young kids!
Also, we have two big dogs, but they are very friendly. Sometimes you'll have to feed them and maybe pick up some poop once in a while.
We are a fun family & we look forward to meeting some interesting people for this job.
Call David
(602) 318-****
or email resume/cover letter
Original URL: http://phoenix.craigslist.org/wvl/dmg/1206260277.html________________________________________________________
30) Babysitter (Tempe)
Hi, I am looking for a temporary person to watch my 2 boys (8 and 6) for a couple weeks until I can get them into daycare. This would be a good job for someone who is 13, 14, or 15. I need someone who is RELIABLE! The hours would be 7:45am-5:45pm Monday-Friday. I am a single mom, can afford to pay 80.00 a week. You can watch them at my house if you want to. This would also turn into something more permanent part-time. I am looking for a part-time night job and would need someone to watch them then. If you are interested please contact me!
Original URL: http://phoenix.craigslist.org/evl/dmg/1223237811.html
________________________________________________________
31) We need childcare! (Las Vegas)
We have 2 children by the ages of 6 and 2 and would like to have some one come to our house to watch them on saturdays, sundays, and mondays. There might be an additional day to that but for now thats what our schedule is like. We are looking for a nice, responsible, and VERY dependable person. We have had some help in the past that havent worked out for us....Childcare duties include cooking, light cleaning duty in kitchen, and on mondays help the 6 yr old with homework. My job has just put me down to partime so we are having a hard time finding someone who fits our budget. We are offering $5 an hr....your days will be anywhere from $25 - $40 a day depending on our work shifts. there is also available accomidations such as an available guest room for childcare provider if need be on those days. Also when i become fulltime again we might need you more often and that means more $ for you. You can reach us by phone or email for any questions or to set up a meeting with us ....Tj # 460-**** or Carmen # 449-**** serious inquires only! thank-you
Original URL: http://lasvegas.craigslist.org/kid/1213275496.html________________________________________________________
32) Summer childcare needed (Raleigh)
Would like high school student to care for 13 yr old and 11 yr old this summer for approximately 5-6 weeks in my home in Creedmoor beginning June 29 from 7:30 am – 3:00 pm Monday through Thursday. Can pay $20 per day. Must provide child care/baby sitting references.
Original URL: http://raleigh.craigslist.org/kid/1229860769.html
________________________________________________________
33) Nanny needed7/25/09 (Phoenix)
Family Of Seven is in need of a Caring Experienced Nanny.
Pay: $600 A Month Free Room and Board Food is also included as well as use of the washer and dryer.
Duties: Caring for our 5 Children, Cooking , Making sure the house is Clean and presentable, Doing the kids laudry,Activities with the children
A Little about myself, My name is Shatia my fiancee's name is milton I work days he works nights were a loving family no drama no smoking we stay busy working working working
We live in a Beautiful Neighborhood Nice home So you shouldnt have problem feeling comfortable.
You Must Have Experience
Position Is Considered Temp 3 Month Trial and if everything works out will become Long Term
Original URL: http://phoenix.craigslist.org/evl/dmg/1221225515.html________________________________________________________Special Thanks to: Cinder38, northjerseynanny, amy.blueeyes, Nana, JulieK1994, MissDee and mbargielski... all of you found some really great Ads this week! Please don't forget to include the URL in your Submission! Remember, CL-WTF will be Posted every Saturday. Please send next weeks Ads HERE.
--> --> TO LEAVE A COMMENT: PLEASE CLICK RIGHT HERE!!!