Saturday October 24, 2009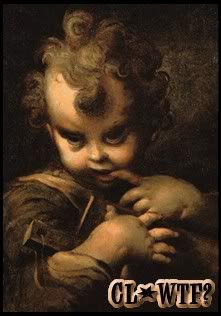 .... WHAT?!1) Can babysit for $8 a day per child or LESS! 10 yrs. EXPERIENCE! References (Florida)
Can baby sit $8 a day per child or LESS! NAME YOUR PRICE! YOU PAY WHAT YOU CAN GIVE ME! WILL BABYSIT FOR LITTLE MONEY SO YOU CAN GO TO CLASSES OR WORK! CHILD CARE PROVIDER WITH OVER 10 YEARS OF EXPERIENCE AND GREAT REFERENCES! I have an awesome recent reference from the Mom of an 18 month old girl I did this for! I watched her much of the day providing lunch and snacks, regular diaper changes, nap time, & fun activities including reading her stories and playing barbies. I watched her for $1 an hour while her Mom went to classes to further her education. I want to do that again for someone and am available days, Monday through Friday while the kids here attend school. Among my references you can talk to the parents of 3 children (3 girls ages 5, 6 & 8) I have cared for right here in Milton. I HAVE BEEN A VERY RELIABLE TRUSTWORTHY NANNY! I was full time nanny for a family that includes a 4 year old girl and 20 mo old boy I did EVERYTHING for and I have a reference from them saying how great I was with their kids. Before that I did total care for 4 children - 2 girls ages 5 & 10 and 2 boys 8 and 11. They will also provide a reference for me! Safety is of utmost importance. Children's CPR COURSE completion! I create activities in a safe environment for all ages, and they all relate to me because I'm patient, caring, fun-loving, attentive to their needs, and very compassionate. I'm not one of those heavy drinker types, don't smoke and do not use drugs or profanity! I am a clean living trustworthy Christian man, caucasion 40+ that has lived happily with and has watched all ages of children. I get along well with everyone regardless of age, ethnicity, etc. I am a good listener and problem solver. Please reply with details of your situation and how I can help you and any questions. If you feel we have probable compatibility enought to talk to me further I will be happy to forward through email past references and arrange for you to talk to the family in Milton with the 3 girls.
Original URL: http://pensacola.craigslist.org/kid/1432455858.html
____________________________________________________________
2) Babysitter Needed. Start Tomorrow (New York)
I am looking for a responsible babysitter who can start work tomorrow. Come at 9 a.m. for interview, and get hired on the spot if you pass the interview. Please bring government issued ID in order to start work. Please dont waste time, Only serious people who want to start work immediately will be invited to interview. Please e-mail me immediately.
Original URL: http://newyork.craigslist.org/que/kid/1430369707.html____________________________________________________________
3) Housekeeper in exchange for Childcare (New York)
Hello, We are a small and outgoing family in downtown Manhattan, near all subway lines. And Attachment Parenting resonates with us most. We have one mellow, thoughtful and inquisitive toddler. We are looking to offer the right person free housing (and meals, depends on the number of hours we agree to) IN EXCHANGE for childcare/housekeeping.
This position can be flexible in terms of when you would work in this arrangement. Depending on how much overlap there is in our schedules, you would do more childcare or housekeeping. Of course, you would be provided your own private room. It's spacious, light-filled and has a view.
We are discreet, thoughtful and considerate and would expect the same.
You should love children and have experience working with them (babysitting, nannying and/or teaching). Ideally, you are a student or have a full-time job. A plus if you also speak one of the following languages: Mandarin, Spanish, Vietnamese, Cantonese or French. If interested, please drop a note with a brief introduction that gives us some idea of who you are and what you're looking for. Serious inquiries only please.
Original URL: http://newyork.craigslist.org/mnh/kid/1425307923.html
____________________________________________________________
4) The BEST Weekend Nanny seeks Top Notch Family! (New York)
I am a professional Nanny, seeking a loving family to become a member of! I am very dedicated to what I do. I am not a Nanny just for a job, I really love kids. I am seeking a family that is looking for a long-term, hard working, loving, energetic, experienced, dedicated Nanny. An I LOVE IT!!!.. I have experience to feed, change dippers,set a nap schedule, pick up and drop off, potty training. I am a energetic and loving person,who loves taken care babys and toddler. I like outdoor, parks,museum, and library and at home I like to read,sing and doing creativity activity as apozzle and painting.I love to be around with kids and they loves to play with me because, I am on the top of FUN!!!. I have a flexible schedule and also I can work on weekend and holidays.I am available to start ASAP.
I have WONDERFUL references if you are interested e-mail me, I can tell you more about my experiences with the others families,and give you their contacts.
I charche $40p/hour or $300 de day.
Original URL: http://newyork.craigslist.org/mnh/kid/1430073068.html____________________________________________________________
5) Don't Hire Teresa De jesus G****!!!! (MD/VA/DC)
Hello CL Friends:
We recently was referred by a friend a nanny by the name of Teresa De Jesus G****. Since a friend from the church referred her to us we did a background check and hired because all came back well. To make a long story short, everything was great and we hired her. We first allowed her to stay with us three weeks earlier then the planned start date. Teresa called our family crying and stating that she needed a place to stay, because the old family she worked for was leaving the state. However, the old family were really friends of hers that lied for her; we found this out after doing more research. She also lied and stated she was CPR certified for infants. We found out, because when we ask to see her certification she confessed to not having it. After about three months of things going okay we noticed Teresa acting funny as if she was on drugs. My wife and I got concerned and started probing for answers. She gave us excuses of her son being homeless on drugs and all kind of statements that did not make sense. The last straw for us was when she did not show up for work knowing she was suppose to be with my wife, because we were expecting our new baby a any time. Teresa left us a note around 6am that morning stating she had an emergency. Her emergency turned out to be her working another job for a cleaning company. She left my wife at home with a two year old on the day she was suppose to go into labor. I did not know, because I leave for work at 5am, and the letter was posted to a chair in the living room. To make this whole story worse, checks, credit cards, a video cam and money were stolen from our house. We now have to hire an attorney that will cost us about $3000.00 to assure us our identities will be protected going forward. In addition, we also found out that she is in the country illegal and the driver license is a fake. Needless to say, this has turned out to be a lesson learned the hard way. This will cost us over $5000 in items stolen and getting an attorney to right the wrong. Please pass on this information to anyone that you know is looking for a nanny. Please she Teresa's fake information listed below.
MD Driver License
Teresa De jesus G****
1906 Amherst Rd Apt ***
Hyattsville, MD 20783
In addition, all of her references are bogus and from her church.
Original URL: http://washingtondc.craigslist.org/nva/kid/1426037380.html(Note: All Information on Nanny is available but I do not Publish last names from CL ads)
____________________________________________________________
6) babysitter needed for weekends (Chicago)
need a sitter for Friday / Saturday nights for a 6 year old. must be able to stay late this is not a regularly scheduled gig, days will vary between Fri/Sat. its easy money since he pretty much takes care of himself. i do tip well if you stay later. reply with some info on yourself and contact info. Good luck!.
Original URL: http://chicago.craigslist.org/sox/dmg/1433360371.html
____________________________________________________________
7) FREE! childcare ages 1-3 (DC)
Free! Yes, free childcare available in NE DC for ages 1-3 years old. I am a former teacher, now stay at home mom and recent graduate student. I enjoy teaching children in English and Spanish, going on walks to the park and library which are in walking distance of my home. I also use early language development programs that assist children with learning to read.
YOU: Provide meals and snacks for your child and any transportation cost for trips.
I: Provide the care.
Very reliable
Flexible hours with occasional evening and weekends available
Smoke Free Environment
Pet Free Environment
References available
Sound to good to be true? For more information CONTACT ME TODAY!!
Original URL: http://washingtondc.craigslist.org/doc/kid/1430901152.html____________________________________________________________* I really admired this Mom:
8) Bring a toy and I'll watch your child (Kansas City)
I am a full time college student with a 2 year old child. Christmas is coming up and I want my child to have a good Christmas. I dont want money. Get a 10 dollar toy or outfit from Family Dollar, General Dollar. I was looking for a part time job but I am focused on my grades. I have a 96% right now and want to keep it that way. Going to College in the Medical Field. Never thought I be so broke going to college. The money I do have goes to childcare when I am in school. I am busy with school Mon-Fri 7-1. Anytime after school I am free. I just want my son to have a good Christmas yet to know that I am working for it. Free anytime on the weekends. Bring a 10 dollar toy will watch em for 4 hrs. Anymore just get a 20 toy and I ll watch your child longer. My son has his own room. There is a playroom that I am going to start working on. And an extra furnished room. I keep the house clean. Have a clean record. Plus my son would love to have a playmate. E mail me if interested.
Original URL: http://kansascity.craigslist.org/kid/1433659696.html____________________________________________________________
9) Need Childcare AsAp (Norfolk)
Hi my name is lakinnaI'm looking for childcare for my 2 daughters ages 2 and 6 months every other weekend with alternating mondays from 11-8 30 ish seeing as my husband will be picking up n dropping the kids off it would have to be in your home and I need this care to start tomorrow plz email me your rates and info about yourself as soon as possible thank you
Original URL: http://norfolk.craigslist.org/kid/1434419666.html____________________________________________________________
10) Babysitter needed today (Sacramento)
I need to find a sitter to watch my son today for a few hours. Pay will be $30. We live in Lincoln Crossing and would just like to get out and watch a movie for a few hours. Our son is 9 years old and a very good boy. We ask that you have your own transportation and that you have positive experience working with children. This really should not be a difficult job. If all goes well, we would like to find someone that we can use in the future as well. Please respond if interested with some information about yourself. Thanks so much! Margaret
Original URL: http://sacramento.craigslist.org/kid/1425622137.html____________________________________________________________
11) Reliable daycare were a kid is able to be a kid!!!! (Milwaukee)
Hello Parents,
I have always love being with kids. Was a teenager babysitter and nanny. I take care of kids because it is what I love to do. I LOVE MY JOB. I'm a mother of a 25 yrs son and love all the kids I sit as if were one of my own. I work 10-12 hr a day with kids and when they go home I have to clean and get ready for the next's day. There has been a lot of talk about Childcare cost, I don't do it for the money. I don't know what all care giver are in it for but I am doing it for the kids. I want to be a good, loving,care person in kids life. I do it for the "I love you Deedy", hugs and kiss. All the kids in my care knows I love them and care about them very Much.
I have openings in my Waukesha home daycare. I'm located off School Dr and Oakdale Dr (XX) blocks form The shoppes at Fox River and Prairie Elementary School. Ages NB and up. First opening in years.Two of my kids are off to school, Both of them started here as newborns. I have years of experience in childcare. I have excellent references waiting to take your call. Most of my little ones start when newborn and stay until they go off to school. I provide healthy meals and snacks. We do a lot of activities and I believe a kid should be able to be a kid. I have a large playroom and great backyard. Thanks for reading my ad and I look forward to hearing from you and your little ones. Deedy
Here are a few questions parents have asked.
Deedy's Daycare I claim all my income and you can use pre-tax benefits here.
Cottonwood Dr.
Waukesha, WI 53189
Do you smoke? No Never have(no one has ever smoke in my home)
Pets ?Yes love animals have a dog and cats
Do you drink alcohol? No
What ages do you prefer? All ages
What are your weaknesses ??Kids and animals I Don't like to Discipline, I use time outs, lost of snack ,take toys away. /limitations? ?? Don't no, Like to try
What are your strengths? Patience
What do you like to do your free time? Sewing, my garden and being with my husband is one of my favorite things to do, we are doing some home improvements right how in our free time.
How assertive are you? Only if need be.
Do you feel you are good at communication? You can ask and my kids parents I think they will say I communicate very well.
I have had a background check done on www.sittercity.com or www.care.com check it out.
Few photos , Sorry I will not put photos of my lil ones online.
Original URL: http://milwaukee.craigslist.org/kid/1430971406.html
* Response to Ad from CL reader:12) RE: Reliable daycare were a kid can be a kid
I'm just saying to everyone out there who posts on here. If you want business and people to send their children to your daycare facility, perhaps you might want to learn how to spell first OR proof read your ad.
PLEASE tell me parents, would you really allow your child to spend a day with someone who doesn't even care enough to at least appear educated?
And we wonder why our youth fails. Some of the most important education is early chilhood.
Were=We were going to go to the park but it rained.
Where=Where did I leave my keys?
Original URL: http://milwaukee.craigslist.org/kid/1432062097.html____________________________________________________________
13) Sitter needed for 2 kids tonight (Houston)
Im in need of a babysitter last minute. I have a 1 and 2 year old who will need to be looked at from 5 to 10. Those are round about hours. They both go to sleep at 8 so the rest of the time would be relaxing. We do have an inside dog. I can afford $40 for the night. If you think you can help me then feel free to email me.
Original URL: http://houston.craigslist.org/dmg/1425340085.html____________________________________________________________
14) REALLY need a day time baby sitter (Florida)
I am not happy about looking for someone on CraigslistI am willing to pay $7-$8 an hour depending on experience and how I feel about you
No children of your own that you will have to bring. My husband will not want other kids tearing up the house
so if you are NOT the right person for the job and you know it, dont waste either of our time please!
If you do, YOUR life if on the line!
I know I sound like a total FREAK here but I LOVE my kids and I dont want anything to happen to them!
Original URL: None Available, Post was Removed
* Response to Ad from CL readers:15) RE: REALLY need a day time baby sitter (Florida)
"I am not happy about looking for someone on Craigslist." Okay, so then why are you looking for someone on Craigslist?!?!
"I am willing to pay $7-$8 an hour depending on experience and how I feel about you." 7 bucks for 2 small kids for 2 hours but we have to meet you first unpaid? so drive to your house to meet? then home? then to your house to babysit? then home again? plus watch your kids. for 14 bucks?!? thats gas ALONE!!
"*No children of your own that you will have to bring. My husband will not want other kids tearing up the house." Because other kids will tear up the house??? OKAYYYYYYYYYYY. I don't know what kind of kids you have, but mine would never tear up a house, not even their own.. hah.
"so if you are NOT the right person for the job and you know it, dont waste either of our time please!" DONT WASTE OUR TIME POSTING POST LIKE THIS. RUDE. No wonder all your sitters cancelled on you!!!
"If you do, YOUR life if on the line! " YOURE CRAZY!!!!!!!!
"I know I sound like a total FREAK here" YES YOU DO !!!!!!!
"but I LOVE my kids and I dont want anything to happen to them!" because being a jerk on Craigslist is going to make any decent person want to work with you....uh nooo. Maybe if start being NICE you;d have MORE luck in people wanting to babysit for you!!!
So stop acting liek you are high and mighty and treat people with respect. You act like sitters on Craigslist are evil and out to get you. Get over yourself. I bet you even attend church on Sunday and call yourself a Christian, huh??? Because Jesus would act the way youre acting? NOPE.
When you show kindness to people, they will show it back. When you want help but freak out before you even hire anyone... then who would really want to work for A SHARK. unless they are a timid tuna who is scared of you. I bet you have no friends. No life. Please DElete your ad!!!!!!!!!!
Original URL: http://pensacola.craigslist.org/kid/1430949655.html
16) RE: REALLY need a day time baby sitter (Florida)
I can understand and admire your concern and care for your children, but how dare you author a posting that tells someone "their life is on the line" for anything. While I have zero tolerance for ANYONE who would harm a child in ANY way, it is not wise for you to put such a comment on a public site. I am no expert on the law, but I am sure if they wanted, someone could have you in a heap of trouble for making that type of comment. I, for one, would not trust anyone other than my direct family to watch any of my children, and I certainly wouldn't put such a threatening remark in a post if I were so desperate for child care. You should rethink your wording hun - it's not wise.
I know this will be flagged. This isn't the place for my posting. However, there are some things said that are too difficult to ignore.
Original URL: http://pensacola.craigslist.org/kid/1430727578.html___________________________________________________________
17) Nanny Pay (Milwaukee)
It is driving me crazy to see so many posts for nanny positions by parents who think that nannies make so little! $4/hr for two toddlers?? That is not a NANNY that is a babysitter. You will not find any qualified nanny who will work for less than $10 per hour. That is the going rate today. For experienced nannies, the rate is anywhere from $10-$18 per hour! Please stop posting these ridiculous ads! $4 per hour is what I made on a Saturday night babysitting when I was 12 years old! If you are willing to pay so little for your nanny, then you will find someone who is inexperienced. Please get with it and offer a decent rate for your nanny positions.
Original URL: http://milwaukee.craigslist.org/kid/1425723149.html
___________________________________________________________
18) Babysitter needed for Friday October 23rd (Chicago)
Hello. I realize that this is last minute, but I'm looking for a baby sitter for tommrow night, friday October 23rd. I have a well behaved 3 year old boy. He's completely potty trained and good with all types of animals.
I'd ideally like to have him at your home this time. You would need to have prior experience with taking care of children at this age. CPR and First Aid experience is a plus. You'd also need to live in a smoke free home. Keep in mind that we have cats so if even being around a cat person causes problems, this won't be for you. Responsible teenagers would be considered, but regardless of age, references requested. I don't have a ton of money to spend, so if you are looking at getting over $10 an hour, please don't reply.
If available and interested, please email me with more information about you, how much you would charge, etc. Keep in mind that I live in Willowbrook and I'd prefer NOT to travel too far from home. Thanks in advance!
Original URL: http://chicago.craigslist.org/wcl/dmg/1433358321.html___________________________________________________________
.... HOW MUCH?!19) Live in Nanny Needed (Los Angeles)
Our Nanny is leaving and I am in immediate need for a replacement. I am a single Dad with a 13 year old son who's mother is alive (DA) but I have full custody. My wife (of many years) lives 4 blocks away and she is NOT the mother of my boy therefore she has nothing to due with raising him. I travel often for 1 to 3week periods, as I am a Director in the Adult Film Industry. I will provide a room with separate entry in our 3 bedroom apartment. You share a full size bathroom with the boy (and his friends on the weekend). I require driving and picking up from school, not daily but often on a moments notice, sports car pooling, preparing meals for the boy (i.e. breakfast on weekends, snacks after school and evening). I have a maid come weekly, however you are required to maintain daily dishes, garbage, pick up after teen, and due your own laundry, (paid on premises) including the bathroom towels. Weekends are spent with Wife so you need be available. I am home often writing during the day. I will supply transportation and you must have a good driving record. You pay for your own food, gas, unless I am out of town then I cover. Basically I am offering you a room with large TV, closet, and Futon Bed and use of a 1995 SUV in exchange for childcare. Our former Nanny worked as the boy is in school during the day and I am home most every evening except weekends. Please send me your email, a note or resume about yourself, a picture may move things along, and please make sure you have the strength, discipline, and time to nurture my son who is very tall and big for his age.
Original URL: http://losangeles.craigslist.org/wst/kid/1426903764.html
___________________________________________________________
20) Need PT childcare ASAP (Unknown)
I have a 2 month old daughter that I need childcare for. I'm a Legal Assistant going back to work part-time. I will need someone Mondays, Wednesdays and sometimes Fridays from 7:30-3:30 (possibly 3:00). My schedule may require me to work Tuesdays or Thursdays last minute, so I need someone that can come with a days notice. This week I just need someone Wednesday, but the following weeks will be consistent. I would like someone CPR certified with substantial prior experience with kids and infants. She sleeps pretty much all day but there is an hour or two a day that she wakes up (besides regular eating times) that she likes to sit up and look around and be talked to. She's a great baby and cries very rarely, pretty much only when she's hungry or she has gas. I'm paranoid about her getting sick so I do not want someone that has another job that requires them to be around a lot of people. I would prefer someone with their flu shot or willing to get one so nothing gets passed on to her. Like I said, I'm paranoid, but I have a reason to be. This flu season is already crazy! Please e-mail me with your resume/qualifications. We are looking to pay around $20-$30/day. References are required; please no family references, work only. People with no CPR or childcare experience will not be considered. Thanks!
Original URL: None Given
* Response to Ad from CL readers:21) RE: Need PT childcare ASAP
So many demands for such little pay. Good luck finding even a SAHM! By the way, my 16 yr driving cousin in HS makes $10/hr for 1 child and doesn't even do anything as the baby is asleep the WHOLE night. Nannies are paid $12-20/hr for 1 child as they have the exp and edu plus older than 18. For $3.75 you will get a lady that speaks little to no English, flu shot what a joke. I haven't gotten one and won't. You want a slave, can't work another job due to germs, um hello you can't shelter your baby forever. I agree with everyone else and to add on top I would not be willing to get the flu shot just because your afraid of your baby getting sick. I have never gotten the flu shot in my life, neither have my children, and we have never gotten the flu. I bet your not gonna pay for it, you probably wont pay for someone to be out sick from it either. Most people I know personally get sick from the shot. I charge $15 an hour for an infant. What your offering is not even minimum wage. Your gonna get maybe a high school student. I have more than plenty of experience of what your looking for and would never be your provider. My last provider was paid $150 a week to watch my daughter who was 13 months for 3 days a week 4 hours a day. Plus she was able to bring her own children so she didnt have to worry about paying childcare for them.
Original URL: None Given
22) RE: Need PT childcare ASAP
I'm sorry but I just find it absolutely mind blowing that parents want someone who is highly qualified including CPR training and years of childcare experience (not to mention willing to follow specific rules, like getting a flu shot and being available with only a days notice, etc.) but yet are not willing to pay that person what they are worth. I'm sorry but I would NEVER take on the responsibility not to mention liability of caring for another persons child/ren for only $3.75 an hour. That is crazy. Times are tough but if you can't afford a nanny then find a babysitter or a daycare but don't expect the world of them and do not expect them to be available last minute. We all need to make a living.
Original URL: None Given___________________________________________________________
23) Temporary Nanny Needed Possibly Longer (New York)
Nanny needed for four solid weeks from October 19 thru November 15th. Two boys ages 2years and 9 months. I will be on a business trip and we will be away in a hotel for the duration. You will be needed for seven days during these four weeks, once the business trip is over your schedule will only be 5 days. If you make the cut your position could possibly be extended to full-time. You must drive, have references (including....yourself in pictures with the children you have cared for). The initial four weeks will be paid at $350 per week. This position is located in Westchester county. Must be outgoing and english speaking. Please e-mail resume or call for immediate interview. Cancellations will not be rescheduled! 914-943-****.
Original URL: http://newyork.craigslist.org/wch/kid/1425032511.html
___________________________________________________________
24) I'm looking for a Nanny asap (Norfolk)
Hi I'm Chelsea my son is parker and he is 15 months I need someone to watch him from 8-4 on MWF for 100 bucks But price is neg. I do want reasonable rates though Most of the time I will not need you until 4 but just to stay safe I'd like you to be available until 4 it's an easy way to boost income in your house! If you have a child that you would like to bring that's perfectly fine! My son needs a friend anyway! If your interested call 773**** or email I'd like to know if you have refrences and are willing to get a background check I could use somebody as early as this Monday so if you already have an updated background check that would be awesome! I hope to hear from you soon!
Original URL: http://norfolk.craigslist.org/kid/1432541748.html
___________________________________________________________
25) I need a Nanny (Milwaukee)
Hello, I am looking for someone that is trustworthy, realiable and kind that loves to take care of children. I am looking for someone who will come to my house and care for my two children ages 21months and 10months. I am looking for someone mature/mother/grandma type, someone that is looking for a permanent job and that can start in short notice. I am looking to pay $180.00 a week. Below are some of the light cleaning responsible I would like to see get done if the kids allow it, since my first priority are the children. If you think you meet the responsibilites mention and are okay with the pay please email me your phone number and tell me a little bit about your self.
Hours of work:
Mondays: 3pm-6:30pm (sometimes/on call)
Tuesday-Friday: 8am-3:00pm
Light Cleaning Responsibilites:
1. Help me finish giving the children breakfast and clean the kitchen after breakfast.
2. Put the dog out when he asks for out (just open the door for him he will come back on his own) very friendly dog (chocolate lab)
3. Once or twice a week only do a load of the kids laudry and put away in each kids closet.
4. Make lunch for you and kids and save some lunch for my husband so when he wakes up around 2ish he has a meal ready and clean the kitchen when done making/eating lunch.
5. Once or twice a week run the vacuum in the living room and dust the entertainment center.
Original URL: http://milwaukee.craigslist.org/kid/1431546336.html
* Response to Ad from CL reader:26) RE: I need a Nanny
Are people out there delirious to think that someone who is qualified, loving, educated, and has a clean background is going to watch 2 toddlers IN their house for almost full time PLUS cleaning for 180$ a week? That comes to $5.80 an hour.... less than someone could make working at McDonalds. You are looking to hire a babysitter... maybe a drop out high schooler at best for that pay..... NOT a nanny! Good luck......
Original URL: http://milwaukee.craigslist.org/kid/1432115199.html
___________________________________________________________
27) babysitter needed (Michigan)
My husband and I are graduate students and we need a babysitter to watch our 4month old baby downstairs while we work upstairs in our two-level apartment. We can only afford to pay $3 per hour or $25 a day from 9am to 5pm, but you are free to do homework or anything else while she sleeps.
Original URL: http://annarbor.craigslist.org/dmg/1434741293.html
___________________________________________________________
28) Occasional Childcare needed (Michigan)
Looking for an occasional sitter for our 4 young children. We are looking for someone to start on Oct 30th. We are a single income family so we are not going to be able to pay a lot. Most of the time the children will be in bed already so not much work necessary. We are not looking for someone to clean the house,do the laundry or feed the dogs. You must be a strong personality and have some experience with multiple children and infants. We have two boys age 3 and 4 and two girls age 2 and 3months. We also have two dogs both are Golden Retrievers. We are not asking for you to do anything with them. If you are interested please contact us. I would like to meet you next week and have you meet the kids and hang out for a bit before the 30th. Again if your planning to charge us 6-15.00hr please do not respond. We can not afford that and I refuse to pay that for someone to sit and eat my food and watch my tv while my kids sleep!!! most of the time we pay 20.00 per sitting.The hours for the 30th would be 9pm until around 1pm. Thank you.
Original URL: http://annarbor.craigslist.org/kid/1429855539.html___________________________________________________________
29) Live in Nanny needed (Minneapolis)
THIS IS A NON-PAID POSITION.
Hello. I'm looking for a new live-in nanny/gramma/grammpa. This is a long term commitment of at least a year or more. I have two children ages 2 & 5. You will receive FREE room & board in exchange for watching the kids while I'm at work. Some evenings and weekends will be needed. NO COUCH POTATOES ALLOWED!!! I need someone who will play with the kids, feed them breakfast and lunch, take them to the park, walks, zoo, science musuem, teach them letter and numbers, play games, sing to them, etc. TV for about an hour (give or take) is fine since I know a movie takes longer then an hour. Light house keeping, preparing meals, and some laundry will be helpful if at all possible.
My current live-in nanny needs/has decided to pursue other options for personal reasons. Single parents are welcome to apply since playmates are always nice to have around. I have no problem trading off childcare and splitting the bills three ways since my boyfriend and his two boys live here too. (This is for my kids only).
Serious inquiries ONLY! No drugs or drunks allowed. Drinking is fine on your time as long as your muture enough to handle it and not hung over or still drunk while watching my kids. No smoking in the house at any time, outside only. Prefer non-smoker since I'm trying to quit myself, but I'm not picky at this time. Maybe we can quit together. On bus line. My cell rings 24/7 so don't be afraid to call. Great for someone who wants to go to school or work at night. Kristi 612.432.****
Original URL: http://minneapolis.craigslist.org/hnp/kid/1424203836.html___________________________________________________________
30) I'm looking for children care for Halloween night! (Norfolk)
I'm looking for a sitter to come to my house Halloween night. I am going out with some friends after I take my kids out,so I would need you at my house around 7pm and I will be home around 12am. I pay $5.00 an hour. So it would be 25.00!! I have 3 children 4,3 and 3 months. They go to bed about 9pm. They are all very well behaved. I wouldn't post like this but my normal sitter is going to be out of town and I don't really know any other ones. Email me if your interested!
Original URL: http://norfolk.craigslist.org/kid/1434156223.html___________________________________________________________
31) Wanted: Live-in Nanny (Unknown)
Hello,
We need a live-in nanny to help with our 2 small boys (3.5 and 1.5 year old). You'll be responsible for taking care of the kids, cooking and cleaning. Long hours.
6 days a week: Sunday to Friday (we may be able to do Monday - Saturday)
Salary $250 per week
Call: 713-589-****
Original URL: None Given___________________________________________________________
32) I need a Nanny ASAP (Phoenix)
NANNY NEEDED ASAP FOR MY KIDS IN A LARGE HOME $5-$10 PER HOUR
WE HAVE A MUSIC PRODUCTION COMPANY, WE ARE VERY PROFESSIONAL AND WE HAVE SHOWS SCHEDULED NIGHTS AND NEED A LITTLE MORE STRUCTURE AT HOME WHEN WE ARE AWAY. THE KIDS ARE AWESOME AND VERY MANNERABLE THEY ARE USUALLY IN BED BY 8:30 PM OR AT A TIME THAT BEST SUITES OUR NANNY,
WE HAVE 5 CHILDREN THAT WILL CARE FOR BY THE NANNY...AND THE TEENS CAN CARE FOR THEMSELVES THEY ARE ALSO VERY WELL BEHAVED AND WILL BE VERY HELPFUL IN YOUR GETTING TO KNOW THE KIDS...
I AM SO BUSY AND NEED HELP WITH MY LITTLE ONES!
QUALIFICATIONS:
CPR & FIRST AID CERTIFIED
CLEARENCE CARD
MATURE
BACKGROUND CHECK
3 REFERENCES
AVAILABLE ASAP
MUST BA ABLE TO WORK SOME NIGHTS & WEEKENDS 7PM - 3AM
TASK CARING FOR THE KIDS
ASSIST WITH BEDTIME
VERY LIGHT HOUSEKEEPING
AND MUST BE COMFORTABLE AROUND PETS
I NEED A CARING, LOVING WELL QUALIFIED NANNY ASAP TO CARE FOR MY CHILDREN
AGES OF THE KIDS ARE 1-8 YRS. OLD AND THERE ARE 3 TEENS HERE ALSO BUT THEY CARE FOR THEMSELVES AND ARE ALSO VERY HELPFUL! THE KIDS ARE
MANNERABLE...
480-709-**** ASK FOR FOR SHANNON CALL ANYTIME!!!!
CALL NOW FOR AN IMMEDIATE INTERVIEW!
Original URL: http://phoenix.craigslist.org/evl/kid/1428884058.html
___________________________________________________________
33) Live In Nanny Needed ASAP (Oregon)
I am a stay at home mom who has developed a long term illness and can no longer carry out my duties. We need a live in nanny for our 3 children, 1 of whom is at school all day. You will be working in exchange for room and board and $300 a month. This includes a partially furnished room, all utilities and free use of internet. Your work hours will be as follows:
Monday- Every other Monday and evening off. On weeks will be 7 am to 5 pm
Tuesday- 7 am to 5pm
Wednesday- 7 am to 5pm
Thursday- 7am to 5 pm and 5 pm to 8 or 9 pm
Friday- 7 am to 5 pm
Sat and Sun- need you to work regular day hours one weekend a month with all other weekends off
We need someone to come in and basically take over my duties of caring for the children, light house work, etc. We are a Christian family and it would be ideal to have someone with the same beliefs, though not required. This situation would be ideal for a single young woman. A single parent with an infant or toddler may be considered provided you can show proof of another source of income to provide for your needs. Please do not respond if you have a live in boyfriend or are seeking this a means to have a place to live. You must be able to pass background checks and have no sex offender history. You must also genuinely desire to care for our children and become part of our family.
Please send me an e-mail with some info about yourself and why you are interested in this position. We need to fill this immediately
Original URL: http://portland.craigslist.org/clk/kid/1423175475.html___________________________________________________________
34) CHEAP*VERY CHEAP*NOT EXPENSIVE AT ALL*AFFORDABLE*(REALLY) (Chicago)
Hello,
I am single mom of a toddler looking for any kind of work. Currently I am a waitress on weekend nights as a on call position for catering business, but not sure if will get any work this weekend, also taking care of another toddler from my home, but these hours are completely flexible, because these girl's mom knows that I am looking for work so at any moment my availability may change.
So I could babysit your child at my house, I have lots of toys here, but mind you it is basement apartment. Currently I am doing it for $3/hr, because my plan was to have 2 or 3 children like that for a full time, so in the end it would be sufficient amount to cover my living expenses. But now I know that with my apartment being basement apartment it is not that easy to gather 3 full time child care situations, so now I have no choice but to ask for $25 a day minimum. Will send pictures of my apartment upon request.
Could do it at your house as well, in that case - $5/hr and only if I can bring my child with me. And because a few people have actually asked me if I can come to babysit for the same $3/hr, I feel the need to explain that the reason why I ask for only $3 when it is from my home, is because like I said earlier that by doing it from my home I could get couple more kids at the same time so in the end it would not be $3/hr total. While when working from your house of course it would be my only income during these hours.
Also in the past I have done a lot of residential cleaning, have years and years of experience, used in fact to have my own cleaning agency, but at this time I am in such a situation that just can't invest any time and any money into developing business again. My prices would start from $35 per place. Of course, as bigger a house or apartment, as more work it would take, so as more would I have to charge, but I think that my starting price gives you an idea how low my prices would be. Still much more than I ask for babysitting, that's right, that is because for that kind of work I would have to leave my child for someone else to babysit and to pay that person for it.
And, like I said before, I am also looking for any other possible kind of work. So will have to tell a little bit about myself now. High school diploma, non-smoker, legally authorized to work in the US (and have lived here for 12 years, and eligible for actual citizenship already since 7 years ago), experienced as a real estate agent (but would not go for any commission based work at this time), as a waitress, as a owner/manager of residential cleaning agency, as a housekeeper, as a food delivery driver (but at this time I have no driver license due to only one ticket that is unpaid for very long time and that I have no money to pay at this time, but never had anything else wrong in my past besides this unpaid ticket, and will be more than happy to take background check as long as you would not ask me to pay for it upfront from my pocket, because i simply have no money), besides English I also speak, read and wright Polish, Russian and Lithuanian, very good typing skills, computer literacy is up to the level that have had created few websites on my own for my businesses, was good in marketing but unfortunately not a closer so of course don't have much interest in any sales positions.
Interested in almost any possible kind of work, just have to ask for different pay amounts depending on what kind of work would it be. (My ultimate position would actually be official position in some company that pay by check and that has regular day time hours, but would actually prefer something even totally opposite if it would be immediate cash that means starting tomorrow).
NOT interested in any business opportunities, any commission based work, any volunteer work that is based on future benefits.
Thank you so much for reading
Donna 224-563-****
Original URL: http://chicago.craigslist.org/nwc/kid/1425788722.html___________________________________________________________Special thanks to the following Readers for their help:hijabiniqaabi, NewYorkCityNanny, mbargielski, northjerseynanny, upny nanny, cinder38, MissDee, pansypot17, "B", JLow2474 and IndianRani87... all of you did a great job this week! Remember, CL-WTF will be Posted every Saturday. Please send next weeks Ads HERE or use MEEBO.
----> TO LEAVE A COMMENT: PLEASE CLICK RIGHT HERE!!! <----