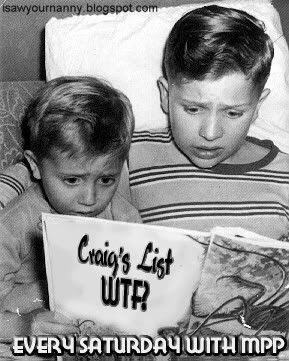 Saturday, March 28, 2009


.... What?!

1) Live-in domestic (PBC)
We are looking for a special woman for a live-in position. Taking care in and around the house as well as the lawn and pets. We would like to find an accomodating woman. Compensation include a salary plus private apt. including all utilities.
Original URL: http://miami.craigslist.org/pbc/dmg/1089643723.html
* The Nanny that responded to the above Ad received this:From:
wellingtonbill1961@****
The position is a 40 – 45 hour a week job. It involves taking care of the property including a little bit of housework such as doing some laundry sometimes, cleaning the bathrooms once a week, and maybe doing some light cleaning. It also includes a lot of yard work. Mowing the grass, edging, weed eating, pulling weeds, fertilizing, tending the garden, and such. The position also includes caring for our 2 horses, which includes cleaning their stalls and feeding them. I would like to find a special woman who can do that, and also be open to my sexual advances. I am a very nice, well mannered, and attractive man. In exchange, we offer a clean, beautiful, and private detached apartment, plus a salary, vacation, 401k, and insurance. The Apartment comes with all paid utilities plus high speed Internet and Direct TV. The apartment is located on the premises. I can make a vehicle available for the right person. I am being forthright in my job description. You will find that I am a very respectful person, and would ask the same in return. If this sounds like a position that you would be interested in, please send me a picture of yourself and a phone number. All applications are taken in confidence
_______________________________________________
2) Hey! I can babysit your kids (ATX)
I am a 20 year old tree hugging, child loving care provider. Looking for a 4:20 friendly family of hippies like myself. Very into organic f00dz and animals of all walks. Holla back
(see attached CL photo)Original URL: http://austin.craigslist.org/kid/1090780327.html

___________________________________________________________
3) Looking for a Nanny (Poulsbo)
I am looking to find a permanent nanny for my two children (5 & 7 yrs). I require a free, 4-hr trial run session to see how things will work out. I cannot afford to pay every applicant until I find the right fit. If after the trial run, you like my children, and they like you, and everything ran smoothly, you could potentially be our new nanny! After you are hired on, I would at that time be able to pay you $5 hr. I know that's not much, but times are tough. Once I am making more, I will probably be able to pay more. I don't mind if you have your own children, the more the merrier!
Original URL: http://seattle.craigslist.org/kit/kid/1090854201.html
___________________________________________________________
4) Plus size Nanny with a heart of gold (Newport Beach)
I posted my size in the title because people often judge according to outward appearance and I just want it known that while I may be plus sized I can still do all that you need done and more! You won't have to worry about your husband around me unless he likes large women but I would never betray you in that sense or myself! I am not a home wrecker. The main thing is your children will adore me. I hope to hear from you.
Original URL: http://orangecounty.craigslist.org/kid/1085773724.html
___________________________________________________________
5) Mother's Helper/Personal Assistant/Housekeeper (Rainier Beach)
My "to do" list is too long and the day is too short. I have two small children, a too small house, and much too much stuff. I have been trying to organize and pack for a move to an even smaller house, in the midst of the renovation of that tiny house, while doing the legwork and the groundwork for demolishing our current house, all while running around after my busy, messy little boys. Hmm...what's that all add up to? DISASTER! I surrender - it's time to call in some help. Ideally, I would like to hire someone willing and able to do whatever is needed each visit - childcare, organizing, purging, packing, helping me lift and haul larger items, day-to- day housecleaning including dishes and laundry, more in-depth cleaning as we uncover several years' worth of dust bunnies and abandoned sippy cups... and other assorted, targeted projects as they arise. Not all simultaneously, of course. In other words, we need someone who has made running a busy household look easy, who can wrestle order from chaos, and is prepared for some intense work early on, and perhaps a lighter workload as things improve and settle down in our lives. You must be able to work independently as well as right alongside me, be resourceful, caring and not afraid of a mess, because we have a big one on our hands right now! If you are understanding, with a sense of humor, that would be great, and certainly will make your time around us easier. My sons are 4 years old and 20 months old and are amazingly wonderful little balls of energy. Our house is non-smoking and pet-free. I will work to be fair and flexible, respectful and reliable in all our dealings. If you can promise the same, and can roll up your sleeves and turn this trash heap back into a home for us, and then help us move it all, please respond with a statement about yourself and your skills and experience, as well as your earning expectations. Thanks very much.
Original URL: http://seattle.craigslist.org/see/dmg/1088832545.html
___________________________________________________________
6) "Seeking Morning BBsitter (tomorrow) around 6: (Aliso Viejo)
Greetings: I am a single mom seeking a babysitter around 6:30 - 8-8:15am in the tomorrow morning if possible. I have 3 boys, one of which is a high school senior who has to leave home at 6:30 to go school because he has an early class. I am looking for a mature, responsible person to come to my apartment in Aliso Viejo and get my 4 & 5 year-old dressed and take them to daycare in Lake Forest, close to the 5 Freeway. Please email me and let me know what experience you ave working with children. My 4 year-old has a speech delay but is a very sweet kid and understands everything you say. You must be patient and love children as well. You need to have a valid DL/Car Insurance and CPR certified wouldn't be a bad idea although they don't eat until they go to school. When responding, keep in mind that I would really like to meet you today for a few minute. Thanks
Original URL: http://orangecounty.craigslist.org/kid/1086686712.html
___________________________________________________________
7) Nanny w/ car needed (Flushing)
Must live near fresh meadows flushing ect. Only contact if you have a car ( will need use it) Pay is 10 hr non- negotiable few hrs day around 2p and 5p hr will increase Paid cash, can be 2nd 3rd job Only contact me if serious and ready to work, I repeat ready to start same day
Original URL: http://newyork.craigslist.org/que/dmg/1085508950.html
___________________________________________________________
8) Great experience for first time babysitters! (My house - Dacono CO)
My name is Corrine and I have a 2 1/2 year old son, Noah. I am looking for a babysitter for evenings-only 2 times/month-when I go out. The times would be from 5-8pm. You would be required to give him dinner, bath and get ready for bed. I would need you to come to my house (this is NOT negotiable as I am only asking for a few hours). I am asking that you are a: non smoker, have experience with children, have first aid ceritification and can provide your own transportation. I wil pay $10/hour. Minimum age:12 years old please. Thanks for your time!
Original URL: http://denver.craigslist.org/dmg/1085700841.html
___________________________________________________________
9) I need childcare this fri sat and sun (Lacey)
Both my sitters are out of town this weekend. I need chilcare for my 6 year old son this fri 3:30 to 11pm sat 8:30 to 5:30pm and sun. 11:30 to 6pm. I will only be able to offer 25 dollars full day and 15 dollars half day. Thanks
Original URL: http://seattle.craigslist.org/oly/kid/1091895699.html
___________________________________________________________
10) Wanted for childcare (I 25 and Hampden ave)
hi i am need of several infant and toddler itemes. i do not have much money to spend on these itemes as i have just started. i need a pack n play, highchair, infant toys, toddler toys, a childs tabel for crafts and meals , a double stroller, and a large diper bag. i can only afford to get a little at a time as i can only afford to spend $40 a week for now until buisnes really gets going. if you have or know some one has any of these itemes please email me at amandawelch38@**** with pictures. i also have one opening for a child bettween the ages of new born - one year. and one opening for a child between the ages of three and five. If you would like more info on child care opening please let me know and i will provide yo with more info.
Original URL: http://denver.craigslist.org/kid/1093056200.html
___________________________________________________________
11) Help? (Allison Park)
My son forgot to take his ADD pill- come take him till he slows down.
Original URL: http://pittsburgh.craigslist.org/kid/1086713083.html
___________________________________________________________
12) BABYSITTER FOR WED (North Austin)
I need a babysitter for wednsday from 230 till about 930. my son is 17 months old and when you get here he will probably be sleeping when he gets up you need to change his diaper and let him outside to play. Other then that you just need to give him his dinner which i will make, and give him a bath and put in his pj's at his bedtime he will crawl into his bed and should stay there. I get off at work arond 9 so i should be home soon after. This could be a one time thing or maybe more. Please tell me about you and how much you will charge for that day. Thank you. Amanda
Original URL: http://austin.craigslist.org/kid/1089054620.html
___________________________________________________________
13) Fun, enthusiastic Nanny! (Spring/The Woodlands)
Hello! I will be moving to this area next week and am looking to provide nannying services for a wonderful family! I have lots of experience with children! I began babysitting at the age of 11 and began nannying part time at the age of 17. I have worked for two of the best nanny agencies in my hometown where I did both temporary/one time sitting jobs as well as longer term jobs. I have cared for newborns, twins, and special needs kids. I have worked both long shifts throughout the week as well as overnight feeding shifts for newborns. I was a summer session counselor at an amazing summer camp for five years, where I would be in charge (day and night) of anywhere from 6-13 girls at a time, ages 8-13. I spent a semester in college volunteering at a special needs school, with children from ages 3-9. Usually I assisted during the math class, reading time, and occupational therapy though I did occasionally assist all day. My current job is as a Site Co-Director for an incredible after school care program. We have between 40-60 students daily. I am in charge of selecting the daily/weekly activites and setting these up, as well as providing supervision/interacting with the children. I love working with all these fun kids every day, but we have to move so that is why I am looking here! I have current CPR and First Aid certifications. I have a clean driving record and a safe car that is well-maintained. I graduated from the University of Texas last spring with a BS in Communication Sciences and Disorders. I would love a position where your child(ren) and I could have a fun, enriching day every day! Things that past charges and I have enjoyed doing together include: - reading aloud - taking walks to the park - baking together - arts and crafts projects - going on outings (such as visiting the Children's Museum, eating lunch out and people watching, visiting the library/bookstore) - swimming (I was on a summer swim team for eight years and am a strong swimmer!) I am looking to be paid $11/hr for one or two children ($1/hr more for each additional child). I am looking to be paid on the books. If you are intersted, please e-mail me with any questions you may have. I would love to hear about your child(ren) and what you are looking for in a childcare provider! Thank you! Alli
Original URL: http://houston.craigslist.org/hss/1060191982.html
* ISYN reader recieved a shocking response to her above Ad:
I saw your add on craigslist and I am needing a sitter for tonight. If you are able to watch my 15 month old son tonight please call me at 281 617 **** Thank you in advance Kendra
_______________________________________________
.... How Much?!

14) Needed Childcare part time (Lemmon/off Military/Reno)
I need part time day care for 2 children ages 4 and 5 (girl and boy). Only need it 3 days a week. We have a great sitter now but when we moved to this area it has made it harder for us to continue having her (she's 14 and in south reno). We were so lucky to have her. ****We only paid 30 a week. Looking for about the same price range****. A teenager thats looking for experience and something to do is preferred, but stay at home mom is great. I can even TRADE. I don't work morning and wouldn't mind trading days or hours with a parent. Days would be Tuesday, Wednesday, and Saturdays. Time would be 3pm to 5:30pm We could use a Saturday person now for both kids. My son still goes to school in south Reno for the rest of the school year, and with my work schedule I can't pick him up and bring him back here. So two days it would be just my daughter or I can just continue with the sitter I have til summer. ****Please note the amount we are hoping to pay. Please get back to me soon. I will be needing someone to cover for my current sitter starting April 4th. Call cell 530-566-****
Original URL: http://reno.craigslist.org/kid/1089672301.html
___________________________________________________________
15) Single parent seeks live-in nanny (North Manhattan)
Single father of 2 girls ages 2 and 6 seeks live-in nanny to assist in providing loving and caring home for both: Duties include: Pickup and drop off to school via mass transit (during school months) Pickup and drop off to daycamp and daycare via mass transit (during summer months) Take to park and bookstore afterschool, Prepare meals Assist with homework and reading assignments, Bathe and dress, Assist with maintaining tidy and clean apartment, Wash cloths and dishes (Wash machine and dishwasher provided) Compensation: Own 8x10 Room, All Meals, Full use of entire apartment and amenities incl. Kitchen, computer, TV, telephone Free cell phone Nominal bi-weekly $ compensation * ( doe ) Use of automobile, Flex days off (mainly alternating weekends) Christmas bonus, Dental payment assistance, Legal Plan membership. Location: Uptown Manhattan (Riverside Drive & 150s) Subway: #1 Buses: M4, M5 and M11 Sites nearby: RiverBank Park, Grants Tomb and Riverside Church Living Space: 4BR apartment REQUIREMENTS FOR THIS POSITION: Must be open to background check and investigation: criminal and civil judgments (Submission of fingerprints and I.D. documents) At least 3 verifiable references, Mature and patient disposition, Fluent english, second language a + Drivers License a + CPR certified. Those with resumes will be have priority in the evaluation process: Forward resumes to : nannyseek@**** * PLEASE NOTE: PROFESSIONAL CAREER CERTIFIED NANNIES SHOULD TAKE NOTE IF APPLYING : "Nominal compensation " THIS POSITION COMPENSATES MORE BY WAY OF ROOM & BOARD IN LIEU OF WAGES
Original URL: http://newyork.craigslist.org/mnh/kid/1089863572.html
___________________________________________________________
16) Nanny needed in Fairfield (Fairfield)
I have to repost for my nanny position. I hired someone and unfortunitley they didn't show. All the other applications I had were thrown out. I am looking for someone to come to my home and watch my 1yr & 2yr old girls. Feed them Breakfast, snacks, and lunch. Put them down for naps. No house cleaning. Just take care of the girls. Monday through Friday 8:30am-5pm at the latest. This person needs to be comfortable with the fact that my husband comes home occasionally through out the day, between school bus routes. We are able to pay $300 a month to start with occasional Fridays off! We will increase once everyone is comfortable. Please contact via email aprilp@**** Thank you for taking the time to look!
Original URL: http://cincinnati.craigslist.org/lab/1088537333.html
___________________________________________________________
17) Nanny needed to be a part of our Family (Anaheim Hills)
We have a need for a nanny. Our girl is 3 weeks old and we are looking for someone who has experience with children in this area. Live-out (maybe Live-in). Below are the details: -pay will be $1300/mo. or $65/day -hours will be Mon-Fri 7a-5:30p ( somedays may be shorter) -extra pay of $10/hr will be provided for extra shifts/hours/days -we have a siberian husky who is friendly and is an indoor dog, our nanny must be comfortable around our safe and friendly pet -some very minor housework would be nice but not required. Care of our child comes first -we are looking for someone to stay longterm with us. Pay will increase as our household grows/house grows or duties grow. -we would consider a live-in situation if the candidate is a right fit. Our 3 bedroom house is small so if you were to live-in we would only have minimal room. -we live 75 meters from a bus stop -we are a very friendly family - the more devoted our nanny is to helping our family, the more she would be a part of our family. As for experience, again, someone with newborn firsthand experience is essential. I understand that there may be applicants with Early Childhood Education classes or other professional training but we feel that no amount of schooling can take the place of first hand experience. As for language, english does not need to be your primary languange but we do require some understanding of english so that you can communicate with us over the phone should an emergency arise. Required: A valid driver's license and a cleaning driving record. We will also be conducting background checks with your persmission. References Agencies need not inquire: we want every cent of pay to go towards our nanny and not a 3rd party. Thanks for your interest
Original URL: http://orangecounty.craigslist.org/kid/1087392402.html
___________________________________________________________
18) Full time live-in Nanny needed (Southwest Austin)
care for 4 children, ages: 16 mos, 3 yrs, 5yrs & 7yrs. approx 40 hrs per week, mon-fri. duties include: caring for children, cleaning & cooking. must speak some english. separate living quarters included.
Original URL: http://austin.craigslist.org/dmg/1083703058.html
___________________________________________________________
19) Need childcare at my home (Chesapeake)
hi, my name is Julie. i have a 3 year old daughter and a 9 year old daughter. i am looking for someone to come to my home between 8:30- 2 or 2:30 monday - friday to watch my 3 year old and when my 9 year old doesnt have school. i am willing to pay 80-90 dollars a week, but may be negotiable. my 3 year old is independent so it wouldnt be that hard. i need someone by april 1st and i would want you to come by a few times before then so we could get a feel for you. Thank you! and hope to hear from you. julie
Original URL: http://norfolk.craigslist.org/kid/1086790403.html
___________________________________________________________
20) room and board for energetic nanny (Brooklyn)
I am a young professionanal mother who is need of help with small child. Very down to earth, fun, friendly but have an extremely busy schedule and two wonderful full of life children. I am seeking a unique situation for a young girl or woman (18 and over) who is need of a place to live. Can have a child or be expecting. Will provide shelter with single room, food, toilitries and some basic needs in exchange for childcare services. I would like you to become a part of my family. Care for 1 child only Experience with toddler aged children. Older child can care for self. Please have references and be willing to have background check. Must be willing to be interviewed by family
Original URL: http://newyork.craigslist.org/brk/dmg/1085775609.html
___________________________________________________________
21) Babysitter Needed on April 4th (Hampton)
It is my 30th Birthday and we need a babysitter to show up at 7:15 and willing to stay until 2:30-3:00 in the morning as we will be in Norfolk for my birthday party. We have a 2 year old boy and a 6 year old girl, both kids will be in bed before you arrive and do not get up during the evening at all. It would be the easiest babysitting job you've ever had since you will mainly be just hanging out at the house watching TV, Movies or playing our Wii. We would like to meet you in person ahead of time - so contact us @ 757-850-**** and we can set up a meeting. We are willing to entertain an hourly or flat rate for the evening, but don't want to spend an unreasonable amount. Our normal babysitter charges $4 an hour but unfortunately can't make it on this particular night.
Original URL: http://norfolk.craigslist.org/kid/1086862039.html
___________________________________________________________
22) Reliable childcare needed ASAP (Spring Lake)
I am in need of a RELIABLE sitter in MY home ASAP for my two boys (6yrs. & 9mon.) Sun - Thurs. Must have own transportation and experience with infants/toddlers. Hours: Sun 3p-12a, M-Thurs 6p-3a. This is a full-time position and preferably a long- time position. No major cleaning/housework and no errands to run. Pays $125.00 a week. If seriously interested, please email me with your name/number and I will get back with you. You must come and meet my children and myself before you start. Thanks
Original URL: http://fayetteville.craigslist.org/kid/1083847487.html
___________________________________________________________
23) Babysitter needed for 2-month old boy (Starr Grass Dr./Madison)
My wife and I are looking for a qualified babysitter for our 2-month-old boy. Usually Monday - Thursday. 1:30pm to 6:00pm. Sometimes 2:30pm to 6:00pm. $15 - $25 per day depending on qualifications. May babysit at our residence or yours.
Original URL: http://madison.craigslist.org/dmg/1087199755.html
___________________________________________________________
24) BABYSITTER/NANNY AVAILABLE ASAP FOR JUST $5 AN HOUR (92630/OC)
VERY WELL EXPERIENCED PERSON WITH ALL AGES AND KINDS OF CHILDREN...I AM RELIABLE,FUN LOVING,FRIENDLY ALSO RESPONSIBLE PERSON.....I TRULY GUARANTEE THAT YOUR KIDS WILL BE IN A VERY GUD CARE.
Original URL: http://orangecounty.craigslist.org/kid/1087451065.html
___________________________________________________________
25) CHILDCARE FOR 2 GREAT KIDS (Justice,Chi Ridge,Hickory,Palos,Oak Lawn)
Here I am posting again since my old sitter cancelled so many times in just a 2 week period. If you are not reliable please do not respond! I need child care for 2 children. I work in Hickory Hills, and live in Palos Heights. I am looking for a very resonable rate seeing that I am a single parent. I am even willing to bring my children food to lower the rate. I GET PAID AROUND $9 AN HOUR, SO PLEASE don't tell me you charge $10-$15 and hour and think it is resonable. My son is very active and gets attached to everyone. My daughter is starting to walk and is such a joy. I need someone I can trust who is RELIABLE. If you cancel on me I dont have a backup and need to cancel work which means I cant pay my bills. I would like to interview starting Monday. Please send me a little about yourself and your exp. Also around where you are located (Main Streets) and phone number and I will give you a call to set up a meeting. I need someone to start APRIL 6, 2009 possibly a few days before.
Original URL: http://chicago.craigslist.org/sox/kid/1093827633.html
___________________________________________________________
26) Babysitter desperately needed (Tracyton WA)
I am in need of a FULL-TIME babysitter/nanny for my 6 year old daughter. I have been through countless irresponsible, unreliable people and have even lost a job because of my last babysitter. This is my LAST ATTEMPT. WHAT I NEED: Full-time babysitter/nanny to care for my daughter in your home or mine while I am at work, before school after school until I get home making sure she is fed, dressed, and gets to and from school. She needs to be put on the bus and picked up from the buss every day. She needs somebody to play, teach and nurture her while mommy is at work. Step Dad is unable to care for her. HOURS NEEDED: I am going to be working 12 hour shifts so I am going to need somebody that is available at least 14 hours a day. PAY: Pay will be on an weekly basis PLUS additional pay for occasional other duties. ALL applicants will be required to submit a copy of their picture ID and will be subjected to a Washington State background check. Good Job, Good Pay, GREAT KID! PLEASE APPLY NOW!!! Compensation: $400-$600 per week/DOQ
Original URL: http://seattle.craigslist.org/kit/dmg/1088681206.html
_______________________________________________
27) wanted: mon-thurs 12-8 sat 10-6 (Cumming-alpharetta)
I need to find a childcare provider for my two sons, ages 2 and 4, that will give my children the love and attention that i want them to get, but with a reasonable price. I am looking to pay about 75 a piece per week (150 a week for both) I live in cumming off exit 16, but i work down on exit 10. I would like for them to stay at your house, not mine, and want somebody who lives close to either one of those locations. Thank you in advance
Original URL: http://atlanta.craigslist.org/kid/1092220703.html

_______________________________________________
28) Nany needed asap! (Lexington 40511)
My husband and I are looking for someone to watch our son in our home full time. The hours will be from 8am until 4pm. Must have a clean background check, and a non-smoker with reliable transportation. Our baby is very loving and active, so we need someone who is willing to play and keep him entertained. We are looking to pay a weekly salary of $100.00-115.00. If you are interested, please let me know asap. We are looking for someone to start by the end of next week. Thanks so much! kstiger00@**** is the preferred e-mail
Original URL: http://lexington.craigslist.org/kid/1076277355.html
*Response from CL reader about the above Ad:Re: Nany needed asap! (40511)
Gosh, if you can find anyone to babysit in your home for $100 -$115 a week and be trust worthy good luck. For a Nanny it's usually $400 to$500 a week. At your prices that would be $2.50 to$2.88 and hour. A day care is usually $130 or more a week and they have at least 1 person per 6 to 10 children so they make around $700 or more per chidcare provider per week.
Original URL: http://lexington.craigslist.org/kid/1076526757.html
___________________________________________________________
29) I need a Live in Nanny (Roseville CA)
Hi my name is Lia and I am looking for a Live in nanny I have 2 yr old and my husband and i live a busy lifestyle and I am looking for someone to play attend to my son, and maybe do a bit of house cleaning if it calls for it. I would like the applicant to be cpr certified and have a good background. The catch is that you would not be recieving a salery... my husband and I would being paying for rent, and every household bill we would even pay for your groceries. and if you would like you can get a part time / or full time job at night.so if this intrests you please email me back.
Original URL: http://sacramento.craigslist.org/kid/1092249483.html
___________________________________________________________
30) I need childcare tomorrow (NW Austin)
I need childcare starting tomorrow. I will be needing care from Tues-Friday.. From 8:00 to 5:30 pm Please provide rates. If you charge more than 125 week. I can't afford that. Looking to pay 75-95 week
Original URL: http://austin.craigslist.org/kid/1091843476.html
___________________________________________________________
Special Thanks to: alc0035 - for our Feature Ad, austinmama, Kate in PA, Alli, northjerseynanny,
bayleighzback, NannyInNC, Meebo667647, Meebo238029, MissDee and Cinder38... all of you did a great job this week! Remember: CL-WTF will be Posted every Saturday... please send next weeks Ads HERE.
To comment on todays CL-WTF,

click

HERE