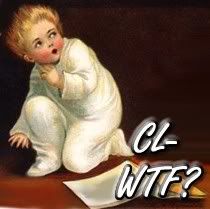 Saturday, February 28, 2009
.... What?!

1) Babysitter needed two nights this weekend in strip hotel (Las Vegas)
we will be coming to vegas this weekend friday 2/27 to sunday 3/1 i have two boys ages 3,5 and 6 that go to sleep at 7/8pm and sleep well i need babysitter for both nights for few hours at the time approximately 7pm till 12am or so (i can be little flexible) i need somebody with good experience, and references you will need to provide your own transportation contact me asap with contact info and your rate thank you ula
Original URL: :http://lasvegas.craigslist.org/kid/1049331498.html
_____________________________________________________________
2) Nanny who won't steal your husband (SM/BH/Malibu)
I am older , but very fit , and young at heart .. I have been a nanny for fifteen years , I drive , am great with modern discipline , like dogs and cats ..voted for Barack . I am Irish , funny and friendly , with references , and background recently checked ... I don't smoke , and rarely drink , I do alot of yoga , reading .
Original URL: :http://losangeles.craigslist.org/wst/kid/1051068219.html
_____________________________________________________________
3) babysiting in my home Park Slope (Park Slope)
Hello, I live in Park Slope, 31 years old F. 6th ave 12 th Street I can babysit 2-3 kids at my place, I have 2bd apt and enoff spaice for it, also I am an artist/painter and we can have lots of fun with making arts and crafts, have all nedeed suplice. can be contacted 609 289 **** Kat.
Original URL: http://newyork.craigslist.org/brk/dmg/1052692628.html
_____________________________________________________________
4) I need a sitter for 3 hours (Huntington)
hi any high or middle school kids wana earn $25? all u have to do is watch my 1 yr daughter from 7-930pm tonight . no work just play with her and keep her company.. my sis is there so u wont be alone.. email me or call 631-896-**** shantel ... just to be sure its $25 for the whole 2..1/2 hours not $25 per hour.
Original URL: http://newyork.craigslist.org/lgi/dmg/1053193962.html
_____________________________________________________________
5) Seeking morning BBsitter (tomorrow) around 6:30am (Aliso Viejo)
Greetings: I am a single mom seeking a babysitter around 6:30 - 8-8:15am in the morning if possible. I have 3 boys, one of which is a high school senior who has to leave home at 6:30 to go school because he has an early class. I need someone to come to my apartment in Aliso Viejo and get my 4 & 5 year-old dressed and take them to daycare in Lake Forest, close to the 5. Please email me and let me know what experience you ave working with children. My 4 year-old has a speech delay but is a very sweet kid so you have to be very patient and loving. You must have a valid DL/Car Insurance and CPR certified wouldn't be a bad idea although they don't eat until they go to school. Thanks
Original URL: None Given
_____________________________________________________________
6) I need a babysitter tonight! (620/183)
I am looking for someone who can watch my kids ages 2 years and 4 months in my home tonight. I'm planning on going out around 9 and comeing home around 3. I can only afford around $30 for the night, but the kids will either be asleep when you get here, or go to sleep very soon after, so you won't really have to watch them. Just be in the apartment with them. Please contact me ASAP. If everything goes well, I would like to be able to go out about once a week, so there will be regular work.
Original URL: :http://austin.craigslist.org/dmg/1044357486.html
_____________________________________________________________
7) Supernanny and Boy Wonder..... (Upper East Side)
Dedicated, loving, and reliable single mom in her fourties is looking to be a part of your family. Seeking full time live in position (with 7 year old son) Able to devote full time attention to children, homework, play dates and projects. Prefer a family with older school aged children. Great with pre teens and teens. Bi lingual, fluent Italian. Have my own Business (can be worked on late nights not during school hours) Have training in early childhood and psychology. cooking ranges from Mac and Cheese to Gourmet. Great at organizing parties and events, for Children and adults alike. Light housekeeping. No Laundry *and that is for your benefit* I will shrink the cloths and make them pink! No dogs please . Cats and other pets ok. Looking to start ASAP. Upper West side near my sons school. Email me if interested. Thanks
Original URL: :http://lasvegas.craigslist.org/kid/1050995553.html
_____________________________________________________________
8) I need a dependable sitter in my home (Washington/Nellis)
I need a sitter to work in my home 2 days a week. I need them to clean up after 3 kids and to help do laundry. The kids are 1 1/2, 4 1/2 and 6 yrs. I will need someone from 5:15 A.M. to 3:00 P.M. on Monday and Tuesday. if interested then please contact me for more details. Must be able to be around smokers and pets.
Original URL: http://lasvegas.craigslist.org/kid/1047056075.html
_____________________________________________________________
9) Babysitter needed (SF Bay)
I need a babysitter for a wedding on March 15th from 7pm until 11pm. The bride is willing to pay 15 dollars an hour. There will be no more than 8-10 children under 7 years old. The main duty is to supervise the kids table, and watch over them when they go outside to play. Please submit a resume if you are interested. FYI. a background check will be performed. I am willing to pay 15 dollars an hour. A total of $ 60 for all 4 hours. A Meal is not included.
Original URL: :http://sfbay.craigslist.org/nby/dmg/1047302478.html
_____________________________________________________________
10) Babysitter needed (Paterson NJ)
My Fiance and I are in need of a daytime babysitter, between the hours of 9am-5pm, Monday-Friday. Exceptions would be school closings, holidays, etc.. We are both Professionals. I am a Pre-K teacher and my fiance is a Dir. of Operations. We are seeking someone who is able to come to our home. Everything would be made available to you. We have two beautiful girls - ages 8 mos and 2 1/2 yrs - who are well-behaved and very bright. They have routines which are pretty set, so there wouldn't be much of a problem with that. At 3:15, you would have additional help from my step-son, who is a great kid. He will be available after his homework is finished, should he have any. I work very close to home, so I would be the primary contact person should there be an emergency or other issues. What's available to you: Driveway to park your car Front porch, back porch Back Yard IO Triple Play -Cable in all rooms, including the girls' room -Internet in MBR -Cordless Home Phones Food & Drinks -Whatever there is to eat and/or cook (if you cook), microwave, gas range -Whatever there is to drink, in-home water purification system **Anything else will be discussed** You should be: Experienced Educated Friendly, out-going Good with girls - having a girl(s) a + Willing to choose your words correctly around the girls **Anything else wiil be discussed** Should you have children of your own who are infant/toddler age, that is welcome, yet they should have some Social/Emotional development. Please feel free to contact through email. We can also be reached toll free at 877-434-****. Say: Line 2 and leave a brief message regarding your call and a callback number and best time time to call.
Original URL: http://newjersey.craigslist.org/kid/1051931776.html
_____________________________________________________________
.... How Much?!

11) Free room in Belmont for Nanny (Belmont)
We are looking for a nanny for our 5-year old son, Billy. He is a wonderful, bright and expressive boy who loves to dance and play. In exchange for 40 hours of childcare from Monday through Friday, 9am to 5 pm, you'll will get a private bedroom, free utilities including satellite TV, heat, water. You will have all weekends and nights off to do as you please. You should have some experience taking care of children. Please reply with your resume and also the names and phone numbers of 3 references. We look forward to meeting with you. Vera, Bob, Lev and Billy
Original URL: http://boston.craigslist.org/gbs/dmg/1048891727.html
_____________________________________________________________
12) NIGHTIME/OVERNIGHT BABYSITTER NEEDED ASAP! (Essex)
I AM LOOKING FOR A NIGHT TIME BABYSITTER AND OVERNIGHT BABYSITTER FOR MY THREE-YEAR OLD SON: REQUIREMENTS – MUST READ BEFORE RESPONDING:
1. MUST HAVE EXPERIENCE WORKING WITH CHILDREN 2. MUST NOT HAVE ANY PETS 3. HOME MUST BE SMOKE-FREE 4. MUST LIVE IN A SAFE AREA 5. MUST LIVE NO MORE THAN 10 MILES FROM ESSEX, MD - NO OWINGS MILLS, REISTERTOWN, ETC...6. MUST NOT BE INFECTED WITH VERMIN OR RODENTS 7. MUST HAVE A SAFE ENVIRONMENT FOR MY SON TO SLEEP 8. MUST BE AT LEAST 24 YEARS OF AGE OR OLDER! NO EXCEPTIONS!!!!! 9. DRAMA AND STRESS FREE!! I do not need someone every night, nor do I necessarily need them every week. He currently goes to daycare, but I often have to travel for work. I need someone this Tuesday, February 24, 2009 night – Wednesday – February 25, 2009. Additionally, I will be needing someone who I can call on emergency basis. I am a single-mother; therefore, I need someone who is flexible with hours. I pay a flat fee - $30/overnight (from 7-7 respectably) and $20/night care (7 or 8pm until 3-4am). I bring all of his food, pull-ups, etc… DO NOT REPLY UNLESS YOU MEET THE SPECIFIC REQUIREMENTS!
Original URL: http://baltimore.craigslist.org/kid/1043916069.html
_____________________________________________________________
13) CHILDCARE IN MY HOME $15.00 PER CHILD (South Austin)
Hi my name is Veronica and I have a 2yr old son and a 7yr old son who goes to school during the day.I have a wondeful clean home with a private backyard for the children to play and run around.I have plenty of children books for the children and I also have plenty of toy..I got walkers and bouncers for my younger one that are learing how to walk.I PROVIDE HOT MEALS AND SNACKS.On Fridays we order pizza and watch movies and relax because it Friday..Sometimes the children and I will bake cookies and make hot choclate and sit at the table and laugh and tell stories.We also do arts and crafts.I do have a playstaion for the older children to use..We have a swingset outside and some bikes for the toddlers and also some fisher prices playset like kitchens and a little workshop with a basketball court.We also have alot of inside toys..Diapers and wipes with a changing table and a playpin and crib....My ages range from Newborn thru 12yrs old.For my children that do go to school I would let them do there homework first then they can play so when they get home they can have some family time together..If you ever want to go out on the town with your loved one,or just go out with friends or stay home and relax..ect and you need someone to watch your children please dont hesitate to call me I am avaiable 24 hrs..Even on weekend.I can also watch then overnight if you need me too..So please call me if you have any questions it dont matter the time...I look foward to speaking with you...Thank you again,Veronica...512-300-****...Please call me anytime dont worry about the time..I look foward to speaking with you..Thank You again,Veronica..512-300-****
Original URL: :http://austin.craigslist.org/kid/1044449162.html
_____________________________________________________________
14) I'm still looking for Childcare.... I NEED some ASAP (Cedar Park Leander)
I'm very thankful for all the people who have offered to watch my child. But none of you live within the ranges that I asked for. I really need it to be within 10 minutes TOPS from my home. I need childcare starting NOW My LAST provider told me that she is no longer able to provide care for me. I need someone Monday-Friday from 5:30am-5:00pm (I'm looking for someone who won't go back to sleep after she is dropped off even when she goes back to sleep). I'm sorry but I can only pay $120 a week (so please don't email me if you're just going to ask for more) and I ask that you please provide all meals. Please email me if you have an open spot. I need someone no further than Lakeline Mall or Passed the Leander Library. I can meet anytime tonight. I have to find someone SOON. I cannot afford a last weeks tuition or registrations fees, I'm sorry. I'm a single mother. I would like to find someone who is willing to stay awake while my daughter sleeps. I just feel more at ease that way. I don't mean to sound harsh or come off as I don't care. I just want to feel comfortable and I won't be if I know someone is sleeping while my child sleeps. Please contact me asap. If I don't have someone soon I could lose my job. PLEASE HELP ME.
Original URL: :http://austin.craigslist.org/kid/1051560376.html
_____________________________________________________________
15) Childcare Helper needed (August) ~ Your child welcome (Lockhart)
Childcare helper needed ~ Your child welcome My husband and I are expecting our first child in June and will need childcare starting sometime late-August to mid-September. I am not sure when a good time to start looking for child care is....but some friends told me to start now. Here is some info about my family and what we are looking for. Please let me know if you are interested! My husband & I both work for Dell from home. We cannot be the primary care giver during business hours. We typically start work between 8-9 and "go home" between 4-5 Monday - Friday. We both have some flexibility, so we can work around any events...etc you have going on. We are also open to you bringing your child(ren). Because we will be home with you most of the time, we are willing to take applicants with no experience. We can work with you and hopefully become a great reference for you in the future! This is a great opportunity for a SAHM who wants some extra income. Our expectations for you: • Infant CPR Certification or the willingness to obtain it within 30 days. • Reliable transportation to get to/from work. • Clean driving record & criminal history. Willing to submit to drug testing. • Be professional and reliable. Be able to work on a schedule while being a bit flexible when needed. • A genuine love of children and infants, and a desire to interact with them consistently. • Wide variety of activities to do with the children ~ for learning & fun ~ No TV will be allowed! • Intelligent, creative, energetic, and motivated to learn. • Pick up after the baby (children's laundry, cleaning up after kids, washing bottles, etc.) • Love dogs. We have a wonderful small basset hound that loves people and loves to play. • Provide documentation about your children's health including shot records. Salary / Benefits • $130 per week • 2 week paid time off (for sick days or vacation) • Paid Holidays including 1 week off for Christmas • Holiday Bonus (after a year of service) • Paid overtime as needed • Transportation budget
Original URL: http://austin.craigslist.org/kid/1042084515.html
_____________________________________________________________
16) Now and Later (Austin)
Hi! I'm a single mom to a 3 y.o. little girl, and I'm looking for an occasional sitter for some weekends. Somehow I went from 3 sitters almost always there when I needed one to..none. One grew up and started a social life, one disappeared indefinitely due to family business, and one began traveling for work more often. I don't have much family in the area so, I really don't get out all that often or as often as I would like, which is maybe why I'm still single! lol But there are certainly times when I need a break and she needs time away from me as well. I don't have all that much money to spend, again keywords 'single parent', so I can't afford the higher rates that some charge plus the cost to get to where I'm going. I'm used to paying anywhere from $25-$40 for overnight stays; so if anyone is comfortable with that amount, please let me know and we can talk. I do prefer overnight stays if at your home, so that I don't have to wake anybody up (esp. lil ones), and if I choose to have cocktails, I refuse to drive with her in the car. It's not a must, but I would prefer to find someone who has child(ren); not necessarily her exact age, but at least for her to interact with; A clean home is a must, animals are fine. We don't have any, but she loves them! If anyone is a smoker, it needs to be outside the house though. What sparked this, is that I had a date tomorrow night and ended up with no sitter. Not sure if it's too short of notice to resume my plans now, but hoping to have another sitter option so this happens less often. I live a little South of downtown, but will go South or North within reason (Buda-RR). Hope to hear from someone :)
Original URL: http://austin.craigslist.org/kid/1043796384.html
_____________________________________________________________
17) In need of summer care for 9 year old boy (Cedar Park)
==PLEASE READ THE ENTIRE AD AND MAKE SURE YOU'RE WHAT I'M LOOKING FOR. I'm not willing to bend on any of the things I'm looking for or the price I can afford. I have this price because it's ALL I can afford. I have what I'm looking for because it's what I'm looking for. Please be within the areas that I've explained. Anything else WILL NOT WORK!!I know that summer is still a few months off but I'm starting my search now. I'll need summer care for my 9 year old son for the entire summer. He's very respectful and says "yes ma'am", "no ma'am", "please" and "thank you". However, with that being said, he is just still a 9 year old. What I'm getting at is I'm looking for someone who is active. If he sits in front of a tv too long he'll get bored. I don't want him playing video games all day. If you even allow that, please only allow him TWO hours the entire day! I'll need someone who can watch him from 7:30am-6:30pm. Mon-Fri ONLY, never weekends or nights. PLEASE KNOW that most days I do get off work at 5:30, however, there are the days where I'm there till 6. So on those days I need to know that a 6:30pm pick-up is okay. I'll never know ahead of time the days I'm there until 6pm---it just happens. If you live in Carriage Hills though I could have my 16 year old pick him up around 4:30pm. A little about what I'm looking for:Other kids around his age (boys or girls)==THIS IS A MUSTSomeone who offers field trips at least a few times a week--(a local park would do just fine)NO teenagers--THIS IS A MUSTPlease be at least Listed with the State (I will check to see if you're on the State website)THIS IS A MUCHI don't want him forced to stay outside all day though--the heat is no joke in Texas.CPR cert. is not required, although some knowledge would be greatI can only afford $75 a week (please don't email me if you're planning on charging more) I'm sorry, that's all I can afford. I'll provide ALL his meals and drinks! If you think you can work with me, please let me know. I need someone who is located in Carriage Hills (this would be ideal) or Crystal Falls, Blockhouse Creek, Bagdad................that general location. I hope to hear from you soon.
Original URL: :http://austin.craigslist.org/kid/1044172496.html
_____________________________________________________________
18) Live in Nanny (Wyckoff)
NEED SOMEONE TO COME IN AND LOVE OUR CHILDREN. NEED TO WORK PART TIME HOURS IN THE OFFICE AND PART TIME HOURS FROM HOME. HUSBAND WORKS FULL TIME OUT OF THE HOUSE. 3 KIDS - ONE GOES TO SCHOOL AND THE OTHER 2 ARE EASY MOST OF THE TIME. NANNY WOULD NOT BE EXPECTED TO DO EVERYTHING, BUT BE MY ASSISTANT MORE THAN ANYTHING. WILL HAVE YOUR OWN SPACE IN THE EVENINGS. OWN TV AND INTERNET ACCESS WILL NOT WORK MORE THAN 40 HRS PER WEEK! SALARY: $200 PER WEEK
Original URL: :http://newjersey.craigslist.org/dmg/1053519184.html
_____________________________________________________________
19) Need overnight sitter for 4 kids (219th & brx blvd)
Seeking overnight sitter for 4 kids. Ages 3 and 6 they will be fed and asleep and two twin girls- 2 months old, they will need feeding and to be changed in the night. I am seeking someone who lives fairly close and has experience with babies. The hours are 8pm-5am. 3-4 nights per week. I can afford to pay $60 per night which equals... $180-240 per week 3/4 nights $720-960 per month 3/4 nights IMPORTANT: NEED TO LIVE IN BRONX, THIS WILL BE IN MY HOUSE NOT YOURS. THANKS.
Original URL: http://newyork.craigslist.org/brx/kid/1052021247.html
_____________________________________________________________
20) FULL TIME Summer break IN HOME Sitter wanted (Cambridge WI)
Looking for responsible young adult to watch one 9 year old boy for a FULL TIME summer commitment in our home only. Would start first day on Thursday June 11th and continue to last day needed, Friday August 28th. Hours would be 6:45 am until 4:45 pm, Mondays, Tuesdays and Thursdays. Wednesdays and Fridays hours would be 6:45 am until 5:30 pm. Days off and half days off (are unpaid).Would be off all day June 25th and 26th. Would be off afternoon of July 10th, and entire week off July 13th - July 17th. Additional days off with advance notice no problem! No preference for either male or female, as long as young adult is R-E-S-P-O-N-S-I-B-L-E. Our home is around Lake Ripley would prefer someone in the same town! TRANSPORTATION TO AND FROM OUR HOME IS YOUR RESPONSIBILITY. We would also prefer someone with reliable transportation, (although not necessary to transport child), knowledge of CPR, and a tolerance for a sometimes messy house! Would be expected to help out with breakfast, make light lunches, keep child entertained, and possibly load the dishwasher along with asking child to pick up after himself. Child likes to bike around the lake, play tennis at the beach, shoot basketball, fish and swim off pier (close to house,) foosball, wii, computer games, go kart and walk his dogs. We are offering $100.00 every full week and $20.00 every full day and $10.00 every half day, paid cash every Friday. We would really like to find a young adult who possibly would return for care next summer as well, if things go good! Please email with child sitting experience and a good day/time to set up an interview. We are hoping to have someone officially hired no later than end April. Thanks!
Original URL: http://madison.craigslist.org/dmg/1041645988.html
_____________________________________________________________
21) Wanted part-time babysitter 9am-2pm M-F (Pioner Crossing East)
I need an honest, caring, and trustworthy babysitter part-time. M-F 9 am - 2pm. My baby is 6 months old and she's very easygoing. Please send the pics of your house. The rate is $4/hr ($20 per day).
Original URL: :http://austin.craigslist.org/kid/1051555005.html
_____________________________________________________________
22) Babysitter (Fresno)
I am looking for a babysitter who can travel to the North East Fresno area. I live on Cedar and Sheperd. I work swing shift 5pm-130am, so I need someone who will be available to babysit at my place from Monday-Friday (early Saturday) 430pm to 2am. I have 1 school age child. I will give you more details later. You are welcome to eat what's in the kitchen and as I go shopping if there is certain things you would like I'd be happy to oblige. Currently I can pay $200 a month. If you are interested, please reply with your childcare experience, location, and at least 2 references. I will get back to you as soon as I can. Thank you. ~V
Original URL: None Given
_____________________________________________________________
23) BABYSITTER NEEDED (Wallburg/Winston Salem)
NEED BABYSITTER IN MY HOME FROM 7:30 AM TILL 2:00 PM MONDAY -FRIDAY WILL PAY $90-100 DOLLARS PER WEEK MUST BE WILLING TO PLAY WITH AND ALSO TEACH OUR ALMOST 2 YEAR OLD BOY HE'S ALOT OF FUN IF INTERESTED PLEASE SEND YOUR RESUME AND REFERENCES TO MABE1683@**** WE WILL BE LOOKING FORWARD TO MEETING YOU THANKS!!
Original URL: http://winstonsalem.craigslist.org/kid/1044922630.html
_____________________________________________________________
24) Childcare (Fresno)
Hello I am currently looking for childcare. I work full time and my husband works part time and his hours change from week to week. I have a 2 year old boy and I am having a baby in May so I will need someone to watch him untill May 1st when I leave for maternity leave and after that, the days will be here and there just when I need to go to doctors appointments.When I return to work from maternity leave I will need you to watch him and the new baby.We are looking for someone who charges $15-23 a day.We prefer someone who doesn't charge for the days he's not being watched, this might have to be a stay at home mom who is not licensed. Our christian faith values are extremely important to us so we would like for you to teach them those values as well. We would prefer if it is in your home. If you would like to know more details or discuss anything please call me at 559-412-****. My name is Sarah
Original URL: None Given
_____________________________________________________________
25) Nanny needed (New Haven)
My husband and I are looking for a professional nanny, not a babysitter. We are looking for an adult, no teenagers, with over 5 years full time nanny experience. Certification in CPR a must! Must have your own vehicle and a clean driving record. My daughter is 5 years old and was in full time pre-school, however she is considered gifted and the preschool was not offering her much, so we took her out. We are looking for a woman who can expand her knowledge into all things not just "by the book" education. We are looking into a gifted program for her when she starts kindergarten, if we can find one we will only need you part time, if we can't find one we will need you full time. Although she is only five my daughter will surprise you. She can read a newspaper and know all her multiplication tables. I must warn you she is very detailed, so if you spend a day plopped down in front of the TV she will tell us. I want constant interaction with her, also I will need you to take her to places to blow off some of that kid energy, playgrounds etc. Right now we are looking at $150 weekly to start and after we discover a gifted kindergarten program your pay will go down to $100 weekly. If we can't find such a program then we will raise the pay to $250 weekly. Please be intelligent, speak English, but perhaps have knowledge of a second language to teach our daughter. No "under the table" lookers. We will be taking taxes out of your pay. We will offer 1 week paid vacation after the first 90 days. Please have a clean appearance, no obvious tattoos or piercings. Background check, social security affirmation, and credit check will be performed on you. There will be no housework required. Let us take care of the dust, you just concentrate on my daughter. All we ask is that you put any used dishes in the dishwasher. Please reply to this email, if you do not hear back from me means that you were disqualified.
Original URL:
http://newhaven.craigslist.org/kid/1045214293.html
_____________________________________________________________
26) Needing part time nanny (Dayton TX)
I am needing someone to care for my 3 month old daughter in my home 2 to 3 days a week from 6am to around 7pm. Days of week will differ but may sometimes include saturdays and sundays. I am willing to pay $125 a week but this price is negotiable. Please email me if you are interested. Serious applicants only!
Original URL: :http://houston.craigslist.org/kid/1049498542.html
_____________________________________________________________
*The following Post contains an Ad from CL and an e-mail, from the same person, sent to a Mother:27) Looking to care for a baby or toddler in my home for $5 an hour (Westchester)
And am flexible on that if you're strapped. Or I can go a flat rate. The most I would ask for is $300 a month, day, night, or overnight. I have 37 years experience with babies and toddlers. I miss having one around (the last one I had from 18 months to 3 is now in a pre-school program) so I would welcome one full time or on call preferably between 1 and 3 years old. I pick up grade school girls in the afternoon from school and bus stop and either drive them home or to after school activities. All of them love babies but you would have to be comfortable with me taking him or her in the car to get them. I live in Westchester at La Tijera & the 405 by Ladera Center. My apartment is set up for a baby or toddler. I have a high chair, crib, stroller, car seat, food, extra clothes, sippy cups, diapers ( cloth ) and loads of toys and books. I also have an indoor washer /Dryer so you will never take home dirty clothes. When I'm not with a child I volunteer at a classic car museum every day except Monday when I sit for my 2 year old twin niece and nephew. I make my own hours at the museum and have total flexibility with it so I can take him or her with as much advance notice as you get be it 24 hours or 24 minutes. I can also do data entry work for the museum from home. There is one other thing. I don't cook and go out to dinner every night ( if it's ever at night) I won't charge any extra for feeding yours. Sometimes I order separately and other times I just share. If you think this could possibly work please contact me when you receive this,please feel free to ask me anything at all.
I'm looking forward to hearing from you.
*The e-mail:
I would love to do this!
I have 37 years experience with infants & toddlers. I miss caring for one (the last one I had from 18 months to 3 is now in a pre-school program) so I would welcome one on a permanent or temporary / on-call basis(perfect for your situation) preferably between 1 and 3 years old.
My last job was taking care of a 3 year old that I started with at 18 months old. I had her virtually 24 /7 Her father went to school during the day and drove a shuttle for LAX at night so I always had her early in the morning into late at night..often he wouldn't finish before midnight.
Previous to that and I took care of a two year old girl who I started with when she just turned one. She moved out of state when she was 2 1/2. I also had her just as much.
And if you ever wanted to bring her to me....I live by LAX. I live in the only ground floor apartment of a 16 unit building. That is important for two reasons: (1) there are no steps inside or leading to outside or the garage. There are two steps outside the building but those can be bypassed by a handicap ramp next to it. and (2) it stays cool all the time. It's air conditioned but in the 71/2 years I've lived here I have never turned it on. The building is Spanish with stained glass windows in the kitchen and dining area. I also have a balcony and I'm the assistant manager of the building.
It's a very quiet building and street. It's a great walking neighborhood for taking her out in the stroller or holding her hand. The apartment itself is a 1 bedroom but very spacious and not at all cramped. I have a crib in my bedroom and lots of stuffed animals toys and books in the bedroom plus a huge toy box that stays in a closet.
My apartment is set up for a baby or toddler. I have a high chair, crib, stroller, car seat, food, extra clothes, sippy cups, diapers ( cloth ) and loads of toys and books. I also have an indoor washer /Dryer so you will never take home dirty clothes.I pick up grade school girls in the afternoon from school and bus stop and either drive them home or to after school activities. All of them love babies but you would have to be comfortable with me taking her in the car to get them.
There is one other thing. I don't cook and go out to dinner every night ( if it's ever at night) I won't charge any extra for feeding yours. Sometimes I order separately and other times I just share.
I charge $5 an hour and am flexible on that if you're strapped. Or I can go a flat rate. The most I would ask for is $400 a month, day, night, or overnight. ( I have other income and don't do this for the money) if it's ever overnight, I don't charge once the baby is asleep. ( in other words no fee between say 9 PM to 7 AM or whenever they go to bed and wake up)
There is one other thing. I don't cook and go out every night.with me. I won't charge any extra for feeding yours. Sometimes I order separately and other times I just share.
If it could possibly work, tell me about her; What she likes to eat, play with, what she weighs and what size clothes she wears, if she likes books, how much she's talking, nap /sleep schedule, potty trained or any interest in it and anything else you feel is pertinent about her.
I'm looking forward to hearing from you. Paul
Original URL: None Given
_____________________________________________________________
28) Part time Babysitter (North Natomas)
I am seeking a P/T Babysitter/Nanny for my 9 month old daughter. The position is Wed-Fri from 8:15 a.m. to 6:00 p.m. on most days. There are days that my hours are not as long but it just all depends. Could later work into a F/T M-F position if desired by both parties, however, for now, it is only P/T. The pay is $40 per day. I am expecting my second child so I definitely need somebody who is comfortable watching two children, however, the baby will come to work with my for the first several months. Light housekeeping would be a plus. Please e-mail me with your experience, references, and a little bit about yourself. Serious inquiries only. Thank you
Original URL: http://sacramento.craigslist.org/dmg/1050725636.html
*Response from angry CL reader:RE: Part time Babysitter/Nanny Needed/Slave Wages (North Natomas)
So, let me get this straight-for 10 hours of work per day watching your beloved child, you want to pay $4.00 per hour? Oh, and don't forget to do some cleaning also. Then, in a couple of months, another BABY to watch for $4.00 an hour. I wouldn't let someone who would work for $4.00 and hour watch MY DOG! What kind of quality childcare do you think you will get ? I will tell you. You will get some druggie hooker who will rip you off, ignore your precious child and have her druggie friends over to party while you are at work. Good grief woman! Children are a precious gift who look to their mom to protect and take GOOD care of them. You need to rethink this situation before something happens that you regret.
Original URL: :http://sacramento.craigslist.org/dmg/1050820507.html
_____________________________________________________________
Special Thanks to: northjerseynanny, anythingelselikepay, ISYNreaderbutnotposter(yet), Amy, Carrie, walkrt4 and Mint Cool.... all of you did a great job! Remember: CL-WTF will be Posted every Saturday... please send next weeks Ads HERE.
TO LEAVE A COMMENT: PLEASE CLICK RIGHT HERE!!!