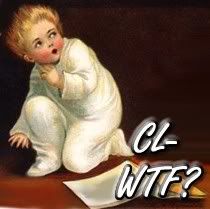 Saturday, February 21, 2009
.... What?!

1) Professional Non Smoking Nanny Needed Immediately! (Charlotte)
Couple seeks dedicated, reliable, non smoking, educated, very clean nanny for our toddler. This ideal nanny is needed immediately. Rate of pay is $9.50 per hour, and you are paid via paycheck twice a month, on the 15th & 30th. Must have references, a clean, reliable vehicle, and proof insurance/valid drivers license. We want our child to be kept active with creative things to do every day such as reading, art, trips to the park/museum, etc. TV is OK as long as it is Noggin or another kid associated channel. We don't prefer stay at home moms unless you are certain you can handle your child and ours with equal attention. You must be very clean, with a warm demeanor and genuine liking for children. We are not looking for a BABYSITTER, we are looking for a DEDICATED, Loving, NANNY, there is a big difference. You must be at least 18 years of age. Our child would be kept in your home, until we've had 90 days to make sure all is well to be trusted in our home alone and a steady connection with our child has been established. We perform raise reviews every 3 months, and benefits are offered after 120 days. This position is taxed regarding your paycheck, and a contract will be put in place specifying all of our terms. We desire to have two trial days with you to make sure you are a good fit, and proceed from there. My ours(the mom #1) are from 9:30-6:30 M-F. Our child would need to be kept during these hours, and occasionally on some Saturdays/Sundays for "couple time" as one of us is in the Marines, so our time is limited and sparse together. This is an example of the regimen we'd need to be followed: 9:00am- Pick up of our child from my office Breakfast, breakfast snack upon arrival at your home(though our child would be fed something light before coming to you), interactive learning activities Noon/1:00pm- Lunch, more interactive activities, possible light nap not to exceed an hour and twenty minutes 4/5PM-Generous snack, as our child eats dinner at home. If you prepare dinner around this time, that would be fine if you feed them dinner, just preferably a snack and a small amount of dinner so they can eat at home with us. 6:30pm- Drop off of our child at my office. We are not paying over this rate per hour, and will not be covering any additional expenses. Leading child care centers charge $213.00 per week for 12 hour care, meals, pickup, and interactive activities and more for toddlers our child's age, so we are compensating well above the pay range. Our office is located in the Business district of University, so if the distance is too far for you, please do NOT reply. If interested, and qualified, please contact us immediately by replying to this ad with a valid phone number, and availability for an interview as we do need someone immediately. We are not interested in daycare centers, stay at home mothers incapable of handling more than one child, or people without their own home and transportation. We do not mean to sound difficult, we have just found we're having to spell every detail out as many people on this site are uncertain about their work capabilties, accepting our terms, and actualy possessing the traits we seek. Thanks a lot!
Original URL: http://charlotte.craigslist.org/kid/1042998829.html
Response from angry CL reader:2) Re: Professional Non Smoking Nanny Needed Immediately!
"Our child would be kept in your home, until we've had 90 days to make sure all is well to be trusted in our home alone and a steady connection with our child has been established."
SO YOUR VALUABLES AT YOUR HOME ARE MORE IMPORTANT THAT THE WELFARE OF YOUR CHILD IS WHAT YOU'RE SAYING. YOU WOULD TRUST SOMEONE TO KEEP YOUR CHILD IN THEIR HOME BEFORE KEEPING YOUR CHILD IN YOUR HOME?? STRANGE
"If you prepare dinner around this time, that would be fine if you feed them dinner."
YOU SHOULD BE THANKFUL IF THE NANNY WANTS TO PROVIDE DINNER, "THAT WOULD BE FINE" - HOW KIND OF YOU TO LET SOMEONE ELSE FEED YOUR CHILD
"Pick up our child from the office and Drop off of our child at my office."
YOU CAN'T EVEN LEAVE THE OFFICE TO DROP OFF AND PICK UP YOUR CHILD? OR TRYING TO SAVE EXTRA TRAVEL TIME, SO YOU DON'T HAVE TO PAY OVER THAT HUGE $9.50
"Possible light nap not to exceed an hour and twenty minutes."
POOR CHILD HAS LIMITS ON HOW LONG SHE CAN TAKE A NAP. WOW. CONTRACT, YOUR TERMS, ETC. YOU DON'T MEAN TO SOUND "DIFFICULT"?? YOU SOUND LIKE YOUR CHILD IS A BUSINESS DEAL -- VERY SAD IF THE PAY WAS SO GREAT AT $9.50 AN HOUR YOU WOULDN'T HAVE HAD TO TAKE THE TIME TO JUSTIFY IT IN COMPARISON TO DAYCARE, WHICH HOUSES MANY MORE THAN ONE CHILD AT A TIME, SO IN ACTUALITY YOU ARE CERTAINLY NOT PAYING ABOVE AVERAGE. YOU ARE ACTUALLY PAYING BELOW AVERAGE WHICH IS $10/HR, NOT INCLUDE PICK UP AND DELIVERY OF YOUR CHILD IN NEED OF A NANNY IMMEDIATELY -- IMMEDIATELY? GOOD LUCK FINDING SOMEONE AT ALL. I FEEL SORRY FOR YOUR LITTLE ONE.
Original URL: http://charlotte.craigslist.org/kid/1044079233.html
____________________________________________________________
3) LOOKING FOR CHILDCARE THIS EVENING (Midtown/Saddle Creek)
Hi, my friend Christina and I are looking for childcare for this evening so that we can have a single ladies' night out. We'd prefer someone high school or college aged who can watch the children at my place at 50th and Saddle Creek or we would be happy to have them at an established in-home daycare. We are paying $40 for both children and need childcare from about 8pm until 2 or 3 am if you watch them at my place or overnight (pick-up first thing in the morning) if you watch them at yours. The children are a sweet five year old girl named Emma and a highly intelligent 6 year old boy named William. This could turn into a regular babysitting job for the right candidate! Please email back with your phone number and details of your childcare experience. If you are under 18 we will have to meet your parents first! Thanks, Candice
Original URL: http://omaha.craigslist.org/kid/1034857244.html
_____________________________________________________________
4) Daycare or sitter needed (West/NW Houston)
Looking for someone to watch adult son during the daytime, very immature and still needs supervision much like a child. He enjoys playing watching TV etc..very easy to get along with..let me know if interested. Thank you.
Original URL: http://houston.craigslist.org/dmg/1034221155.html
_____________________________________________________________
5) Need a reliable babysitter (Durango & Flamingo)
I currently have a sitter but she's not very reliable. In the past 2 months she has called out 4 times and made me late at least 3 times. Not to mention that she can go through food like theres no tomorrow. But anyways... I'm looking for someone who babysits as a side job. A SAHM who just wants some extra money for themselves. Dont hit me up if you need this as your only source of income. I cant afford much. My husband was laid off last year for a little bit over a month. Luckily he found another job but doesnt make as much as before. We applied to get assistance so I can put my kids in daycare but the waiting list is so long. It's going to take a while. So, I have 3 kids. ages are 4 1/2 (she'll be starting school this year), 2 yrs and 10 months. My home or yours. But if it's my home I am going to admit that I monitor a lot of what goes on because I notice some stuff of mine went missing. But if you're an honest person then you have nothing to worry about. I'm up by Flamingo & Durango and work by Redrock Casino. You're welcome to bring your kids with you. I just really need someone reliable. We have no family up here. They all live in California. So if you can help out I would really appreciate it. And for those of you that always talk crap about moms asking for an affordable babysitter you need to mind your business. You have no right to judge someone because of their misfortune. You have no idea why they are in the situation that they are, so keep your comments to yourself. I use to babysit kids for an extremely cheap price to help out moms. I'm neither a crackhead nor do I mistreat kids. Anyways, thanks in advance to anyone that think they might want to babysit.
Original URL: http://lasvegas.craigslist.org/kid/1039299789.html
_____________________________________________________________
6) SitterCity:
Job Details: The Basics Name: Nikki E. Title: Sitter
Needed for Sat. 2/21 Description: PLEASE CAREFULLY READ THE DETAILS OF THE JOB. THANKS ;-) : Hi. We have two daughters, ages 6 and 9, and our nine-year-old has AUTISM. If you have experience with autistic children, this is a very definite plus. DATE: Saturday, February 21, 2009 PLACE: The SITTER'S HOME, in Manhattan, must be clean and safe, and located between 1st Street and 98th Street and between 1st avenue and 10th avenue. TIME: 1 - 4 PM ADDITIONAL REQUIREMENTS: You must post a background check (your expense, not ours) and provide references. We may, schedule permitting, want to arrange to meet you before Saturday. OTHER: This may possibly become an ongoing arrangement depending upon details to be determined at our event on Saturday. Inability to be available at that time on an ongoing basis DOES NOT preclude your usefulness to us THIS Saturday. Thanks for your interest. Location: Manhattan, New York 10024 Rate: $10/Hour - 15/Hour Job Type: Single job Date: Sat. Feb. 21st 2009 Time: 1:00 AM to 4:00 AM Details: Skills & Certifications: Behavior Issues, Special Needs Number of Children: 2 Ages of Children: 3-10 years old Education: Some College
_________________________________________________
7) Looking for a Babysitter (Manassas)
I am looking for someone with reasonable rates. I am looking for someone who will treat my kids like you would treat yours. This means that No you are not allowed to let them walk all over you, but at the same time if i find out that you were mean for no reason or they are scared to go back to you they won't be back. I am also looking for someone who will meet up with me before I let you babysit my kids so that my kids can meet you and get to know you. If you know a little Spanish that is also great since my husband only talks about 50 percent English, and he will be the one to get them. I also need someone who is flexible with days not times but days. This would be a perfect job for a stay at home mom trying to make a little extra money. So this is my situation. I need someone who is willing to watch my kids in their house, and lives in Manassas. Someone who might even be willing to drop my kids off at my house when my husband calls b/c my hubby dosen't have a drivers liscense. I work at night as a server at Ihop. My husband is in construction which means he only works 1-2 days a week. I live with my mother and she is able to watch my kids some nights. So this might mean that I don't need you for one week and then need you 2 nights the next week. (This could also turn into 3 -4 nights a week when my husband starts to get more hours if the economy ever goes back up if you want it too.) I would be dropping them off at your house around 3:30-3:45 depending on where you live b/c my shift starts at 4. My husband would then be calling you around 7 (sometimes earlier sometimes later but never later than 8) to drop them off back at our house if that is o.k. You would not need to feed them at all. My husband can do that when he gets home. So what I am looking for is how much you would charge for about 3-4 hours of babysitting, and then the price of dropping them off at my house. You can either send me a hourly rate or a flat fee for all of it. Please don't send me a quote saying you want me to pay 20 dollars just because you charge so little dosen't mean I am going to be interested these are my angels, and I know that I get what I pay for. They are worth more than 5 dollars an hour. Oh by the way there ages are 3,4 and I included some pictures of them. Tell me when you send me your email why you think you would make a good fit for us. By the way if you only speak spanish, or if you know of someone who babysits and only speaks spanish that is fine with me as long as they fit all of the qualities I am looking for. Gabby is the one in the purple Elizabeth is the one in the orange.
Original URL: http://washingtondc.craigslist.org/nva/kid/1043720974.html
_____________________________________________________________
8) Do you wish you had your own Nanny 911? (Arlington & Surrounding)
Lots of parents watch the Nanny 911 show and realize, it's one thing to watch and quite another to have someone come to your home, meet your family and help you develop a plan to help your child(ren) learn to behave appropriately. I am an experienced Child Development professional with undergraduate and graduate degrees and 20 years working with children and families. I will come to your home, observe your child(ren) 0-8, and help you develop a plan to get peace in your home. Whether your child has been identified as having learning or behavioral difficulties at school or child care or just seems to 'melt down' at home, I can help you . Available evenings and weekends. Note: I am not affiliated with the Nanny 911 show in any way!!
Original URL: http://boston.craigslist.org/gbs/kid/1042855851.html
_____________________________________________________________
9) Looking 4 a strict Nanny? (Las Vegas 89145)
Hello! I would like to start off by saying that being strict DOES NOT equal being mean. It means that you set rules and follow through with them (1 warning only!). I am strict but I have also learned to choose my battles. I have also learned that redirection and positive reinforcement go a long way! A little about me... I am a 23 year-old female with lots of love and energy. I have just recently moved to Las Vegas from Omaha, Nebraska and am looking for a wonderful family to join. I am very dependable and arrive to work a few minutes early. I am one of those people who think that if you are on time, you are late. I love working with children, helping them grow, and learn. I really enjoy helping a child meet all of their milestones (rolling over on own, walking, counting to ten, saying ABC's in order…) My joy for my job can be seen on their faces every day! A little about my experience... For about 2 years I worked at a daycare for ages 6wks to 13 years. I also was an assistant teacher in a special education classroom for 2.5 years (ages K-6). Along with these jobs I have had nanny (ages 1-4) and babysitting experience (6mo-7yrs). This past summer I watched a 7-year-old downs syndrome child. We had a blast! * I am drug free. * A non-smoker. * I only speak English. * I have own car and license. * Please contact me for my references. * I am asking $10 an hour; but will consider lower. I am looking for something between 8AM and 5PM and 20-25 hours a week. However, I will consider more hours. Contact information: (702) 788-**** I hope to hear from you soon!
Original URL: http://lasvegas.craigslist.org/kid/1034957457.html
_____________________________________________________________
10) Evening and weekend babysitter NEEDED! (Katy)
I AM LOOKING FOR SOMEONE WHO WILL WATCH HER TONIGHT ASAP! Also someone who may be interested in the watching her on the weekends and weeknights. Hello. My name is Sharla. I am a single 26 year old mother to an 8mo old baby girl named Lily-Ann. I am looking for someone that would care for my child in the privacy of their own home and occasionally my house. It would be mostly week nights and weekend evenings, however there may be a few times I would need someone during the day on the weekend. Must meet the following requirements to qualify: Non-Smoker Has own trasportation Must have a valid drivers license Must have experience caring for small children Prefer to be CPR/First Aid certified Must have clean home Must allow a background check Must have a clean background The following tasks will be required if selected: 1 - 2 spoon feedings (before bed) 1 -2 Bottle feedings (one right before bed / one with dinner) Diaper changes every two hours while awake Bathe not later than 8pm Put down for sleep no later than 9pm Prior to the mentioned above, play and interact with child and just keep her happy. Read to her, sing to her, play pat-a-cake, peek-a-boo, etc. If you are interested please email me. Thank you for your time. Sincerly, Sharla
Original URL: http://houston.craigslist.org/kid/1043621821.html
_____________________________________________________________
.... How Much?!11) Childcare NEEDED starting MONDAY! (Madison)
I am in need of a reliable babysitter starting Monday. My daughter is 21 months and a really good girl. I am really hoping to find someone to come to my house, but am going towards Madison and could drop her off on the way. I need care from 6am-12:30pm every day next week. After that it will only be Mon. Wed. and Fri.'s. Will pay around $3/hr. Located in between Sauk City and Baraboo. Will pay every two weeks when I get my check. Please call me at 608 393 **** as I dont get on here hardly ever to check my email. Thank you!
Original URL: http://madison.craigslist.org/kid/1040293026.html
_____________________________________________________________
12) In need of Nanny for 2 little girls (Summerlin Ft.Apache/DI)
I need a nanny for my 2 1/2 year old and my 13 month old daughters. I work 30 hrs. a week, and Im looking to pay $125. I can'not afford any more right now as my budget is very tight. It's a very simple job though and my 2 little girls get along for the most part. I would need someone who is going to be very reliable and will take good care of my daughters. My oldest has a bit of a temper sometimes but all in all shes a pretty good girl and my youngest and the sweetest personality. I need someone to take care of them in my home and make sure that their dressed, fed and played with daily. I have a ton of DVD's for the girls and my oldest is in love with all the Disney princesses right now and Spongebob. They have a ton of toys and lots of space to play. I wouldnt be opposed to someone bringing their child as long as the kids will get along. My last nanny brought her youngest sister and her god-son with her and they beat up my oldest and now she has scars on her face. So another child the same age would be best so that they can play together. If you think you might be interested and you want to set up an interview, please email me, tehtigerlily@**** My name is Brittney, my daughters names are Lylee (Lily) Jayd, and DaneeLi. I hope to hear from someone soon.
Original URL: http://lasvegas.craigslist.org/kid/1036458839.html
_____________________________________________________________
13) would like a spanish nanny for my toddler (Green Valley area)
i have a 4 yr old son and am looking for someone that could teach him spanish and watch him in my home from 730 am til 6pm mon-fri.pay would be 200 per week.sorry that is what i can afford.my husband will be home most days so we would just like some help with his spanish and keeping and tidy home.please email me if interested.looking for someone as soon as tommorrow.thanks.
Original URL: http://lasvegas.craigslist.org/kid/1036333872.html
_____________________________________________________________
14) Overnight babysitter needed in Crown Point Home (Crown Point)
Overnight sitter needed in our home. 9:30pm to 8:30am. Must have car and references. $5.50 + hour to sleep and keep watch over my children. Must have references. This could turn into a full-time, babysitter job with day hours in May.
Original URL: http://chicago.craigslist.org/nwi/dmg/1039109552.html

An ISYN reader e-mailed the above Poster about her Ad:
15) *The e-mail:
$5.50/hour just because its overnight?! lady you get what you pay for, and I certainly hope you want better for your children than what you'll get for $5.50/hour! Did you do the math? Someone would be working for 11 hours and make a mere $60.50! The average rate for this kind of job would be $100+. Good luck finding quality care for a crappy rate.
16) *The response:
Go screw yourself. You can sleep and make money! Where else can you do that? Go spread your unhappiness some place else.
_________________________________________________
17) Childcare needed (Ankeny)
Just got a job in ankeny and looking to relocate from des moines, i only pay 50 a week for my daughter and was looking for the same in ankeny. if anyone can help me that would be great. My daughter is almost 2 months old. And it will be full time.
Original URL: http://desmoines.craigslist.org/kid/1039570452.html
_____________________________________________________________
18) Childcare Needed (Chesapeake/Greenbriar Area)
Hello, My name is Beth and I am the mother of a 17 month old little girl. My birthday is on Thursday and I need a sitter to come to my house from 6:30 until 11pm that night. I am willing to pay $30 or best offer. Please email me if you are available. Thanks! Beth
Original URL: http://norfolk.craigslist.org/kid/1039080269.html
_____________________________________________________________
19) Live in Nanny needed - March 30 (Sussex County)
We are looking for a caring, fun and loving nanny who will take care of our 3 month old baby boy. We are offering live-in amenities with bedroom/bath along with use of car. We are looking to find the perfect nanny match for our family. The nanny responsibilities would include: -Care of our 3 month old newborn (Feeding, bathing, reading, activities etc) -Care of small dog -Light Housework (Baby Laundry, Dishes, and other light household tasks) -Live-In Required Weekday Hours 6AM to 7PM (No weekends) -Salary: $300-350 Weekly If you are interested, pls email lisinha12@****
Original URL: http://newjersey.craigslist.org/kid/1040157559.html
_____________________________________________________________
20) Looking for a full time babysitter (Bloomfield)
Hello! I'm looking for a full time babysitter to help me take care of my two sons, they are 3 1/2 and 5 months old. The older one goes to school for 2 1/2 every day (no need to drive him). The schedule would be from 8:00 am to 5:30 pm except tuesdays and wednesdays, those days would be from 11:30 am to 8:30 pm (or until my husband gets home) The rate I'm offering is $150/week. If you're interested, please contact me and be kind to provide at least two references. Thanks in advance.
Original URL: http://newjersey.craigslist.org/kid/1039236585.html
_____________________________________________________________
21) Need Nanny 4 days a week (Orland Park)
We need a nanny to watch our children from March until June until they start full time day care/preschool. We are the loving parents of two wonderful children; our daughter is 3 1/2 and our son is 1 1/2. They mean the world to us so it is going to take the perfect fit to make this work. I am looking to go back to work and need someone to come to our home in Orland Park and take my daughter to preschool one day a week on Thursdays. You will need a car with insurance and a clean driving record. The days I need are M, W, Th, F from 8 - 6. We are looking for someone who is reliable, on time, loving, well educated, non-smoker and who is in this position because they love children and want to make a difference in their lives. We are looking to pay $7 an hour, but can be negotiable for the right person. Someone who speaks English well and can speak/teach Spanish is a plus. Serious inquiries only please. Start date is relatively soon, but not exact just yet.
Original URL: http://chicago.craigslist.org/chc/kid/1043399171.html
_____________________________________________________________
22) BABYSITTER NEEDED!!!!! (Concord, NC)
I am looking for someone very specific, so if you do not meet all the requirements, please do not apply... 1-A night time (sometimes daytime...) babysitter that can come to my house to watch my daughter. 2-Someone who is responsible, and has references. I will be checking them. 3-Someone who lives in Concord, or can drive themselves to my home in Concord. 4-Someone who can babysit until at least 12 on weekdays. (mostly Thursdays) 5-Someone who is willing to take $5.00/hr (min. of 25.00/night) to watch my tv, use my computer and be here while my child sleeps. (she is in bed by 7:30) 6-Must not be scared of dogs. We have a black lab and she is very friendly... loves to be the center of attention, so she will be around for sure. When we do use someone, we use them quite often. I need someone that it reliable, as my husband is in a rock band, and if the babysitter bails, we could be in quite a jam. I am hoping there are some teenagers out there that are looking to make some extra money. My previous babysitter was wonderful, and I am going to miss her, but I do know there are other good kids out there. If not, anyone who is willing to do this, I would love to talk with you. I just really need someone dependable, that is my main thing. Our daughter is our world... Thanks in advance!!
Original URL: http://charlotte.craigslist.org/kid/1042265267.html
_____________________________________________________________
23) FUN BABYSITTER MOTHER'S HELPER NEEDED!!! (Dysart and Greenway)
I work from my home. I am looking for someone who can come to my home for 4 hours a day and play with my daughter. I am open to any 4 hours of the day. I need about 4 days a week. I have tons of projects,toys, artwork and everything you need to entertain a 3 yr old I am just very busy with work and can't have her watching tv all day.If you think you are a match please email or call me so we can meet for coffee. I can pay only $5 an hour with additional $5 for loading and unloading the dishwasher and vacuming in the end. I need someone who will pick up toys or activitys as they go.Someone comfortable with survelance camera. I do have the set up for security. Someone who is outgoing and fun. Someone who does not beleive in screaming at kids or being abusive in anyway. My daughter is very well behaved and it treated with respect so that would need to be consistant.I am happy to hire someone as young as 12 years old. possible mom and daughter duo would be ok too. Thanks! 602-350-****
Original URL: http://phoenix.craigslist.org/wvl/dmg/1040663116.html
_____________________________________________________________
24) OCCASIONALLY (2 hours minimum), WEEKENDS/EVENINGS & HOLIDAYS BABYSITTER (Downtown Jersey City)
Hi, I'm the coolest babysitter you've ever had or you're just about to have. And I want to make your life easier: -Over 20 years of experience in different countries (I'm originally from Spain) and all ages (0-12) -CPR certified -Caring, loving, friendly, responsible, entertaining while contributing to your child's education and development -Daytime: $15 one child, $20 two children... -Evening (after 8:00pm): $18one child, $25 two children... -Major holidays: $20 one child, $28 two children... -Want me to teach Spanish to your child? Different rates will apply (over 20 years of Spanish tutoring experience, all ages & levels) -It's OK to combine 2 families or more. So you can have a "families night out"& save some money! Questions? Email me :) I have fabulous references and a very healthy lifestyle (I'm also a holistic personal trainer; Gyrotonic, Gyrokinesis & Pilates Mat) Peace, Toni Terrific to the rescue The coolest babysitter. Ole!
No URL Given
_____________________________________________________________
Special Thanks this week to the following Readers for their Submissions: SF, Fawn, MissDee, Wendytww, cdhere25 and northjerseynanny... all of you did a great job! Remember: CL-WTF will be Posted every Saturday... please send next weeks Ads HERE.

TO LEAVE A COMMENT: PLEASE CLICK HERE!!!