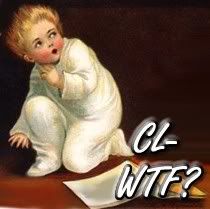 Saturday, March 14, 2009
.... What?!

1) Free Rent Free Rent Lakeaway Area (lil household duties & childcare) (Austin)
My son is 8mos. My Wife bailed, he stays with me two-three nights a week. I also need just basic help around the house. I love to cook and hope you do too. Really looking for a roomate but figured I could help someone who can help me. Garage included, private room, guest bathroom and this is a nice home.. I'm a cool guy, just didn't know my girlfriend well enough before I married her. We do have a great kid which is easy to love and is well behaved. He just smiles and laughs all the time. And cute like his dad. There's no drama over here and hope you won't bring any. It stays pretty quiet around here, but I'm not a prude. We can party a bit if you like. Summer is fun around here and hope you like the lake. Charlos n Charlie's in down the street and Iguana Grill is across the street. Let me know what question you have and we can discuss the details. Thank you kindly, Marshall Leonard 939-**** Please be at least around my age. 31 Just want to have something in common..
Original URL: http://austin.craigslist.org/kid/1072806442.html
______________________________________________________________
2) SITTER - Immediately. Right Now. Urgent. NOW. Immediately. Brooklyn (Throop/Gates/Bed-Stuy)
Daddy's got to go to the city to make that cash real quick. But I'll be back as soon as possible. Now once you're in our family, we hope to keep you in and etc. Jenny won't forget you. She likes to be around people, loves to talk, likes to play games, she is very active. She can entertain herself, but she will definitely cling to you and become your friend. Very warm child. She says "YES" and "NO PLEASE" and that kind of gives you an idea of where she comes from.So I'm looking for a sitter for my daughter Jendayi.Pronounced (jen-di-yee)It's west african and it means "Give Thanks" Someone who is reliable, family oriented, experienced, and trust-worthy. You'll be here in our home. She is well mannered, she hasn't been here in NY since Thanksgiving and I haven't seen her since. So she will be full of excitement. She's been traveling since yesterday so there's no telling whether she'll be tired or just completely full of energy. But she is my favorite person in the whole entire world.I'm attaching pictures of her, and would like for you to include some of you or just one. Doesn't matter. Just want to establish the connection and see who we're working with. I'm looking for someone who (of course) is going to be fast with replies, since I'll be on the go. If you are responsible, reliable, and have a soft and warm heart - that's great. Just let me know a little bit about yourself please. And also let me know your rates. Your rates are important factor of course, as is your personality. Hopefully your personality will shine through in your email. Thanks again for your time and I hope you have a good and wonderful day!!!!. Please reply with your rates, a picture, and a short description. Please be quick. quick. Super quick. Please reply with your rates, a picture, and a short description. Please be quick. quick. Super quick.
Original URL: http://newyork.craigslist.org/brk/kid/1073090655.html
______________________________________________________________
3) Babysitter Needed!!! (Littleton/Roxborough)
Hello, I have 2 children and I need a sitter tomorrow Saturday March 14 starting at 7am! Please reply with a little bit about yourself! Thank you
Original URL: http://denver.craigslist.org/kid/1073106186.html
______________________________________________________________
4) 15.00 - Doggie Nanny/Housekeeper/Morning or Night Shift (Dallas)
Looking for the right professional and reliable person to start working ASAP. Must clean all three rooms, bathrooms, living room, kitchen, vacuuming, dusting, mopping and trash take out. Number one priority are \our two little dogs. Must be fed, light grooming, walked and have playtime. Must be dog friendly and caring. Must be trustworthy as well. You will have one option to chose from. Day Shift Mon, Wed, Fri and Sat 7:30-10:30 or Nights 6:30-9:30 pm Pay is between 8.00-15.00 depending on experience. Call between 7:00am-9:30pm 214.501.**** GREAT English Speaking only!!!! No E-mails Calls only as E-mails will not be considered.
Original URL: http://dallas.craigslist.org/dal/dmg/1068671580.html
______________________________________________________________
5) Free Child Care (Joliet)
Hello, Mother's & Father's, I just wanted to let you know that I can watch your baby/toddler/child here at my house in Joliet for one day.(Maybe more if needed) Rather than you leave them alone...I will care for them here. If you have to do something important, like go to an interview, court,or to the DHS office, somewhere that will help you in your situation...I can watch them. This is coming from a mother of three & I've been there. Alone & desperate with no support system or not a single family member or friend in town. But I got myself UP on my feet because one beautiful woman did the same for me. I couldn't afford not even $5 for an hour to watch my children before...... But 5 years later & here I am today. I stay at home mother, taking college online classes & happily blessed.Please be reasonable with time as I'm doing this to help you out. Email me and let me know how I can help. I'll be glad to help rather than leaving your little one/ones alone at home. Please don't do that. Thank you & please ladies & gentlemen do not flag this. I'm just a very humble, peaceful woman who cares enough to make a difference, if it means doing this. Thank you.
Original URL: http://chicago.craigslist.org/sox/kid/1072704452.html
______________________________________________________________
6) full time nanny (North Chicago)
Hi My name is Lucy I am 28 yeasr old polish girl looking for a full time nanny position.I have good experience with infants and toodler. I have been in States for 3 years and for all that time I have been working for one family. They have two sons older one is 3 and little on is 1.5. I have been enyoing every minute working for them, but they're planning on moving out from Chicago. About me hmm just like everyone here:) loving, caring... , but seriously I am looking for a nanny position because I like kids, they fun, innosente, honest they bring joy into our lifes.When they hug you, you know that they mean it, or when they say Lucy you are the best brother ever:) hmm they mean it too:) For more info please call me or e mail me:) My number is 773 886 **** Thank you
Original URL: http://chicago.craigslist.org/chc/kid/1073031648.html
______________________________________________________________
7) Experienced Housekeeper needed for a private residence (St. Armands/LBK)
Experienced Housekeeper needed for a private residence in St. Armands/Longboat Key area. THE IMPORTANT STUFF: You should understand that keeping a clean and orderly home builds the foundation the family needs to tackle all of life's challenges. It's the little things like always finding their socks in the right drawer that make their home their sanctuary. The housekeeper should know how to properly care for antiques, artwork, family heirlooms, silver and china, so the family can rest assured that their possessions are well maintained and presentable at all times. The housekeeper should be able to adapt to the family's expectations and household needs when cleaning, stocking supplies and maintaining their home to help them keep their life running smoothly. This is a FULL TIME, LIVE OUT position for 9 months of the year. The family travels during the summer (June thru August,) so you would not be expected to clean while they are away. However, you would be expected to prepare the house prior to their return home. The normal schedule would be 5 - 6 days per week; however, you should be flexible and able to work at anytime. Hours daily are approx. 8am – 7pm. (You must also be ready to work before/beyond this time if necessary.) There will be occasional overnights during the week and weekends as parents travel. The is a non-smoking home, approximately 6100 square feet and has one of the most incredible views of the bay you'll ever see. This is a casual household; however, the housekeeper should know her boundaries and conduct herself in a professional manner. THE FAMILY This is a family of 4. The parents travel extensively so you should be able to work on your own without supervision. You should be able to manage kids and get them to/from their extracurricular activities and school/school functions. There will be occasional overnights when parents travel. Although a professional couple, they are very casual; however, the housekeeper should know her boundaries and conduct herself in a professional manner. THE REQUIREMENTS High level of experience as a house manager / head housekeeper Must be an accomplished cleaner -- including experience with the maintenance and cleaning of antiques and fine art; laundress (including fine linen, hand washing delicate items, couture gowns maintenance, wardrobe management) Must be able to manage the household which includes experience looking after the maintenance of all household equipment and utilities for a large residence Light cooking may be required from time to time, so you must be comfortable following a recipe and preparing a simple, healthy meal. Dog lover a plus as you will be responsible for the family pets (walking, bathing, transporting to groomer, etc) There are numerous errands (dry cleaning, groomers, etc) and grocery shopping You should be able to handle all other vendors/contractors in a diplomatic and tactful way (pool cleaner, gardener, lawn service, etc.) You must be able to read, write and understand English. You must also be able to hold a conversation in English. This is a casual household; however, the housekeeper should know her boundaries and conduct herself in a professional manner. You MUST be able to pass a drug test (given upon employment and randomly throughout employment) You MUST be able to background check (including a criminal and credit check) WHAT YOU WILL BE DOING (a/k/a the Job Description) If you have experience, you will know what you will be doing. Daily tasks will include cleaning, running errands, laundry, etc. There is a detailed list specifically listing each task that will be given to you for your review if you are selected for an interview. YOU MUST: Be extremely professional and have outstanding references Be pro-active and able to assist with other household tasks should another staff member be unavailable. Conduct yourself in a professional manner and know your boundaries. Be able to pass a drug test (given upon employment and randomly throughout employment) Be able to background check (including a criminal and credit check) THE LAST THOUGHT: After reading this, you may have thought "obviously this poster didn't read what they were writing as they repeated things several times." This was done intentionally. It means that those things are IMPORTANT. If you meet the above criteria, please send your resume, INCLUDING REFERENCES AND SALARY REQUIREMENTS TO srqmdd@****
Original URL: http://sarasota.craigslist.org/dmg/1057540756.html
______________________________________________________________
8) live in nanny (Kansas City)
Hard working couple in Oak Grove is struggling. Economy has forced new business start. I've just had to reorganize new construction business. My wife works 4 nights a week from 5 p m until 3:30 a m. I will soon be working construction projects at night in south kansas city and during the day at Fort Leavenworth. I have no money coming in to pay you with at present and then very limited until I'm caught up with bills until late April maybe even May. If you need a place to live and can wait until my cash starts flowing we need you. We have 5 good boys and the older boys will do what you say when you say. The washer/dryer is downstairs and they will make those trips and do what is needed. We're not looking for hard work, we are looking for a good hearted person with a good background. If this is you please reply.
Original URL: http://kansascity.craigslist.org/dmg/1052394286.html
______________________________________________________________
9) need babysitter ASAP (South Las Vegas)
Looking for babysitter for 2 children tomorrow morning and every morning thereafter. I work 5 days a week during the mornings at 8 am until 5 pm and need someone to be able to watch them in my home and do some light cooking and cleaning while there. I will run backgrond check and check references if your experienced. My children are 19 months and 3 so please have own transportation an you must be able to do educational activities while babysitting. please call for appointment as early as 6.30 am to 4 pm 702-884-**** Thank you $6.75 to $8.00 per hour depending on experience and on weekends $9.00 and up all cash same day of service
Original URL: http://lasvegas.craigslist.org/dmg/1072764220.html
______________________________________________________________
10) good afternoon parents im avaialble to babysitt today and tomorrow!! (Austin)
good afternoon parents im avaialble to babysitt today and tomorrow!! need a last minute sitter, wanna a night out with ms or Mr.special or just plain expected plans?? im your sitter $!0hr - call me asap cece: 512-314-****
Original URL: http://austin.craigslist.org/kid/1064980516.html
______________________________________________________________
11) Needed: Full-time live-in Nanny (Leesburg/Ashburn/Sterling/Dulles)
Our household and home-based dog-related business need a full-time nanny and personal assistant (a "glue" person to keep everything together while we grow our business and work our "real" jobs until the business can support us)! We live on a 26-acre farm in Leesburg (actually 3 miles from Brambleton Shopping Center in Ashburn). Two years administrative and/or nanny experience and basic Word and Excel skills required. Love of babies, dogs, cats, rabbits, and all things fuzzy absolutely a must. Hours are Monday – Friday, 8:15AM – 6:15PM. $7.50 per hour + room/utilities. One year commitment required. BUSINESS TASKS (probably 5 of 50 hours per week at most) *Client follow-up & appointment scheduling *Data Entry *Filing *Mass Mailings *Answering TEL/checking v/m *Awaiting repair persons in & delivering supplies to Sterling & College Park, MD *Receiving random walk-in weekday visitors HOUSEHOLD TASKS *Babysitting 3-month-old baby=2 0girl *Errand-running (pediatrician, vet, dry-cleaning) *Grocery Shopping *Watering Houseplants *Laundry *Topping off Containers *Awaiting repair persons at residence *Bunny cage cleaning *Off-week vacuuming *Start dinner *Pack lunches OPTIONAL/ADDITIONAL @ $11/hour *Reception (weekend day) *Babysitting 3-month-baby girl (weekend day/weekend evening) *Lawn care & other farm work The room (included in employment package but usually rents for $680) is 12x16, on the second floor, and has lots of light and a huge closet. It is furnished with a queen-sized bed, desk, long dresser, TV and tall dresser. Oil, electric, water/sewer, household supplies, Dish Network, internet, and bi-weekly housekeeping service are included. Full use of first floor including kitchen, family room, living room, and [when not being used for clients] dining room. Share bath with one other (have own private sink/cabinet). On the upper two floors, the occupants are: 1. us (married couple--38 and 40--with a 3-month-old baby girl, 1 cat and 3 large dogs and 2) a married man (late 40s) on contract. In the separate basement apartment is a female (mid-twenties) with a large dog and a bunch of cats. Our pet-related business is also on the property. Our household is generally quiet punctuated every so often by someone under 12 pounds having a temper tantrum. The business is also relatively quiet20as guests are present only during daylight hours. Interested applicants, please e-mail brief COVER LETTER, RESUME, REFERENCES, AND REASON YOU ARE SEEKING EMPLOYMENT. Thank you for your interest.
Original URL: http://washingtondc.craigslist.org/nva/kid/1063348890.html
______________________________________________________________
12) desperately seeking nanny (Philadelphia)
My name is Dana and I am searching for a patient, fun, loving nanny for my three little girls. They are 6, 5, and 2 yrs old. I would need a ful time nanny for about 80 hours a week. My oldest is in kindergarden, so she will be in school for about 3 hours of the day. I will be moving to ne phila w/in the next couple weeks. And am interested in a live in or live out nanny. if u are looking for a live in position i will offer a room and board w free reign of the house in exchange of ur services plus a small payment every week. I do not need weekends. for more information please feel free to contact me at 267 371 ****
Original URL: http://philadelphia.craigslist.org/kid/1065547152.html
______________________________________________________________
13) Trustworthy Babysitter needed now to come to my home (Fort Worth/Watauga)
I am in need of a Trustworthy babysitter to come to my home and take care of my 7 month old daughter from 1 p.m. to around 10 p.m. tonight! I need someone who is trustworthy, reliable, experienced, dependable and will take really good care of my daughter. I will pay $30.00/$40.00... you must have reliable transportation and a cell phone so I can check on things throughout the evening....Thank you and please call me asap @ 817-847-****/ 817-225-****
Original URL: http://dallas.craigslist.org/ftw/kid/1064544287.html
______________________________________________________________
.... How Much?!

14) need low cost nanny nearby (homemaker or teen ok) (San Jose West)
Hello, We live in west San Jose, by Lawrence Expressway and Saratoga Ave, very close to Westgate mall. I have a one year old daughter. I need to go out to work during the daytime maybe 2-3 times a week. Each time it could take 2 hours or 6-7 hours. It is very hard to predict and I don't have fixed schedule for each week. But after 6pm or 6:30pm, my husband will be able to pick up the child in case I can't be back on time. I am looking for a low cost childcare provider who lives close by ( stay at home mom or teenager are fine ). I like to pay $12 for half day ( 2 hour to 5 hour ) or $20 for a full day. I can provide all supply for my baby. Please email me or call me at 408-859-**** or 408-366-**** if you are interested. Thanks for your consideration. Pls let me know where you live and your contact phone number. Thanks
Original URL: http://sfbay.craigslist.org/sby/kid/1072748827.html
______________________________________________________________
15) very PT childcare needed (Madison/East)
Looking for someone to watch my 2 year old son a few days a week. No set schedule as of yet but should be able to arrange one in the near future. Looking at maybe 2-3 days during the week. Will pay $6/hour but willing to negotiate. Preferably in your home. Strong references a must!
Original URL: http://madison.craigslist.org/kid/1071885239.html
______________________________________________________________
16) Childcare needed for my 1 yr old (North Austin/Parmer and Lamplight)
My name is Chasity, 23, and I'm looking for someone who resides close to or in my area who can provide childcare in their home for my 13 month old son. He's charming, funny, and so cute! I will need care for him from 8:15 am to 6:30 pm Tuesday through Friday every week. I will pay $120/week and provide his meals and snacks. We need you immediately! I prefer someone with references and previous experience. Please contact me at my work email which is chasity_n_spencer@**** anytime from 9am to 6pm if you are seriously interested. I will not be able to check my yahoo email during those hours, so please use my work email during that time frame. Otherwise, use the personal email. Thank you for your time and God Bless you!
Original URL: http://austin.craigslist.org/kid/1070025158.html
______________________________________________________________
17) CHILDCARE NEEDED FOR MY 3 TODDLERS (New Jersey)
Hello my name is Lauren I am seeking a reliable care taker for my 3 young sons on a full time basis 5 days a week from 7:30 a.m. until 3:30 p.m. Monday thru Friday! I am looking for a person to care for my 3 babies like I take care of them as I need to work!! References a must!! I am able to pay $1,200 a month! and I am looking for an A.S.A.P. start date but my curent sitter is available until the end of May. There is a bus stop in front of my home for those who need public transporatation!! You can either e~mail me at logliscil@**** or call me ay 973-277-****
Original URL: http://newjersey.craigslist.org/kid/1067933009.html
______________________________________________________________
18) Daytime Babysitter (Aurora)
Looking for a babysitter for my 4 month old daughter. 9a-Noon and 1p-3p - Monday -Friday. You will watch her in my home while I work. Duties will include 2 feedings, changing her, and basically keeping her attention while she is awake. I am only looking to pay $6/hr. You will get paid on Friday evening for the hours you worked that week. Evening hours and week-end hours could result from this which I could pay $10/hr. If you are interested, please contact me at 630-618-**** Thanks. TJ
Original URL: http://chicago.craigslist.org/wcl/dmg/1046666166.html
______________________________________________________________
19) babysitter needed!!!!!! (South Austin)
i am in need of a babysitter to care for my 7 month old and 4 year old for 4 days a week 8 hrs a day. i am looking to pay 100.00 a week for both kids , because thats all that i can afford. The perfect canidate for this job will have to be loving , kind, patient and have expierenced with both age groups. If you fit this discription you can contact me @512-662-**** or email me @ hotfaya23@**** only serious inquries please thankyou!!!!!!!!!!!!!!!!1
Original URL: http://austin.craigslist.org/kid/1064852153.html
______________________________________________________________
20) I can take care ur baby while u go work (Metairie)
I can take care ur baby while u go work ,u can drop the baby to me, when u on the way to work,I live in the condo behind Toy"R"Us,I am 32 yrs old,I was a preshool; teacher oversea for 2 yrs,so I can also teach ur baby some basic learning, manner, I also can teach ur baby to speak Chinese,if u like,I love children a lot,my two sisiter has children which I have been help them to taking care, ,I charge$20 per day,from 8 AM -5 Pm,Mon-FRi,befor or after is fine,we can disgus,Thnk u..
Original URL: http://neworleans.craigslist.org/kid/1064377763.html

** Responses from CL readers about the above Ad:
21) Re: I can take care ur baby while u go work
I don't mean to be rude but I think that if your ad at least sounded like you knew how to speak english well, make a full sentence and spell words right that people might pay more attention to your ad.
Original URL: http://neworleans.craigslist.org/kid/1064701628.html
22) Re:Re: I can take care ur baby while u go work
I agree and what would you expect coming from someone who will work 9 hour days for $20
Original URL: http://neworleans.craigslist.org/kid/1064791238.html
______________________________________________________________
23) Sitter needed on Sat Night (Pisgah/Sandhill Area)
I am working and need a sitter. It will be from 8 pm Saturday night until early Sunday morning (8 or 9 AM). You can stay at my house or yours. I usually pay $25.00 for the night and provide the snacks. I have a 12 year old daughter and 8.5 year old son. Both very well behaved, do not fight with one another. Only require an adult in case of emergency, will not be a burden or require much on your part. If you are interested please contact me. Trying to locate help before March 7, 2009. Teenager would work out great as well as SAHM. Amy 601-613-****
Original URL: http://jackson.craigslist.org/kid/1055046892.html
______________________________________________________________
24) Law Student looking to babysit (Moving to Jackson)
I am beginning law school this fall and as of right now plan to move the first week in July. I will move sooner depending on the response I get so, make your reservations now! Once I begin law school I won't be babysitting on a regular basis but, can occasionally. I am the oldest of six children and very experienced with kids. I will be getting my CPR certification as well before I begin any jobs. Thank you! 5 days; Monday thru Friday 7:30 til 5:30 $10 per day $50 per week 4 days; Monday thru Friday 7:30 til 5:30 $11 per day $44 per week 3 days; Monday thru Friday 7:30 til 5:30 $12 per day $36 per week 2 days; Monday thru Friday 7:30 til 5:30 $13 per day $26 per week 1 day; Monday thru Friday 7:30 til 5:30 $15 per day Extended hour prices will be discussed upon the situation. Weekend nights: $10 per hour Weekend days: $8 per hour Saturdays 7:30 til 5:30 $75 per month for 4 Saturdays I will consider 2nd shift hours as well. Prices are based upon the children coming to my20house but, I am willing to consider traveling. You provide lunch and I will provide snacks and drinks. $4/day if I provide lunch. ***Prices are per child; will consider cheaper rates for more than 2 kids. huntmeagan3599@****
Original URL: http://jackson.craigslist.org/kid/1029496947.html
______________________________________________________________
25) Nanny needed now (East Memphis)
Are you mature, responsible, and dependable and do you love to care for babies? If so, we have a six month old baby boy and mom has gone back to work, we need a nanny to come and care for him in our East Memphis home. The hours are 7:30 to 5:30 Monday through Friday. We are located near Quince and Ridgeway and we are offering $150 to $200 a week to start. We need someone who can start immediately. Call 901-650-****
Original URL:
http://memphis.craigslist.org/kid/1061080300.html

______________________________________________________________
26) Childcare Provider in my Home (Lincoln Park)
I work from home and need an experienced child care giver in my home to take care of my two children ages 8 weeks and 17 months. Also, light household chores such as tiding the kitchen and living area which is where the children will mostly be playing. Hours: Monday, Wednesday, & Thursday from 8:00am - 4:00pm. Hourly rate: $8.00 All applicants will be screened. We require checkable references and a background check. Please send your resume and a brief note. I look forward to hearing from you. Thank you.
Original URL: none provided
______________________________________________________________
27) Babysitter (Henderson)
if your looking for a night out or last minute babysitter call me..im available tonight if you need me i babysit out of my own home due to I have children of my own. Im open tonight till tommorow till 8pm and sunday all day and night. my rates r reasonable $20- 8 hours anything past that $5 or if your looking for less than 8 hours $5 an hour..702-463-****
Original URL: http://lasvegas.craigslist.org/kid/1072746255.html
______________________________________________________________
28) Nanny/Babysitter needed (Morrison CO)
We need a nanny for our 7 month old infant, 3 or 4 mornings a week, from about 8:30 -12:30. Ideal candidate is a college student or semi-retired person in the childcare/teaching field. We live up in the mountains, between Tiny Town and Aspen Park. Compensation: $7.00 per hour
Original URL: http://denver.craigslist.org/dmg/1069372930.html
______________________________________________________________
29) P/T Babysitter Needed (Dallas/Oak Cliff area)
Hello, I am looking for someone to assist my mother with my 2 year old daughter every Friday from 9a.m.-till 2. I am seeking the assistance of someone young that has the energy to walk and spend a little outdoor time with her. My mother will be at home to assist you. No cooking or cleaning required. Just need someone that can pay close attention, read and play with my only baby girl. The pay is $40.00 with all the food and drinks you can put in your stomach. I am open to someone that may need to bring 1 child of the same age as a play friend. If interested please give me a call I can respond alot faster than thru a email... Thanx for reading Dj 214- 486-****
Original URL: http://dallas.craigslist.org/dal/dmg/1071316867.html
______________________________________________________________
30) Need Child Care (Cary)
I am looking for a stay at home mom or a reliable individual that knows how to care for small children. The perfect location would be as close to Cary Parkway and Old Apex as possible. I have a 13 month old baby girl that needs child care 4 days a week from 10-10. I work in raleigh and split shifts at that. The hours might change (30 mins here and there) depending on your location and my work hours. I need something locked in by June 1st so I am starting early so we can meet and be comfortable with eachother. I am paying 400 cash every month. Please let me know if you are interested. Thank you.
Original URL: http://raleigh.craigslist.org/kid/1071484232.html
______________________________________________________________
31) Need Babysitter ASAP (Bayside)
Hi how are you my name is Elizabeth. My husband and I both work and need a sitter for our three children. From 8-6. The two oldest are in school from 8-2:30 and will need to be picked up. The school is a few blocks away form the house. My baby who will be 3 in Oct is a joy to be with. Please contact me if you are interested in this position. It is a full-Time job m-f starting at 250/week with financial growth after a while. You are soley there for the children no house work, just lite pickup after the children. No need to cook dinner I will take of that and the older kids Homework when I get home. i hope to hear from you soon.
Original URL: http://newyork.craigslist.org/que/kid/1071925250.html
______________________________________________________________
32) Childcare needed in my home (Orland Park)
Sitter needed three to four days a week from 4-7, Mon, Wed, and Fri, one day till possibly ten. I need someone to make dinner, do minor housework (clean up our morning mess), get the children to do their homework and help them if necessary. I plan on taking one night class a week starting in April that may go late. One night a week will include putting them to bed. There are four boys, one diagnosed with PDD, NOS, and the other three with ADD. They all take medication for symptoms, however, by evening hours medications are wearing off. I can afford to pay 9.00 an hour. For the most part the children amuse themselves. They are all boys ages 10,9,7, and 6. We live in Orland Park, close to the mall. Please let me know if you are interested or have questions. Thank you, Peggy pklutcharch@****
Original URL: http://chicago.craigslist.org/sox/kid/1072465767.html
______________________________________________________________
33) full-time nanny needed (Addison)
I am looking for a nanny to help care for my 1 year old. I will be home all day long with the nanny but because of health problems, I cannot lift my child to feed and diaper her. If you need to study, bring your child, or do something on the side, that's definitely open for consideration. I need the nanny to begin in April and come on Monday-Friday from 9am-4pm and to stay a little later for two evenings out of the week (this is flexible, but preferably Tues and Thurs until 9pm). Compensation: 650 per month
Original URL: http://dallas.craigslist.org/dal/dmg/1067778695.html
______________________________________________________________
34) room for nanny/sitter/housekeeper (60523/Chicago)
I'm lookin for a women to watch my 4 year old son and take care of simple house keeping, in exchange I wil provide a room in which you can stay. if interested please contact me for more info, thanks, Dave
Original URL: http://chicago.craigslist.org/wcl/dmg/1050353563.html
______________________________________________________________
35) Live-in Nanny/Mothers Helper (New York)
I am seeking a live-in nanny or mothers helper. This person will help me with my children - 2 yr old & infant, lite house keeping & cooking. In exchange you will be provide with room & board, meals and salary. For those of you that seek a salary more than minimum wage, please do not respond.
Original URL: http://newyork.craigslist.org/stn/kid/1071602018.html
______________________________________________________________
36) LIVE-IN NANNY NEEDED Late March/Early April (Desoto)
We would provide: Own room w/shared bathroom (w/kids) Salary $800 per month (no matter if parents home or not) (we're discussing a gas allowance) 1 week paid vacation during holiday season Food and utility included Possible free satellite & high-speed internet service Own parking area Safe neighborhood in Desoto with walking trail After 1-2 years your private small apartment attached to the home Looking for: Trust worthy mature female Car & driver's license (driving with kids for 2-3 miles per day) Spanish or English Experience with kids and new born About us: Mom works M-Th 7:30am-5:30pm, Friday 7:30 am- 11:30 am Dad does not have a set schedule. M-F leaves before dawn returns home by late afternoon. On summers may come home as late at 8 pm and may work nights Two kids (9 yr girl &soon to be 5yr boy) Mom is pregnant and due mid June We'll be closing on our new home in Desoto mid march Duties include Evenings & Weekends off Drop off & Pick up from school (ages 9yr girl and soon to be 5 yr boy) Light housekeeping and cooking When parents are home, we'll take care of kids, but wouldn't mind a helping hand. Mom will be home for six weeks on maternity leave and will need help managing home to squeez in some naps. In the summer one or both big kids will be gone for a month w/family. Please serious inquires only. Compensation: salary $800 per month, 1 wk paid vacation, free room and board.
Original URL: http://dallas.craigslist.org/sdf/dmg/1055463723.html
______________________________________________________________
37) Looking for Nanny/Babysitter during the day (Peccole Ranch)
We live in the Peccole Ranch/Lakes area in a two bedroom apartment. We have 2 1/2 yr. old twins (a boy and girl) who are really cute and pretty easy to take care of. The hours would be 9 to 3 pm, Tues through Sat mostly. The schedule can be flexible on the days if you need a day off for something. Mom works days 9 to 5 and Dad works nights 8 to 4. So the problem lies in the fact that Dad is not getting enough sleep. The kids are getting to that age where they like to explore and get into trouble. Nothing is in cement on the hours, its just a rough idea. We can be really flexible. Dad will be home while your there if you run into any trouble, just need someone to watch them, play with them and feed them lunch. Just need to get more sleep! Let us know what you think and your rates. The hours mentioned would equal out to 30 hours a week. We are looking to pay around $200 a week for your time. Thanks......Robert & Rosemary
Original URL: http://lasvegas.craigslist.org/kid/1072914450.html
______________________________________________________________
38) $80/per wk. mon-fri 7am-4pm (New Orleans)
I can watch your child/children, for low rates....While providing healthy meals, and snacks, quiet and friendly neighborhood, fenced in yard. i havea 2yr. old , myseld that would love to have new friends..please email mme if interested, I will respond within 24 hrs. thank you!
Original URL: http://neworleans.craigslist.org/kid/1056346615.html
** Responses from CL readers about the above Ad:
39) Re: $80/per wk. mon-fri 7am-4pm
80 dollars for 45 hours a week???? are you crazy? That is less than 2 dollars an hour! what are you going to be doing for two dollars an hour? sitting them in front of a tv while you go do whatever? come on! what person in their right mind would agree to that? Maybe I am just misjudging your post, but I firmly believe that, when it comes to childcare (as with anything), YOU GET WHAT YOU PAY FOR! Hopefully you are just undervaluing yourself or just don't know any better or can't do simple math... but i would never leave my baby with you.
Original URL: http://neworleans.craigslist.org/kid/1056425660.html
40) Re:Re: $80/per wk. mon-fri 7am-4pm
I disagree. I currently pay $80 per week for my child and he receives awesome care. He is 2 and knows all his letters, numbers, and colors and is currently potty training. That's not to say everyone is great, maybe I'm lucky. Some people don't do this for the money completely. Maybe they have a passion for children, maybe they are retired and this is secondary income and they are just trying to do a service to their community. The only thing I can say is do your reserach no matter what any one charges. My son went to a place where we paid $120 per week and few months later the facility was brought up on charges for fracturing an infants skull. Price doesn't matter, research does.
Original URL: http://neworleans.craigslist.org/kid/1056745970.html
41) Re:Re:Re: $80/per wk. mon-fri 7am-4pm (original Re:)
Hi, I just re-read my post about the $80 per week, and it sounded a lot harsher than I intended. Can we chalk it up to a midol moment? :) I only meant to say that I think that childcare is a undervalued field, and I believe that as a child care provider, you need to not under value yourself. Your job is similar to that of a teacher. You are responsible for someone's life. And that position demands respect and proper compensation.You need to be paid accordingly. This is from some one who used to be a nanny. I think at I am frustrated from my own nanny search. I have 3 year old autistic son, and my nanny recently went to med school. I find myself having trouble finding a nanny that is reputable, or at least not crazy. :) look at some of the responses I got to an ad that I placed. "I AM EXCITED TO BE YOUR NANNY! I CAN'T WAIT TO START! I CAN TEACH HIM HOW TO DO HIS NAILS. AND TEACH HIM ABOUT GIRLS! WE CAN WATCH SEX IN THE CITY TOGETHER! PLEASE LET ME KNOW WHEN I CAN START! CALL ME @ ******. " or =0 A"This email is about your post on craigslist.I would prefer to have him come to my house when i sit." me- [ok] "I have been wanting to sit ever since my son died......." me- [Wow.. I am so sorry. Do you mind if I ask what happened?] "Shaken baby syndrome. My nephew got jealous of him on night." me- [..... what happened to your nephew?] "Nothing. The doctor ust said that he has anger management issues.... but ever since he came to live with us, he has been better. He just gets so jealous of new people." or "I saw your ad about your son. my little brother was autistic. All autistic kids just need a little discipline. When my brother was bad, we would spray him with water and put him in a corner. he stopped crying after an hour or so." or "I really good with autristic [real spelling] kids. I bye dem some paints and crayons and they are fine." me- [ he is autistic...] "you should tend to that. Autrists make a lot of money once they get famous." me- [ he is AUTISTIC.... he has Asperger syndrome.] "what is dat?" me- [ a pyschological disorder] " i ain't got time for no retards or pyschos. CLICK" Also, Would anyone be interested in nannying for a child with asperger syndrome? He is a wonderful, affectionate child, and just needs some one with patience who can give him the attention that he needs. Pay is commensurate with experience. $ differentials for first aid training and CPR certification. $ differentials for experience with special needs children Spanish speaking a huge plus.
Original URL: http://neworleans.craigslist.org/kid/1057962193.html
______________________________________________________________
Special Thanks to all of the following Readers: austinmama - for our Feature Ad, northjerseynanny, KeljustKel, Bmomtami910, HungryCollegeStudent, etereia, MissDee, Meghan, Fawn, cdhere25 and Lunar785. We had so many Submissions to go through this time.... All of you did a fantastic job! Remember: CL-WTF will be Posted every Saturday... please send next weeks Ads HERE.

TO LEAVE A COMMENT: PLEASE CLICK RIGHT HERE!!!