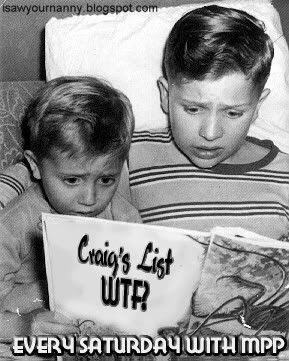 Saturday, April 11, 2009

.... What?!

1) Blessed is my Baby sitter (Detroi)
The ideal person for this position will be loving, caring, kind, open minded and gentle. She will also be social, inspirational and know our lord and savior jesus christ as her personal savior, she will have hit rock bottom on the verge of being homeless, she will have been victimized, lied on, cheated on, and discouraged in many ways. she will be strong, understanding and compassionate about herself and others. she will have learned from her mistakes, but untouched by them at the same time.She will have a desire to rise above her despair and have the courage to make the neccessary sacrifices to achieve her dignity through her primary focus and willingness to find contentment in her personal rightousness. She will have common sence and will not be discouraged by the fears that others seem to magnify through what they think ' might be in her best Interest. God, must be present in her heart as she makes her decision while in transition. If you feel that this sounds, much like you' than you may very well be the person that we are looking for. we are a christian family deeply rooted in a non denominational faith, as christ as the head of our house hold we are currently seeking a ( live in baby sitter ) who will love and care for our only son, we will offer you room and board in exchange for these services, as well as a vehicle and cell phone for the purposes of transporting our son to all appointments, also if you are employed in the evenings and or weekends you will have use of one of the vehicles as well, the hours will be monday through friday 9 to 5, you will have saturdays and sundays off. Our reasons for choosing someone down and out is because we are compelled by the spirit of God to help others in despair, who are in need of true help, someone who will eagerly appreciate our concearn and interest for their personal welbeing, we are not perverts or psycho people looking to violate or extort youg women and we are not gay or intersted in the indulgence of a third party freak. We place our ads where ever we chose because we are adults obeying the word of god, and although the devil displays his disgust through the demon oriented mortal man, we will triumph as you have in over coming your past experiences. this position is not intended for people who do not follow the word of god, nor is it intended for those who seek money for their services. The housong and job markets are bad in many places, and we understand the strees, pain and hardship on normal, regular, average, every day poor people, we cannot save the world, nor can we help everyone in need, but our mission is to pass on the love and care to others, in hope that it will make a diffence in their confusions, a difference in their lives, their goals and the hope that live deep within. More often than i care to admit' it seems rather alarming to find the level of negativities amongst those" who seek their passions in life. It's almost' as if ' they are searching for something' special' and when they find whatever it is that they are looking for " they simply" discard it, with a vengence, a plague, often administered by the workings of demons all around them, remember the story' little boy who cried wolf" what an interesting concept. The average person' works a 9 to 5 job, and when their paycheck, is recieved' they go out and spend it on their bills, and whats left, is barely enough to get by on' owe' yes' they truley mean well' and will spend years in that circle, simply becoming use to their fundamental attempt to grasp a difference in their bank account and or rationalizations for fear, and their ever present loved ones. It seems that the only way out is an ice cold beer, vodka and gin, 520 friendly, a pack of newports and relentless desires and passions for sex, the hot guy or the hot girl. God takes a back seat until, the end is almost near. we send this message in peace and love, if you want a job. lets us know. we live in Boston, get a one way ticket, and we will be there" praise the lord.
Original URL: http://detroit.craigslist.org/kid/1086069350.html
_____________________________________________________________
*Last week an Ad (#2) in CL-WTF showed a Nanny and her young baby homeless and searching for a job. Here is an Ad from someone that evidently hired her!2) BE CAUTIOUS.... BAD NANNY ALERT
BAD NANNY ALERT ....................BAD NANNY ALERT................ I had seen an add on CL of a young lady whom had a small 9 month old daughter in desperate need of a place to live and a nanny position. I contacted her, had her come visit our family for a day and once the references were checked I offered her the position. At the time I was waiting to get my set schedule at my new job and my husband had just started a new job as well. So although she hadnt had set hours, we had let her know for the first week it would vary. I allowed her to move in asap for the sake of her and her daughter being homeless. She moved in on wed. I took her personally grogery shopping for her needs and let her know she could start work fri, have sat and sun for easter off and my regular schedule would begin on monday. She was fine with that, we also agreed tentatively her days off per week would be sun and thurs, based on my husbands schedule. Thas was fine we agreed on everything, well as far as I knew. I left for my first day of work and left her with my almost 2 year old son. I felt confident things would be ok. I arrived home less then 7 hours later and things seemed fine. My little one seemed happy and content. We got to talking and all she could ask about was her time to have off.... WHEN CAN SHE HAVE HER LIFE.........AND...... THAT SHE NEEDED TO DO THINGS. A little taken back I asked her why she was always asking about days off, I said I would never start a job and worry about days off, If anything I would let them know I want to work to build my repor and then make sure my days off are set. Again I had told her to bear with me about set in stone days since we both started new jobs. She was fine with that. We got to talking and she told be her needs come first, and that I told her I would take her to WIC and take her to the post office and how dare I be so cheap on her pay. I responded with "Im sorry I wasnt aware that I was here to run you around where you needed to go, as well I told you wed go but I have to work and we could work around that. As for the pay I told you my needs and you agreed, I have never hired a nanny and didnt know what was cheap or not and that she should of brought it to my attention. She then did the unthinkable, insulted my son saying "well hes autistic and he needs special care" Now granted my son has never been diagnosed autistic he does have develomental problems due to his open heart surgery and his birth mothers drug abuse. Which she was made fully aware of prior to her position agreement. Like a mama bear I told her to leave my house asap. She told me I would have to legally evict her and she can stay. I then reminded her of our nanny agreement and told her she needed to make other arrangements and I left the room to call my husband. She then proceeded to call the police to my house, claiming I was calling my husband to come beat her up" The cops came and she had by then decided to have her mom (whos a nanny as well) come and get her because she knew she wasnt going to have a right since we had a signed agreement. She packed her belongings and slowly moved then downstairs. When her mother arrived all heck broke loose. She called me a b word, said she was going to put a curse on me, call me a fat a**, called me chubby and contined the name calling untill she was packed and left, then threatened me and my family with harm if I posted a bad review on criaglist. Once they left I went and checked upstairs and she had stolen my DVD player I had put in the room for her. I am not going to place her personal info on Cl... but I will let you know her name starts with a H, her number starts with 530, she is from New Hampshire and she has a 9 month old daughter with her. All in all I am so worried for the next family she meets, she seems nice and sweet but I am left to wonder what she possibly had done to my child and why she is using people in this way. I would advise anyone on CL looking for a nanny to steer clear of this person.IF YOU'D LIKE ANY ADDITIONAL INFO ON THIS PERSON PLEASE EMAIL ME DIRECTLY. GOOD LUCK TO EVERYONE AND I HOPE YOU HAVE A BLESSED DAY!
Original URL: http://lasvegas.craigslist.org/kid/1117136166.html
Last weeks URL: http://lasvegas.craigslist.org/kid/1104085327.html
_____________________________________________________________
3) Destination Unknown (Cole Valley/Ashbury Hts)
What is seemingly apparent is the fact that when opportunity knocks, it is as random, as the principles it was designed to greet, if you are looking to relocate but are limited in your destination and or skeptical about a reasonably great place to live, if you are without money to get started or need a setup this would be great for you ... if you have a natural, love for people and children than we might be able to help you as much...We would like to help someone who is in need of real help, nothing to be skeptical about, we are real people with a real purpose and would like to help someone who is serious about help. If you are serious about moving on up in life, opportunity knocks...This Posting is not a scam or spam, if you are a loving and caring person, who loves children and is in need of a worth while relocation, please feel free to contact us. We are not looking for a sex partner or any other negative insults related to your past experiences or history. we are a professional family seeking a live in nanny who is willing to relocate. we would prefer someone within our age range because our experience with older nannies seem inappropriate, because they all come with their own independent reasonings of how they have raised all of their children, this way or that way. we are not interested in anyone who are old fashioned and set in their ways, we would like someone who follow instructions and can handle a 8 month old baby boy. We prefer someone who has had enough of their problems and would like to move on, with their life, someone who needs a serious break in life, and has a natural love for children, we offer complete furnished room with all the trimmings, including free phones, fax machine and internet, queen size bed etc, we offer a car as well as a cell phone, there are tons of amenities as well. indoor gym and swimming pool, this is an upscale establishment and welcomes the ideal candidate who wants to move up in life, we also offer a small stipend, so if you are tired of Iowa "and would like to move up in life, this is for you. If you have a few references a resume and a recent photo we will contact you immediately. we prefer someone from out of Arkansas, because of our visit there and found that a lot of the people are really decent as oppose to all of the druggies and alcoholics here in Boston, so if you are interested 'this is great, we dont mind if you drink and have a good time, but not while you are on duty looking after a baby. We are looking for someone who is willing to relocate immediately, the primary candidate should be serious and willing to travel...Thank You
Original URL: http://sfbay.craigslist.org/sfc/kid/1113333187.html
_____________________________________________________________
4) Looking for Nanny/Housecleaner (Phoenix)
hi i am looking for a helping hand to watch my son and clean up around the house. i am a single mother i run my own bussniess from my home so will be you and my son i am looking for some one that i can truth and welcome in my home with no worries i live in phoenix so i am looking for some one with there own car to come up and down to my house i am looking for some one 7 days a week my hours are fexitble e-mail me and let me know about your self if you dont speak english it ok as long as we can understand eacth other e-mail or call 602 275-****
Original URL: http://phoenix.craigslist.org/cph/dmg/1116840962.html
_____________________________________________________________
5) Nanny (Upper East Side)
WE ARE SEARCHING FOR A RESPONSIBLE FEMALE TO WATCH MY 11 WEEK OLD. I AM NOT THE TYPICAL MOTHER AND HAVE MY OWN WAY OF RAISING OUR BABY GIRL. SHE EATS ONLY ORGANIC RICE CEREAL ONCE A DAY AND THIS IS ALL I EXPECT HER TO HAVE. UNDER NO CIRCUMSTANCES DO WE TALK "BABY TALK" TO HER. EVERY SECOND HER BRAIN IS BEING WIRED FOR LIFE AND I WANT HER TO LEARN THE CORRECT WAY TO SAY THING. SHE IS EXCLUSIVELY BREASTFEED AND I WOULD LIKE A LACTATING MOTHER IF POSSIBLE WHO COULD BREASTFEED HER WHILE IM NOT THERE I DO NOT WANT HER TO BECOME CONFUSED BUT IF NOT POSSIBLE THEN I WILL TRAIN YOU ON THE SPOON FEEDING METHOD. ALSO SHE IS IN THE PROCESS OF LEARNING INFANT POTTY TRAINING AND I WILL EXPECT HER SITTER TO KEEP UP WITH HER ON THIS. INFO ON THIS CAN BE FOUND AT
http://www.timl.com/ipt/
BELOW ARE ALSO OTHER REQUIRMENTS I AM LOOKING FOR. DO NOT EMAIL ME UNLESS YOU ANSWER ALL MY QUESTION AND TELL ME WHICH REQUIREMENTS YOU MEET. THERE IS NO NEED TO SEND UNNECESSARY RESPONSES 1.AGE 2.DID YOU FINISH HIGH SCHOOL/COLLEGE IF SO WHERE DID YOU GRADUATE FROM AND WHAT WAS YOUR GPA 3.DO YOU KNOW MORE THEN ONE LANGUAGE 4. DO YOU SMOKE DRINK OR DO DRUGS 5. AVAILABILITY 6. CAN YOU COOK ...HOW WELL 7.ARE YOU HEALTHY 8. HAVE YOU EVER BEEN ARRESTED 9. DO YOU DRIVE DUTIES REQUIRE COOKING CLEANING AND WATCHING OUR CHILD ONLY SERIOUS INQUIRES NEED APPLY THERE WILL BE NO TV OR PHONE USE IN MY HOUSE UNLESS EMERGENCY
Original URL: http://newyork.craigslist.org/mnh/kid/1117130593.html
_____________________________________________________________
6) Babysitter needed for my lovely kids (New York City)
My name is Satin Rose (real name) and I have 3 beautiful girls Aurora 3, Sephora 5 months, and Melora 6. I would love to find the perfect baby sitter who is capable of meeting all of the requirements to take care of my precious children. We live in Soho so transit should be very easy. The babysitting requirements would require waking the children up in the morning and putting them to sleep in the night. Also cooking meals such as breakfast, lunch, and dinner and snacks in between, Making sure they are showered and dressed. Also cleaning up after them is a must. And special powers are preferred but not required. Personally I am impressed by mind readers, telekinesis, and time travelers. Thanks so much/ Satin Rose
Original URL: http://newyork.craigslist.org/mnh/dmg/1117171734.html
_____________________________________________________________
7) Flexiable babysitter (Henderson)
hello everyone! My name is Lauren:) I'm a babysitter in the Henderson area I'm willing to travel as well. Very responisble and flexiable with my days and times. The price is what you can afford I'm very exspericed. I'm currently watching kids on certain days...So just let me know if you are intrested. My number is 702-523-**** you can also email me at martineznicolelauren@yahoo .com thanks Lauren
Original URL: http://lasvegas.craigslist.org/kid/1116494527.html
_____________________________________________________________
8) Looking for help for single dad (Shipps Corner area/Va)
seeking someone to chat with at first,i do have a room to rent or trade for the right person to help me take care of my son(5),he is awesome,you would think so too,lol.,im definitely cool with making new friends as well and we can leave it there.even just a chat buddy is cool for me. I do have a pic to trade.
Original URL: http://norfolk.craigslist.org/stp/1108302261.html
_____________________________________________________________
9) I NEED 24 HOUR DAYCARE VERY CLOSE TO 12th AND MONTANA OR TRANSPO (Milwaukee)
I am gonna be starting a job probley on saturday and i have 3 children that i need to find daycare for asap.....im looking for someone that accepts w-2 .......and also that is close to 12th and montana or on the southside that provides transportation please.....if anyone knows of anyone or a place can u please email me the hours would be 12pm-8pm saturday and sundays 4-8 monday,wednesday,thursday and friday my kids are 1,3 and 5 please if u know anyone please let me know asap as i need to get this going fast thanks
Original URL: http://milwaukee.craigslist.org/kid/1110320082.html
_____________________________________________________________
10) ERGENT CARE TONIGHT FOR 18 MOS. OLD (Plano)
I NEED CARE FOR A 18 MONTH OLD LITTLE BOY TONIGHT HE IS SUCH A JOY 7PM-2AM OR OVERNIGHT CANT AFFORD ALOT PLEASE CALL ASAP 972523****
Original URL: http://dallas.craigslist.org/dal/kid/1116409815.html

_________________________________________________
11) Looking for a young, late-night sitter (Frontenac Metro)
Hi There! I recently split with my husband, and now I am finding that I can't always been a shut-in with my 3 year old on the weekends. I'm a photographer, and work with many of the bars here in Montreal, and often need to go out, rub elbows, and network. These are pretty late nights though (probably from 11-3:30), so it's probably best that you live in my hood (Frontenac in between Ontario & Sherbrooke) OR you drive. My house (and kid...who will be LOOOONG asleep) are super laid back. I have internet, and fancy satellite, a big comfy couch, and a house full of treasures. It's a really easy gig. You can sleep the whole time if you'd like. That's what I would be doing any other night! Our freezer usually has ice cream, and there is always some snacks. It's a super easy gig! I'm offering $45 a night. Usually once or twice a week. If you're interested, please drop me a line! Thanx!! xox
Original URL: http://montreal.en.craigslist.ca/kid/1112200409.html
_____________________________________________________________
12) Seriously Milwaukee? (Fox Point, WI)
I just got done watching the news, and I'm seriously so sick of hearing about babies dying because of irresponsible parents. If you can't accept the responsibility of having a child, then bless another family by adoption or something!!! Or, even call me and I'll take care of your baby while you need a break...I'll do it for free, no questions asked. Please no more of this.
Original URL: http://milwaukee.craigslist.org/kid/1110734586.html
_____________________________________________________________
13) Child Sale - Update (Austin)
To those who emailed me thanking me, I just wanted to share with you what happened. Tonight I saw an ad on craigslist titled: BABY FOR SALE IN AUSTIN 30,000 (NORTHE AUSTIN). The ad said "I CAN NO LONGER TAKE CARE OF THE CHILD THE DAD IS NOT AROUND SHE IS 16 MONTHS OLD HER NAME IS JACOLE I HAVE TO SALE THE CHILD CAN NO LONGER TAKE CARE OF HER OR SHE WILL HAVE TO BE PUT DOWN I NEED THE MONEY IM TIRED OF SELLING MY BODY FOR MONEY, I AM THE MOTER MY NAME IS XXXXX XXXXX CALL XXX-XXXX THE LOCATION IS XXXXXX THIS POSTING IS REAL I HAVE TO SLAE HER." The ad had a picture of a mother and a kid. Ya, the ad looked fake, but what if? What if? Did the Mom get drunk or strung out on drugs and post this? Is it just someone trying to get this person in trouble? Or just some teen who thought it would be funny to post an ad like this? I decided to call the Austin Police Department, but it didn't go very well. I spoke with a woman at 311; informed her of the craigslist ad and she forwarded me to 911. Ok cool right? Wrong. The 911 officer gave me the phone number to the "cyber crime" which I guess is supposed to handle things like internet crime, but apparently they only work 9-5 because no one answered. I let the phone ring 20 times...no answer machine. A little puzzled, I call the Austin Police Department (311) back. Explained the situation to a gentleman and that I was trying to reach the "cyber crime", but that no one is answering. I'm transferred back to female 911 officer a second time and explain that no one is answering the "cyber crime" phone. "Is there supposed to be someone there, or are they closed?" I ask the operator. The information the operator has is that someone should be there or that there should be an answering machine (she doesn't sound convincing). So I ask her what the next step is and she tells me to call the cyber crime in the morning. What!? Did she really want me to wait 8-10 hours to report this? And to make things worse, during this exchange at one point, she tells me "What do you want me to do? We don't have anybody to investigate this right now. A detective from the cyber crime will have to do an investigation." At that moment I felt as though I've heard this schpeel before. Ya, I'm absolutely sure I could have substituted the 911 operator for a sudden link customer service rep. As a stay-at-home Dad, my maternal, protective side couldn't let this go. So I called the Austin Police Department a 3rd time. The 311 operator was the same woman I spoke with during the 1st call. I really pressed for something to be done, I mean after all, the craigslist ad said they were going to "put down the child" if they didn't get it sold. The ad contained a phone number, street address and picture of the mom and kid...I mean, couldn't someone from the police force just drive by and check it out, fake or not? The 311 operator put me on hold, got her supervisor. The operator said that the supervisor was aware and it would be look into. I have to believe that the Austin Police Department has/is checking this issue out, but why did I have to call 3 times for something to happen? Why isn't the cyber crime answering their phone? Why didn't anyone ask me any questions? Didn't we all learn to ask the 5 w's in grade school? (Who, what, when, where, why, how) I felt blown off by the Austin Police Department or maybe it's their "process" which restricts who can handle these internet issues, but I think this sends a red flag at a broken/outdated process which has the potential to put kids (or anybody) at risk. Am I overreacting? I don't know, you tell me?
Original URL: http://austin.craigslist.org/kid/1112443821.html
_____________________________________________________________
.... How Much?!14) Afternoon Nanny/Housekeeper (MedCenterRice)
I am looking for someone to help me out 3 days per week (Monday, Tuesday, Thursday) in the afternoons, from 12-5pm. Housework (laundry, cleaning) from 12-3, then pick up my daughter from school and watch her from 3-5pm. No driving necessary (we live within walking distance of the school). $30 cash/day. References a must. If interested, please contact by e-mail. Thank you.
Original URL: http://houston.craigslist.org/kid/1116997776.html
_____________________________________________________________
15) Sitter/Nanny (North Wake County)
Pay is $7-$8 an hour. an occasional overnight is required. We pay from whatever time you arrive until 9-p for overnights and then pay resumes the next morning (no need to be paid for sleeping) That is how we pay our current sitter and we are pleased with it so we will continue it with our next sitter. Current sitter graduates this year and is moving so we need to replace her. Funr environment. Requirements: great attitude, easy going, on time, reliable, easy to contact, great with kids, must love the water (kids like the pool), must love movies and just having a good time. I like to have a face to place with responses so if you have a recent photo please include it with your reply, if you have a problem with sending us a picture then obviously there are some issues already so please do not bother responding. We are looking to start interviewing asap. I will respond quickly as I am on and off line alot of the day.
Original URL: http://raleigh.craigslist.org/dmg/1115917258.html*Response from another CL reader:
16) RE: Sitter/Nanny (North Wake County)
If you feel people have issues by not sending a photo of themselves why didn't you post a photo of yourself with YOUR ad? Give me a break, and not paying for when the person is sleeping in your home? That is like being on call, and you are probably doing something illegal by not paying your employee. Get real!
Original URL: http://raleigh.craigslist.org/dmg/1116439173.html
_____________________________________________________________
17) Sitter needed (Wyocena, Portage, Pardeeville, Rio)
I am looking for someone to watch my children on occasion - while I take care of business, or chores, or the like. I need someone for couple hours here and there Some nights , some days, some weekends. I have a 10 year old and a 6 year old. Not Necessarily Both at the Same time. I can only pay $3.00/hr for 1 or $5.00/hr for both.
Original URL: http://madison.craigslist.org/kid/1109231722.html*Response from another CL reader:
18) RE: pay for babysitters (Re: Sitter needed Wyocena, Portage, Pardeeville, Rio)
"I can only pay $3.00/hr for 1 or $5.00/hr for both." REALLY?? REALLY?! Even if someone is 17 with no experience, the going rate is at least $9/hr. (referenced from
http://babysitters.sittercity.com/rate_calculator.html
) And someone who is 22+ and has 4+ yrs experience the rate is $12/hr. What IDIOT would work for less than at the very MINIMUM $7/hr???? If that is all you really can afford for childcare, THEN YOU CAN'T AFFORD CHILDCARE. What you want to pay is VOLUNTEER WORK not a job. Maybe contact your church or community group or exchange childcare with a friend or neighbor. Paying what you want to pay is unexplainable and disrespectful. And then that isn't even factoring in other things such as: Early Newborn/Twins If you have a child that is very young (1 month to 4 months old) or if you have twins that are under a year old, you will definitely want to increase your rate by $1-$2 an hour. These jobs are quite hard for sitters, because they need extra training from you and they have to be extra-vigilant on the job. If you have a very special situation, like triplets, talk to your sitter to figure out what will make him or her happy! In the end, finding a great sitter that will help you out with babies or multiples is worth the extra money it takes to get them. Housework If your sitter is going to be doing extra housework for you that takes over two hours during the job, you will want to give him or her a little extra. Housework that is "included" in a job rate typically takes no more than one hour of the job itself (with help from the kids). Typically housework that falls into this category is a combination of dishes, laundry and general cleaning. If you have a great sitter that is willing to do several hours' worth of chores for you, the extra $1-$2 that you give him or her an hour will be well worth it in the end! Overnight Job Overnight jobs are generally an hourly rate for the daily hours worked, and a lump sum per night that the sitter is working. A common example is paying an hourly rate until 10pm at night, then following that with a nightly stipend. $40-$60 a night is a typical nightly rate range, depending on your location, your babysitter's age and experience. If the babysitter is doing a lot of night jobs consistently in a row for you, this nightly rate can go down a little to $30-$40 a night, or even just be merged into a daily overall rate that the babysitter will get. There are certain things that you can throw into the bargain that will also make life better for your babysitter and make it easier for them to spend time overnight. A toothbrush, a nice guest room or futon, spare nighties, an alarm clock and towels and shower access are things that make an overnight more enjoyable and might lower a rate. Special Event If your sitter is working an event, you may choose to offer an hourly rate with overtime pay or a bulk flat rate for the entire event. Either way, event rates are usually calculated by the ration of kids per sitter. (Try not to give one sitter more than three kids to watch.) For flat rates, we recommend that sitters get close to $100 for a four-hour event period. If you choose an hourly rate, be aware that event rates are typically higher: starting at $20-$30 per hour. As for overtime, those rates should be at least $3 per hour more than normal rates. It's also a good idea to give event sitters a separate room to play with the kids, with lots of toys and books to keep them occupied. Special Needs Child If your child is a special needs child, you might want to try searching the Sittercity.com site for special qualifications, such as sign language or training in autism. Sometimes sitters that are trained in special needs raise their rates by $1-$2 an hour, but this is also not the rule. We suggest that you let the sitter explain their special qualifications if they feel that they should have a higher rate. Vacation Job Bringing a babysitter on vacation is yet another variant of the extended sitting job, and one that's becoming very popular. 10% of Sittercity's parents have reported that they've taken a sitter with them on vacation, and another 40% stated that they've considered it, but not tried it yet. In this variant of a typical babysitting job, the babysitter comes along with you on a trip. While it may seem great that your sitter is headed to Paris, remember that he or she will bear most of the grunt work during the trip. It's hard to lounge by the Louvre when you have two toddlers sitting on you. So we recommend that in addition to covering travel fees and expenses, a daily rate of $130-$200 a day should be worked out with the babysitter. If you want, you can include nighttime fees into your daily rate, or you can include them in separately. Nightly rates usually range from $40-$60 per night. Also make sure to give your babysitter a small daily allowance of the local currency on the trip as well and a phrase book if they are in a foreign clime, so that they can navigate their way around.
Original URL: http://madison.craigslist.org/kid/1110278678.html
_____________________________________________________________
19) Looking for a GREAT summer nanny (Katy)
Greetings We are looking for a good Christian nanny to help us take care of our kids over the summer. Our children's ages are 12, 10, and 4 (our 4 year old will go to daycare most of the time). They are fantastic kids and incredibly busy (lots of activities). We would like to have a responsible college student that is home for the Summer if possible. The position is for a live-out nanny. The position pays $300/week and will require working Monday thru Friday from 8:30 to around 5:00. Very light housekeeping would also be required. If you are interested please send us an email and tell us a little about yourself and/or ask us questions. Thank you.
Original URL: http://houston.craigslist.org/dmg/1115343873.html
_____________________________________________________________
20) Full Time Babysitter Needed!! (Mckinney-Frisco)
I am in urgent need of a reliable, responsible christian to take care of my children on a full time permenant basis. Your Schedule would consist of taking care of my 2 year old Full time from 8:30-5:45 Mon-Fri and my 4 year old Mon. Wed. Fri. 8:30-5:45 and then Tues and Thurs. Would need to be taken to pre-k and picked up and then watched after that till 5:45. I would pay for gas to and from. Pay is not the best but not to shabby. With the economy people cant afford to put their children in childcare and pay 1,000 dollars a month. Please only reply if you are willing to nigoate on your pay. Also only reply if you have reliable transportation and are responsible. I would need someone to start Monday or Tuesday of next week. If you are interested please contact me on my cell phone at 972-984-****. If I do not answer you I will get back to you as soon as possible. Thank you so much. Hope to hear from someone great soon!
Original URL: http://dallas.craigslist.org/mdf/dmg/1112421423.html
_____________________________________________________________
21) Looking for a babysitter or nanny (NW- Jefferson park/Forest Glen)
3 kids- 9 year old boy, 6 yr. old boy, 3 yr. old girl. For now just looking for someone to watch on as-need basis. Maybe take them to the park or watch for a few hours in evening or weekends. But starting in september 2009, will need you from 6:30am until 9am...monday-friday.......and then again in the afternoon a few times a week or m-f for a couple of hours. Probably 1pm - 4:30pm on tuesdays and fridays. You might have to be the one to drive kids to school and pick them up. You might have to use your own car for pick ups. No smokers. must be responsible and be able to handle 3 kids at a time. No house keeping, just watching the kids for now. Now $8 per hour to start. For consideration email back with description and qualifications and phone number. We are near Elston/Foster. Prefer someone close by in either forest glen., jeff. park or around that area but not necessary.
Original URL: http://chicago.craigslist.org/chc/dmg/1113730310.html
_____________________________________________________________
22) BaBySiTtEr NeeDeD aSaP (Brookfield Zoo)
I am looking for a reliable person to watch 2 boys, ages 9 &11, after school. This is a permanent position. The boys need to be babysat at least until summer 2010. If you cannot accommodate that, please do not reply to my post. Hours are as follows: Mondays: 3:00pm - 9:30pm (may vary weekly) Tuesdays: 3:00pm - 7:30pm (may vary weekly) Wednesdays: 3:00pm - 7:00pm Thursdays: 3:00pm - 10:30pm Fridays: 3:00pm - 6:00pm --- One child comes home on the bus, the other needs to be picked up from school at 3:30pm Monday - Thursday until the end of the school year. --- *Light housekeeping is required.* *The boys are on a schedule, that I will prepare weekly. The schedule needs to be followed and enforced. They may need to be taken to doctors appointments, dropped off at friend's houses, or even taken out for a walk around town just to burn off some energy. *Reliable transportation is needed. *Flexibility and Patience is extremely necessary for this position. *I can only pay $30.00 per day. Regardless of the # of hours you work, it will still be $30.00 a day. ___If you are interested please e-mail me with your name, number & any questions you may have.___
Original URL: http://chicago.craigslist.org/wcl/dmg/1114633146.html
_____________________________________________________________
23) PT child care needed (Portage WI)
I am looking for a sitter for my 3 children 10 and 9yr old daughters and my 6yr old son. My husband works 3rd shift so the hours would be from around 12 noon until 4-6 Pm so he can sleep available any day the portage schools are out. some things to consider.... I would like to find someone with a very liberal progressive view of the world. I do not want anyone who will be forcing any racist, homophobic ,religious or otherwise nasty opinions in my children presence and will discourage others form doing so. I also prefer someone who cares about community and someone who is politically aware and active...My kids enjoy protesting ...we even have out picture on the Madison area peace coalition web site! Pets are ok as we love ours. (we do eat meat though) My children are very independent for there ages and I work hard to remind them that there is not a need to "fit in" The Disney channel and MTV are banned as my husband and I prefer PBS. They are allowed to play video games but outside play is enforced I prefer you feel the same. If this ad sounds like you send me an email...It may take me a few days to respond but I will get back to you I am looking to stay around $150. week but this is negotiable. I can provide snacks as meals will be arrange before and after pick up.
Original URL: http://madison.craigslist.org/kid/1117005662.html
_____________________________________________________________
24) Nanny/Driver (Laveen)
I am looking for Nanny/Driver. I live in Laveen (43rd Ave. and Dobbins) and cannot drive due to medical issues. I need a ride to and from work, to appointments and most importantly my daughter, Jaidyn(6 months)needs to be cared for and on occasion my niece, Mariana(7). Requirements 1.Valid Driver's License 2. Insured Safe Vehicle( will pay for any increase for the type of auto insurance I require you to have or a valid major credit card in your name, I will pay for rental) 3. The abiity to be able: a. to use a camera and photograph the moments I miss. . b. Computer literate( update Jaidyn's facebook with all the pictures you take) c. Must be crafty too, you will make baby books and send out mailing for family members. 4. A positive personal interview and great attitude 5. CPR Certified (I will pay for you to be CPR certified) 6. Willingness to travel. Position Comes with: A cell phone Gas Card Meals All Outings paid for. * I want my daughter to be enriched so she has a busy schedule including auditions for modeling gigs to jump start her college fund. *I will not start work for 2 weeks to a month, but would want you to spend 1 day with my daughter, paid of course just to see how things go. * We are an organic kosher family, most of her food is homemade and it's important that you be able to adhere to following her diet. If you are still interested please email me as soon as possible. Compensation: Depends on factors listed in the ad, from 120 to 360 a week, plus perks.
Original URL: http://phoenix.craigslist.org/wvl/dmg/1104202475.html
_____________________________________________________________
25) Fun Loving Nanny/Babysitter WANTED!!! (Round Lake Beach)
We are looking for an responsible, experienced, fun loving, and reliable Nanny/Babysitter to join our family! We are looking for someone who really enjoys spending time with kids, exploring new places, playing dress up, playing outdoors, tea parties, art projects, going to museums, etc. We need someone who initiates and implements age-appropriate activities. Our girls are a lot of active and a lot of fun - but most of all they just want a lot of love. They love to learn and explore new things. We need someone who can prepare healthy lunch and snacks too :) The job would be between 35-40 hours per week consisting of five days (M-F) 8:00-3:00 or 8:00-4:00pm. We prefer someone who is willing to watch the kids in our own home. General requirements: * Must have a safe car and be willing to use it to transport kids, and have a clean driving record * Must have excellent references * Must be a non-smoker * Must speak fluent English * Must be CPR/First Aid certified (or willing to become certified) your background! *Must like Animals. If interested, please respond back to ad also with salary requirements. Compensation: $300 per week.
Original URL: http://chicago.craigslist.org/nch/dmg/1114235084.html
_____________________________________________________________
26) nanny/housekeeper in exchange for room and board (Northeast)
I am looking for a nanny/housekeeper in exchange for room and board. Rent-free, private floor, w/ private bathroom. furnished. I have a 12 yr old daughter, 8 yr old son, and 18 month old baby. I live in a 5 bedroom house in the ne phila area. I will provide food, room and board, heat, water, etc. I will negotiate any special circumstances you may have. Thank you.
Original URL: http://philadelphia.craigslist.org/dmg/1105313838.html
_____________________________________________________________
27) Live-in Nanny needed NOW - Priv. Apt. $250.00/wk (Bucks County)
THE JOB! The main requirement for this position is flexibility when it comes to the schedule. On top of the regular week schedule, the nanny might be requested to take care of the children or the house on weekends or for a full complete week alone. Her tasks are taking care of the children from rise to bed during the week, including: lunch, meals, showers, homework, bedtime routines and tidying up their rooms and bathrooms. Other tasks involve grocery, family laundry and ironing, tidying up after the kids, keeping kitchen area clean, pet care (if needed), house-sitting if necessary… 2 weeks paid vacation – 2 weeks unpaid negotiable if wanted. Must be planned around parents schedules, which is usually known ahead of time. Car is an asset but driving mandatory. THE KIDS We are two adorable children who need a new nanny. The one we have is moving back closer to home. One of us is a caring loving girl aged 11 and the other a sweet and cuddly 7 year old boy. We live in a beautiful large house in Pennsylvania now but are from Canada originally. This explains why we sometimes speak a little French at home. Our nanny needs good English skills to help us! Our parents are both scientists and travel sometimes. We need someone to take care of us during the week, but also sometimes on weekends. We love to swim, play outside, do crafts, play on the computer, and play the Wii, watch movies…. We are well behaved but need someone to keep us on a straight line. We do well with routines, authority and strict rules. We have an old quiet cat and a funny younger dog. Our parents are pretty cool, easy going and accepting. We are pretty energetic and would enjoy a nanny who can keep up with our positive love-living spirit!! Of course this is a job, but our nanny is more like a family friend after a little bit.
Original URL: http://philadelphia.craigslist.org/kid/1116361056.html
*Responses from other CL readers:28) RE: $250 wk/Private Apt... That is what you pay a FAMILY FRIEND??? (Are you DELUSIONAL)
the nanny is responsbile for the children from waking up to bedtime!!! also some weekends and ENTIRE WEEK ALONE????? I could understand if it was a 9-5ish position where the nanny could also get a part time job. i have seen MANY crazy posts but this one takes the cake.
Original URL: http://philadelphia.craigslist.org/kid/1117009984.html
29) RE: Live-in Nanny needed NOW - Priv. Apt. $250.00/wk
WHAT WORLD DO YOU LIVE IN...Jut because you have a private apartment you expect someone to work for $250.00 a week. That is almost like slave labor. You should be ashamed of yourself. Sounds like you llive in a lovely home, why not show the respect any Nanny deserves and pay a fair salary. A low salary, but at least fair is $500.00 a week.
Original URL: http://philadelphia.craigslist.org/kid/1116700925.html
30) RE: Live-in Nanny needed NOW - Priv. Apt. $250.00/wk
I totally agree with you, I can't believe there is people out there asking a nanny- even worse- a live- in nanny to work the entire week and spend ALL her day working and taking care of their precious children for $250/week!!!!!! I call it CHEAP. I am so upset, because a lot of babysitters or nannies do not get what they are worth. I am a nanny and I get paid, what I am worth, $750/ a week!!!I love my job. I've been doing it for so long. I just love being a nanny for the two boys and I am so happy that their parents appreciate my help, that's why I love the family, because they work from home and are always around and see what quality of childcare their children are receiving. I know that not everyone can pay that, but I can't agree with the families who are rude to offer that amount of $250/week!!!! No way! . I am really upset that people do not undertand that taking care of the children is a hard job. Daycare is always an option. I am not saying Daycare is bad, but it is not better than a 1one 1 achild gets with his caregiver! I am so sorry for the person who is going to work for you, because I bet somebody illegal would do it for that amout and I hope you get caught doing that, because that is just inhumane.
Original URL: http://philadelphia.craigslist.org/kid/1116781934.html
_____________________________________________________________
31) FT Babysitter OR Nanny Share Needed ASAP (Art Museum Area)
Looking for FT sitter for my 13 month old son, in my home (preferably). M-F 8AM-5.30PM. Pay is $250 week. This position does not require any type of household duties or errands, just the basics. I am also interested in a Nanny Share if anyone else in the area is also looking for a sitter or someone who already cares for a child. References/background check will be required. Please email me for more info! Thanks
Original URL: http://philadelphia.craigslist.org/kid/1115663422.html
*Response from another CL reader:
32) RE: FT Babysitter OR Nanny Share Needed ASAP (Art Museum Area)
9.5 hour days x 5 days a week = 47.5 hours/week divided by $250/wk = $5.26/hr. for a young toddler (13 months). Pennsylvania minimum wage is currently $7.15, increasing to $7.25 on July 24th. $5.26, are you kidding me?? Even for just the basics, a min of $10 for a "babysitter" is realistic, respectful, and quite necessary in my opinion. Even if the poster had said $8, I wouldn't have felt the need to write this. But $5.26??? working over full time caring for a precious baby, while basically not being valued whatsoever. unless you are 11 years old or perhaps not allowed to work legally. wow.
Original URL: http://philadelphia.craigslist.org/kid/1116972499.html
____________________________________________
Special thanks this week to: Amy - for our Feature Ad, MissDee, Michelle, austinmama, philly and nc... all of you did a great job! Remember: CL-WTF will be Posted every Saturday... please send next weeks Ads HERE.
TO LEAVE A COMMENT: PLEASE CLICK RIGHT HERE!!