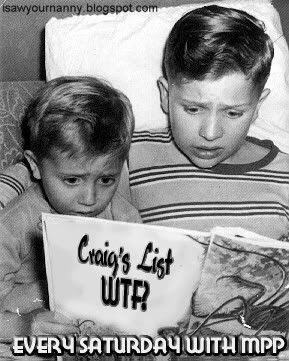 Saturday, June 6, 2009.... What?!1) Teen Babysitter in exchange for Senior photography package (Oregon)
Are you graduating from high school next year and also have experience in babysitting? I need someone to watch 4 kids (13yr, 11yr, 8yr, 3yr) in my home Wednesdays 4-8 pm every week all summer (12 weeks). In exchange you will get a $450 photography package. 12 weeks x $40. I also need someone to watch the kids most Saturdays this summer, hours vary, but on average I would guess from 4pm-9pm, also in exchange for the $450 photography package. OR one person could do both Wed. and Sat. in exchange for the $675 Photography package and cash for the difference at $10/hr.
The Junior Package
Includes:
Session with up to 4 outfit changes, indoor and outdoor photos and 80 images on CD to keep.
Framed 11x14 Wall portrait (can exchange for 3 more units)
Any 3 Units
120 wallet photos with name and year
Yearbook photo
5 poses
$450 plus tax
The Senior
Includes:
Session with up to 4 outfit changes, indoor and outdoor photos and 80 images on CD to keep.
Framed 16x20 Wall portrait (can exchange for 4 more units or Framed 11x14 and 1 unit)
Any 3 Units
136 wallet photos with name and year
4x6 Parade Album with 20 4x6 photos
Yearbook photo
6 poses
$675 plus tax
www.michelleallenphotography.net
Email if interested and we can meet to discuss. I would like to have some references to call please. Michelle
Original URL: http://madison.craigslist.org/kid/1204768021.html
______________________________________________________
2) Do you need a cheap evening or weekend babysitter? (Fargo/Moorhead)
My kids are looking for babysitting jobs. My son will be 14 in June. He has been babysitting his brothers and sister (2 1/2, 4, 5 and 10) for a long time! I run a home daycare and he has been my helper for 2 years as well. To protect everybody, he is only allowed to babysit boys at your home, but if you need a babysitter for your daughter, you are welcome to bring her to my home and he can watch her here. If you feel more comfortable, you may just bring your kids here too. He has just started babysitting a 4 year old boy as needed and you could call the mother or you could call some of my daycare parents as references. He knows how to cook well, knows how to change diapers, etc. He charges $5.00 per hour, cash only and you must pay him BEFORE leaving. If you need overnight care, you can bring your child (children) to my home and he can watch them here. We can possibly help with transportation as well. If you are drinking, we will pick him up!
My daughter is 10 and can watch boys or girls in my home only, unless you live in the Pointe West, Woodhaven or Osgood neighborhoods. She is also very responsible and good with children, but I feel she is a little young to babysit too far from the home yet. I would be here to supervise and in case of emergencies, but she would be doing the babysitting. Same rates apply.
2 siblings would be $9.00 per hour. 3 siblings would be $12.00 per hour.
Original URL: http://fargo.craigslist.org/kid/1202934982.html______________________________________________________
3) Occasional babysitter needed (NE Las Vegas)
Looking for occasional babysitter to stay with my 9 yo son. Candidate will be clean, responsible ADULT (18+) There would be nothing that needs to be done as he would already be asleep. Just need someone here just in case something comes up. There is TV and video games I have adult male roommates that may or may not be home also so if hanging out with a couple guys while i'm out would make you uncomfortable please don't respond. time would be from like 9 or 10pm until 3am on various nights but maybe a few times a month. Please respond with Full Name, Contact#, preferably a photo, 2 references and your rate for 5 hours of screwing off. Thanks, Rich
Original URL: http://lasvegas.craigslist.org/dmg/1192755162.html
______________________________________________________
4) Live in Nanny (Woodlands Pkwy/Houston)
I am looking for a live in nanny to take care of two children 1 girl 12 years old and 1 boy 10 years old. I am a ROV Pilot and travel for my work. I work a 28 day rotation all over the World. I am gone for 28 days then I come home for 28 days then I do it all again.
Original URL: http://houston.craigslist.org/dmg/1203520795.html ______________________________________________________
5) SugaMama Childcare Center (10750 Barker Cypress/Houston)
NEED INFANT HEAD TEACHER HRS ARE 6:30AM-12:30PM MON-FRI
Original URL: http://houston.craigslist.org/dmg/1201573409.html ______________________________________________________
6) Live in Big Sister Wanted for Summer Child Care (Brooklyn)
Child Care, tutoring, light housekeeping for Housing, Meals and Spending Money. Be a part of the family, if only for the summer (longer would be great, too). You a must be college educated young woman raised by college educated mother, whom I would like to meet if you are under 25 years old (and I'd assume she'd like to see where and with whom you'll be living, yes?). Please be health conscious and keen on safety (CPR/life guard would be great), African American and familiar with Bed/Stuy Crown Heights. Kids, ages 4 (girl - loves to dancing, singing, art and hearing stories) and 8 (boy - loves science, bugs, reading and sports), are an active handful, smart and fun. We have a large back yard where they can run around, dig for worms and burn off energy and we are close to 4 playgrounds and St. John's Rec Center, Brower Park and the Brooklyn Children's Museum.
Your will have own room and use of seldom used bathroom on a separate floor from us. Boundaries and time off respected. Many evenings, and most weekends required but plenty of time to do as you please as well. We need someone responsible and flexible who can a) travel with the family b) watch kids while we go on weekend trip(s) and c) take care of house in our absence while the family is away d) entertain and engage kids without TV e) maintain authorative discipline and manage sibling rivalry - no favoritism.
We'll have a regular house cleaner for the heavy duty cleaning but we need your help with grocery shopping, meal prep and light housekeeping. Kindly Email me with the following information - if something doesn't apply put Not Applicable (N/A):
1. number of years experience you have taking care of children / tutoring and/or housekeeping
2. ethnicity
3. age and highest level of education (and school)
4. mother's highest level of education
5. neighborhood where you currently reside
6. familiarity with Bed-Stuy/Crown Heights/Park Slope
7. why you are interested in this position
I am a very fair employer - working at a University I have more than forty employees working for me, many of them college students. Also, I am from
a large family and easy to get along with. My husband is easy going and respectful. I look forward to hearing from you!
Original URL: http://newyork.craigslist.org/brk/kid/1202034020.html
______________________________________________________
7) HELP! Need advice on Parents (Waukesha)
I am a provider for a small group out of my home. I love everything about my job except for one thing and I don't know how to address it without offending anyone. I have 2-3 parents that come to pick up their child but end up staying in my home for over an hour each day. I've got other parents coming and going that I would like to chat with for a few minutes regarding their child's day. It's almost impossible when you have others sitting there listening. The worst part of them hanging around is that their child turns into a devil! Jumping on my couch, running thru the house like their ass is on fire, screaming, hitting my cat...etc....the list is endless.
Why do people feel the need to sit in my home and complain about their day, their boss, their spouses lack of sexual interest and how they don't cook. I DON'T CARE! I DON'T WANT TO CARE. I JUST WANT YOU TO GET YOUR CHILD AND GO HOME. I have my own family and things I need to do after 5:00 which has been turning into 6:00 because they don't have the common sense or courtesy to go home. Here's just a sample;
I've heard about Gramma Kate's surgery
little Jimmy's soccer practice
My friend Mary who stabbed me in the back at work
My dog has eye cancer (sorry, but shit happens)
My husband won't let me get granite counter tops
I can't believe daycare is so expensive
I ate a foot long sub today for lunch
I think I may have clogged ear drums
Do you have any Tylenol?
May I use your bathroom?
Gotta a beer?
Wow you much be raking in the cash with all the kids you got here!
Who's the new kid? How many are you gonna take. (lots, if I can get rid of you)
Ohhh that smells so good! Whatcha cooking?
And the best is for last...all while they just put out a cigarette in my driveway...how much are they a pack?? You can afford to smoke but........
Can I pay you next week cuz I broke this week. (after she told me what a fun, drunkin' weekend she had)
That is just a smidgeon of what I hear on a daily basis!
Any suggestions would be appreciated. It's got to the point where I have someone call me at 5:30 so I can pretend that I have to leave. HELP!!!
Original URL: http://milwaukee.craigslist.org/kid/1203907052.html
______________________________________________________
8) Hello my kids and I want to help out (NW Milwaukee)
HI. HOW ARE YOU DOING. WELL MY CHILDREN WANT TO GO TO DISNEY WORLD, I CANT AFFORD IT IN THIS ECONOMY SO THIS IS WHAT WE CAN ..
HAVE TO OFFER AND ALLS WE ASK IS THAT WE CAN GET A SMALL DONATION TO GO TOWARDS OUR TRIP.::::::
SO THIS IS WHAT OUR OFFERSARE. ....
1. COOK FOR YOU...
2.CUT YOUR LAWN...
3. HELP IN THE GARDEN...
4. WASH CARS....
5. BAKE COOKIES...
6. CLEAN HOUSE...
7.PICK UP GARBAGE....
8.RUN EREANDS...
9. AND WHAT EVERELSE WE CAN HELP WITH...
MY CHILDREN ARE 6 9 AND 10 THEY R SO EXCITED AND WHEN WE TALKED ABOUT THE TRIP AND CAME UP WITH THIS IDEA THEY WERE EVEN MORE EXCITED MY LITTLE GUY SAID THAT THIS WOULD BE FUN BECAUSE THEY EARN THERE TRIP AND AND GET TO HELP OUT AT SAME TIME. I FEEL LIKE THIS WOULD BE THE BEST WAY SO THEN WHEN WE CAN GO ON OUR TRIP KNOWN THAT WE EARNED IT HELPING OTHERS. SO IF WE CAN COME AND HELP YOU PLEASE CALL US THANK YOU AND GOD BLESS
CHRISTA AND KIDS
414-236-**** CELL
414-446-**** HOME
WE CAN GO TO MILWAUKEE, MENNOMINNE FALLS, GERMANTOWN, BUTLER, BROOKFIELD,WAUKESHA,
SOUTHSIDE OF MILWAUKEE, GLENDALE, SHOREWOOD, WHIEFISHBAY, LAKEFRONT AREA, DOWNTOWN, FRANKLIN, OAK CREEK, AND GREENDALE
THANK YOU FOR LOOKING HAVE A BLESSED DAY
Original URL: http://milwaukee.craigslist.org/vol/1203252072.html
______________________________________________________
9) need help asap (Hilltop/Lynnhaven)
i start a new job monday morning and my baby sitter just bailed on me!!!! i am looking for someone that is close to my home or work (so hilltop or lynnhaven) i just need it for this week but it may turn into a full time if this other sitter don't work out. for this coming week its mon thru fri 10 to 6. my daughter is one yrs old and loves to play with others kids, i would prefer a sahm whos just looking for a playmate for her kids and a little extra cash as the most i can afford is $100 a week. PLEASE email me back with a little about yourself, location, phone # and a good time to meet sat or sun after 3pm. thanks ashley
Original URL: http://norfolk.craigslist.org/kid/1207240858.html
______________________________________________________
10) NEED CHILDCARE TONIGHT (Va Beach)
I have a concert to go to at 7:340 pm tonight I need childcare in my va beach home tonight for my two sons 4 and 5 years old. I will pay well as it is short notice . Please call me at 757-842-****.
Original URL: http://norfolk.craigslist.org/kid/1207140814.html
______________________________________________________
.... How Much?!11) NANNY/SITTER wanted (perfect for summer break or long term) (Wake Forest)
THIS is an in our home position----times and days will vary depending on your scehdule and mine, we will discuss this at your interview and make arrangements to suit us all.
Ok so I have had THE most horrible luck finding a suitable reliable sitter that has no skeletons in the closet. I just would like to find a nice young lady that gets along with kids, who can make them laugh, enjoy herself, hang out and have a good time. I pay a daily rate instead of hourly and will go over that towards the end of this posting. My way of doing things is a little different, I don't just talk to you and say oh yeah your hired. You interview will consist of coming to our home and staying for approx 1-2 hours so that i may see you interact with the children and how the will interact with you. Sometime before your departure you and I will sit down and go over your qualifications and how you feel about the environment thus far. As I am a 27 yr old stay at home father (disabled/retired from in the line of duty accident) I am sometimes also around the house doing little odd and end type activities so if this is a problem then please move on to another ad. Occasionally you will be asked to sit overnight so that my wife and i can go out of town, This will we rare but may happen. You also may be asked to accompany me and my kids on trips during the day, such as to the park, zoo etc........ This would be paid for and would not come out of your daily rate.
We offer 30 a day and 5 an hour for anything over 8 hrs. With the exception of if we want you to do an overnight the rate is 50.00 flat.
The children are a 2 1/2 yr old little girl a 6 month old boy and a 10 yr old boy. My oldest will help out lots with the kids. There is ton of things to do from swimming out back, to playing pool downstairs.... Please respond with you resume and references if you have them and a recent photo of yourself.. Thanks and God BLess
p.s. I really am tired of interviewing and would love to find the right fit for us, i dont mind school age kids as long as you have a valid license and your parents approval.
lots of extras, :swimming, outings, pool table, lots of games,,,, movies, darts, foosball, pinball and loads of stuff to keep everone occupied
please be prepared to provide references (that can actually be contaced) first aid cpr cert if you have it and a valid license
Original URL: http://raleigh.craigslist.org/kid/1207075015.html______________________________________________________
12) Nanny Needed (Miami)
I am John Saporito,single father.I will be relocating to your area due to my transfer to Miami FL.I am looking for a nanny/babysitter with extremely good conduct,honesty,caring, well mannered, considerably accommodating and hygienic who can assist me to watch my daughter while i am at work.. I want you to get back to me with your free time schedule and also your service charges from monday to friday, 8.30am to 4pm. Compensation: $150 Per week. Kindly reply ASAP if you're willing to watch my daughter.
Original URL: http://miami.craigslist.org/mdc/hea/1189911219.html
______________________________________________________
13) 24/7 BABYSITTER/NANNY (North Austin/Parmer Area)
NEED A BABYSITTER TO FIT YOUR EVERYDAY SCHEDULE 24-7? I have two girls ages 3, and 5, I am also currently pregnant. My 5 yr. old lives with her father, and my 3yr. old goes to school during the day so I can provide all the attention your child needs. I will provide your child with any meals through the day, 2 healthy snacks, learning activities, plenty of play time, keep them updated on hygiene, and put them to bed at an appropriate bed time for their ages, with bed time stories.I am happily married so my husband will be here as well, up until 3:00pm. I only charge $25.00 per day (8hrs) per child, plus an additional $10.00 to pick up and/or drop off your child/childrenif needed. Please feel free to look me up on myspace.com/mommy_trevino. Or simply email me at my private email above. You can also reach me on my cell number (512)317-****. Thank you and have a wonderful day, Kimberly
Original URL: http://austin.craigslist.org/kid/1197496216.html
______________________________________________________
14) Looking for a great Nanny for great kids (New Jersey)
I need someone to watch mine and my partners 71/2 kids. We adopted 1 1/2 and we each had three. To make it fair.
Ages: 5 months, 7 months, 1, 3, 7, 10, 12, and 22.
We need a fun energetic Nanny who understands kids of all ages, and is not embarrassed to know they work for two raging lesbians.
We will pay you 13.69 an hour.
Hours: Monday - Friday 9-7. You have to cook them dinner. Get them a light lunch.
You would need to clean the kitchen and make sure the kids dont argue, which can happen a lot.
Saturday nights, you will be needed on an every other week basis.
A clean driving record would be nice....but is not required.
Original URL: http://newjersey.craigslist.org/kid/1204458710.html
______________________________________________________
15) PART TIME NANNY NEEDED ASAP (Oak Park)
We are looking for a dependable, punctual, experienced nanny for 2-3 days a week. The days will vary but a set schedule will be provided monthly. Preferably, we are hoping to find somebody in or around the Oak Park area and with a car (but not required). We have two amazing little boys one is 3 and a half and the youngest is almost 2yrs old. We are big believers in outside time, the pool, educational activities, picnics, arts and crafts as opposed to TV watching. If you are very energetic, responsible and patient- please contact me right away! We are interviewing all weekend and next week. The days are long- however we mostly just need two days a week between Mon-Thursday (must be flexible) the hours are 7am-7:30pm. We want to find someone who has experience watching two children as well. After 6pm on Thursday May 28th, please respond to dana_lowenthal@****. Thank you! Compensation: $100/day
Original URL: http://chicago.craigslist.org/wcl/dmg/1193556541.html
______________________________________________________
16) Babysitter needed (South Hill/Puyallup)
Babysitter needed for 3 boys, ages 4,6, and 8. Must be available Mon., Tues., and Wed. evenings from 4:30 - 9 PM. Usually every other Tues and every Wed, with occasional Mon. Must have own transportaion. Will need to fix dinner. No drinking or smoking. Start immediately. Compensation: $20 per day
Original URL: http://seattle.craigslist.org/tac/dmg/1201755266.html______________________________________________________
17) Looking for Nanny/Housekeeper (Queens)
Looking for a spanish speaking women to watch two small children and clean the house. Job entails playing, teaching, arts and crafts with the two children. As well as keeping the house tidy, cooking meals and helping with errands. Willing to pay $8 per hour. I'm flexible with the days, 4 or 3 days a week- Monday-Thursday from 8am-5pm. This job is short-term for one or two months. If interested email me your phone and tell me a little about your experience.
Original URL: http://newyork.craigslist.org/que/dmg/1205889440.html
______________________________________________________
18) Babysitting & Housekeeper (Winnetka CA)
I need a babysitter and housekeeper in one. I'ts a total of 2 adults and 5 children.
At this moment I am paying 10 an hour. mon - 3hrs/wed-3hrs/fri-4hrs
I need responsible, relaible , mature individuals. Must have a reliable vehicle with insurance. There will be a background check, reference check, vehicle insurance check. Upon permamnent hire The pay will be 20 an hour gas included. This is a 4 bedroom 2 1/2 bathroom home. Laundry, cleaning, Ironing ETC. Must speak english. Must be able to do homework from grades 1 thru 6.
Original URL: http://losangeles.craigslist.org/sfv/dmg/1198497910.html
______________________________________________________
19) KIDWATCHER NEEDED (Astoria)
PERSON NEEDED TO WATCH MY 13 YR OLD SONFOR 3 DAYS A WEEK FOR A COUPLE OF WEEKS DURING THE SUMMER .MOST OF THE TIME MY SON WILL BE OUT PLAYING IN THE NEIGHBOURHOOD -PLAYGROUND ,LOCAL BASEBALL FIELD WITH HIS FRIENDS. YOU WILL BE IN MY HOME BASICALLY PROVIDING ONSITE SUPERVISION FROM A DISTANCE- YOU MUST HAVE A CELLPHONE TO ENABLE 2WAY COMMUNICATION BETWEEN YOU AND MY SON AT ALL TIMES. YOU WILL PERFORM LITE TIDY UP -MAKE BEDS -LOAD/UNLOAD DISHWASHER ,EMPTY GARBAGE/SWEEP FLOOR,HELP PREPARE HIS BREAKFAST OR LUNCH. TIMES ARE 11 TO 5 MON ,TUES, AND WED.. YOUR LUNCH AND SNACKS ARE INCLUDED. YOU ARE FREE TO RELAX, READ ,WATCH MOVIES , USE YOUR LAPTOP IF YOU HAVE ONE WHEN ABOVE REQUIREMENTS ARE MET .SUIT HIGH SCHOOL SENIOR BOY OR GIRL WHO SHOWS GOOD ACADEMIC TRACK RECORD BUT POSITION IS OPEN TO SUITABLE ADULT ALSO.PROFESSIONAL WORKING REFERENCE WILL BE REQUIRED. Compensation: $100 CASH FOR 3 DAYS
Original URL: http://newyork.craigslist.org/que/dmg/1206465774.html______________________________________________________
20) Summer Nanny Wanted (South Fargo)
I'm looking for a summer nanny for my 2 year old. Prefer a high school student with childcare experience wanting to make some easy cash. I have a very well behaved, fun toddler who needs a nanny for the summer. The hours would be 9:10 - 6:40 (M - F) and the pay would be $125/week. You are free to go to the pool, park or anywhere else you see fit to entertain a curious 2 year old. Must have a drivers license, be extremely responsible and punctual.
Original URL: * http://fargo.craigslist.org/kid/1201468533.html
*Response from CL reader:21) RE: Response to Summer Nanny Wanted (South Fargo)
..... You are looking for someone to work 47.5 hours per week for a total of $125???
Thats about $2.63 PER HOUR. Isn't minimum wage in Fargo currently somewhere between $7.25 and $8 per hour?
Your proposition is beyond wrong. Insulting You will not find a good nanny for this price- perhaps there is a daycare in Fargo where an individual child could have care for something closer to your budget? Daycares are able to do that because they have several children under the care of an adult - and the adult makes a livable wage.
Original URL: * http://fargo.craigslist.org/kid/1201944965.html
22) OP's response:
Boy we have an opinionated community. If you don't like the terms I have proposed then I have a very easy solution for you.. DON'T RESPOND. The day I posted that ad the Fargo Forum had a giant news article about how high school students have a lack of summer jobs due to the economy. I'm not being misleading about my ad, I simply wanted to see if an experienced babysitter wanted to make some "easy cash". I'd rather have my daughter going to the park and pool than sitting in a daycare center all summer. Any extra curricular activites would be paid for by me. Yes, there are a lot of hours involved but you wouldn't be doing work where you have to account for every minute of your workday as you would at a job paying $7.25-$8 an hour. I don't make a huge wage where I am able to pay top dollar to a nanny that is why I put $125/week which is how much a daycare costs. This is not meant for an individual who needs to make a full-time wage to pay bills, this is meant for a high school or college student who wants to enjoy their summer before school starts while making money. I can't believe I actually have to explain this because the "respondent" couldn't figure it out on their own. Shame on you for being rude.
Original URL: http://fargo.craigslist.org/kid/1205433686.html
23) RE's response:
I stand by my original response, that $125 for 47.5 hours of work is insulting and wrong. I don't find what I said rude.
There are lots of excellent in-home daycares that are advertised on this page. I'm sure that many of them offer trips to the pool and other such activities. In home daycares still provide wonderful care. Take, for example, a stay at home parent who has his or her own young child and takes in three or four more to care for- they can charge a lower rate per hour per child than a nanny because they are able to care for multiple children/families.
"Any extra curricular activites would be paid for by me." --- Well, of course. Why would your nanny pay for the activities? Gas/car wear and tear to those activities should be paid by you, too.
"Yes, there are a lot of hours involved but you wouldn't be doing work where you have to account for every minute of your workday as you would at a job paying $7.25-$8 an hour." -- I would hope that you would want the caretaker of your child to be accountable for every waking SECOND they are with your child. Why would someone flipping burgers make so much more than the person who is in charge of your child's SAFETY?
"I don't make a huge wage where I am able to pay top dollar to a nanny that is why I put $125/week which is how much a daycare costs." -- Again, that is understandable- nannies or individual care are a luxury and not affordable for most people. I suggest you put your child in a wonderful daycare. Best of luck on your search.
Original URL: http://fargo.craigslist.org/kid/1207091664.html______________________________________________________Special thanks to MissDee for our "What?" Feature Ad and to NC for our "How Much?" Feature Ad... the both of you did an awesome job! Also, special thanks to: northjerseynanny, mbargielski and austinmama... all of you did a great job this week! Remember, CL-WTF will be Posted every Saturday. Please send next week's Ads
HERE.
**** TO LEAVE A COMMENT: YOU HAVE TO CLICK RIGHT HERE!!!!!
****