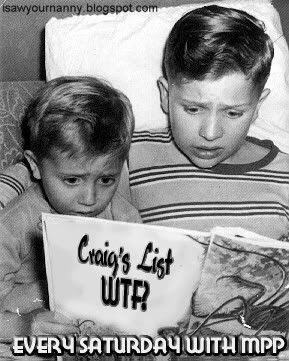 Saturday, April 4, 2009

.... What?!

1) Open minded Nanny wanted (Baltimore MD)
My wife and I will be having our newborn girl in August 2009 and are looking for a live-in nanny that can take care of our baby as well as do some light chores. We are looking for someone preferably Brazilian, Dominican, Hispanic but are open to all others. We also want someone who is open to possible intimate interactions with my husband. He is a very attractive black male with a high sex drive. We are a pretty well off family and live in an exclusive neighborhood in Maryland and you would be well compensated. We are interested in very attractive women only. Please email here if interested. Compensation: 200 -600 weekly.
Original URL: http://baltimore.craigslist.org/dmg/1105808498.html
______________________________________________________________
*The following Ad is being Published only because it is a very sad story:2) Moved out here for a nanny position now they changed their minds (Las Vegas)
Hello my name is Heather I am a 26 yr. old Single mom of a 9 mth old baby girl. I accepted a position as a nanny and moved from california w/ my daughter on a bus. So I have been here for 5 days and this family that I am working for just let me know that they are not going to need me after all. The woman's mother will be watching their son instead. The funny thing is, I just turned down a nanny position that payed more because I thought I would do the right thing and stay with this family because I made a commitment to them and now they are just giving me the boot. I am very upset because I have a baby with me and no where to go. I have excellent nanny references. Please Help. If anyone is in need of a live in nanny/caretaker please consider me. Thank you, ~Heather (530) 844- ****
(Ad includes photos of her and her child)Original URL: http://lasvegas.craigslist.org/kid/1104085327.html

______________________________________________________________
3) Scary Poppins!! muahahaha (Las Vegas)
Haha just kidding nothing but loving childcare here. My name is Tori and I am 20 years old I have a 2 year old son that comes with me everywhere i go. If you need a last minute sitter or want to make plans in advance Pick Me! I have loads of experience because my family is huge haha:) I am a fun and loving person and i know you and your children will feel comfortable with me. My prices are set no matter how many children. I charge $50 for 6 hours and $6 an hour after that. If interested please call me at 702-265-**** Thanks
Original URL: http://lasvegas.craigslist.org/kid/1104430722.html
______________________________________________________________
4) I AM MOM CERTIFIED, so I am proud to be your NEW SITTER (Austin TX)
I'm not CPR certified or any thing but I have someone in my house that is, and that is my sister Shes 4years older than me I'm 15years old and she is 19years old, I am really good; People praise me all the time if you don't believe me See for your self All I am saying were here for you My sister and I are here! For you and your Love one or love one's. I am just a Person that needs money For school/and my collage fund every penny is going to my collage So If you like what you read I am here you know just call me if you want So yeah call me!~512*833***** ~Marina Weekends-fri,sat,sun EVEN ON HOLIDAYS/BREAKS/SUMMER break PRICE~ on Fri's it is $25.50 on Sat's. it is $25.50 on Sun's. its $25.50 for the whole weekend it is $76.50 [Yes I do take $$$TIPS$$$ I am in need for TIPS!] P.S.~ I am only doing this at my house because my older sister is at home and she is the only one who has the cpr thing? All I am asking you is for your help! P.SS.- please bring extra clothing and food because I don't know what your beloved, loves to eat
Original URL: http://austin.craigslist.org/kid/1098196714.html
______________________________________________________________
5) I need a babysitter for Mon & Tues (Humble)
Hello, I need someone to watch my 19 month old daughter Ryann @ my house tomorrow and Tuesday. I will pay $100 for 2 days. It will only be for 7 hours each day. Like 12-7. Would like someone to come to my house but willing to drop odd if need be. Please give me a call or text
Original URL: http://houston.craigslist.org/dmg/1097933111.html
______________________________________________________________
6) All the mommies... (VB/Norfolk)
I notice alot of stay at home moms are in this section....heres the thing, I am pregnant (and to the point where I can't hide that bump!) and I have had no luck getting work. Most the employers are jacka$$ men who won't hire me b/c of the baby coming. A chick got bills to pay....so if you need a babysitter for your little one or some help around the house, PLEASE email me! Rates will be reasonable & negoiable, I just need some help ladies! Thanx
Original URL: http://norfolk.craigslist.org/stp/1094596963.html
______________________________________________________________
7) Babysitter needed (Ghettis School Rd/Austin)
I need someone to come to my home and watch my children, a girl 3 and a boy 17 months, from 2pm till there dad gets home around 6-7 pm. please let me know your rates and a little about you. please don't send a resume as i will not read it. This is just a monday through friday thing. email or call. 512-909-****. we need someone to start monday. Amanda
Original URL: http://austin.craigslist.org/kid/1102605840.html
_______________________________________________________________
8) RE: Need a babysitter at the last minute, CHECK ME OUT! (ARE YOU KIDDING)
Ok you are in college? You cant spell babysit? stopped? actually? or use the right words like with instead of which.... how about answer? Parents this is proof you shouldn't use someone who cant properly write an ad that they are posting on the internet for you to view. Also whatever college she goes to STAY AWAY! USE SPELL CHECK if you want a position. I wouldnt hire you if you were babysitting for FREE.
****The ad****
Need a babysitter? i would love to babysitt. i used to babysitt alot, but then i stoped because of school, and work. Im a college student now. i acaully want to do something which children when i grow up. want anymore information please feel free to e-mail i would love to anwser any questions. harley08_haterz@**** thank you for your time:]
Original URL: http://madison.craigslist.org/kid/1097020006.html
9) RE: Need a babysitter at the last minute, CHECK ME OUT! (Madison)
SOME HELP FOR YOU. WANT JOBS? FOLLOW IT:
Need a babysitter? I would love to BABY SIT. I used to BABY SIT A LOT, but then I STOPPED because of school and work. I'M a college student now. I ACTUALLY want to do something WITH children when I grow up. IF YOU want anymore information please feel free to e-mail. I would love to ANSWER any questions. harley08_haterz@hotmail.com (CREATE A MORE PROFESSIONAL E-MAIL TO GIVE OUT TO POTENTIAL JOBS.) Thank you for your time. :]
BEFORE: Need a babysitter? i would love to babysitt. i used to babysitt alot, but then i stoped because of school, and work. Im a college student now. i acaully want to do something which children when i grow up. want anymore information please feel free to e-mail i would love to anwser any questions. harley08_haterz@**** thank you for your time:]
Original URL: http://madison.craigslist.org/kid/1098393158.html
__________________________________________________
10) very cheap, kind and very cheap and experienced baby sitter availble (Nolensville Rd/Nashville)
My parents are here taking care of my two year old daughter at my house and they want to take care of other kids at my house. It is a very nice house and my parnets are very kind, healthy, fifty age and the price is very cheap. Interested, please email me haibo2@hotmail.com or call 615-507****
Original URL: http://nashville.craigslist.org/kid/1095215622.html
_______________________________________________________________
*All of the following Ads are from the SAME poster, on the SAME day:
11) I'M LOOKING FOR A PART TIME ASSISTANT (Antioch, Nashville)
HELLO MY NAME IS KRISTY AND IM LOOKING FOR A PART TIME ASSISTANT TO ASSIST ME IN MY IN-HOME DAYCARE. MUST BE RELIABLE, RESPONSIBLE, AND TRUSTWORTHY. IT WILL BE ONLY 3 DAYS A WEEK. NEED SOMEONE TO START IMMEDIATELY. I GO TO COLLEGE 3 DAYS A WEEK. THE DAYS ARE: TUESDAYS...............7:45AM TIL 1:45PM WEDNESDAYS.......7:45AM TIL 1:00PM THURSDAYS...........7:45AM TIL 1:45PM ONLY SERIOUS INQUIRES!!! PLEASE CONTACT KRISTY AT (615)887-****
Original URL: http://nashville.craigslist.org/kid/1095074352.html
12) NEED A SITTER FOR TONIGHT... CALL TODAY (Antioch, Nashville)
DO U NEED A SITTER FOR TONIGHT? SO, YOU CAN GO OUT TO DINNER OR A MOVIE. WE WILL HAVE TONS OF FUN ALONG WITH THE OTHER CHILDREN I'LL BE WATCHING. SO, PLEASE DONT MISS OUT ON THAT NEW MOVIE OR JUST WANNA TO GO OUT FOR A REAL NICE DINNER WITH YOUR SPOUSE. ITS ONLY $25 FOR THE WHOLE EVENING.......7PM TIL 12AM WELL, I HOPE TO HEAR FROM YOU SHORTLY. THANK YOU FOR TAKING TIME AND READING MY AD. PLEASE CONTACT KRISTY AT (615)887-****
Original URL: http://nashville.craigslist.org/kid/1094996079.html
13) ONLY $35 THIS WEEKEND ONLY!!! CALL TODAY! (Antioch, Nashville)
PARENTS, ARE YOU LOOKING FOR A NIGHT OUT WITH FRIENDS OR JUST WANNA GO OUT WITH YOUR HUSBAND/WIFE, PLEASE FEEL FREE TO CALL ME AT (615)887-****. I WOULD LOVE TO WATCH YOUR CHILDREN...WE WILL HAVE TONS OF FUN THIS WEEKEND ONLY!!! FOR ONLY $35 OR $25 A DAY.....FROM 7PM TIL WHENEVER....SO DONT MISS OUT AND GIVE ME A CALL!!! HOPE TO HEAR FROM YOU REAL SOON.............IF YOU HAVE ANY QUESTIONS, PLEASE FEEL FREE TO ASK. NO ADDITIONAL COST FOR MULTIPLE CHILDREN.........ALL AGES ARE WELCOME!!!! ~KRISTY
Original URL: http://nashville.craigslist.org/kid/1094710952.html
_______________________________________________________________
14) Need Babysitter TONIGHT (Donelson/Nashville)
I need a babysitter tonight for a 4 year old and a two year old. The 4 year old is potty trained, the two year old is not and is also in a cast from toe to thigh on his right leg (he has a "toddler's fracture"). I just need someone to watch them in my home from 7-10 as I have a business dinner that I really need to attend. Please email me a little about yourself and your rates.
Original URL: http://nashville.craigslist.org/kid/1091724996.html
_______________________________________________________________
15) Looking for a beautiful crew of friends (Chesapeake)
Hello. My name is Amanda and I am 23 years old. I am looking for a crew of girlfriends, just friends though. I would like you to be 21 years of age or older. A little about me; I prior military, I work at a college here, attend college full-time and I am also a live-in nanny. I am very cute and I hope to find friends that are also very pretty, outgoing themselves. Okay, to the point; I have a bunch of guys friends who are Naval Officers. Everytime we go out, they ask me to bring some friends, but I really don't have any but I would love to have a group of beautiful girls to be my friends. Next part; all these men I am talking about will drive you to and from wherever and treat you with the upmost respect. If you like getting free drinks, you definitely should talk to me and come out with us. I know how to have a good time, as do they, and I am tired of being the only girl. I am very open and candid. If you ask me something, you will get the truth. If someone messes with you and you are my friend they are stepping on my territory. No one messes with my friends, family or work. I would also like some girls to go shopping with who are fashion oriented and love looking beautiful. I am honestly trying to find true geniune wholesome women who want great friendships with me and who would like to go out on the weekends. Please send me an email and a photo. Or if you cant send me a photo thru email but you can with your cell, you can email me and I will send you my number. I will also send you pictures of myself. If you get back to me this week, we can start planning to hang out this weekend. It's a win-win situation. A whole bunch of girls get to meet each other, hang out, meet adorable, hot men who will not only buy you free drinks but entertain you as well.
Original URL: http://norfolk.craigslist.org/stp/1098433655.html
_______________________________________________________________
16) Free After School Care - Patterson Elementary - Please Read (SW Arlington)
Hi, This might sound strange, but I'm desperate! I do in-home childcare with my toddler and 2 other toddler girls. I have an 8 year old that needs an after school playmate. She attends R.F. Patterson Elementary. We don't have any kids that are her age that live on our street, and I'm so busy with the toddlers that I can't take her to the park alot or anything during the week. I am looking to keep one child after school for free just so that she can have a playmate. I would like this child to be a girl that is her age, who is polite, clean, and listens. I cannot pick up from school, so the child would have to ride the bus with my daughter. The kids could meet beforehand to make sure that they get along. This would only be until summer b/c then she'll be in a summer program of some sort. This will be absolutely free to you, just bring a snack and a drink. Please email for more info.
Original URL: http://dallas.craigslist.org/sdf/kid/1100699165.html
_______________________________________________________________
17) Daycare needed tomorrow (Millard area/Omaha)
I am looking for daycare for my 7 month old daughter. She has RSV and can not be around other small children. Please contact me for more details.
Original URL: http://omaha.craigslist.org/kid/1097716274.html
_______________________________________________________________
18) Babysitter/Nanny Needed (Kent WA)
Date Night Babysitting Needed Job Description: We are looking for an experienced, responsible, trustworthy and caring individual for date-night sitting. We have two sweet, easy children, ages 2 and 1 month. This would be occasional work at our Kent home. Sitter would need to be available some week nights but mainly weekends including early evening (6pm-9pm), late evening (9pm-12pm) and possibly overnight (12am-3am). We prefer sitter who will actively engage with kids, manage behavior with positive reinforcement, and have fun! We require a vaild photo ID, resume, references and proof of a current CPR/First Aid card at initial meeting. We would also require a day-time trail run at our home with one parent in the home, which you would be part of your interview. If hired, consider this your training day to get acclimated with our family/home. ALL- applicants will be required to submit a copy of their picture ID and will be subjected to a Washington State background check. NOTE: We are looking to find a sitter ASAP as your first work day would be Thursday April 9th and would be a early evening-overnight job, 7pm-12:30am. Sitter Requirements: 18+ female preferred copy of their picture ID Has own transportation Non-smoker CPR, First Aid Certification References Experience a Must Pay Range: DOE Bonus: Light house work such as loading the dishwasher may be asked but not required. With an additional bonus to be paid out depending on task. Contact Heather at email above for more information. Include your resume & referances in your email.
Original URL: http://seattle.craigslist.org/skc/dmg/1102785988.html
_______________________________________________________________
19) Nanny needed 3-4 days per week (Wheeling IL)
Looking for a loving nanny to care for newborn (3 months) 3 to 4 days per week- Mondays, Tuesdays, Wednesdays and occassionally Thursdays from 10 a.m. to 6 p.m.. The person must be experienced with references, non-smoker, English speaking, and reliable transportation. Position will start in May and pay will be
commisserate
with experience.
Original URL: http://chicago.craigslist.org/nwc/dmg/1103192550.html
_______________________________________________________________
.... How Much?!20) NEED RELIABLE BABYSITTER EASY JOB (West Allis/Milwaukee)
ONLY RESPOND IF YOU ARE RELIABLE THIS IS THIRD TRY FOR US. I Have two awesome little boys that I am in need of a babysitter for some thursday and friday, 7:30 at night until 2:30 in the morning . i never leave them up i always put them to bed before i leave home but i just need someone to be there to watch them. They sleep all night so pretty much you will be able to come over to my place and relax so if interest or if you have anymore questions please email me moore2seeofme@****IF YOU CAN ATTACH A PICTURE THAT WOULD BE GREAT. Pic is for secuirty purpose because we save pic in case we choose u and u run away with our angels. We pay 7.00 hr thanks again JOHNNIE AND SHEILA
Original URL: http://milwaukee.craigslist.org/kid/1106201710.html
_______________________________________________________________
21) Full-time Au Pair/Nanny Wanted (Morristown)

Happy Morristown family seeking dependable and loving Au Pair/Nanny for live-in OR live-out position to care for our three children. Children include a 2.5 yr. old girl and 2mo. old twin baby boys. Duties would include childcare, light housework and cooking. Accomodations include a large private bedroom with separate entrance and full bathroom. $150/week plus room and board. We look forward to a fun summer at the neighborhood pool, walking to town for ice cream and trips to the beach. Please email if interested!
Original URL: http://newjersey.craigslist.org/kid/1105525533.html
_______________________________________________________________
22) Needed now in my home mommy helped (South hill Spanaway)
I am in need of a mommy helped or nanny. I have a 20 month old son and I work from home and am off on apts varies times of the day. I need someone that can entertain my son play with him feed him and love him while I am working. Sometimes my apt require me to go to the mall and since I don't like to be away from my son the nanny will come with she can either go shopping with my son or to the play area. I just need to be able to do my job. Somedays I won't need help but mainly it would Monday thru Friday 10-3 sometimes earlier sometimes later. Must be good with kids!! Must be good with dogs ( we have 3 a scotty a westie and a lab) and not allergic to cats we have 1 that comes and goes as she wants. Needs to also do surface cleaning is dishes vacuum dusting nothing major just needs to be clean to have client over. Also needs to be able to prep lunch and snacks for my son. At least 17 years old needs to be able to get to my house and home. Needs to be ok with traveling with my son and I while on some apts. I will be doing interviews next week and the week after. Then will have an answer soon. I need to fill this asap. My career is taking off and I refuse daycare. Referances are a must and the job will most likely only be till June but if really good then it will be long term that is open at this moment. Please apply by sending me a brief statement about yourself and why you would be good for the job. Then a number that I can reach you at. Compensation: 250-400 a month depends on hours Scottyloverbrooke@**** Thanks Brooke and baby Jonah
Original URL: http://seattle.craigslist.org/tac/dmg/1105183764.html
_______________________________________________________________
23) I need a week-end babysitter (1960/Fallbrook/Houston)
i work 10-5 on sat and 1-5 on sunday, 2- 3 weekends a month. i can afford $50 per week-end. please let me know if you are interested! thx! i have 1yr. and 2 yr. old!
Original URL: http://houston.craigslist.org/dmg/1100754606.html
_______________________________________________________________
24) Nanny/Housekeeper in exchange for Room and Board (Northeast)
I am looking for a nanny/housekeeper in exchange for room and board. Rent-free, private floor, w/ private bathroom. furnished. I have a 12 yr old daughter, 8 yr old son, and 18 month old baby. I live in a 5 bedroom house in the ne phila area. I will provide food, room and board, heat, water, etc. I will negotiate any special circumstances you may have. Compensation: no pay
Thank you.
Original URL: http://philadelphia.craigslist.org/dmg/1105313838.html
_______________________________________________________________
25) Temporary infant care needed (Fort Meade)
I need care for my 3 month old girl next Wednesday the 8th and Friday the 10th from 7am to 4 pm and possibly a few days the weeks after. We have permanent childcare lined up for around the end of April but we need someone until then. I would appreciate someone who would care for her in my home but would be willing to bring her to you if you are very close to Fort Meade and have the right accommodations for an infant in your home. For next week I am willing to go as high as $75 for the and can negotiate a higher price for the weeks after if your available. Thank you and please respond with an asking price and a location to make things simpler.
Original URL: http://baltimore.craigslist.org/kid/1104312472.html
_______________________________________________________________
26) BABYSITTER NEEDED (West Sahara)
I NEED A SITTER FOR MY 2 SMALL CHILDREN 9MTHS AND 4YRS OLD. YOUR HOME OR MINE 1PM UNTIL I GET OFF WORK I NEED SOMEONE AVAIABLE ANYTIME OF DAY OR WEEK I DONT HAVE A SET SCHEDULE. IF YOUR INTERESTED PLEASE EMAIL ME YOUR RATES THANKS FOR LOOKING. HAVE A BLESSED DAY. Compensation: $6HR
Original URL: http://lasvegas.craigslist.org/dmg/1097155470.html
*Response from CL reader about the above Ad:27) re: babysitter
yeah....$6/hr. is pretty bad...........especially for someone who doesn't have a set schedule and works when she wants. that usually means she's a stripper or a prostitue. nothing wrong w/ that.....it just means she should be able to afford more.
Original URL: http://lasvegas.craigslist.org/dmg/1098264998.html
*Response from OP:28) re: re: babysitter
i have no set schedule and decide when i work. i am a graphic designer not a prostitute!!! you people are so fucking stupid and ignorant it's disgusting!!!!!!!!
Original URL: http://lasvegas.craigslist.org/dmg/1098498052.html
_______________________________________________________________
29) I need care! Please read if you're in these areas... (Elgin/Manor/Riverside in Austin)
I am a single mother looking for AFFORDABLE (to me anyway) care for my 6 month old daughter. I am currently receiving no help from her father. My current babysitter's rates are going up and I'm afraid I can't afford them! I'm looking for someone who is available to watch my daughter M-F from 8-6 for $70/week. Depending on where you are, she could be dropped off later and picked up earlier. I'm searching for a babysitter in the Elgin/Manor area, or possibly the Riverside area in Austin which is around where I work. Please contact me ASAP if you are interested! Please remember that by doing a good deed for someone, you will be rewarded later down the road! Thanks for any help you can provide!
Original URL: http://austin.craigslist.org/kid/1104122900.html
_______________________________________________________________
30) Childcare needed in my home (North Hills/Ross Twp)
Hi! I am looking for childcare in my home starting mid to late April/early May. I am looking for someone for long term. I have 3 girls, ages 9, 7, and 3, and 2 boys, ages 2 and 4 months. I would need you to work Monday through Friday from 6:15am to around 4:00 pm. The salary would be $350 a week. Please email me with any questions or if you would like to find out additional information. Thanks!
Original URL: http://pittsburgh.craigslist.org/kid/1102938286.html
_______________________________________________________________
31) Sitter needed for 13 month old (Queens)
Hours are from 8 to 6 Monday to friday You must come to my home and I have a NANNY CAM!! Pay is 150 a week plus a metro card for travel. If you drive i will give you $30extra for gas. Please be over 18. I will be home the first week so my baby can get to know you.
Original URL: http://newyork.craigslist.org/que/kid/1101634341.html
_______________________________________________________________
32) Mother's helper needed starting July 1st! (Steiner Ranch/78732)
We are looking for a part time mother's helper beginning in July! Monday - Friday 1:30p-5:30p 16 year old, 5 year old twins, 3 year old, infant twins due in May - ALL GIRLS Someone with a lot of energy & tons of patience. We also need someone who is able to jump in & help without being given a lot of direction--when she sees a need she is ready to fill it. Thus flexibility will be key. We need someone that is very outgoing, loves little girls, & is comfortable with a lot of them! Helping mom with the newborns, but also playing with the older girls, getting afternoon snack together, maybe taking them outside to play or to the park (or watching the babies so Mom can do it!) One parent will be home with nanny & nanny will be assisting mom mostly with newborns, helping with the children's laundry & dishes. Experience with infants needed. 1 small dog! Must have childcare references and infant experience - e-mail childcare resume to e-mail address and title your e-mail "Mother's Helper" please. Compensation: $11-$13/hour
Original URL: http://austin.craigslist.org/dmg/1100708705.html
_______________________________________________________________
33) NEED FULL TIME sitter for my 2 GIRLS and some nights/wknds (The Colony/Little Elm/Frisco)
I am a single mother with 2 beautiful little girls. We live in The Colony and my oldest daughter goes to school in Frisco. Unfortunately, the Babysitter I have for my 2 girls is not working out. I need someone who is more than comfortable, content, and knowledgable of babies (my 8 month old girl), loves children, has a clean home, happy atmosphere, and doesn't mind serving my 8 yr old dinner. I work days, and cannot pick up my daughter from school. She is well mannered and a sweetie pie. She loves her sister dearly and helps with her when she can. I would need you to pick her up from her bus stop,or school Mon-Fri. I would not pick them up until 7:30pm most days. Every Monday evening it would be around 11pm, being that I go to school from 6-10pm. I'd prefer someone very flexible so I have the option to pick up late in the evening when necessary. It is very IMPORTANT that there is NO SMOKING, the enviroment is safe, clean, and preferrably a christian individual/family. Also, please keep in mind, I am looking for someone that is interested in committing to caring for my children permanently. It is important to myself, and my girls, that they do not keep switching babysitters like a revolving door. My oldest has only had two sitters/nannys twice. This will be the third one. I would have kept them with the current babysitter, but there were some issues with her own child (5 yrs old) that I could not have my children around. I'm looking forward to finding someone wonderful to care for my children as I would, when my back is turned. = ) I cannot afford more than 200-280 a week depending on evening they stay late. Again, this may be rare, or sometimes more often than not that I pick them up late. I do need the option to be able to do so. You can contact me by text, vml, or email at 469-774-**** or missjfuentes0008@**** Thank you! -Jessie
Original URL: http://dallas.craigslist.org/ndf/kid/1100712411.html
_______________________________________________________________
34) Wanted: Summer Nanny (Canton MA)
I am looking for a responsible, mature, and reliable nanny for my 8yr old daughter in my home, M-F, for the summer. Currently, the hours would be 9:30/9:45am -7:00pm, but may change. I need someone willing to drive my daughter to swim lessons and other various activities that may come up. Childcare is the focus, therefore, housekeeping is not required. However, preparing lunch/snacks and assisting her with clean up of the day's activities is necessary. My community offers a pool and a small playground for your enjoyment. Bi-weekly trips to the public library and occasional outings/play dates would be a plus (I will pay for your outings :) Please know you are not required to maintain a full schedule of outings, and will spend most days at home. Should the two of you decide to venture out, it would be up to you! She enjoys games, creative activities and sports. Must haves: ~ Reliable transportation/Safe driving record ~ Flexible schedule ~ Excellent references ~ Non-smoker The pay is $275/wk. I want to let you know we have a cat, for those of you who are allergic or not pet people :) If this sounds like you and you want to spend a fun-filled summer with an adorable, animated, funny girl, email me. We look forward to meeting you!
Original URL: http://boston.craigslist.org/sob/kid/1099881357.html
_______________________________________________________________
35) Need a babysitter for 2 (Murfreesboro)
I am in need of a sitter for my two children. I have a 2 year old daughter who will be 3 June 2 and a 1 year old son who will be 2 June 13. I will need someone who can watch them Sun, Mon, and Thursday thru Sat. basically everyday except Tuesday and Wednesday. Hours will be from 6:15 to 3:15. Right now with me being unemployed and only my husband working we can afford 175 weekly. If you can offer something cheaper that would be awesome! Please let me know if you have any openings for my hours/days/rate. Thanks!
Original URL: http://nashville.craigslist.org/kid/1097523796.html
_______________________________________________________________
36) summer babysitter needed (Belle Meade/Bellevue)
Hello all- I have a 5-yr old son who will need somebody trustworthy, honest, reliable, and dependable to have fun with this summer when school lets out. He does have slight speech problems; sometimes he is hard to understand, but he has and still is improving and making great strides. I would need somebody Mon-Fri from about 7am-6pm. School lets out on May 21st (Thurs), so I would need somebody to start on May 22nd (Fri). I am willing to pay $75-$100/wk. Please call 390-**** if you are interested and would like to come by for an interview. Please provide at least 3 references. Thank you.
Original URL: http://nashville.craigslist.org/kid/1091402168.html
_______________________________________________________________
37) LOOKING FOR OVERNIGHT CHILDCARE ON FRIDAYS AND SATURDAYS (Westlake)
I AM LOOKING FOR SOMEONE TO TAKE CARE OF MY DAUGHTER IN THERE HOME OVERNIGHT ON FRIDAYS AND SATURDAYS. I WOULD DROP OFF AROUND 8 PM AND PICK UP AROUND 7:30 IN THE MORNING. SHE IS IN THE SECOND GRADE AND SLEEPS TROUGH THE NIGHT. I AM LOOKING TO PAY AROUND $20 FOR EACH NIGHT.
Original URL: http://austin.craigslist.org/kid/1093808137.html

___________________________________________________
Special thanks this week to: Marie - for our Feature Ad, austinmom, austinmama, MissDee, live.moxie, Renee, MNanny, cdhere25, Kate in PA, Robin, atxmom and cinderellasdestiny83... all of you did a fantastic job! Remember: CL-WTF will be Posted every Saturday... please send next weeks Ads HERE.
TO LEAVE A COMMENT: PLEASE CLICK RIGHT HERE!!