Even if putting the wife over your knee became considered ungentlemanly, for decades a series of riotous daughters in movies, comics and cartoons continued to get their bottoms spanked by exasperated fathers...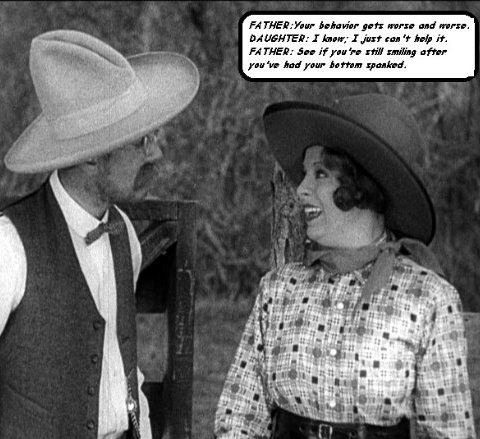 It got me thinking about what other films might feature nannies. I then saw your "
perspective on spanking
" and got sidetracked by that. Lawdy, those men look a right set, don't they? Of course you can never believe what you read in newspapers. Who knows, maybe they all worked in the print room, and some young journalist wrote their copy- "for a laugh". But being of a certain age myself it got me thinking. Spanking was certainly much more prevalent and acceptable back when I was growing up, maybe not for the wife (lol as the young folks say) but certainly for the sassy teenage daughter. So as a counterpoint to that piece here's my old movie take on that, a shot of a typical film daughter of the period, charming, impudent and disobedient in equal measure getting her comeuppance, a comeuppance which it has to be said is hardly undeserved. It's essentially played for laughs, but I guess it's a little morality tale as well, but quite inconceivable as a movie scene in the modern day. Intriguing. All the best, Michael.