Horrifying footage of a 2-year-old girl in China being run over by two separate vehicles and left to die by passersby has stirred outrage throughout the country, with CNN reporting that security footage of the incident has led the nation of 1.3 billion people to do some collective soul-searching.
According to Shanghaiist, the two-year-old, who has been identified as Yueyue, was run over on Thursday outside of a hardware market in Foshan in southern China's Guangdong province.
Security camera footage shows a driver in a white van hit the young girl, apparently crushing her under the weight of the front wheel. The driver pauses briefly, but then continues to drive forward, running over her with the back wheel.
The following video shows more than a dozen passersby walk, ride motorbikes or drive past the young, bleeding girl without stopping to help.
(WARNING: Video is graphic)
TO READ THE STORY: CLICK HERE
UPDATE: Thursday, October 20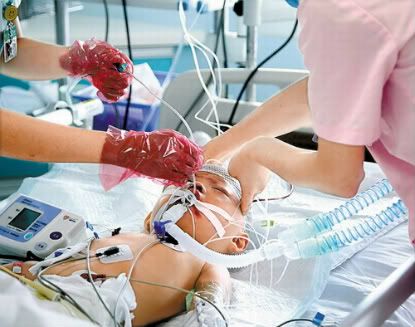 2yo Chinese Girl is Getting Better -
A two-year-old girl, called Yueyue by her parents, who was run over by a pair of vans in south China's Guangdong Province and ignored by 18 passers-by was recovering better than doctors expected yesterday, with slight feelings returning to her limbs.
UPDATE: Friday, October 21
2yo Yueyuen Dies -
A 2-year-old Chinese girl run over by two different vehicles and ignored by passersby has died, local media reported on Friday, in a case which ignited public uproar over what some called the immorality of modern society.
______________________________________________
Our Prayers go out to this sweet little Angel...