Baby in Back of Pick-up Truck Goes for a Dangerous Ride

Florida - Police arrested a 23-year-old woman who rode in the back of a pickup truck along with a stroller containing an eight-month-old baby boy, reports MSNBC.
The woman, Keyona Davis, was not the mother, but babysitting the child at the time. In footage captured by a police cruiser, Davis can be seen holding on to the stroller as the moving pickup truck bounces through the streets of Daytona Beach.
Police were tipped off after several concerned onlookers called 911. Bennie White, the driver of the truck, was cited for careless driving and Davis was arrested and charged with child neglect.
Davis later told a judge she had no idea such a thing would be considered child endangerment. "It's not like they give you a handbook or anything on … what's neglect and what's not neglect," she said.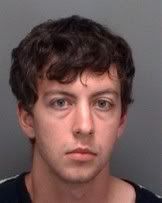 Child Porn Suspect Advertised as Nanny on Craigslist

Florida - A 21-year-old man who advertised on Craig's List as a male nanny was arrested Tuesday night after deputies say they discovered 278 child pornography videos on his personal computer.
Daniel Cortopassi, of 4700 Emerson Ave., St. Petersburg, faces five counts of Sexual Performance by a Child (videos), and more charges are pending, according to the Pinellas County Sheriff's Office.
Deputies said Wednesday that they are concerned that Cortopassi may have been hired as a nanny by families who had seen his Craig's List ad.
They are asking anyone with information to contact the Crimes Against Children Unit, at 727-582-6200.
Cortopassi had been sought by deputies for three weeks, after they obtained a search warrant to seize and search his personal computer. They returned to arrest the suspect after finding the videos, but he had fled.
On Tuesday night, Cortopassi was arrested during a traffic stop in Seminole on Park Boulevard.
Babysitter Charged in Death of 4 Month Old Infant
Wisconsin - A 24-year-old babysitter was charged Friday with first-degree intentional homicide for allegedly murdering a 4-month-old girl in her care early Thursday.
Jeanette M. Janusiak
told investigators the girl, whose name authorities would not release, was fine after she dropped her and became unresponsive later. But a doctor who examined the child told police that due to the severity of the injuries, the girl would've been unresponsive immediately after she was dropped.
According to the
criminal complaint
:
A Reedsburg police officer was called to Janusiak's home at 150 N. Preston Ave. shortly before 2:30 a.m. Thursday for a report of a pulseless baby that was not breathing.
The officer said the girl's skin was light blue and she was motionless. He performed CPR until paramedics arrived and took her to Reedsburg Area Medical Center. She was flown to a Madison hospital, where she later died.