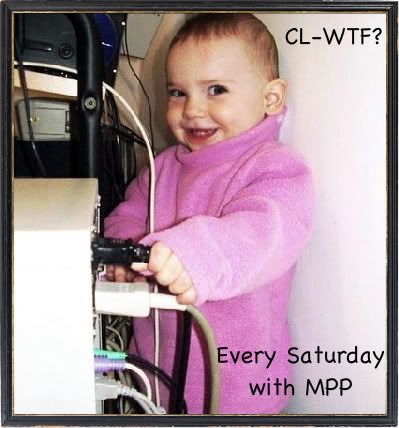 .... WHAT?!1) Babysitter wanted (California)
We are looking for someone who has some spare time on there hands to spend some time with our 5 year old daughter . She is currently in kindergarten, she is really smart and she really does not require alot of supervision. She keeps herself busy, she likes doing crafts, playing with her dolls, drawing, or watching television. If your someone who is looking to earn a little bit of spending money without really having to do alot of work email me. Our daughter is really precious and she is the most important part of our lives, due to our financial situation we really cannot afford to spend alot of money on daycare and babysitters. We are looking for a female babysitter who doesn't smoke or do drugs and has experience with children, preferrably 18 years and up. We need someone who is available Saturday and Sunday and weekdays. Weekdays at the most will be 5 hours and at the least is 2 hours. With our work schedule we need someone who is available from 3 to 8 p.m., weekends are usually 8 hours. Our daycare provider charges us $15 a day, but she closes at 5 p.m. and she spends time with her family on the weekends. So if your seriously intersted email me. Like I mentioned above my daughter is really independent she just needs a little supervision.
URL: http://sacramento.craigslist.org/kid/1935889626.html
_________________________________________________________________
Special thanks to the following Readers for their Contribution this week: tashaclara, Cinder38, anjul.of.grace, mbargielski, slb3334, ATL Nanny and LadyBugBlessingsCrafts... all of you did a great job! Please send next weeks Ads HERE or use MEEBO. Don't forget to include the Links and the Body of the text, if possible!
TO READ THE REST OF THIS WEEKS SUBMISSIONS: PLEASE CLICK HERE!