Saturday, September 5, 2009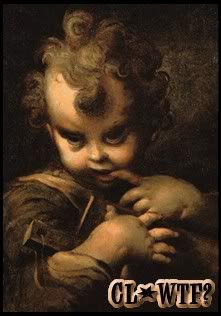 .... WHAT?!Feature Ad:1) Demon child and Anti-Christ ISO Mary Poppins (Illinois)
We are in search of a hearty woman who is a glutton for punishment. We have not one, but two boys who are full of action to leave you shuddering all night. To top of this wonderful entourage, we introduce, the teenager! Yes, the spawn whom will change clothes, hair, make up, boyfriends, best friends, and moods every hour on the hour. You must be willing to come to our abode and watch our spawns. You must have a car, license, excellent driving record, for you must have a way to escape if and when necessary. If you are really self loathing, we are considering a live in position also.
Spawn #1 is about 9 human years old. He will leave his lair by 8 to go scare and harrass the neighborhood teachers and kids. He will return to the lair just after 3. He will by this time be hungry and ready to devour you as soon as he walks in the door. He will feign illness to prevent from doing the work his teachers beg him to do only after they feel as if they may live after encountering him.
Spawn #2 is about 3 human years old and will gross you out as he urinates on himself only AFTER you have asked him 1000 times if he needs to go potty. This spawn will change his eating and sleeping habits hourly. He may have liked Pop Tarts yesterday morning, but they are human waste today. Spawn #2 OWNS everything. He owns the house, the cars, the toys, the televisions, me, and he will own you too. This one doesn't like to share but you must hold your ground and teach him. We will pray for your soul as you attempt this feat.
Spawn #3 doesn't really need to be watched much. This spawn is 13 human years old and you just have to let her know she has homework and check it when she is done. This spawn hates Math and struggles with it, so you must be able to do 7th grade Math!!! You will NOT do it for her, but you will help her so that she may be able to count her victims correctly.
These Spawns also have a minion. The minion barks when people come to the door to warn off intruders. The minion is medium sized and very lovable. I believe the minion may be our only hope at survival.
I am a keeper of these Spawns. In us, you will find fearing, but loyal and loving parents who want the best for our little demons. They are not perfect but we love them dearly. We hope that even you can look beyond their red eyes, horns, and tails, and learn to love them too!
Original URL: http://stlouis.craigslist.org/kid/1340736465.html _________________________________________________________Special thanks to the following 2 Readers who found our Feature Ad: alexismoqo and Bint Ethel... Great job to the both of you! Also, thank you to: noreply-comment, Lesacalisch, afnt81, MissDee, Cinder38 and Utah Nanny... you found some awesome Ads this week and we really appreciate all of your help! Remember, CL-WTF will be Posted every Saturday. Please send next weeks Ads
HERE or use MEEBO
.
TO READ THE REST OF THIS WEEKS SUBMISSIONS: PLEASE CLICK HERE!