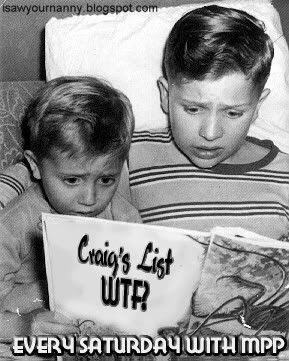 Saturday, June 20, 2009.... What?!FEATURE AD:1) Live In Nanny Needed (Clinton Hill/Brooklyn)
Live in Nanny needed FT in the Fort Green/Clinton Hill area. We currently have one two year old a newborn, and we want to have a nanny begin with us now so that everyone will be comfortable during this adjustment period. Here are the particulars:
Responsibilities
Childcare of our son who is a happy and importantly an EASY to care for child; who loves books, playing (frequently independently) and building things, and the typical kid stuff. Childcare of our newborn as well.
The older boy's daily routine goes typically something like, 8AM wake, eat and play until 10. To the park until noon/one, and then back to the house for some lunch. 2-5 nap, and then back up, a snack and back to park until 6:30. Back to the house for dinner, some play and then asleep by 8:30. He has a great sense of humour, is strangely mechanical, is relatively advanced for his age in that he has started feeding himself a bit, is learning the potty, and has an excellent memory for things he likes.
Responsibilities generally include waking up with the child and going through his day with him, cooking (really only for him+the next child when the time comes), some light shopping when needed, and cleaning/straightening of the house, doing laundry for the family. If we take a day to go visiting with our son, a good part of your day will be occupied with household items (assuming they are needed). With the next child due in less than six weeks, there is a reasonable amount of support needed in organizing various household items.
Worktime
Workdays are Monday through Saturday full time, with Sunday being our day typically to spend with our son and a day off for a nanny.
Live in
This is a live-in position, and for the time being a nanny would sleep in a bed in our son's room, however we have a sleeping area with its own bathroom and at some point a nanny would sleep in that area which has its own privacy. We live in an spacious newly renovated townhouse on two floors, with generous bathrooms, fantastic cooking kitchen, and beautiful backyard. We generally eat nearly only organic, so the house is always filled with plenty of healthy delicious food. We are young designer-professionals who work hard, and our house is a sanctuary for time spending with the family and relaxing.
You
You should be a highly energetic individual with a high sense of responsibility, even temper, excellent judgment, interactive, proactive on responsibilities (no one wants to ask every time for the routine items to be done), and light-handed. Since we occupy the same space, sensitivity to private time spending for the family in an intuitive fashion helps greatly. Our child is super independent, and many hours will be spent just keeping an eye on him as he explores his environment. English is a must.
Pay
Pay ranges between $400-$500 per week, depending on experience, time with our family, paid in cash on a weekly basis.
Languages
Russian speaking a plus, but not essential.
Original URL: http://newyork.craigslist.org/brk/kid/1230741230.html
________________________________________________________
Special Thanks to: Cinder38, northjerseynanny, amy.blueeyes, Nana, JulieK1994, MissDee and mbargielski... all of you found some really great Ads this week! Please don't forget to include the URL in your Submission! Remember, CL-WTF will be Posted every Saturday. Please send next weeks Ads HERE.

TO READ THE REST OF THIS WEEKS SUBMISSIONS: PLEASE CLICK HERE!