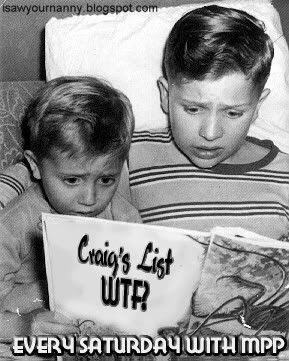 Saturday, June 13, 2009.... What?!1) Need someone to babysit a 12 yr old boy (Seattle)
I need a strict babysitter to change the bullying behavior of my son. The task would start tomorrow morning at 11am until 7pm at night. I can only pay $50 for the service, but, further service will depend on how you perform tomorrow. Tell me in your own words how you'd discipline this boy who's totally undisciplined.
Original URL: http://seattle.craigslist.org/est/dmg/1209290655.html
_________________________________________________________
Special thanks to tashaclara - for our Feature Ad...
And thank you to SFClaire, MissDee, afnt81 and Worlds Best Nanny... All of you did a great job this week! Remember, CL-WTF will be Posted every Saturday. Please send next weeks Ads HERE.

TO READ THE REST OF THIS WEEKS SUBMISSIONS: PLEASE CLICK HERE!