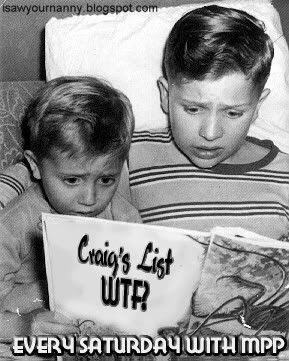 Saturday, May 16, 2009

.... What?!

*Both Ads are from the same person:1) Babysitter for Hire ( Newton)
Hi! i'm a single mom, i'm 23 years old, my daughter is 3. I live here in newton and need to make some money to help pay bills. If you need a sitter, i can work any shift any time. I love taking my daughter to the park and to the zoo, she loves playing with other children. I am very patient with children and have my own car. Message me and we can discuss rates, will watch any age!!!
Original URL: http://wichita.craigslist.org/kid/1170253708.html
2) Single mom needing a night on the town (Newton)
Hi, i'm 23 years old, a single mom, its been a long ass time since i've been out. Money has just been to tight to do anything. But i'm at the point of kiling someone if i don't get out soon!! I'm looking to be spoiled tonight. I want someone to take me out on the town, ya know, dancing, maybe a few drinks. NO SEX. I just want to have a good time and then go home to my bed. My last job was as a stripper so i like to think i got some good moves. I doubt i'll get alot of responses back but its worth a try
Original URL: http://wichita.craigslist.org/stp/1172756146.html

__________________________________________________
Special thanks to: emileelclark, for our "What?" Feature Ad and jerkfacejade, for our "How Much?" Feature Ad, mbargielski, cityshopper1023, ShoporPost, northjerseynanny, umrebelfan, austinmama, AmyH and erika... all of you did an awesome job this week! Remember: CL-WTF will be Posted every Saturday... please send next weeks Ads HERE.
TO READ THE REST OF THIS WEEKS SUBMISSIONS: PLEASE CLICK HERE!