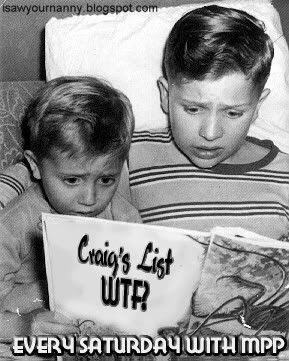 Saturday, May 2, 2009.
.... What?!
1) Self Defense for Infants! (New Jersey)
Your Baby Will Never Be Defenseless Again! It is estimated that 93% of all infant abductions could have been prevented if only the infant in question had been able to defend itself against the abductor. It is time for parents to be more proactive about the safety of their child and educate their young early in the art of self-defense. This is where we come in. Our panel of instructors will use their combined 11 and 3/4 months of combat expertise and training to start your baby on the road to being a well-disciplined martial arts master. At just two weeks of age your child could start learning the fundamentals of our proven program with techniques ranging from basic open palm stun slaps to the Luna Chi (Harmony of the Moon) drunken boxing/Brazilian dance fighting style. Our program starts shortly after the child is acclimated to breast feeding and takes the infant through a rigorous training schedule that culminates in our advanced speed shooting course right here at our facilities' miniaturized firing range. We believe a combination of real world melee techniques and handgun exercises are the perfect complimentary training techniques to keeping your baby safe and able to operate even complex clip-loaded and revolver style weapons should the parent become incapacitated during an exchange of fire. Courses are available nights and weekends and makeup sessions are scheduled to fit your busy lifestyle. Classes start June 1st and enrollment fills quickly. Please email us with any questions and we will provide quick links to our downloadable schedule in PDF format as well as our handy online insurance waiver.
Original URL: http://newjersey.craigslist.org/kid/1144252755.html
_______________________________________________________________
Special thanks to: northjerseynanny and cdhere25, for both sending in our Feature Ad! And I would like to give Honorable mention to melwaldman for the 2nd Ad... very funny! Also, afnt81 and MissDee... all of you did a great job this week! Remember: CL-WTF will be Posted every Saturday... please send next weeks Ads HERE.
TO READ THE REST OF THIS WEEKS SUBMISSIONS: PLEASE CLICK HERE!