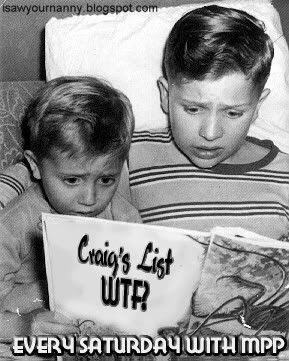 Saturday, April 11, 2009

.... What?!

1) Blessed is my Baby sitter (Detroi)
The ideal person for this position will be loving, caring, kind, open minded and gentle. She will also be social, inspirational and know our lord and savior jesus christ as her personal savior, she will have hit rock bottom on the verge of being homeless, she will have been victimized, lied on, cheated on, and discouraged in many ways. she will be strong, understanding and compassionate about herself and others. she will have learned from her mistakes, but untouched by them at the same time.She will have a desire to rise above her despair and have the courage to make the neccessary sacrifices to achieve her dignity through her primary focus and willingness to find contentment in her personal rightousness. She will have common sence and will not be discouraged by the fears that others seem to magnify through what they think ' might be in her best Interest. God, must be present in her heart as she makes her decision while in transition. If you feel that this sounds, much like you' than you may very well be the person that we are looking for. we are a christian family deeply rooted in a non denominational faith, as christ as the head of our house hold we are currently seeking a ( live in baby sitter ) who will love and care for our only son, we will offer you room and board in exchange for these services, as well as a vehicle and cell phone for the purposes of transporting our son to all appointments, also if you are employed in the evenings and or weekends you will have use of one of the vehicles as well, the hours will be monday through friday 9 to 5, you will have saturdays and sundays off. Our reasons for choosing someone down and out is because we are compelled by the spirit of God to help others in despair, who are in need of true help, someone who will eagerly appreciate our concearn and interest for their personal welbeing, we are not perverts or psycho people looking to violate or extort youg women and we are not gay or intersted in the indulgence of a third party freak. We place our ads where ever we chose because we are adults obeying the word of god, and although the devil displays his disgust through the demon oriented mortal man, we will triumph as you have in over coming your past experiences. this position is not intended for people who do not follow the word of god, nor is it intended for those who seek money for their services. The housong and job markets are bad in many places, and we understand the strees, pain and hardship on normal, regular, average, every day poor people, we cannot save the world, nor can we help everyone in need, but our mission is to pass on the love and care to others, in hope that it will make a diffence in their confusions, a difference in their lives, their goals and the hope that live deep within. More often than i care to admit' it seems rather alarming to find the level of negativities amongst those" who seek their passions in life. It's almost' as if ' they are searching for something' special' and when they find whatever it is that they are looking for " they simply" discard it, with a vengence, a plague, often administered by the workings of demons all around them, remember the story' little boy who cried wolf" what an interesting concept. The average person' works a 9 to 5 job, and when their paycheck, is recieved' they go out and spend it on their bills, and whats left, is barely enough to get by on' owe' yes' they truley mean well' and will spend years in that circle, simply becoming use to their fundamental attempt to grasp a difference in their bank account and or rationalizations for fear, and their ever present loved ones. It seems that the only way out is an ice cold beer, vodka and gin, 520 friendly, a pack of newports and relentless desires and passions for sex, the hot guy or the hot girl. God takes a back seat until, the end is almost near. we send this message in peace and love, if you want a job. lets us know. we live in Boston, get a one way ticket, and we will be there" praise the lord.
Original URL: http://detroit.craigslist.org/kid/1086069350.html
_____________________________________________________________
Special thanks this week to: Amy - for our Feature Ad, MissDee, Michelle, austinmama, philly and nc... all of you did a great job! Remember: CL-WTF will be Posted every Saturday... please send next weeks Ads HERE.
TO READ THE REST OF THIS WEEKS SUBMISSIONS: PLEASE CLICK HERE!