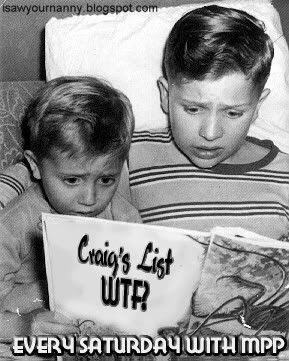 Saturday, April 4, 2009

.... What?!

1) Open minded Nanny wanted (Baltimore MD)
My wife and I will be having our newborn girl in August 2009 and are looking for a live-in nanny that can take care of our baby as well as do some light chores. We are looking for someone preferably Brazilian, Dominican, Hispanic but are open to all others. We also want someone who is open to possible intimate interactions with my husband. He is a very attractive black male with a high sex drive. We are a pretty well off family and live in an exclusive neighborhood in Maryland and you would be well compensated. We are interested in very attractive women only. Please email here if interested. Compensation: 200 -600 weekly.
Original URL: http://baltimore.craigslist.org/dmg/1105808498.html
______________________________________________________________
*The following Ad is being Published only because it is a very sad story:2) Moved out here for a nanny position now they changed their minds (Las Vegas)
Hello my name is Heather I am a 26 yr. old Single mom of a 9 mth old baby girl. I accepted a position as a nanny and moved from california w/ my daughter on a bus. So I have been here for 5 days and this family that I am working for just let me know that they are not going to need me after all. The woman's mother will be watching their son instead. The funny thing is, I just turned down a nanny position that payed more because I thought I would do the right thing and stay with this family because I made a commitment to them and now they are just giving me the boot. I am very upset because I have a baby with me and no where to go. I have excellent nanny references. Please Help. If anyone is in need of a live in nanny/caretaker please consider me. Thank you, ~Heather (530) 844- ****
(Ad includes photos of her and her child)Original URL: http://lasvegas.craigslist.org/kid/1104085327.html

______________________________________________________________

Special thanks this week to: Marie - for our Feature Ad, austinmom, austinmama, MissDee, live.moxie, Renee, MNanny, cdhere25, Kate in PA, Robin, atxmom and cinderellasdestiny83... all of you did a fantastic job! Remember: CL-WTF will be Posted every Saturday... please send next weeks Ads HERE.
TO READ THE REST OF THIS WEEKS SUBMISSIONS: PLEASE CLICK HERE!