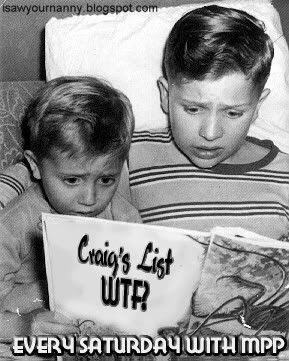 Saturday, March 28, 2009
1) Live-in domestic (PBC)
We are looking for a special woman for a live-in position. Taking care in and around the house as well as the lawn and pets. We would like to find an accomodating woman. Compensation include a salary plus private apt. including all utilities.
Original URL: http://miami.craigslist.org/pbc/dmg/1089643723.html
* The Nanny that responded to the above Ad received this:From:
wellingtonbill1961@****
The position is a 40 – 45 hour a week job. It involves taking care of the property including a little bit of housework such as doing some laundry sometimes, cleaning the bathrooms once a week, and maybe doing some light cleaning. It also includes a lot of yard work. Mowing the grass, edging, weed eating, pulling weeds, fertilizing, tending the garden, and such. The position also includes caring for our 2 horses, which includes cleaning their stalls and feeding them. I would like to find a special woman who can do that, and also be open to my sexual advances. I am a very nice, well mannered, and attractive man. In exchange, we offer a clean, beautiful, and private detached apartment, plus a salary, vacation, 401k, and insurance. The Apartment comes with all paid utilities plus high speed Internet and Direct TV. The apartment is located on the premises. I can make a vehicle available for the right person. I am being forthright in my job description. You will find that I am a very respectful person, and would ask the same in return. If this sounds like a position that you would be interested in, please send me a picture of yourself and a phone number. All applications are taken in confidence
_______________________________________________
2) Hey! I can babysit your kids (ATX)
I am a 20 year old tree hugging, child loving care provider. Looking for a 4:20 friendly family of hippies like myself. Very into organic f00dz and animals of all walks. Holla back
(see attached CL photo)Original URL: http://austin.craigslist.org/kid/1090780327.html

___________________________________________________________

Special Thanks to: alc0035 - for our Feature Ad, austinmama, Kate in PA, Alli, northjerseynanny,

bayleighzback, NannyInNC, Meebo667647, Meebo238029, MissDee and Cinder38... all of you did a great job this week! Remember: CL-WTF will be Posted every Saturday... please send next weeks Ads HERE.
There is so much more CL-WTF,
click here to read all of this week's ads.