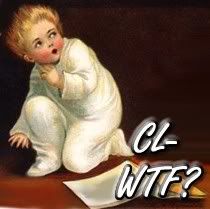 Saturday, March 14, 2009
.... What?!

1) Free Rent Free Rent Lakeaway Area (lil household duties & childcare) (Austin)
My son is 8mos. My Wife bailed, he stays with me two-three nights a week. I also need just basic help around the house. I love to cook and hope you do too. Really looking for a roomate but figured I could help someone who can help me. Garage included, private room, guest bathroom and this is a nice home.. I'm a cool guy, just didn't know my girlfriend well enough before I married her. We do have a great kid which is easy to love and is well behaved. He just smiles and laughs all the time. And cute like his dad. There's no drama over here and hope you won't bring any. It stays pretty quiet around here, but I'm not a prude. We can party a bit if you like. Summer is fun around here and hope you like the lake. Charlos n Charlie's in down the street and Iguana Grill is across the street. Let me know what question you have and we can discuss the details. Thank you kindly, Marshall Leonard 939-**** Please be at least around my age. 31 Just want to have something in common..
Original URL: http://austin.craigslist.org/kid/1072806442.html
______________________________________________________________
Special Thanks to all of the following Readers: austinmama - for our Feature Ad, northjerseynanny, KeljustKel, Bmomtami910, HungryCollegeStudent, etereia, MissDee, Meghan, Fawn, cdhere25 and Lunar785. We had so many Submissions to go through this time.... All of you did a fantastic job! Remember: CL-WTF will be Posted every Saturday... please send next weeks Ads HERE.
TO READ THE REST OF THIS WEEKS SUBMISSIONS: PLEASE CLICK HERE!