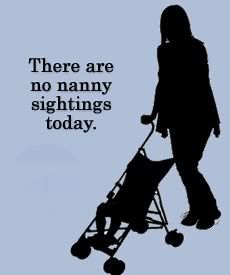 If you have a topic you would like to discuss, please
email us
now!
Received Friday, July 6, 2007A question to families who

employ

nannies:
I have been working as a live in nanny for 3+years to an amazing family. We get along so great and besides occasional issues, we never have problems. I wouldn't trade working for them for anything in the world, now that I've said that, I do have one issue. I injured myself this past week and had to go to the
doctors.
When I suggested to the mom that I needed to go, she gave me a dirty look and all but said I had to go on my own time. Well I ended up going and found out I had a serious problem that requires bed rest for a few days and then I should be all better. She actually seemed pissed that I had too not work the rest of the day today and I was shocked. I mean, I work my butt off all day, working above and beyond my usual duties and while they show great appreciation, the time off issue is getting own my nerves. I never ask for time off unless I am going home to visit family and have worked through a major illness and other injuries in the past. So what to do, do I just suck it up and brush it off or do I fight back and possibly upset a great working relationship? I mean, not all
doctors
are open on the weekends, and not all injuries can wait till off hours to fix. I was also scheduled to get cosmetic
surgery
(mole removal) done and they said I couldn't have the day off cause they were busy that day. I should say that I am supposed to get 5 sick days a year and in the past 4 years have only taken 2 off, and if I have to take a few hours off here or there, I always hire a babysitter and pay for it myself. which is
ridiculous
in the first place if you ask me. so anyways, I
guess
I just want to know what YOU as in employers would want your nanny to do in this situation.
-Nanny B