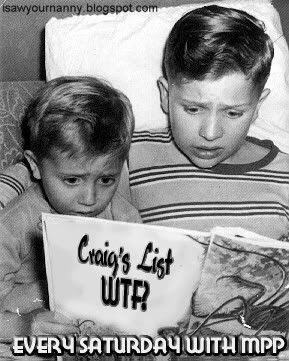 Saturday, April 18, 2009

.... What?!

1) LIVE IN OR LIVE OUT Babysitter/Housekeeper Needed (Grennwich/Stamford/Norwalk/Fairfeld CT)
LIVE IN OR OUT LIVE Babysitter/Housekeeper Needed. Grennwich,Stamford,Norwalk…fairfeld co CT hello as you are I am a young person, and I am a professional person with a business administration degree with 6 years of experience worning in this profession. Currently I am studying English as a second language. I have experience in child care. I can communicate with children easily and can manage their needs accordingly. I am very organized responsible. I have experience in housekeeping as well with great detail. I am a person with a high level of education. My best quality is my responsibility an interview would demonstrate my qualification in greater detail. Please contact me by phone 203 803**** or 203 223**** at anytime.or email ninigutierrez@**** if you need my resumey and references gladly send you a thank you send me a mail ninigutierrez@**** and I send my resumey .. Compensation: $ 700 or 600 the price of my weekly pay is $ 700 or $ 600 dollars if sauave work that depends on the activities. if you have no budget for this pay please do not call me or send me mail thank you ..... if you can pay some of these values ... call me or write me a mail .. thank you. Qualifications: • 7 years experience • driver • Strong organizational skills
Original URL: http://newyork.craigslist.org/fct/kid/1120507470.html
________________________________________________________________
2) Tuesday (23452/Norfolk)
hey, i would like some one to come to my house this tuesday to watch my 8 month old son. the time will be from 1030 til around 7ish i will be needing someone to watch him 3 to 4 times a week and we pay 35 a day and some days are from 1030 til 7ish and most days are from 330 til 5 but we pay the same no matter what the hours are. if you would like more info please let me know. if you feel like this is something you would like to do please email me and let me know alittle about your self and this is for tuesday but if you could do more it would be great
Original URL: http://norfolk.craigslist.org/kid/1119018711.html
________________________________________________________________
3) Still looking for a sitter (Hampton Roads)
Hello I am a mother of a 2 1/2 yr old little boy and I am currently looking for a sitter/nanny. I'm not sure how much a nanny cost but I do know its probably more than I can afford. My son is already in daycare I just need someone for those errands I need to run, going shopping, getting nails done hair appts working out and mustering for duty on weekends in the morning. I prefer someone who can come to my house so that I wont have to take him out of his comfort zone. I dont necessary need the person to be older but please be wise and patience due to the fact he is a boy and very playful! I would perfer someone who is a non-smoker and has a open schedule like a high school student or someone just graduating. I would also prefer someone who has some kind of experience with children and love children and not doing this just because they want to find some other way to make money. Even though that is a good reason I dont believe that most people will do their job to the best if they are doing it only for money. If this is something you can help me out with then please email me with rates and availability. Thanks
Original URL: http://norfolk.craigslist.org/kid/1118139915.html
________________________________________________________________
4) Live-in babysitter with own car (Centreville)
Need help this summer and will decrease your rent in exchange for VERY PART-TIME babysitting. Must be firm but gentle, have a good way with children and must be female. NO PETS NO SMOKERS Must have own transportation. We are a very Christian oriented family and would prefer the same in you. May babysit other children over here. Can hold down another job if you like. Please respond with your phone number so we can talk and work out details. Need asap Thank you for reading my ad.
Original URL: http://washingtondc.craigslist.org/nva/dmg/1114306583.html
________________________________________________________________
5) My sitter just cancelled!!! (Rowley)
My sitter just cancelled for this Friday night. I am looking for an experienced babysitter who can sit in my home. If you are available, let's talk! Thanks.
Original URL: http://boston.craigslist.org/nos/kid/1123294104.html
________________________________________________________________
6) Looking for a Full Time Sitter (West Madison)
We are looking for a Full Time M-F sitter that has significant experience with toddlers, loves children, caring, reliable, motivated and organized. The main duties are to take loving care of our 1yr old daughter and any light housekeeping that pertains to her if in our home, however open to her going to yours if you live near Middleton. *This is not a Nanny position* please contact for more information if interested!
Original URL: http://madison.craigslist.org/kid/1126715535.html
________________________________________________________________
7) LIVE-IN Nanny (male or female) $1200+ free rent/util (Chagrin Falls)
Fun, outgoing, busy, and academically-focused family needs LIVE-IN nanny for twin 8 y.o. boys and a 7 month old puppy! You'd live in your own large room in a big, gorgeous Chagrin Falls home in an upscale neighborhood near Bell and 306. We're looking for a rare combination of experienced nanny who is very smart,nurturing and patient, and can handle the extra complexity of the dog (who can be more work than the twins combined!) Once you review the schedule and responsibilities below it'll become clear that you need to be an organized, efficient, disciplined person who can handle a fast-paced, highly active household. Please email if you think you are available at the times outlined below, have your own car, and are a good fit. The salary will $1200 paid twice per month20 ($600 on the 1st and 15th) plus free rent and utilities (including wireless internet). All hours are tracked, and tallied up at the end of every month. Thank you in advance for your time. MORNING AND EVENING SCHEDULE WHEN MOM TRAVELS (NOTE: this part of the schedule is very erratic and changing. I pay the salary twice per month to keep your earnings consistent even though the schedule is not) 7:00 AM to 9:00 PM Manage Morning Schedule before school: - Prepare lunch and snack for school - Wake kids up and manage getting them dressed - Make breakfast - Bring to bus stop (walk them to corner) - Clean up kitchen from morning routine - Walk and care for dog 6:30 PM to 8:30 PM Pre-bed time routine - Manager kids' showers - Make late supper - Manage kids teeth brushing - Get into bed - Read aloud - Lights out and back-rubs 8:30 PM to 10:00 PM - Clean up from evening routine - Wash and fold laundry - Get puppy situated for the evening. (Starting late August '09) DAILY AFTERSCHOOL SCHEDULE M-F (NOTE: This part of the schedule is very consistent unless the kids have a no-school day) 2:45 PM to 4:00 PM: Afterschool care:20 - Care for puppy - Prepare afternoon meal - Picks kids up at bus or drive to afterschool activity 4:00 PM to 6:30 PM: Manage an ambitious afterschool homework load for 2 boys. Their assignments include (per child): - Rigorous spelling test practice daily - Writing homework (1 sheet daily) - Math homework (1 sheet daily) - Reading (20 minutes daily) - Short speeches that need to be prepared and practiced weekly OTHER: - Must have reliable car, clean driving record, and current insurance - Must have clean record such that you could be finger-printed for background check - CPR a plus
Original URL: http://cleveland.craigslist.org/kid/1125696031.html
________________________________________________________________
8) Do you need a sitter for (TUES && THURS Evenings?) (Dane County)
Hello, My name is Samantha P****. I attend High School at Wisconsin Heights, I am a senior and about to turn 18. I get out of school at (2:15pm) everyday, for senior release, and available till about (10pm). I am very responsible when it comes to watching kids. I use to run a daycare at my house for about 2 summers. I can handle up to 5 kids at once, aged between newborn to 6 year old. I work a part time job at Marshalls in GreenWay Station in Middleton, Wi. I am available on occasional weekends but I will need to know in ADVANCE! :-) I have a yahoo email if you want to talk some more, maybe even meet the kids and I would personally like to talk in person. Feel free to email me at... ((Delicious6936@****)) Thank you for your time. Sincerly, Samantha P****
Original URL: http://madison.craigslist.org/kid/1118433067.html
________________________________________________________________
9) NEEDED! OCCASIONAL WEEKEND/EVENING SITTER (Alexandria/FT Belvoir)
I am looking for an occasional night out maybe 2 times a month, either a Friday or Saturday. I have a 3 year old and she will mainly be sleeping. I can provide transportation to and from my house. Really wanting to find a responsible teenager 15 and up. SMOKING is allowed outside. No "friends". References are a MUST! I am wanting to pay around 7 dollars an hour. I know this is not the going rate of 10 dollars an hour but my baby will be sleeping and you will have access to internet, cable, food, etc.
Original URL: http://washingtondc.craigslist.org/nva/kid/1118269350.html
________________________________________________________________
10) Babysitter needed Summerlin (Buffalo & Vegas)
I have a 7yr old boy that needs babysitting from time to time in the evening. Specifically I need a babysitter for this Friday and Saturday night. I will pay a reasonable for about 6 to 7hrs each night look to contact you again when your services are needed once or twice a week in the evening. My son is very good an well mannered an never a problem. If your interested and available for this weekend from about 8 to 9pm to about 2am please respond. Thank You
Original URL: http://lasvegas.craigslist.org/kid/1124163402.html
________________________________________________________________
11) IN NEED OF A BABYSITTER TONIGHT! (Madison)
I need a Babysitter to watch a two year old and 10 month old tonight.. We are staying at La Quinta hotel and our sitter bailed on us.. Get back to me asap! THANKS
Original URL: http://madison.craigslist.org/kid/1118247964.html
________________________________________________________________
12) child care (Madison)
hi i am lookin to baby sit. i raised over 30 children in my household. i know how to raise a new born and up. i will feed your child and let them take a nap. if you choose me to be your baby sitter i will take care of your child and you wont be disappointed. please call me if you need a baby sitter 608 622 ****
Original URL: http://madison.craigslist.org/kid/1127930833.html
________________________________________________________________
13) I need a babysitter in my home for... (Suffolk)
I need a baby-sitter in my home, on 4/17 from 5 pm-7:30 pm and on 4/18 from 8am-2pm and again on 4/24 from 5 pm- 7: 30 pm and again on 4/25 from 8 am -2 pm. I need to attend a dynamic class for my nursing school and my husband will be working during these times. I have a almost 4 year old son and a 2 year old daughter. They are BOTH potty trained, all I will need you to do is on the 2 friday nights from 5 pm-7 :30 pm is feed my children the dinner I will have prepared for them and lay them down at 7 pm for bed. Then on the saturdays just play with them and feed them the lunch I will have ready for them. If you are able to do this and meet me sometime this week before friday for a interview please let me know. When you email me tell me a little about yourself, your experience with children, reference numbers if you have them, your phone number and your prices. I am not looking for anything expensive as we are a one income family and I am putting myself through nursing school right now so money is tight. Thanks!!
Original URL: http://norfolk.craigslist.org/kid/1120932724.html
________________________________________________________________
14) In need of a sitter for this week (Norfolk)
Hi I am looking for a sitter in the NORFOLK area. I have a 2 year old little boy who would need care this Monday through Thursday from 8:30am to 2:30 pm. I am looking for someone with resonable prices and a responsible and safe home. I will suppply all of his food and anything else he will need. When replying please include the price of care for the entire week, your experience, how many other children you care for (if any), and the area you live in (zip code). Thanks
Original URL: http://norfolk.craigslist.org/kid/1118587443.html
________________________________________________________________
15) ANGRY NANNIES UNITE! LOL (Raleigh)
Oh.. Been there done that! Parents will lie, and are very decieving. In my 6 years of nannying, I've came across lots of crazy families. I worked for one family about 3 years ago for a total of ONE week. Their kid threw things at me, slapped me, and would get out the car door and run before I had a chance to get his smaller brother out of the car first. I suggested to the mother to get a harness/backpack type thing with a leash so that I could hold onto him and he not get hit by traffic, and to speak to him about his hitting and throwing objects.. and she fired me over it. YEAH, FIRED ME. I worked for another family who always texted me... yeah TEXTED ME about not coming into work the next day cuz they were taking a day off, etc, when I texted them back..(cuz they TEXTED ME), I told them to not text me the night before at 9pm, they got angry and fired me. YEEEEEP. So, its okay for them to text me about saying they dont need me, but I can't respond to their txts via texts, and I can't text them if I'm not going to work. apparently I have to CALL. HYPOCRITICAL? yeah. Another family I had worked for as an occasional babysitter for 4 years was always really nice to me.. until... I was keeping their kids one night and the lady was supposed to be home at 11pm, she called me at 10:45 and asked if it was okay if she could stay out til later around 1 or 2am.. and I said no, I had to be at my normal job at 6am the next morning. She got mad and replied with "oh, do I need to find another sitter from now on then?".... WTF!!!! I went on an interview last year for a lady who had triplets, they were all under 1yr old if I remember correctly... I told her $14 an hour through email, and she agreed to that rate... I drove literally an hour for the interview, got there.. and she offered me $8 an hour.. are you kidding me???? If you aren't willing to pay our rates, then do not bother interviewing us. We are not slaves, if you cannot afford the going rate for childcare, STOP HAVING KIDS!!! I could say lots more.. my nanny career has been dramatic, unstable and down right crappy. There is only ONE family that I have worked for that I would consider NORMAL, and wouldn't backstab me.. and that is pretty sad. Quite frankly, I am sick of being a nanny. Parents will fire you over the stupidest crap, and they demand to get their way, or you will suffer the 'concequences.'
Original URL: http://raleigh.craigslist.org/kid/1123540037.html
________________________________________________________________
.... Just because it was cool:16) I need a "Manny" (NW Las Vegas)
I am searching for the perfect "manny". I am not looking for full time, but I have quite a few events coming up and I am looking for some dependable help. I am looking for a male 23 and up with experience and references. I have no problem with your sexual orientation, but my children have done well quite frankly with gay males. Pay is great for part time work. I am a married woman with two beautiful children my girl is 6 and my boy is 2. Thanks for looking
Original URL: http://lasvegas.craigslist.org/kid/1122851729.html
________________________________________________________________
.... How Much?!

17) childcare needed (Norfolk)
my name is shannon, and i have four children. my fiance and i are looking for someone who has great availability, and is gonna be realiable and responsible with our kids. for the most part we are looking for someone to watch the kids if we want to go out or do errands without the kids. we would need someone at least two to three times a week in the evenings. we pay 10.00 an hour. if you are interested then please call shannon at 757 510 **** this would be a great job for a teenager or college student.
Original URL: http://norfolk.craigslist.org/kid/1117719458.html
________________________________________________________________
18) Looking for a Nanny (Mira Mesa)
Hi, I am currently looking for childcare/nanny ( minimum 28 years old ) for my 3 month son from 6:30 am to 5:00 p.m and my 2 dougthers ( 8 & 10 years old) AFTER school in MY house. ( 2:30 p.m -5:00p.m.) Monday-Friday. $220 dlls per week. Looking for a person who loves and has patience and experience with small children (you do not need to pay a lot of attention to the girls , they are easygoing). If you are interested, please reply to my email and we can setup a time to meet this weekend. I am looking for care as early as Monday 4/13. Thanks.
Original URL: http://sandiego.craigslist.org/csd/kid/1119049570.html
________________________________________________________________
19) Mother's/Father's Helper (Madison/Windsor)
Sorry for the confusion on location. We are currently in west Madison, but hope to be moving to Windsor/Sun Prairie/DeForest soon. We are looking for a high school or college student to give us a much needed hand for a while. We recently added two babies to our home (twin girls born 3.1.09), and are already busy with a 21-month-old little boy. We are mostly looking for someone to come to our home and lend a hand during the 6-8 p.m. hours. You could be playing with and getting dinner for our son, or you could be cuddling one or two babies while we do the other work. We would also love someone who would be willing to do some light housekeeping duties... throw in a load or two of laundry, vacuum... It's mostly to help us through the dinner/bed-time hours, but it may be more or less. You can probably plan to help every third weekend once Mom goes back to work! We need to experiment and see what works best for us. We may also ask you (or you and a friend) to baby-sit occasionally so we can get out of the house. Because we are going to be home 99% of the time, we aren't looking to pay much. The more help you give, the more you will earn. Our "plan" is to pay ~$10-50/week depending on the hours you are here, and the work done. Let us know if you are interested and feel free to ask questions!
Original URL: http://madison.craigslist.org/kid/1127236642.html
________________________________________________________________
20) Summer Babysitter Needed (Pittsburg/Antioch)
I am looking for a babysitter to watch two boys 9 and 11. They pretty much entertain themselves, and am looking for someone to go on bike rides with them, water park, movies, etc to which we will pay for you to go. We will also give you gas money and or bart tickets (bart is fun for them). We can pay you $300 every 2 weeks which is $600 a month. You would arrive at the house around 6am and can sleep until the boys wake up, just monitor their breaksfast and hang out. Take them outside to the park or whereever you want to go. You can bring a friend to the house to hang with you, as long as you make sure the boys are safe. We usually get home between 5pm and 6pm, some days earlier, some days we won't need you, but you'll still be compensated the same. Ideally looking for high school student or college student with a car and valid drivers license. This is a great opportunity to make some money and do whatever it is you want to do for the summer, as long as the boys are taken care of and not sitting in front of the tv all day. We plan to possibly put them in rec classes so you could have a hour to two hour break during the day to do whatever you need, but we are not sure yet. Thanks, Lisa
Original URL: http://sfbay.craigslist.org/eby/kid/1122115397.html
________________________________________________________________
21) Nanny Needed - June 09 ONLY (New York)
Live out Nanny needed in our midtown Manhattan home ONLY for the month of June Care needed for a five year old son Light housekeeping Must be pet friendly- small dog that will require 1-2 walks daily Expected start date- June 1, 2009 4 or 5 days per week averaging 35-40 hours a week, normal hours will be 9:00-6:00 Prefer French or Spanish speaking Salary: $600 for the month Please note this is only for the month of June while my son is in NYC.
Original URL: http://newyork.craigslist.org/mnh/kid/1125729215.html
________________________________________________________________
22) live in nanny needed (Henderson)
i need a live-in nanny.. job will start on May 3rd when I will be moving into my new apartment. I am currently going through a break up with my ex boyfriend and we are going our seperate ways. I don't have much money to offer. But you will have your own room and bathroom. It's a brand new luxury apartment in henderson. I will also pay you $300 a month. And you will also have 2 to 3 days off. No guest are allowed in my home. I also ask that light cleaning is done. Nothing serious and also maybe dinner is made a few nights a week. My daughter must be well taken care of. I also have a dog, that I will ask you to take on potty breaks. No walks. she just needs to be let out every couple hours. You MUST have expirence. My daughter is almost 3. She is very active. I will be doing phone interviews all day tomm. Which will lead to an interview at my apartment where you will come and meet with me and my daughter. call 578**** My name is Chrisha ALSO YOU MUST SPEAK ENGLISH !!!! and you must have Refrences and be CPR certified and background check!!! MUST HAVE LICENSE ! Thank you !!!
Original URL: http://lasvegas.craigslist.org/dmg/1117709133.html
________________________________________________________________
23) Babysitter Needed Long Term (Westminster, CO)
Wednesday 7:30am-3pm Thursday 9:00am-1pm Friday 7:30am-3pm One Friday a month off! $100 cash every Friday. No household chores required. Just looking for someone to come watch the kiddos while we are working. Will be watching a year old, a 3 year old and a 4 year old. Need someone long term. 4 year old will start school in Aug. so soon will only be the 1 year old and 3 year old. Please contact Jennifer at 720-249-**** or paigek02@**** PLEASE CONTACT ONLY IF YOU ARE INTERESTED!!!!
Original URL: http://denver.craigslist.org/dmg/1120139634.html

___________________________________________________
24) Daytime Nanny/Babysitter needed ASAP for 5 hours daily (Winthrop)
Me and my soon to be wife both work from home, we have a nice 2 bedroom apartment overlooking the ocean on Winthrop point. We have a beautiful little newborn baby girl that we need someone to help us take care of during the day. We do not want to put her in daycare, and enjoy her being with us all day, but things get hectic when both my fiance and I are on important business calls, so we need an extra hand. We will both be present to help occasionally throughout the day. Perfect scenerio would be for someone to come over either from 10-3 daily m-f or 11-4 same days. We would like the person to watch the baby and help to tidy the house if she is sleeping here and there: dishes, vacuum, laundry. We can afford $45 dollars a day cash. I also run a business and often look for people looking to make side cash on various projects, so there is also oppurtunity there.
Original URL: http://boston.craigslist.org/nos/dmg/1121754097.html
_______________________________________________________________
25) Offering Room in exchange for Childcare (VB/Towncenter)
Seeking Responsible, Caring individual to care for my son 20-25 hours/week in exchange for room with utilites included. Must be drug free, agree to a criminal background check, give at least two personal references and like dogs. This is a summer position. Great job for a college student as you can still work part-time. Schedule is very flexible.
Original URL:http://norfolk.craigslist.org/kid/1120248657.html
_______________________________________________________________
26) nanny needed (Kempsville/Salem)
We are looking for a nanny to come to our home and care for our 12 month old son. Part time Monday, Wednesday, Thursday 8:30am-5:00pm Rates are $125.00 a week. Exp Req. If you are intrested please send email with resume. Thank you.
Original URL: http://norfolk.craigslist.org/kid/1120458829.html
_______________________________________________________________
27) 2 small kids need babysitter (Manassas)
I have 2 small childred 1 is 20 months old the other is 3 months old. I am seeking a babysitter from 7am-430pm m-f to come to my house to babysit. please send your contact info via email with desired rate per week. responsibilities include childcare and cleaning after childcare (meals, diapers) hope to hear from you soon thanks for reading my ad Compensation: $25
Original URL: http://washingtondc.craigslist.org/nva/dmg/1112522086.html
_______________________________________________________________
28) In need of childcare (Norfolk)
Hi My name is Mindi and im a mother of one. i just started a new job and im looking for someone to watch my daughter durning the day. From as early as 5:30am to as late as 5pm... My daughter is now 17 months old. very shy at first but once she gets to know you shes playful. I would need to come to my home. All i would really need is for you to of course feed her and give her milk and juice and snacks. she mostly plays by her self but as all little kids gets into things... i can only pay 125.00 EVERY OTHER WEEK. if you are interested please email me at crazi.beautiful@**** thank you p.s start date april 20.. week days only
Original URL: http://norfolk.craigslist.org/kid/1118335534.html
*The following Ads are from angry CL readers:29) RE: In need of childcare (fantasy land)
I have never given my two cents on anyone's ad before but this has to be said. A 17 month old from 5:30 am til almost 5 pm Monday thru Friday and 125.00 every other week. Sweetie thats about .96 cents an hour. Plus to come to your home that's gas money out of the persons pocket. How about try and take her to a providers home and you could then maybe get away with paying something more close to that. But don't hold your breath. GOOD child care is not cheap. And that way your little one wouldn't have to play by herself she could have some interaction with kids her own age. Good luck to you..
Original URL: http://norfolk.craigslist.org/kid/1118360848.html
30) RE: RE: In need of childcare
You know, you ought to be ashamed of yourself. Forget the 96 cents an hour thing-if you were taking her to an in-home daycare, you could get away with that. But to expect someone to work mon-fri, 12 hours a day, for around $60 bucks a week. And don't even use the excuse "for a college student" because with a schedule like that, you wouldn't be able to take any classes, or find another job to supplement income. I'm so sick and tired of seeing parents who have all these expectations and then lowball providers and sitters, like it's not a hard job. What's more insulting, is that you want to pay somebody peanuts-because that $60 is gas money-and then they don't even have the time to go out and find something that will actually pay them enough to eat along with being able to drive out to you. God help some of you get some common sense, because this nonsense is ridiculous.
Original URL: http://norfolk.craigslist.org/kid/1118438456.html
_______________________________________________________________
Special thanks this week to: northjerseynanny - for our Feature Ad, MissDee, ThatGreatNanny, several Anonymous Contributors and nc... you did an awesome job! Remember: CL-WTF will be Posted every Saturday... please send next weeks Ads HERE.
TO LEAVE A COMMENT: PLEASE CLICK HERE!!